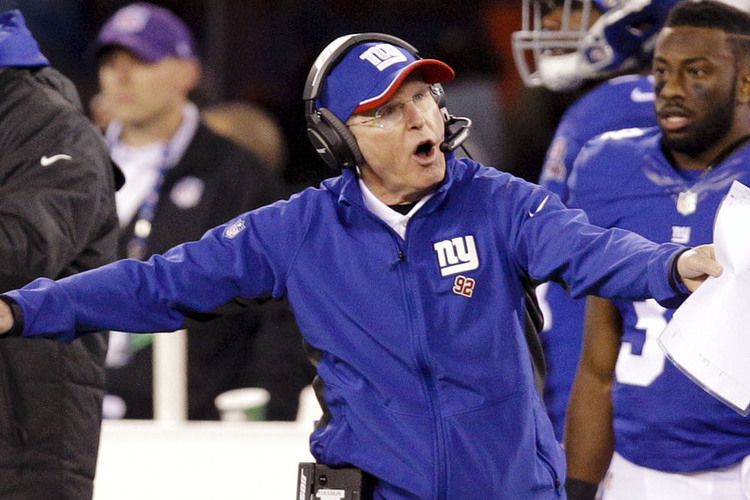 I'm thinking of going to a comedy show in New York on Sunday night, which would force me to miss the end of the Giants-Seahawks game. So I have to make the decision between moving from the couch on a football Sunday, going out, paying for a round-trip cab, admission to the show and food and drinks or staying on the couch and finish watching a three-hour free comedy show live from Seattle on FOX. As much of a joke the Giants-Seahawks game will likely and how many laughs it should produce for non-Giants fans, I think it's a better idea to get out out of the apartment just as the Seahawks backups finish off the Giants as the Giants finally start to throw the ball for the majority of their plays once the game is out of reach.
Speaking of comedy, this week on his Monday Morning Podcast, Bill Burr said, "If you bet on football this year, you're out of your mind. At this point you should just cut your losses and go home." I wish I could, Bill. I wish I could go. But there are still eight weeks of the regular season to pick and then the playoffs.
(Home team in caps)
CINCINNATI -6.5 over Cleveland
The Bengals have done their transformation to become the AFC Saints in that the Paul Brown Stadium Bengals are a much different team than the Outside the Paul Brown Stadium Bengals are. The Bengals are 4-0-1 at home this year and 1-2 on the road after going 8-0 at home and 3-5 on the road last year. This season, the Bengals' average home score is a 30.8-20.2 win and their average road score is a 28.7-13.3 loss. That's good news if the Bengals can win the NFC North and play their first playoff game at home. The problem is the Bengals is five or their last seven games are on the road.
Miami +3 over DETROIT
It's never a good idea to buy into the Miami Dolphins. You would be better off buying into a start-up newspaper in 2014 than the Dolphins given their history of strong starts and late-season collapses, but the problem with this game is the Lions are the Dolphins of the NFC. So I can either buy into the start-up newspaper in 2014 (Dolphins) or pay for an AOL account in 2014 (Lions). That's why I'm taking the points.
Buffalo +2.5 over KANSAS CITY
If the Giants aren't going to do anything this year, which they're not, then I might as well be an honorary Bills fan for the rest of the season. I can't get behind the Browns because them winning means Johnny Manziel's career will only be delayed longer and I can't get behind the Chiefs because of Alex Smith even though it would make me happy to know that the city of Philadelphia and Eagles fans would have to watch Andy Reid win the Super Bowl. Aside from the Bills, those are the other long-suffering franchises that look like postseason contenders that I don't have any direct hatred against, but how could I not pull for the Bills and Kyle "David Grohl" Orton to go on a run with the Bills?
San Francisco +5 over NEW ORLEANS
The Saints are going to win this game. That's a fact. How do I know this? Let me say it again:
The Saints' last home loss with Sean Payton as head coach came in Week 17 in 2010 when they had nothing to play for. Including the playoffs, with Payton as head coach, the Saints have won all of their home games since that loss and here are their margins of victory in those games: 19, 6, 11, 25, 18, 3, 32, 18, 21, 24, 6, 17, 28, 29, 14, 25, 11, 55, 7 and 17.
BALTIMORE -10 over Tennessee
I have done everything I can to continuously pick against the Ravens, but there are times when you have to see the difference between right and wrong and smart and dumb. And taking Tennessee, even to cover a double-digit spread, is dumb though I'm sure every sharp in Vegas would disagree given the state of the NFL.
Pittsburgh -6.5 over NEW YORK JETS
The Jets have lost eight straight games. They have fans wasting money on planes to fly over practice and promote John Idzik's firing while other fans are wasting their money to use a billboard outside MetLife to promote the same cause. Michael Vick, who clearly wants no part of actually playing football anymore and would rather just hang out on the sidelines and collect a paycheck (who can blame him?) is starting over the most recent Jets franchise quarterback. And their head coach continues to say he sees good things each week even though the team's only win came in Week 1 over the still-winless Raiders.
The Steelers were 3-3 and coming off a 21-point loss to the Browns before winning three straight games and saving their season and putting themselves in prime position to return to the playoffs. They have scored 94 points in the last two weeks against two contenders in the Colts and Ravens and Ben Roethlisberger threw for 862 yards and 12 touchdowns without an interception in those two games. And they have possibly the best receiver in the league in Antonio Brown ready to face the worst secondary imaginable.
So what does all of this mean? It means that this game will likely be decided by a field goal because the NFL is insane. But it also means it's no time to be backing the Jets and asking them to cover anything less than a touchdown.
Tampa Bay +2 over ATLANTA
Somewhere someone who isn't a Buccaneers fan or a Falcons fan is going to bet on this game and watch it in its entirety. Think about that.
Denver -12.5 over OAKLAND
I don't want to say Peyton Manning is a fraud, so I will let other people say it for me. But the best regular-season quarterback in history went into Gillette Stadium and got embarrassed once again last week. Sure, he put up 429 yards and got his numbers in before it was over, but his team lost by 22 points in a game that could be the difference in a trip to the Super Bowl and an AFC Championship Game loss because of home-field advantage. I picked the Broncos last week because I didn't want to back the Patriots even though I envisioned the game that played out playing out because it has so many times Peyton has gone to New England. Let's hope that performance doesn't mean a Super Bowl appearance for the Patriots because then I'm done with Peyton.
ARIZONA -7.5 over St. Louis
The Arizona Cardinals are the best team in football.
The Arizona Cardinals are the best team in football?
I wrote that sentence out with both a period and a question mark because after I wrote it the first time, I read it back to myself like Ron Burgundy reading a line on the prompter incorrectly because of a misplaced question mark at the end of it. Are the Cardinals the best team in football? Their record says they are at 7-1, leading the NFC West that was supposed to be for Seattle or San Francisco to win. I'm happy for the Cardinals after missing the playoffs last year despite a 10-win season while the Packers played a first-round home game at 8-7-1 for winning the NFC North, but I'm not sure a team with Carson Palmer as their quarterback can ever be considered the best team in the league at any time even if their record says they are.
New York Giants +9.5 over SEATTLE
The Giants' offense currently consists of a first-round pick wide receiver who has played four career games, two wide receivers who can't catch, a tight end who played quarterback in college, a tight end who was out of football in 2013, a rookie running back and a running back who thought his NFL career was over a little over a year ago. The absolute worst place for a team with that offensive personnel to go is Seattle, so if you're thinking of sitting back at 4:25 on Sunday and watching the Giants, you might want to make other plans for around 5:00. I think I'm going to.
GREEN BAY -7.5 over Chicago
The last time the Bears won in Green Bay was Oct. 7, 2007 in Week 5. It was Brian Griese playing for a benched Rex Grossman against Brett Favre. The Bears have cost me picks and actual money so many times this season that I will be pulling for a Packers blowout on Sunday night as if it were the Giants playing in the Super Bowl.
Carolina +6 over PHILADELPHIA
The Panthers aren't good. But you're asking me to pick Mark Sanchez to win a game he starts by a touchdown.
Last Week: 4-9-0
Season: 63-70-1