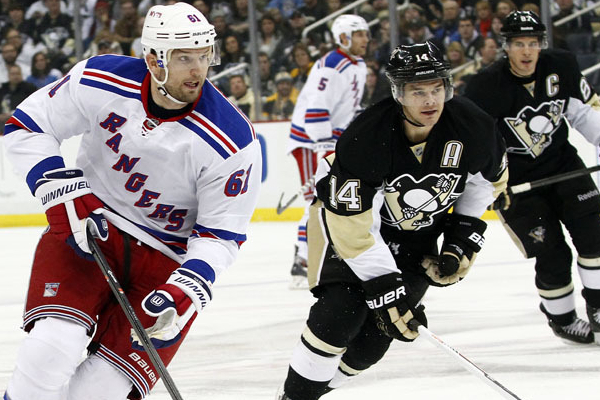 After Friday, there will be three weeks without Rangers hockey. I know, it's devastating. But in place of Rangers hockey is Olympic hockey and Team USA hockey, which will do more than fill the void left by the NHL. In the final game for the Rangers before the Olympic break, they meet the Penguins for the final time this season and the last thing you want to do before having a long layoff is play the best the team in the Eastern Conference on the road, but that's how the Rangers are set up.
With the Rangers and Penguins meeting on Friday night in Pittsburgh, I did an email exchange with Jim Rixner of PensBurgh to talk about if Chris Kunitz is the luckiest player in the league, whether or not Penguins fans trust Marc-Andre Fleury and if Dan Bylsma should have received his contract extension.
Keefe: Chris Kunitz is the luckiest man in the world. Or at least the luckiest hockey player in the world. A solid player and reliable scorer through the majority of his career, Kunitz did have 161 points in 163 games with the Ducks between 2006-07 and 2007-08 seasons. But prior to the 2012-13 season, Kunitz's career single-season high for goals was 26, which he scored in 82 games in 2011-12 with the Penguins. And then last season as a linemate of Sidney Crosby's, Kunitz's production took off and he scored 22 goals … in 48 games! This season, also as a linemate of Crosby's, Kunitz has 27 goals in 56 games and is on pace for at least a 40-goal season.
Not only is Kunitz riding Crosby to career point totals and contract extensions, but the wing is also on Team Canada this year over some very worthy candidates and you would have to think he will also be a linemate of Crosby's there.
I feel like you could stick pretty much anyone and I don't mean just any NHL player, but rather any actual person on a line with Crosby and they would be good for 15-20 goals. Am I wrong for constantly bringing up this argument with others (you're not the first) about Kunitz being lucky to be on a line with Crosby? Is it wrong for me to cite Crosby as the sole reason for Kunitz having career years in his mid-30s?
Rixner: I don't think it's wrong to cite Sidney Crosby as being a great help in the production of Chris Kunitz. Kunitz is sitting in the top 10 in the league in scoring, and if he's on a team that's not the Pittsburgh Penguins, we all know that's not going to happen. Crosby's the best player in the game, so of course he's going to boost his linemates statistics and that's definitely been the case for Chris Kunitz.
But I don't really think it's luck that's made the Kunitz-Crosby combination a success, or the sole reason that Chris Kunitz is a productive player. First of all, his skill-set meshes perfectly with Crosby in that they both like to play low in the offensive zone and use a grinding, cycle-based game to use their lower-body strength to outwork opponents and drive chances from right in front of the net. Kunitz also has underrated in-zone playmaking ability, he has good vision and is capable of playing the puck very well in the offensive end with touch passes. He's tough enough to hang in front of the net on power plays and that can pay off with chances. His hands are quick enough to convert them.
Then there's also familiarity. Crosby and Kunitz have played 2,200-plus minutes together at even strength in their careers and even more on power plays and in practices for the past five years. They know what each other's tendencies are and how each will react in every situation. Crosby knows what Kunitz will do, say on the forecheck should the defenseman break to the left. He knows where Kunitz is going to go if he gets the puck, and he knows precisely when he'll arrive there. That's something, that in a short tournament like the Olympics, will be very useful. Players like Crosby and Gretzky and Lemieux are said to be "two steps ahead" of everyone and if you give Crosby a linemate he knows, likes and is productive with, that removes one more element of unknown variables on the ice and helps push him even further ahead of the competition.
To that end, Crosby scored seven points in seven games last Olympics, but consider that three of those were assists against a weak Norway team. Another was a shootout goal (which counts to stats). Aside from the flashy golden goal in overtime, Sidney Crosby wasn't really that consistently productive in the 2010 Olympics with Patrice Bergeron, Eric Staal and Jarome Iginla (the three linemates they tried him with).
Keefe: Marc-Andre Fleury was the goalie for a championship team and was also the goalie for a team that lost in a Game 7 for the Cup. He can win in the playoffs because he has proven he can even if those two seasons were five and six years ago.
But after his 2011-12 playoff debacle against the Flyers when the Penguins were bounced in six games by a 7-seed and the disaster last postseason against the Islanders that saw him lose his job to Tomas Vokoun, it seemed like maybe Fleury was ruined. However, so far this season, he has played better than he has any other year and he might set career bests in wins, goals against average, save percentage and shutouts. What's different about Fleury this year compared to last spring and do you trust him?
Rixner: I trust Marc-Andre Fleury, but shakily so. The most unsettling thing about his meltdowns in 2012 and 2013 in the playoffs was that he had pretty good regular seasons before the bottom dropped out and now again this year, we're seeing another strong regular season. The hope is that there are some changes from year's past. The Penguins have a new goaltending coach. Fleury's seen a sports psychologist that's hopefully helped get his mind to a better place. The Pens now have Rob Scuderi back, a defensive defenseman who's thrived in the playoffs in L.A. and Pittsburgh. And they also have Jacques Martin as an assistant coach to lend a defensive conscious to the team.
Will it work? I'd be lying if I said I was 100 percent confident, but there certainly are enough changes to at least believe they're not just trying the same thing every year. Also, I think it's important to remember that the Pens failures have been more than just on Fleury. In 2012 when the Pens met the Flyers, Philly got under their skin and had the speedy and skilled forwards to trade chances with them. Ditto the Islanders last year in terms of having impressive team speed and ability to counter-punch a wide open Pittsburgh team. All we as Pens fans can do right now is hope that they play more responsible hockey in front of Fleury and that he can continue his strong regular season into the playoffs.
Keefe: After the Penguins' Cup win over the Red Wings in 2008-09, I thought we were about to see an Oilers-esque run from the Penguins built around Crosby and Malkin. And if they had Henrik Lundqvist the last few years, they might have put one together. But since winning the Cup, the Penguins have lost in the second round, the first round twice and the conference finals despite usually being the best or one of the best regular-season teams.
Dan Bylsma took over the team during their Cup-winning season and has led them to the playoffs in each of his four seasons. But after the Penguins were swept by the Bruins last year following to straight years of first-round exits, it seemed like there was a lot of backlash and criticism toward Bylsma and that he might be on his way out. Then the Penguins went and gave him a two-year extension through the 2015-16 season. Are you a fan of Bylsma and were you a fan of the extension?
And on another note, what can I expect from Bylsma over the next few weeks as the Team USA head coach in the Olympics?
Rixner: Well, the Oilers didn't have a formal salary cap and were able to keep their Gretzky, Kurri, Messier, Coffey, Anderson and Fuhr for much of the '80s in their run. The Pens have had to drop Jordan Staal, Sergei Gonchar and even role players like Scuderi, Matt Cooke and Tyler Kennedy due mainly to the salary cap within a few years of winning it all. Their team depth has definitely diminished since winning it all in '09.
I'm fine with Bylsma, because like you mentioned he is a solid regular-season coach. The Penguins have, by far, lost the most man-games to injury in the league this season, but they're still the best team in the East. It helps having a good team anchored by Crosby and Malkin, but the coaching staff has plugged lesser guys into big roles and it's worked. They also have the No. 1 power play and the No. 1 penalty kill in the league so far right now. Again, a lot of that credit goes to the execution and skill of the players, but that's also a credit to the coaches for their preparation and instruction. And, at least they keep the team invested and do more than "just go through the motions" on most nights.
Team USA ought be great for Bylsma, because it has so many players who fit perfectly for the philosophy of his north-south style. Zach Parise, Dustin Brown, David Backes, T.J. Oshie, Ryan Kesler and, yes, Rangers captain Ryan Callahan. It's a match made in heaven for Bylsma who likes his wingers big, physical and active on the forecheck. He also stresses the defensemen making the long, vertical stretch pass, and I think the skill and ability of the USA personnel defensively really fits what he looks for as well. It'll be interesting because Bylsma usually has the stud centers in Crosby-Malkin, and center is probably the biggest weak point on Team USA (compared to the talent that Canada, Russia and Sweden has) so we'll see how he handles that.
Keefe: The Shawn Thornton-Brooks Orpik incident and that whole Penguins-Bruins game as a whole (including James Neal and Brad Marchand) got a lot of attention for the gongshow that it was. As someone who went to college in Boston and who has friends from there and who live there and even some who covers the Bruins, I'm certainly aware of the Boston perspective of everything that occurred in that game and their take on the suspensions and injuries that resulted from it. Do you think your Penguins are a dirty team?
Rixner: I don't think the Penguins are necessarily dirtier than any other team (especially since they no long employ Mr. Cooke). They certainly have some hot-heads, but NHL players are basically all alpha-male young men with a lot of testosterone who are playing a physical and emotional game that moves really fast. There's no excuse for James Neal's actions that night, but consider that he kneed the same guy in the head who pretty viciously boarded him five months earlier. An eye for an eye leaves the whole world blind, but it's not just the Penguins players who are starting incidents or behaving badly, as the cowardly action from Thornton showed as well.
Keefe: I attended both of the Rangers-Penguins games at Madison Square Garden this season and in the first game (Nov. 6), the Rangers won 5-1 and in the second game, (Dec. 18) the Penguins won 4-3 in a shootout. In their only game in Pittsburgh this season (Jan. 3), the Penguins won 5-2.
I go into every Rangers-Penguins game with a pessimistic view because to me, the Penguins are a terrible matchup for the Rangers. They rely on their offense and power play to win games, while the Rangers rely on Henrik Lundqvist and pretty much only Henrik Lundqvist. That's why the Rangers' 5-1 win back on Nov. 6 was so surprising and also why their late comeback on Dec. 18 was as well. You would think the Jan. 3 game is how a Rangers-Penguins game should play out, but so far this season the Rangers have gotten three of a possible six points against the Penguins and I'm content with that.
But since the last time these two teams met, the Rangers have gone off on an 11-3-1 record and are playing their best hockey of the year as Alain Vigneault's system is finally coming together. What do Penguins fans think of the Rangers and what kind of game do you expect on Friday night?
Rixner: Most Pens fans, to be honest, aren't all that concerned about any threat within the division. With every team 17-20-plus points back in the rear-view mirror and being non-threats all season, the focus has been more on injuries and seeing the team play well more-so than worrying about anyone chasing Pittsburgh. Personally, I've always thought Washington, Philadelphia and the Rangers would be the biggest division challenges for the Pens, and I even picked the Rangers to win the division in my pre-season predictions. Maybe I slept on the transition time Vigneault would need, but I'm not surprised that now the Rangers are playing good hockey lately.As far as the game goes, we'll have to see. Right on the eve of the Olympics, a lot of players might have their minds on vacation, or heading over to Russia. I know Evgeni Malkin has been just sensational recently and really seems motivated and focused on getting his game in gear in time for his big homecoming. The Pens are an amazing 23-4-0 so far this year at home. They've been beyond impressive on special teams and have had pretty good goaltending too. They'll look to use their strengths to get out to a good start and an early lead and then just coast on to victory. Hopefully the Martin/Orpik combo can get ready for the Olympics by keeping Rick Nash off the scoreboard and limiting his chances as much as possible and the Pens will go into the break on a high note.But, if they check out a game too soon, as we saw in November, the Rangers definitely have the firepower and ability to beat Pittsburgh in a relatively easy fashion. It's cliché, but the first period will be key. If Lundqvist can come up big on the Pens and keep it 0-0, I like the Rangers chances. If the Pens can punch through and get a 1-0 or 2-0 lead, obviously the chances that they'll end up getting the win go way, way up.