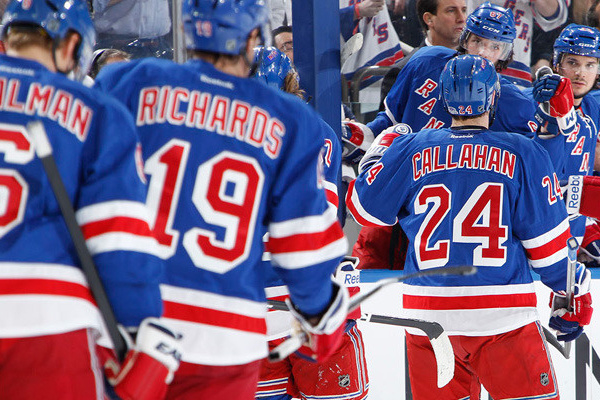 If Ryan Callahan played for the Panthers or Sabres or Oilers or Flames, he would already be gone. But he doesn't. He plays for the Rangers. If the Rangers were a last-place team looking at playing out the string after the Olympic break, this would be easier. But they aren't. They are in second place in the Metro. If the only thing on Ryan Callahan's jersey aside from "New York" or "Rangers" was the Number 24 then this wouldn't be so hard. But they aren't. He has the "C" on his jersey. If Ryan Callahan wasn't an unrestricted free agent at the end of the year then this would have never gotten this far. But he is. And he is looking for a seven-year deal worth $42 million.
Ryan Callahan was drafted by the Rangers, groomed in Hartford and including this season, he's spent eight years in New York and has given the organization everything he has had. But despite being the captain of the team and willingly offering every part of his body from his ankles to his face to block bombs from the point over the years, he is the first important and impending unrestricted free agent Glen Sather has decided to draw a line in the sand with.
Sather's decision reminds me of the scene in Slap Shot when Ned Braden tells Tim McCracken, "Somebody's gonna kill you, ya dumb son of a bitch, but it's not gonna be me," but instead Sather's telling Callahan and his agent Steve Barlett, "Somebody's gonna overpay for you, ya dumb son of a bitch, but it's not gonna be me." It's just weird that Sather has finally decided to not overpay for someone when that someone is the captain of his playoff-bound team. After 14 years of overpaying for once-upon-a-time talent, of which most of the time was spent in an attempt to build a mid-to-late 90s All-Star team, Sather has now decided to put his foot down when it comes to the heart of the team (Henrik Lundqvist is the brain).
It would be easier to side with Sather if the Rangers were a playoff bubble team looking at making a run in three to four years rather than a win-now team built around a 31-year-old goalie and a 29-year-old scorer in their prime. And it would be easier to side with Sather if he hadn't been so eager to overpay for free-agent talent in the past, but not take care of his own.
Ryan Callahan is making $4.825 million this season, but if he were to make $6 million, which would be the average annual salary of the deal he is looking for, he would be making as much as Taylor Hall, Jordan Staal, Tyler Myers and Tuukka Rask. Or in other words he would be making as much as a former No. 1 overall pick and face of the Oilers, an overpaid 20-goal scorer with a prominent last name, the face of the Sabres and one of the best goalies in the world. In comparison to Staal, he is worth $6 million a year through the 2020-21 season, but in comparison to the other three, he isn't.
The situation is unique and complicated because of who Ryan Callahan is, what his status to the Rangers is, the Rangers' window of opportunity, the team's place in the standings, their cap situation, Callahan's demands and his knowing his demands can be met on the open market. The entire dilemma can be categorized into three main reasons for Glen Sather to not want to extend (or re-sign) Callahan that all the other reasons stem from, so let's look at those.
Seven Years, $42 Million Is Too Much for His Style
If Ryan Callahan gets the deal he wants, he will be 36 when it's over at the end of the 2020-21 season. Since the start of the 2008-09 season, by season Callahan has missed 1, 5, 22, 6 and 3 games and so far this season he has missed 17 games. While it does seem that Callahan is always injured or out of the lineup, it's really only been 2010-11 and this season that he has missed a substantial amount of regular-season games and the 2010-11 playoffs after Zdeno Chara broke his ankle with a slap shot at the end of the regular season. But his game is built around high-energy, end-to-end shifts in which he plays solid defense, mucks it up and sacrifices his body and over time (or seven years in this case), that style of play won't hold up.
Callahan lacks finesse and hands and looks choppy with the puck, but he does always manage to get the job done when a scoring opportunity is presented (especially with shootout snipes) and he does have a goal-scorer's touch (his first goal on Tuesday showed this) and the puck does seem to have a way of finding him and his tape in the slot (his second on Tuesday showed this). The problem is that players with that style of play aren't those you want to need to produce in their mid-to-late 30s or want to commit a large portion of your payroll to. The other problem is the way Callahan finds the back of the net because when you're unable to create your own scoring chances, it's risky to rely on needing the puck to find your tape to get your goals.
His Trade Value Could Give the Rangers Depth and Help Avoid Salary Cap Issues
The Rangers aren't the best team in the Eastern Conference or even the second-best team. Their overall game and effort is too inconsistent, their secondary scoring is too unreliable and their defense is too shaky to know which Rangers team will show up on a given night. But they are certainly a playoff team and with Henrik Lundqvist they are certainly a team that could make a lengthy playoff run this spring like they did in 2011-12. And it's the vision of a lengthy playoff run more than anything why the Rangers need to keep Ryan Callahan. The only problem is if they keep him for the remainder of the season, they have to extend him or re-sign him because letting him leave via free agency and getting nothing in return following a Cup-less season would be a disaster.
I have always said that the Rangers can't keeping wasting years of Henrik Lundqvist's prime and Lundqvist is now 31 years old and in the heart of his prime. They wasted the 2011-12 season by not successfully trading for Rick Nash before the 2011 deadline and lost to the Devils in six games. They wasted last season by letting John Tortorella turn the entire team into shot-blocking pylons and by forcing a three-time 40-goal scorer out of New York and by benching a former Conn Smythe winner in the playoffs. The last thing they need is for me to add another sentence to this paragraph next year by saying this season was wasted when the Rangers traded away their captain, which destroyed the team and led to a first-round playoff exit (or worse).
The easy fix here would be if the NHL got rid of the salary cap today and the Rangers could meet Ryan Callahan's unreasonable demands (yet also reasonable since he knows someone … cough, cough Buffalo … will meet them) and Sather could start writing ridiculous checks like he used to. But committing over nine percent of your payroll (the cap is $64.3 million this year though it's expected to go up, which puts even more of a wrinkle into this dilemma) to a player of Callahan's abilities right now isn't the best move when it comes to finances or rational thinking. But since when is Sather worried about finances or being rational? When it comes to dealing with his team's 28-year-old captain, that's when.
He Doesn't Fit Into Alain Vigneault's System
If John Tortorella were the coach right now, Ryan Callahan would have likely already received his extension and it would have been close to the one he wants or would have been the one he wants. But John Tortorella is in Vancouver trying to get the Canucks into the playoffs and trying to avoid being suspended again for putting out a gongshow fire with gasoline. Alain Vigneault is the Rangers coach and after this year he has four years and $8 million remaining on his contract. Vigneault isn't going anywhere … at least not today. And that's all that matters right now since he isn't the one facing a decision by either Friday at 3 p.m. or March 5 at 3 p.m.
I have no idea about the relationship between Callahan and Vigneault, but I do know that Callahan's style of play doesn't fit into Vigneault's offense-first and open-ice system. Callahan lacks the speed, offensive talent and scoring ability to be a key part of what Vigneault is trying to build in New York and that's part of the reason that before Tuesday's win over Colorado, Callahan had just nine goals in 39 games. But after a sluggish 20-20-2 start to the season the "Vigneault is wrong for the Rangers" narrative has stopped thanks to an 11-3-1 record since Jan. 4 and a current season-high four-game win streak. And it's hard to say that Vigneault's system isn't working and isn't finally coming together since the Rangers have averaged 3.47 goals per game over the last month.
I'm torn on whether the right move is to extend or trade Ryan Callahan and really both sides of the debate are equal. The last time I remember being this indecisive about two equal choices was when I had to pick between binge-watching Game of Thrones or Breaking Bad to catch up in the spring of 2012 (I went with Game of Thrones and then eventually did Breaking Bad). You don't want to overpay for a 20-plus goal scorer whose skills will likely diminish rapidly in his 30s, but you don't want to trade your captain and vital piece of the team while in a win-now window for the franchise.
There's a chance Ryan Callahan scored his last goal in Madison Square Garden as a Ranger and saluted the crowd as a member of the home team for the last time on Tuesday night. I hope it wasn't the last time for either. Not because I want the Rangers to extend to Ryan Callahan, but because I don't know that they should trade him. And if Tuesday night wasn't the last time for either, it means I have more time to make up my mind.