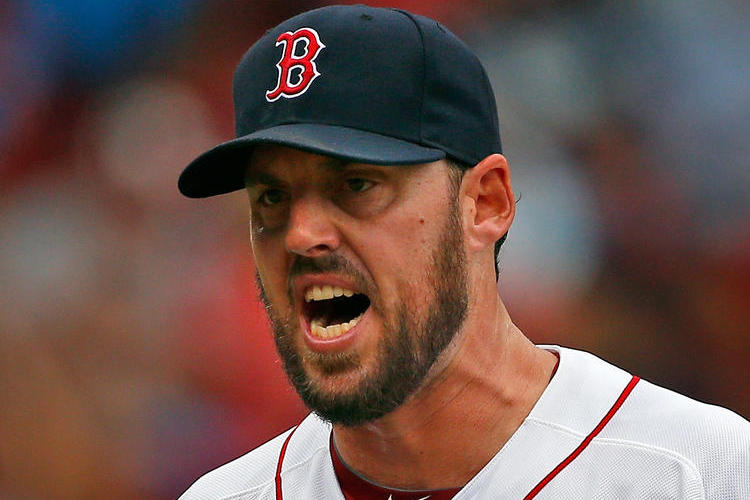 The Midsummer Classic is this week and that means it's time for the four longest days of summer: the four days without baseball. I mean real baseball and not the Home Run Derby or the All-Star Game because without real baseball to watch and talk about, the baseball world becomes talking heads spending Monday and Tuesday debating who should and who shouldn't have made the All-Star Team and how the All-Star Game can be fixed. And then those same talking heads will spend Wednesday and Thursday spewing meaningless "second-half" predictions and giving us their "midseason" awards for Cy Young and MVP.
Instead of complaining about the Home Run Derby format or Chris Berman's broadcasting techniques and instead of debating if the Home Run Derby messes up a hitter's swing or if the All-Star Game should determine home-field advantage, I thought now would be the best time to announce the one midsummer roster that matters: the 2014 All-Animosity Team.
It's the Fifth Annual All-Animosity Team and once again the team consists of one player at each position, along with a starting pitcher, a closer and a manager from around the league. The standards to be considered for the team are simple and only one of the following three requirements needs to be met.
1. The person is a Yankee killer.
2. The person plays for the Red Sox.
3. I don't like the person. (When I say, "I don't like the person" or if I say, "I hate someone" I mean I don't like the person who wears a uniform and plays or manages for a Major League Baseball team and not the actual person away from the game. I'm sure some of the people on this list are nice people. I'm glad we got that out of the way since I can already see Player X's fan base in an uproar about me hating someone who does so much for the community.)
So, here is the 2014 All-Animosity Team with the winners from the previous years also listed.
C – Mike Napoli
(2013 – Jarrod Saltalamacchia, 2012 – Matt Wieters, 2011 – Jarrod Saltalamacchia, 2010 – Jason Varitek)
Jason Varitek hasn't played baseball in four years, Jarrod Saltalamacchia is in Miami and Matt Wieters had Tommy John surgery. Usually if I'm having trouble, I can always turn to the Red Sox, but A.J. Pierzynski just got cut and David Ross isn't worth giving the time of the day to. With a limited number of unlikeable catchers, it was hard for me to not break my own rule of not putting any Yankees on the team and put Brian McCann in this spot. So while Napoli has never caught in any of the 214  games he has played for the Red Sox and hasn't been a catcher since 2012, I'm penciling him in here.
Even with David Ortiz saving the Red Sox' season against the Tigers in the ALCS and then hitting .688 in the World Series, Napoli was the face of the 2013 Red Sox. With his Duck Dynasty beard, he became the face of a team built on the notion of "We can win a championship if every single thing goes our way" and every single thing did go their way for the whole season as they got bounce-back seasons from their entire roster and overachieving seasons from several players who had become perennial underachievers.
After agreeing to a three-year, $39 million deal and then having that deal voided because of a failed physical, Napoli was almost not even part of the 2013 Red Sox. He signed a one-year, $5 million contract with $8 million of incentives and then went on to hit .259/.360/.482 with 23 home runs and 92 RBIs, which isn't very impressive, but what is are his 2013 numbers against the Yankees: .375/.453/.804 with seven home runs and 20 RBIs. This year, Napoli has cooled off a little against the Yankees (.306/.405/.667), but he still has three home runs against them and one game-changing home run against them when he got a two-strike fastball from Masahiro Tanaka in the ninth inning at Yankee Stadium a few weeks back before calling Tanaka "an idiot."
1B – Chris Davis
(2013 – Chris Davis, 2012 – Adrian Gonzalez, 2011 – Adrian Gonzalez, 2010 – Kevin Youkilis)
I wasn't going to put Chris Davis here with a .199 average at the break, but after his two-run home run against the Yankees in the bottom of the fourth inning on Sunday Night Baseball gave the Orioles a 2-1 lead in an eventual 3-1, rain-shortened win, I had to. Eff you, Chris Davis. And eff you, rain-shortened losses in a huge division game that is the difference between being three games back or five.
2B – Dustin Pedroia
(2013 – Dustin Pedroia, 2012 – Dustin Pedroia, 2011 – Dustin Pedroia, 2010 – Dustin Pedroia)
For as long as I have an All-Animosity Team and for as long as Dustin Pedroia is the second baseman of the Red Sox, he will be in this spot. So as I have done the last few years, I will just put down what I have about Pedroia.
Pedroia is like Tom Brady for me. He has that winning instinct that you just don't see all the time these days, he plays hard and he's the type of guy you want on your team. But if I didn't put him here again it would just be weird.
3B – David Wright
(2013 – David Wright, 2012 – Robert Andino, 2011 – Kevin Youkilis, 2010 – Chone Figgins)
David Wright is the face of the Mets. And for that alone, he gets this spot.
SS – Jose Reyes
(2013 – Jose Reyes, 2012 – Jose Reyes, 2011 – Jose Reyes, 2010 – Jose Reyes)
Sometimes I miss the days of the Jose Reyes being the Mets shortstop when Mets fans would try to engage me in fights about Reyes being better than Derek Jeter. And sometimes I miss the days when Mets fans would call WFAN and talk about how Reyes is "the most exciting player in baseball" as if there were any true way to measure a statement like that. But I always miss the days when Mets fans would call and say the team has to re-sign Reyes before he hit free agency after the 2011 season. Since Reyes left the Mets for free agency and signed a six-year, $106 million deal with the Marlins (and was then traded to the Blue Jays), he has played in 332 of a possible 420 games and has become a shell of his former self offensively, even playing for an offensive power like the Blue Jays.
I can only dream about the state the Mets would be in right now if they had Reyes playing shortstop a $16 million per year for an under-.500 team trying to rebuild and can only imagine the types of calls that would be flooding the sports radio phone lines with the trade deadline looming and Mets fans waiting on hold for hours to share their fantasy trades for Reyes. I miss the days of the Jeter-Reyes debates, even if they were one-sided and ended the same way as all the Jeter-Nomar debates, and I miss Reyes being a Met and giving that fan base years of false hope.
LF – Wil Myers
(2013 – Carl Crawford, 2012 – Delmon Young, 2011 – Manny Ramirez, 2010 – Manny Ramirez)
Here is what Wil Myers has done this season: .227/.313/.354 with five home runs and 25 RBIs.
Here is what Wil Myers has done against the Yankees this season: .375/.429/.813 with four home runs and 14 RBIs.
That means 12 of Myers' 45 hits (27 percent), four of his five home runs (80 percent) and 14 of his 25 RBIs (56 percent) have come against the Yankees. Excuse me while I throw up.
I watched Myers round the bases on his inside-the-park home run from Section 203 at the Stadium on May 4 and watched him encourage all of 203 to continue to taunt him as he continued to beat the Yankees. Unfortunately, he is 23 years and will likely taunt me for years to come.
CF – Adam Jones
(2013 – Ben Zobrist, 2012 – Josh Hamilton, 2011 – B.J. Upton, 2010 – Vernon Wells)
I was shocked to realize Jones hadn't been been part of the All-Animosity Team before, given his knack for killing the Yankees offensively and defensively. This year Jones is hitting .324/.359/.514 with two home runs against the Yankees and it's usually Jones in the middle of any Orioles rally against the Yankees or the one killing a rally with a Web Gem. I miss the days of a young Adam Jones, who hadn't realized his power yet and could easily be struck out in a big spot.
RF – Nick Swisher
(2013 – Nick Swisher, 2012 – Jose Bautista, 2011 – Magglio Ordonez, 2010 – Magglio Ordonez)
Before the Yankees started a four-game series in Cleveland last week, Nick Swisher was hitting .197/.287/.317 with five home runs and 39 RBIs in what was becoming a disastrous season for the Indians' highest-paid player making $15 million this season. Swisher's struggles this season brought a smile to my face the same way I was smiling when he went 0-for-4 with two strikeouts in the one-game playoff last season.
But during the four-game series against the Yankees, Swisher went 5-for-18 with two home runs and five RBIs, including the two-strike home run against Tanaka in his last start before he hit the disabled list. And since the start of the Yankees series, Swisher is 9-for-10 with three home runs and seven RBIs. There's nothing quite like the Yankees letting a sub-.200 hitter in July get hot and start to turn his season around againts them, especially when it's the hated Nick Swisher. OK, maybe "hated" is the wrong word to use when talking about Swisher since he is extra sensitive.
SP – John Lackey
(2013 – Josh Beckett, 2012 – Josh Beckett, 2011 – Josh Beckett, 2010 – Josh Beckett)
I never thought any pitcher other than Josh Beckett would earn this spot, but Lackey had been knocking on the door for a few years and finally busted it open this season.
Let's put aside his personal life issues and even his double-fisting beers in the clubhouse and even his belittling of the media, who do sometimes need to be belittled, and let's talk about Lackey's contract status.
Lackey signed a five-year, $82.5 million deal with the Red Sox from 2010-2014 with a club option for 2015 at the league minimum is Lackey misses significant time with surgery between 2010-2014 for a pre-exisitng elbow injury. Lackey did miss time because of surgery and missed the entire 2012 season and is now saying he will never pitch for the league minimum ($500,000) and will retire before doing so.
John Lackey is pure scum on top of scum and I'm not sure how he has a single fan. He signed a five-year, $82.5 million A.J. Burnett deal before 2010 and in the first two years he went 26-23 with a 5.26 ERA. Then he missed the entire 2012 season. Last year he went 10-13 with a 3.52 ERA on a division-winning and World Series-winning team. It doesn't surprise me one bit that he is upset that he would only make $500,000 next year, but it's a little ironic that he didn't think he should only be making $500,000 when he had a 1.619 WHIP in 2011 or when he threw zero pitches in 2012. Poor John Lackey.
CL – Fernando Rodney
(2013 – Fernando Rodney, 2012 – Jose Valverde, 2011 – Jonathan Papelbon, 2010 – Jonathan Papelbon)
It was actually hard to fill the closer role this season, but watching Rodney celebrate saves over the years and then turn in an ugly line (1.1 IP, 1 H, 2 R, 2 ER, 3 BB, 2 K, 1 HBP) in two appearances against the Red Sox in the ALDS en route to their third championship in 10 years was enough to put him back on the team.
Manager – Mike Scioscia
(2013 – Mike Scioscia, 2012 – Bobby Valentine, 2011 – Mike Scioscia, 2010 – Joe Maddon)
I really wanted to put Mike Matheny here for his managerial decisions in the World Series, especially his decision to bring in Seth Maness and his awesome pitch-to-contact stuff to face Jonny Gomes in Game 4. Thanks, Mike! But I don't care enough about Matheny or the Cardinals for this spot considering how many choices there are from the American League.
This spot has gone to Joe Maddon and Mike Scioscia and the legendary Bobby Valentine (whose Stamford, Conn. restaurant I ate at on Saturday and it was actually good) in the past and once again it goes to Scioscia, whose Angels are finally playing up to their payroll for the first time since 2009. And because the Angels are looking like a lock for either the West or the first wild card, that means we are going to have to hear about how great of a job Scioscia did in 2014 despite having Mike Trout, Josh Hamilton and Albert Pujols in his lineup. Don't forget, no team goes first to third and plays fundamentally-sound baseball better than Mike Scioscia's team!