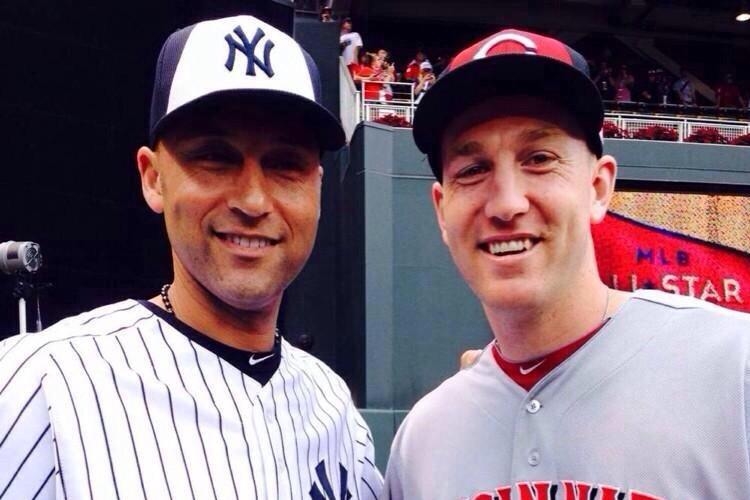 Three weeks ago the Reds' season was falling apart fast. They were 35-37 and 8.5 games back in the NL Central. But today as post-All-Star break baseball begins, the Reds are 1.5 games back in their division and 1 game back in the wild card. What am I getting at? Well, the Yankees are in a similar position to the one the Reds were in on June 20 and they will need a run of their own this summer if they don't want to miss out on the postseason for the second straight year.
With the Reds in the Bronx to begin the "second half" and a 10-game homestand for the Yankees, Brandon Kraeling of Red Reporter joined me to talk about Todd Frazer's emergence as an All-Star, what it's like to watch and root for Aroldis Chapman and how Alfredo Simon has gone from AL East mop-up man to NL Central starting pitcher and somehow an All-Star.
Keefe: I remember the summer after sixth grade watching Toms River, N.J. run the table in the Little League World Series and pulling for them in the United States tournament because they were somewhat local as a Tri-state area team. Todd Frazier was the leader on that team and it's still weird to see him now playing third base for the Reds.
As a former first-round pick, I wasn't sure if Frazier would ever become a star in the league after hitting .249/.318/.446 in his first two-plus seasons and 318 games with the Reds. But this year, at age 28, Frazier put it together and has turned into a star and an All-Star and an underdog Home Run Derby runner-up. In 94 games this season, Frazier has already matched his career high in home runs (19), which he reached in both 2012 and 2013 and is hitting .290/.353/.500, well above his career average in all three categories
The picture of a 12-year-old Frazier standing with a 24-year-old Derek Jeter in 1998 became a storyline of this year's All-Star Game with Frazier making the All-Star Game for the first time and Jeter playing in the Midsummer Classic for the last time and like Frazier playing for that Toms River team and now playing against the Yankees and Jeter, that picture is something I will never get used to.
Did you ever think Frazier would become the player he has turned into this season?
Kraeling: That old picture of Frazier and Jeter paired with the All-Star game this year is one of those things that makes baseball great.
I think the player we've seen Frazier become was always what we talked about as a best-case scenario for him. As we followed his ascent through the Reds minor league system, we've always kind of hoped he could become more of a super utility guy; a guy who can play a number of positions, hold his own in the middle of the lineup, and provide a little pop.
I can't say we ever expected him to be among the top home run hitters in the NL midway through this season, especially after the "sophomore slump" he went through last year. That's a huge credit to him, with the amount of injuries that the Reds have had, that Frazier has been able to step up and shoulder some of the offensive responsibility there. He's carrying this lineup right now.
Keefe: Last Thursday before the All-Star break, the Reds got into it with the Cubs and the benches cleared as Aroldis Chapman and Anthony Rizzo were the focal points of the incident. I didn't watch the game because I was busy watching Joe Girardi manage the Yankees' bullpen to a loss with a three-run lead and nine outs to get. (They lost 9-3.) What exactly happened with the Reds and Cubs? Who was at fault?
Kraeling: I think that incident ended up being a little overblown. It isn't uncommon for opposing players to take exception to Chapman's wildness and claim that it's intentional, and the Rizzo situation was one we've seen a couple of times already since Chapman's been up. Chapman barely knows where the ball is going half the time, and it happened in a tie game so there's no doubt in my mind he wasn't trying to hit anybody.
Then again, I'm sure it depends on what side you're on. The Cubs announcers were claiming that Chapman was looking for blood, and I never got one bit of that listening to the Reds broadcast.
That being said, Rizzo was out of line with how he reacted. He was going back and forth with the Reds all inning after his at bat, and angrily walked toward the Reds' dugout after the inning was over, almost making it all the way to the rail before other players intervened. I'm surprised he didn't get thrown out, and it'll certainly provide another storyline the next time these teams play.
Keefe: Speaking of Chapman, here in New York we have Dellin Betances embarrassing nearly every hitter that steps in the box with 84 strikeouts in 55 1/3 innings (206 batters faced) and a ridiculous 13.7 K/9. But what's even more ridiculous is Chapman is striking out hitters more often than not with 60 strikeouts in 29 1/3 innings with 111 batters faced. The only time I really watch Chapman is when the Reds are playing a national TV game, I'm bored and watching random games on MLB TV or I have thrown the Reds into a parlay and watch them because I have money on the line, but when I see numbers like that, I feel like I need to start watching Reds games when there's a save opportunity on the line.
How fun is it to watch Chapman and to have him on your team?
Kraeling: It's an absolute blast. We've had plenty of ups and downs with Chapman, but he's one of those players where you drop whatever you're doing whenever he comes into a ballgame (it reminds me of Mo Rivera on that front). One of the things I enjoy most as a Reds fan is getting to watch the reactions of opposing fans (and players, honestly) when he's hitting 102 on the gun without much effort. Being at the stadium, he brings so much energy when he comes in, if only because we can see his superhuman arm in the flesh.
On the other hand, when he's not on his game, he's just as bad as he is dominant. Sometimes it seems like he can lose focus mentally in an instant, and it can really be a roller coaster ride when we see him in a game. Walking the bases loaded and then striking out the side isn't out of the question for Chapman. It makes things exciting, that's for sure.
Keefe: The Yankees need to not only start winning series, but they need to start sweeping series and winning games in bunches starting right away in the "second half." The problem with that (along with the fact that 80 percent of their Opening Day rotation is on the disabled list) is that they will be facing a red-hot Reds team this weekend at the Stadium and Johnny Cueto is starting on Sunday. Cueto is 10-6 with a 2.13 and leads the league in complete games (3), innings pitched (143.2) and hits/9 (5.8). Not exactly what I want a Yankees team that has trouble scoring against No. 4 and 5 starters to be seeing three games into the stretch run while chasing five games in the East.
But also pitching this weekend against the Yankees is Alfredo Simon, who I miss dearly from his time in Baltimore because whenever he came into the game it meant a Yankees rally or comeback. It blew my mind that Simon was an All-Star this year, going 12-3 with a 2.70 ERA so far after being a reliever for nearly his entire career.
Are you surprised that Simon has not only become a reliable starter, but that he's doing it at age 33?
Kraeling: Absolutely. I think the job that Simon is doing is one of the most surprising performances in all of MLB this year. You have a guy who Baltimore gave up on and the Reds got off of waivers, who was a productive member of the Reds' bullpen the past few years but was never really spectacular. He prepared this spring as a starter with Mat Latos hurt, but wasn't necessarily in the Reds' plans for the rotation to start the year.
Oddly enough, if former Yankee Brett Marshall hadn't hurt himself in his last start of spring training, he would have been the 5th starter for the Reds over Alfredo Simon. Funny to think about.
We're fully aware that midnight is coming and that Simon could turn into a pumpkin any minute now, but we're enjoying the ride right now.
Keefe: On June 20, the Reds were 35-37 and 8.5 games back in the NL Central and playing themselves out of playoff contention with the real halfway point of the season approaching. Since then they have gone 16-7 and are not only 1 game out of a wild-card spot, but they are now just 1.5 games out in the division. Over the last three weeks the Reds have essentially saved their season and it's something the Yankees will need to do in the "second half" if they are to get back to the postseason.
In the last four years, the Reds have reached the playoffs three times, losing in the one-game playoff last year and in the NLDS in 2012 and 2010 and going 2-7 in their nine playoff games. I'm guessing you had postseason aspirations for this Reds team before the season started and still do now that they have repositioned themselves nicely for the last two-plus months of baseball.
What exactly were your expectations for the Reds entering the season and have they changed? Were you losing hope before they recently turned it around?
Kraeling: It's been a really weird season for the Reds. I think we had similar expectations before the season as we have in the past few seasons, in that the Reds should compete for the division title. However, I think there was a little bit more pessimism with the Pirates, Cardinals, and Brewers making moves to improve in the offseason and Walt Jocketty standing pat with his Reds roster. The biggest offseason acquisitions for the Reds were Brayan Peña and Skip Schumaker. Seriously.