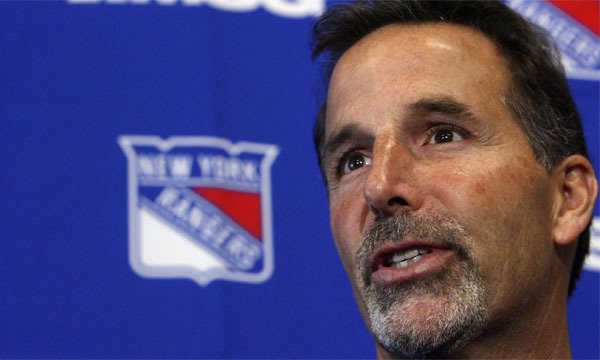 There isn't much to say about a 3-1 home loss to the best team in the Eastern Conference and John Tortorella proved that after Tuesday night's embarrassment.
Tortorella provided no insight into what the eff happened to the Rangers between Sunday night and Tuesday night, with or without Rick Nash (who he also didn't provide any information on) because why would Tortorella need to tell anyone why his team can't seem to consistently hold or increase a lead?
It was another night where the power play put up a zero and the Rangers' power play now has three goals in 27 opportunities in February and the man advantage is dead last in the NHL at 10.9 percent for the season. It was another night where the Rangers outshot their opponent and didn't win and another night where they failed to convert high-quality scoring chances. And it was another night where Brian Boyle failed to score a point, extending his scoreless streak to seven straight as the Tortorella favorite now has one assist in 12 games this season. But he did lead the team with six hits! Hits!
But for everything I say about Boyle (all of which is true), it was a full team loss against the Canadiens. Henrik Lundqvist said, "They play it extremely boring" and I'm not sure if he was praising or trying to mock the Habs, but maybe it's time the Rangers played "it" boring. Because if playing it boring gets you two points every game and first place in the conference, well that's way more fun than losing.
After the Rangers lost to the Devils two weeks ago, I said I would start a tradition on Keefe To The City and analyze John Tortorella's postgame press conference after every Rangers loss. I missed the 4-3 shootout loss to the Islanders on Valentine's Day because it was Valentine's Day and if I was watching hockey instead of celebrating it then I would certainly be watching hockey on Valentine's Day next year. So here's John Tortorella after Tuesday's 3-1 loss to the Canadiens.
On the game as a whole.
"I thought it was probably one of the worst hockey games I've been involved in. Both teams. But they were better than we were."
There's no doubt it might have been one of the worst games Tortorella has ever been involved in, but that would mean that he doesn't remember the Rangers' 3-0 loss to the Penguins at the Garden on Jan. 31.
I'm not really sure how Tortorella can stand there after losing a home game to the top team in the Eastern Conference and say that both teams played poorly. Not only did the Canadiens beat the Rangers on the road, but the Canadiens played the Hurricanes at 7:30 p.m. on Monday night in Montreal and won 3-0. 23 hours and 30 minutes after the Canadiens-Hurricanes game started, the Canadiens and Rangers began play at Madison Square Garden. In less than 24 hours the Canadiens beat the current 3 seed in the Eastern Conference (thanks to Gary Bettman's division winner system) and then flew to New York City and depending on what time they arrived at their hotel in New York (I'm guessing early Tuesday morning) they either beat the Rangers the following night or that same night.
The Canadiens deserve a pass for poor and sloppy play and 15 shots on goal. The Rangers, however, last played on Sunday at home against the Capitals. They slept at their own homes in their own beds on Sunday and Monday night and the only travel they had to endure was to the team's practice facility and to Madison Square Garden. Maybe just maybe Tortorella shouldn't be grouping the Rangers' effort with the Canadiens' effort?
On the icing that was waved off and led to the Canadiens' first goal.
"They told me that they were yelling to Michael, "No icing" because they said he was shielding the player when he was going back for the puck. They said they didn't think he was skating completely going to the puck. Doesn't matter. That doesn't cost us the game. No excuse there. Two bad teams playing and we were worse than they were."
Even though Tortorella believes this play didn't cost the Rangers the game, and yes they deserved to lose anyway, the play did have an impact on the outcome of the game since every play does whether or not he will admit it. After praising his team's effort in a loss to the Devils just two weeks ago, Tortorella did say, "No excuse there," so I have to give him credit for not talking about how well the team played despite what the scoreboard said. But let's look at the last sentence of his quote, which sounds very similar to how he opened his postgame press conference.
The Canadiens are the hottest team in the Eastern Conference and have won five straight games, outscoring opponents 15-5. Three of those wins have come on the road and all five of them came in a one-week period. They are in first place.
The Rangers have lost two of their last three games, all at home, and their only win in the three games came against the last-place Capitals. Last Tuesday they blew a three-goal lead with 11:16 left to play in Boston, but won in a shootout. Last Thursday they blew a two-goal lead after the first to the Islanders and lost in a shootout. In seven of their 15 games they have been held to two goals or less and have scored just three goals in the last seven periods. They are in ninth place.
How is the team in first place just as "bad" as the team in ninth place that they just beat? How is the team in first place "bad" at all?
Tortorella kept it short with the media after the loss and finished with this gem before walking away.
"That pretty much sums it up, huh?"
A poor effort in a home loss following a day of rest with nothing to show for on the power play? Yeah, that pretty much sums it up.