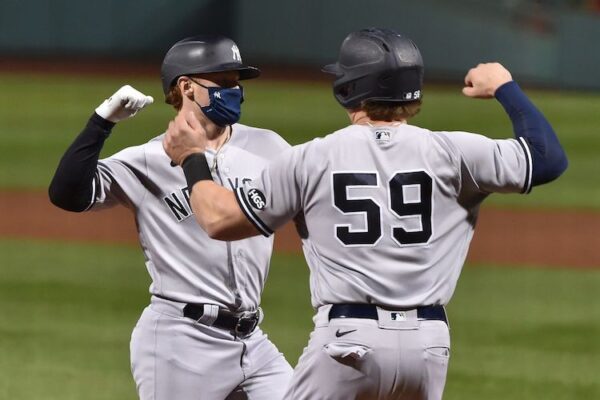 The Yankees will be playing baseball in October. The moment the postseason field was expanded to eight teams they were going to be playing baseball in October, but now it's official.
Last season, I wrote the Off Day Dreaming blogs on every off day, but this season there aren't many off days. There aren't many games. So instead, I have decided to use the Off Day Dreaming format following each series. Yankees Thoughts will be posted after each series this season.
Here are 10 thoughts on the Yankees.
1. The Yankees' winning streak had to come to an end at some point. Unfortunately, it came to an end against the Red Sox and the Yankees finished the season series 9-1 against their "rival." I use that term loosely now since the Red Sox were bad last season, horrendous this season and there doesn't seem to be a timeline on when they migth be good again. For the forseeable future, the Yankees and Yankees fans will have to worry about the Rays and Blue Jays.
2. The AL postseason field is essentially set: Yankees, Rays, Blue Jays, White Sox, Twins, Indians, A's and Astros. The order of the teams isn't set, but those are the eight teams. With only seven games left for the Yankees and six for other teams, it seems as though they will be the 4-, 5-, 6- or 7-seed, and that means they will likely not face the Astros, Indians or Blue Jays, leaving the Rays, White Sox, Twins and A's as possible opponents in the best-of-3. My preference for the best-of-3 opponent in order: Twins, White Sox, A's, Rays.
3. It's crazy the postseason begins in eight days and it's sad the Yankees' season could be over in nine days. It feels like the baseball season is just beginning (because it pretty much is) and now it's over. And once it's over it will be back to an offseason hiatus after this past offseason lasted nearly nine months. The postseason is about winning a championship, but it's also about extending the season and shortening the offseason as much as possible. A series win in the best-of-3 means at least another three games and another week of baseball. A series win in the ALDS means at least another four games and another week of baseball and so on. I'm not ready to go back to a baseball-less world after this past offseason.
4. I agree with Aaron Judge in that I also hate the playoff bubble. I get why the league has to do it and I understand that any positive test could ruin the postseason, I just hate the fact October will be decided in neutral stadiums, even if there would be no fans at teams' actual stadiums. If the Yankees get through the best-of-3 series and get into the bubble, are they going to wear pinstripes for their "home" games? I hope not. Just wear the road grays for every bubble game. Again, if they get there.
5. Rob Manfred has alluded to the eight-team postseason format becoming a permanent thing. The second it was implemented this season, it was going to be a permanent thing. Did anyone think the owners, who proved they could care less about the actual game or the integrity or long-term future of the sport this year, were going to not want more guaranteed postseason money after 2020? If it were up to the owners, all 30 teams would make the postseason and play a month-long, bracket-style tournament to decide the World Series. They don't care that a 16-team postseason field would render the regular season meaningless and destroy their fan base over six months as long as they get that guaranteed money in October. They don't care if regular-season ratings and attendance (when it's allowed again) decline. Guaranteed postseason money and the most possible postseason games is what drives their decision making.
6. As a Yankees fan, a permanent eight-team postseason means the Yankees will never miss the playoffs. Never. There's no chance the Yankees aren't a Top 8 team in the AL in any season. The last time the Yankees weren't a Top 8 team in the AL was back in 1992. Even when Lyle Overbay was batting cleanup every day in 2013 or in 2016 when they sold and finally gave in to a rebuild, they were still a Top 8 team. It also means it will be signfiicantly harder for them to win a championship with the additional best-of-3 series. I hate everything about the eight-team postseason format. The one-game playoff in the current five-team format is awful enough, but letting more than half the league into the postseason is the worst possible idea.
7. After J.A. Happ laid an egg against the Phillies in the first week of August, I wrote J.A. Happ Can't Start Another Game for Yankees and recorded a podcast titled Remove J.A. Happ from Rotation. I stand by both of those. If given enough chances, Happ would eventually turn in some good starts, and he was given those chances because of money owed and the Yankees' refusal to let Clarke Schdmit take his rotation spot. Since that clunker against the Phillies, Happ has been very good in six starts: 37.1 IP, 27 H, 8 R, 8 ER, 5 BB, 36 K, 4 HR, 1.93 ERA, 0.857 WHIP. Now only one of those starts has come against a postseason team (Toronto), a team only going to the postseason because of the ridiculous eight-team format, and the other five have come against the Mets (2), Red Sox (2) and Orioles. Happ has been great of late, but his competiton hasn't been, and I don't trust him for a second come October. He could throw a perfect game with 27 strikeouts this week and I still wouldn't feel confident in giving him a postseason start. The lineups he will face in the postseason are nothing like the four lineups he has shut down over these last six starts. Unfortunately, Jordan Montgomery has been mediocre to bad to horrible in the majority of his starts and the Yankees don't have another choice other than to let Happ start with no days off in either the ALDS or ALCS.
8. There's not anyone out there who still thinks Mike Tauchman is a better player or better for the Yankees than Clint Frazier, right? Unless you're part of Tauchman's immediate family, you can't think that. Even if you're a relative of his, but not in his immediate family, you can't think that. Frazier has solidifed his role in the 2020 Yankees' starting lineup and has likely made it so that one of Tauchman and Brett Gardner aren't on the 2021 Yankees. (I would pick Gardner over Tauchman.) Along with DJ LeMahieu and Luke Voit, he has carried the Yankees' offense, has vastly improved his defense and has become a complete, all-around player. Now maybe the Yankees will stop batting him at the bottom of the order and several spots behind Aaron Hicks when the "A" lineup is used.
9. I have a bad feeling. A very, very, very bad feeling Hicks will bat third in the postseason against a right-handed starter. The Yankees did it last year with Gardner and it might have cost them the ALCS with his first-inning at-bat in Game 3 against Gerrit Cole with Gleyber Torres inexplicably batting fifth. The Yankees have a lot of options and different ways they can construct their Top 6 for the postseason. It shouldn't include Hicks. It shouldn't, but it will.
10. Erik Kratz's inning of work on the mound was easily a Top 5 moment this season. It might even be Top 3. Everyone loves Kratz. I have called for him to be the Yankees next manager as early as next season. (The Yankees already handed over their team in the middle of a championship window to a manager with no managerial or coaching experience, why not do it again?) But I'm rescinding that wish and wish for him to be re-signed as a third catcher/reliever for 2021. Between his knuckleball and his 81-mph fastball that kept Red Sox hitters off balance (aside from J.D. Martinez who sucks so bad now he can only hit against position players), to me, Kratz is the most trusted current Yankees reliever after Aroldis Chapman, Zack Britton, Chad Green, Adam Ottavino and Jonathan Loaisiga. I might even trust him a little more than Chapman and Ottavino. But I certainly trust him more than Jonathan Holder, Luis Cessa, Michael King and Nick Nelson. I'm not kidding. Give me that knuckleball over those four.
***
Subscribe to the Keefe To The City Podcast. New episodes after every game throughout the season.
***
My book The Next Yankees Era: My Transition from the Core Four to the Baby Bombers is now available as an ebook!