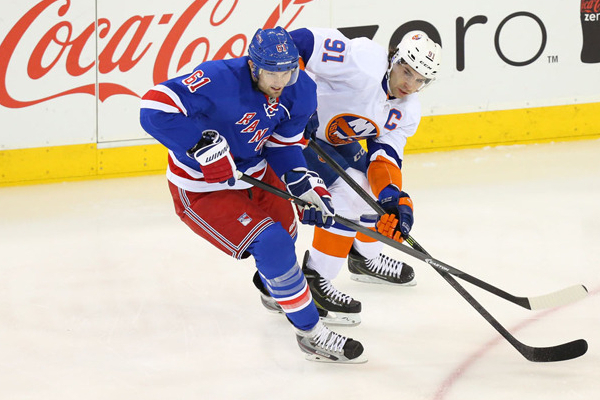 The Rangers and Islanders met twice over the first 51 games of the season. But starting on Wednesday night, the rivals will play twice in two nights and will have played three times in 10 days.
With the Rangers and Islanders set to play in the second of the two Stadium Series games at Yankee Stadium on Wednesday, I did an email exchange with Dominik Jansky of Lighthouse Hockey to talk about the two lengthy streaks that have defined the Islanders' season, if Jack Capuano is the right head coach for the team and how long Thomas Vanek will be an Islander.
Keefe: On Nov. 2, the Islanders beat the Bruins 3-1 and improved to 6-5-3 on the season. But starting on Nov. 5 against the Capitals, the Islanders went 5-16-4 through Dec. 28 and it looked like they had played themselves out of having a season before the end of the calendar year. But since their Dec. 28 loss to the Devils, the Islanders have gone 10-5-1 to get back in the mix in the Metropolitan Division and give themselves a chance to play meaningful hockey after the Olympic break.
What has been the difference for the Islanders over the last month?
Jansky: It's maybe over-simplifying to put it this way, but basically they had bad goaltending and bad shooting luck during their struggles, and their recent upturn has coincided with better goaltending (Nabokov returning before getting hurt again, Kevin Poulin putting in a few games) and a more productive power play. As you've noticed, they have trouble keeping the puck out of their net, so winning games really depends on a big night on offense and enough saves to protect that lead.
They've lost several leads, but the winning streak was also marked by coming back from two-goal deficits to win four times.
Keefe: It's obvious the Islanders can score with any team in the league. It's keep the picking out the net that has held them back (they have allowed the second-most goals per game in the league) and prevented them from taking the next step. Part of is has been their defensive situation, but the biggest part of it is their goaltending situation.
(I know the following is a sore subject, but it's something I have wanted to ask an Islanders fan about it in detail.)
I was a freshman in high school when I went to Boston to see a Bruins-Islanders game on April 7, 2001 and Rick DiPietro started in goal for the last game of the season for both teams. The Islanders lost that game 4-2, but I thought it was my first chance to see the No. 1 pick and future star play in the NHL.
Growing up in Southern Connecticut, I saw DiPietro play dozens of games for the Bridgeport Sound Tigers from 2001-2003. His numbers were outstanding for a 20- and 21-year-old goalie with one year of college hockey experience under his belt playing in the AHL and he played the puck as well as any goalie I had ever seen and also might have had the best wrist shot on the Sound Tigers. But that was 10 years ago. This year, Rick DiPietro played five game in the AHL for the Charlotte Checkers and posted a 5.18 goals against average and .846 save percentage before being released from his tryout contract.
How did we get to the point that the former No. 1 pick, the former Team USA No. 1 goalie and the goalie who was given a 15-year deal is now jobless (but still very wealthy)? How frustrating was not only the contract given to him, but his entire Islanders tenure?
Jansky: In a word: injuries. DiPietro may never have become a star in this league, but he had become in the very least a mid-tier starting goalie. That all changed with the injuries, really starting back with when he re-injured his hip in the All-Star Game Skills Competition.
That required surgery, rehab from that led to a knee injury, rehab from that led to a chronic knee "inflammation" that put him constantly on the mend and visibly altered his game. Once relying on his athleticism to cover errors, he could no longer do that. It was painful to watch, because it was a guy who was doing everything he could to regain physical health and help the team, but also hurting the team with that performance.
That he was able to win any games during those years — for example a 20-save shutout of the Devils where he was hardly tested — is a testament to the fact goaltending quality is determined not by single "big" games here and there, but by what a goalie can do with some consistency over the long haul. The Islanders have yet to find that in a replacement.
Keefe: The Team USA front office and selection committee got several things wrong when it came to picking the 2014 team to go to Sochi, but they didn't get anything more wrong than leaving Kyle Okposo off the team. The 25-year-old Minnesota native has 23 goals and 34 assists in 54 games this season on the Islanders' top line and he has two more points (57) than Team USA members Ryan Callahan and Derek Stepan have combined (55). I'm not saying Callahan shouldn't have been left off the team (according to the ESPn article he was clearly an untouchable on the roster), but I'm not sure how Stepan or Blake Wheeler or even Max Pacioretty made it over Okposo. I hope Team USA doesn't look like the John Tortorella Rangers in the Olympics and have trouble scoring more than one goal.
What are your thoughts on Okposo getting snubbed from Team USA?
Jansky: I thought it was the wrong call, but I also think USA is at least to the point where they have so much depth that "snubs" like this can reasonably happen. He's done nothing but continue to play great after the snub, but as an Islanders fan I'm happy he'll be resting and getting some time with his newborn while USA goes Full Tortorella.
The thought reported by ESPN that Okposo can't handle the big Olympic sheet is comical, as anyone who saw him in college — where more than half his games were on wide ice — can attest.
Keefe: The Islanders fans that I know seem to be split when it comes to head coach Jack Capuano and whether or not he is the right man to lead the Islanders for the future. I know people believe that he is tied at the hip to general manager Garth Snow and that Capuano isn't going anywhere, but should he if the Islanders fail to make the playoffs this season? Are you pro-Capuano or anti-Capuano?
Jansky: I guess I'd call myself agnostic on Capuano, though I find myself defending him mainly because some of the critiques of him are idiotic or based on pure fan frustration.
First, I believe coaches can only affect a certain amount, and the Islanders definitely have bigger issues in goal and on defense. A coach can hurt when he "loses the team," when he refuses to play good players, or when he overplays bad players (Andrew MacDonald, the fourth line). While Capuano does some of the latter two, it's not really more than pretty much every coach who has his favorites and specific roles for players. Meanwhile, the former has never happened; his teams always come to play. They are rarely blown out. They show up for him, and their offense and breakouts are evidence of a team that does have a plan of attack (the knock on him is some sort of caricature of a bumbling fool, which is asinine).
Is he the perfect coach? No. (There aren't many of those.) Is he hurting the team measurably? Also no. Do they show up for him? Yes. So I'm fine with him for now, though I believe one of the league's elite coaches could of course maximize the roster even better, and they may need that if they are ever to reach the next level. But the common fan complaint now lacks an essential thing: An elite replacement. I wouldn't have him fired just to bring in some other recycled coach who has "experience" etc.
Keefe: As a Rangers fan, I hated the Islanders' trade for Thomas Vanek, but as a hockey fan, I loved it. I liked the front office's decision to give the 2013-14 season a "win now" feel to it by trading Matt Moulson, a 2014 conditional first-round pick and a 2015 second-round pick even if the decision to trade for a rental could come back to screw them if they couldn't build on their 2012-13 first-round exit. But after a rough start with the Islanders, Vanek's line along with John Tavares and Kyle Okposo has become the best-scoring line in the NHL and not only has he helped saved the Islanders' season, but he is making sure that some team pays him well in free agency this offseason.
What were your thoughts on the Vanek deal and do you think he will be with the Islanders after this season?
Jansky: I thought they spent a little much to get him and I think the greater needs were in goal and on defense, but I appreciate the bold theory of going after him. The Isles have trouble getting the top free agents, so here was a chance to exclusively recruit a good one for several months before he hits the market. So far, that approach has worked as Vanek's impression of Long Island and the organization has been very good.
I'd call it 50/50 on whether he is an Islander after this season, or even after the trade deadline. And as much as I appreciate his offense, I'm not sure it will be a disaster if he doesn't remain. The Isles have shown an ability to get many wingers who work on the Tavares line, and the biggest thing keeping it from being among the league's absolute best is the defensive side of the game. That's not an area Vanek really excels at. So despite their gaudy numbers, they are at risk of being outscored just like the team overall.
Keefe: The last two times these two teams met, the Islanders won both games 5-3 with the last win coming just a week ago. The two rivals will not only meeting on Wednesday night at Yankee Stadium, but again on Friday night at Madison Square Garden. What kind of game and effort do you expect in the outdoor game on Wednesday night?
Jansky: Well it should be a good one, as New York derbies almost always are. I don't see why both teams won't deliver a great effort. I suspect the Rangers have the advantage, having played on this rink already. Maybe the Islanders get some advantage of adrenaline based on novelty — could the Rangers really dread playing in the cold again? — but I expect the Rangers to be able to play a safer, conservative game on the unpredictable outdoor ice and take advantage of Islanders mistakes.