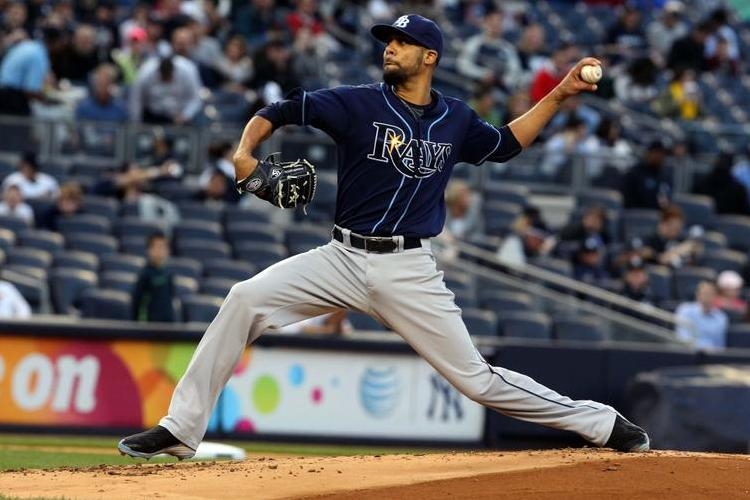 The Yankees desperately need to start putting wins together consistently and after winning eight of 10, they have now lost six of eight and the only thing that has been consistent about the 2014 Yankees is that they are inconsistent. I would like to think that could change this week at the Stadium against the Rays, but the Rays, despite having the worst record in the majors are 4-3 against the Yankees this season.
With the Yankees and Rays playing the final series in the Bronx before the All-Star break, Daniel Russell of DRaysBay joined me to talk about what's gone for the Rays this season, what will happen with David Price and if the Rays could make a managerial change after this season.
Keefe: The last time we talked was on May 2. Back then, the Rays were 13-16 and part of the mix in an AL East that no one wanted to run away with after a month of baseball. But since then, the Rays have gone 22-33 and have buried themselves in the division, 10 games out after three months of baseball.
It's been a while since the Rays found themselves in this sort of position at this point in the season. Here are their records after 84 games since 2008 when they first made the playoffs.
2013: 45-39
2012: 44-40
2011: 47-37
2010: 51-33
2009: 45-39
2008: 52-32
There is still half a season left to play and given the Rays' recent history of going on remarkable runs, it's hard to truly count them out yet, especially since neither the Yankees, Blue Jays or Orioles really want to take over the East and put a firm grip on it this summer.
Have you given up on the 2014 Rays or are you holding out hope that the remaining 78 games can be something special?
Russell: Play this season all over again, and I'd still think this team could win it all.
Not much unlike the lost 2009 season, the quality of the athletes assembled by Andrew Friedman this season was the best the Rays had ever fielded. This is not a horrible team by any stretch of the imagination, and Baseball Prospectus continues to project the Rays to the best performance through the remaining half season. But that's all on paper. Everything should have gone right, but it all went wrong.
Part of the blame is on the starting rotation's injuries, part of the blame is on sleepy bats, part of the blame is on uncharacteristic defensive miscues.
That said, I don't foresee the Rays coming back from a 35-49 record. It's just been a horrible year for what I would still consider a top-tier talent in baseball. Last place hurts, and this team is dejected. They're still a formidable team to play (just ask the Orioles), but unless we start sweeping every division series, this team is bottom dwelling the rest of the season.
Keefe: The more the Rays lose, the more David Price's inevitable departure from Tampa Bay becomes more and more imminent. I wish the Rays would find some worthy package from the Yankees and trade the left-handed ace within the division, but I recognize that is a pipe dream and Price will end up somewhere other than the Bronx when he is finally moved. My one fear is that he will be traded to the Dodgers where they will be sure to lock him up long-term and he will never hit free agency.
What is the mood with Rays fans knowing that at this point any David Price start could be his last with the organization? Where do you think he will end up?
Russell: David Price's departure might as well be written in stone. The Rays were over budget heading into the season, and if Price were headed out the door either way, they might as well send him off now.
I would venture to say Price hasn't been traded thus far because the expected return has been too far above the market, and I don't think the front office is lowering their demands. It's for that reason an inter-division trade isn't happening. How much would the Yankees need to outbid the Rays' expectations for them to send their ace to a rival?
The Rays have no interest in facing Price on a regular basis for years to come if it can be helped. Even if they were willing, though, who do the Yankees have to offer? James Shields brought back Wil Myers — and while that trade was robust, in a drastically different environment, it's still the plumb line.
The mood for fans at this point is "what's taking so long?" more than anything else. The Rays even granted Price's request to play in Sunday Columbia blue jerseys on his Wednesday matinee last week. If that's not a signal he's going out the door…
Keefe: When I looked at the pitching matchups for this series and saw Chris Archer, David Price and Jake Odorizzi, I laughed to myself and thought, "Of course it's those three." Archer is 4-0 with a 1.29 ERA in four career starts against the Yankees, David Price is David Price and the Yankees as a team are 5-for-24 (.208) against Odorizzi and have basically never seen him and I know all too well how the Yankees do against pitchers with which they have no history.
I think the fact that I feel most confident about the Yankees' chance in the middle game of this series against the 2012 Cy Young winner and current AL strikeout leader shows how deep the Rays' pitching is, even in a year when Erik Bedard is in the rotation and Matt Moore is out for the season and Alex Cobb has missed significant time.
This must make you feel confident knowing everything will be fine pitching-wise even once Price has been traded?
Russell: Absolutely. The Rays are built on pitching; they live and die by the rotation. There's some quality names en route to the majors in Enny Romero, Nathan Karns, and a few projects like grondballer Matt Andriese, scary but injured Alex Colome, and former bluechip prospect Mike Montgomery, not to mention a rehabbing Jeremy Hellickson. Trading Price will hurt, no doubt about it, but the Rays will survive as other roll players step up to the next level.
Keefe: If the Rays are willing to trade Price and accept that 2014 isn't going to happen for them, I would think they would be willing to move some other players in order to retool and rebuild for 2015 and beyond when the injury bug isn't decimating the entire team. Ben Zobrist's name has been mentioned as a potential trade piece between now and July 31, but is there anyone else that could be leaving Tampa Bay in July?
Russell: I'd say it's open season on anyone not under contract for an extended period of time. In fact, it's easier to point out who is not being traded. The outfield is locked up in Desmond Jennings, Wil Myers, and Kevin Kiermaier. The infield locks are likely Evan Longoria and Yunel Escobar. Ryan Hanigan will remain at catcher, Alex Cobb, Matt Moore, and Chris Archer remain in the rotation. Literally everyone else I would put on the block, but given the lofty expectations of the front office, who knows who could go out the door?
Veteran role players are probably the ones worth watching. Erik Bedard, David DeJesus, James Loney, and Jose Molina's glove are all under-discussed as trade targets. Matt Joyce, Grant Balfour, and Ben Zobrist rightfully so. It's not a fire sale, but the Rays could be persuaded with a large enough offer.
Keefe: I have heard people bring up the idea that the Rays could move on from Joe Maddon and look for a managerial change. Not that Maddon has done a bad job (he hasn't), but because it's just time a for a change, which happens in baseball. I don't agree with the idea to make a change for the sake of a change because a manager's ways become stale within an organization, but then again, I have never played or managed in the majors, so maybe it can be needed.
If the Rays were going to make a change and let Maddon go after this season as a way of shaking things up if this disastrous season continues, then they would be doing exactly that and making a change just to make a change, discounting what Maddon has done in his tenure there. And if Maddon were let go, the over/under on when he would have another managerial job would be 17 minutes.
Is it time for the Rays to think about a new manager or is that the craziest thing you have heard this year?
Russell: I have heard a lot of crazy theories about what the Rays could do to fix the mess, but changing managers is brand new to my ears. I can't imagine it in any scenario. The Rays know the incredible asset they have in Maddon, and he's incredibly happy with the club. The same could be said for pitching coach Jim Hickey.
There might be a case to switch up the hitting coach some time in the next six month, but how much is he to blame for this year's 100 wRC+, compared to last year's 108 wRC+? Coaching changes are not so clear cut as a Bobby Valentine disaster. The Rays have no reason to dictate a change in management. It's just crazy talk!