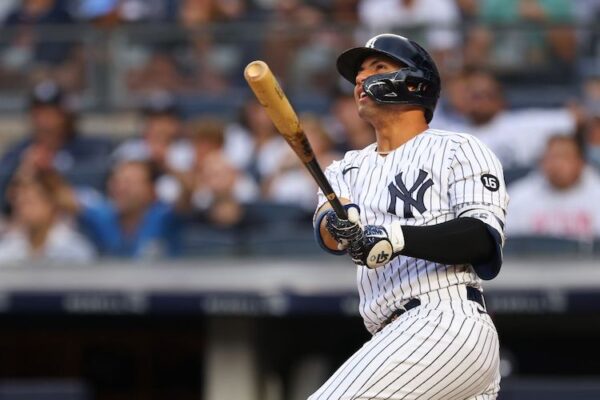 The Yankees beat the Red Sox. It only took until their eight game against them of the season, but they did it. The Yankees won the weekend series and have now won six of nine to inch closer to holding a postseason spot.
Here are 10 thoughts on the Yankees.
1. The weekend didn't start well. A rainout on Thursday caused a postponement, though that was far from the worst Yankees news to begin the second half of the season. Luke Voit was placed on the injured list for a third time this season, and Aaron Judge, Gio Urshela, Kyle Higashioka, Jonathan Loaisiga, Nestor Cortes and Wandy Peralta were placed on the COVID-19 IL and would be out at least 10 days. Add in Clint Frazier still being out with vision issues, Miguel Andujar's absence for a wrist strain, a finger contusion for Michael King and Darren O'Day's season-ending hamstring injury and the 2021 Yankees had become the 2021 RailRiders. (To make matters worse, Tim Locastro tore his ACL in left field on Friday and then Trey Amburgey suffered a hamstring injury on Sunday.)
This type of injury bug and protocol misfortune is "adversity," a word Aaron Boone has used frequently and improperly this season to define the team's horrific play against the Red Sox, Rays, Tigers, Mets and all of their improbable losses, of which there have been too many to keep track of. None of that was adversity. That was just a bad team playing badly and being managed badly. Adversity is the lineup used on Sunday, featuring Amburgey, Chris Gittens, Ryan LaMarre and Greg Allen, and a roster that now has Rougned Odor being as important as Robinson Cano once was compared to some of the other names the Yankees are turning to.
2. On Friday, against a left-handed starter, Boone batted Odor third. Then 48 hours later, against a left-handed starter, with less roster options and inferior personnel, Boone batted Odor seventh. Nothing the Yankees manager does makes sense. Nothing.
3. The Yankees losing all of these players made it easy to understand how they were shut out on Friday, dominated once again by Eduardo Rodriguez, who gets knocked around by every other team he faces. The Yankees produced three hits, gave Jordan Montgomery yet another game without any run support and fell to 0-7 against the Red Sox. After Friday's game, if the Yankees hadn't played a game against the Red Sox this season, they would have been only one game back in the loss column. Instead, they were eight. The Red Sox, of all teams, have single-handedly ruined the Yankees' season to date.
Both Trey Amburgey and Hoy Jun Park made their major league debuts on Friday night. In typical Yankees fashion, Park played right field, a position he has NEVER played professionally. That's just Boone putting his players in the best possible position to succeed again.
4. The Yankees should have traded Luke Voit in the offseason. His value was never going to be higher than it was after leading the league with 22 home runs in the shortened 2020 season. Now he's on the IL for the third time this season, though when he has played this season, he's been pretty awful: .241/.328/.370.
Voit played in 118 games in 2019, hurting himself while unnecessarily going for two in London then was left off the postseason roster after his performance declined following the injury. He managed to play in 56 of the 60 games in 2020, but this season, he has played in 29 of 92 games (32 percent). Next season, Voit will turn 31 before spring training, and as an oft-injured, right-handed first baseman who's not good defensively, the Yankees really missed the opportunity to get something for him and to move one of their abundance of right-handed bats.
5. I believe the Red Sox aren't good. Their starting pitching makes the Yankees look like mid-90s Braves, their lineup has three hitters and their bullpen is far from reliable. On Saturday and Sunday, we saw the Red Sox I feel are the real Red Sox, a team that lost both games to the Makeshift Yankees and scored only two runs in 15 innings.
6. It turns out Gerrit Cole can pitch to Gary Sanchez. Amazing. Not only that but Cole was infinitely better with Sanchez catching him against the Red Sox (6 IP, 5 H, 1 R, 1 ER, 2 BB, 11 K) than he was with Kyle Higashioka catching him a few Sundays ago in Boston (LINE).
Cole needing to have his security blanket in Higashioka always catch him (and yes, it's Cole's decision, not Boone's), has made me think less of him since someone of his stature and ability and reputation shouldn't need a personal catcher. It was good to finally see the best pitcher on the team throwing to the best catcher on the team, and it working out yet again. It worked out because it doesn't matter who catches Cole. No catcher has that much of an impact (if any at all) on a pitcher's ability, and certainly not one of Cole's level.
7. The rain-shortened game on Saturday may have saved the Yankees' season. It was a miracle they scored three runs in the game, and had the game continued, Cole would have come out following a delay (because of the delay and because he was at 96 pitches), and the Yankees' bullpen would have had to get nine outs to hold a two-run lead with one viable option (Chad Green). If the rest of that game gets played, there's a good chance the Yankees lose, fall to 0-8 against the Red Sox, lose yet another series and suffered their third straight loss since the debacle in Houston on July 11. If the Yankees go on to reach the postseason or doing anything special this season, we can look back at the six-inning win over the Red Sox that made it possible.
8. Boone mismanaging the sixth inning on Sunday night was inevitable. Two times through the order, Taillon had shut out the Red Sox, and even though the 2-3-4 hitters were due up in the sixth and even though the numbers against Taillon a third time through the order look like Mickey Mantle's 1956 season, Boone was fooled by what he had seen to that point in the game, completely disregarding the numbers and everything Taillon has done in a Yankees uniform.
Taillon was able to strike out Alex Verdugo, the most inferior of the heart of the Red Sox' order, but J.D. Martinez singled on an 0-2 pitch and then on the seventh pitch of his at-bat, Xander Bogaerts doubled to right field. Suddenly, the Red Sox had second and third and no outs and the tying run at the plate in Rafael Devers, who owns the Yankees. While all of this unfolded, Green was warmed up and ready to enter game.
Boone decided to go to Green for Devers, bringing him into a rather unpleasant situation, rather than just giving him a clean inning. Thankfully, he struck out Devers and got Hunter Renfroe to ground out to end the inning.
The majority of Boone's nonsensical bullpen management has been hidden since 2018 because he has been able to call on Green or Zack Britton or Aroldis Chapman or Dellin Betances or Adam Ottavino or Tommy Kahnle. The Red Sox didn't score in the sixth inning on Sunday, but that doesn't mean Boone made the right call. Far from it.
9. Giancarlo Stanton's presence on the Yankees is a problem. Not only because of his immovable contract, but because he isn't good and he can only be the designated hitter, which means when someone needs a "half-day off" they have to come completely out of the lineup. Over teh weekend, Boone said Stanton playing the outfield is "on the horizon" as they continue to stretch him out to play nine innings of a baseball game in the outfield, in which he may not actually have to do anything. You would think Stanton is training to run a marathon.
Stanton sucks. It's painful watching his at-bats and him running into a middle-middle fastball and hitting it 500 feet every other week isn't nearly enough. I don't know how this is going to go on for the next six years.
Stanton was 0-for-12 with five strikeouts against the Red Sox over the weekend, and is now 3-for-30 (all singles) with 15 strikeouts against them this season.
In 18 games from April 1 to April 25, Stanton hit .186/.250/.414. Then in eight games from April 26 to May 5, he hit .571/.595/.943. In the 46 games he has played since May 6, he has hit .220/.342/.719. On the season, he's hitting .258/.350/.462. Those numbers aren't good and are the only somewhat respectable because of those eight games at the end of April and beginning of May. Stanton has been good for an eight-game stretch in 92 games. Six more years of this.
10. The Yankees won the series against the Red Sox and have now won three straight series, going 6-3 over their last nine games. It's a start, but it can't end. They now need to do to the Phillies what the Phillies did to them in Philadelphia in two games and then go to Boston and beat the Red Sox again. The Yankees need to win four of the six games they play this week. There's no alternative. In order to keep their postseason aspirations alive, they can't do any worse than that, and they will have to do it with the most Makeshift Yankees lineup since mid-2013.
---
Subscribe to the Keefe To The City Podcast. New episode after every game during the season.
---
My book The Next Yankees Era: My Transition from the Core Four to the Baby Bombers is now available as an ebook!