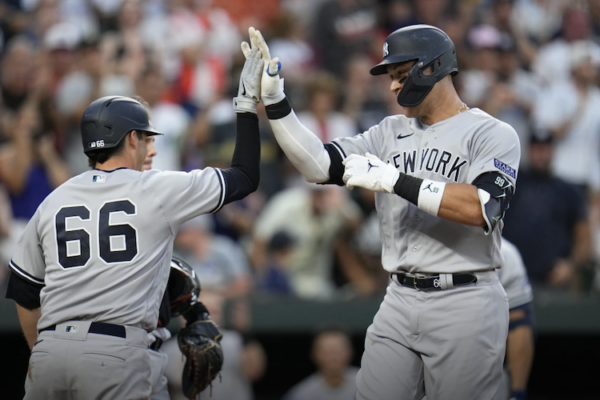 The Yankees offense actually looked like Bronx Bombers for the first time in a long time in their 8-3 win over the Orioles. It was a much-needed win, and they'll need to do the same on Sunday night.
Here are 10 thoughts on the Yankees.
1. I want to thank Brandon Hyde for waving the white flag early on Saturday night. With his Orioles trailing 3-2 in the third inning, Hyde removed starter Tyler Wells after just 2 2/3 innings and asked the lesser, backend arms of his bullpen to get 19 outs.
There was no way the Orioles were going to be able to navigate the middle innings relying on the soft-throwing, unable-to-strike-anyone-out, left-handed Cole Irvin against the all right-handed lineup (except for Anthony Rizzo) of the Yankees. Hyde let Irvin face 10 batters and six of them reached and four of them scored.
2. It was Giancarlo Stanton who gave the Yankees an early lead when he was able to clear the mile-long left-field wall in the first and it was Aaron Judge who got them the lead back in the third, but it was Isiah Kiner-Falefa who broke the game open with a bases-clearing double in the sixth.
Kiner-Falefa had impressive plate appearances throughout the game, going 1-for-3 with the three-RBI double and two walks. He saw 36 pitches in his five plate appearances and for the first time in his Yankees career, I found myself thinking he looked good. (Now if only he could that with some level of consistency.)
3. "Guys were giving really tough at-bats," Aaron Boone said after the 8-3 win. "And that's us and that's who we want to be."
Well, that's not the Yankees. Yes, that's who they want to be, but it's not who they are. They haven't been that type of offense in a long, long time.
The Yankees improved to 45-12 when they score four or more runs. Their pitching is so good that they just need to score four runs to have a really strong chance of winning, and yet, it's so hard for them to do.
4. "That's what it's supposed to look like," Boone said of the offense. "That's what we're working to."
That is what an offense that is worth hundreds of millions of dollars should look like. Unfortunately, the offense rarely looks the way it did on Saturday.
Because of the offensive outburst, the Yankees were able to save their elite relievers, only needing to use Ian Hamilton and Nick Ramirez each for a pair of no-hit innings. Like the Orioles bullpen, the Yankees bullpen will be well rested for the crucial rubber game on Sunday Night Baseball.
5. Judge may be well rested too, as Boone said he plans on giving Judge the series finale off.
"Right now I'm leaning towards no," Boone said of playing Judge for a third straight game. "But we'll see."
It's inexplicable that Judge may not play on Sunday. He just missed two months and has been deemed healthy to play, but only healthy enough when Boone feels like it?
6. "As much as I want to run him every day, forget the toe," Boone said, "He hasn't come close to playing games for almost two months."
If you're saying "forget the toe" and that he needs a break because he hasn't played, well, that's the single dumbest idea I have ever heard from a man who once secretly used Deivi Garcia as an opener in playoff game, only to turn to JA Happ.
7. "I want him every game," Boone said. "We have 13 in a row. Hopefully, he's in a position to start nine or 10 of them."
Or how about all of them? The Yankees are 31-20 when Judge plays and 24-29 when he doesn't. Every game he doesn't play greatly diminishes the Yankees' odds of winning. When you're in last place in the division (eight games back) and not even holding a playoff spot (3 1/2 games back), you can't afford to greatly diminish the odds of winning any game.
8. "As much as I want him in there, we've got to be smart here," Boone said. "If we get through these 13 days into the off-day and hopefully we're in a good spot to where we can now roll."
Judge's toe isn't completely healed or healthy. He has made it known he's not 100 percent and yet he's playing on it and so far has played extremely well, reaching base in six of nine plate appearances. Both Judge and the Yankees have said it's not going to heal until the offseason and it's about pain tolerance. If he's not going to get better than how does it make sense that at the end of this 13-game stretch he will magically be better to play every day.
If Judge is out of the lineup on a given day and says it was his own call, then so be it. If he's not in the lineup on a given day, and it's not his call on how he feels about his own toe, then that will be incomprehensible.
9. "If we get through these games" is what Boone said. If the Yankees don't get through these games by winning the majority of them, the final six weeks of the season will be a formality. These 13 games are against the Orioles, Rays, Astros and White Sox. The Yankees are already 1-1 in the 13, having wasted the first two games running in place in standings with now two less games to play this season. By the time these 13 games are over, the Yankees could be facing a mathematical unlikelihood of reaching the postseason. It's possible that could be the case even if Judge plays every game, but why wouldn't you want to do everything you can to give yourself the best chance to win?
10. The Yankees haven't done everything they can to give themselves the best chance to win for a while now. It all started 13 years ago they wouldn't include Eduardo Nunez in a trade for Cliff Lee and then admitted down the stretch of that season that they didn't care if they reached the postseason as a division winner or wild-card winner. Since then their lackadaisical approach to winning has reached unbelievable levels.
The Yankees have done enough losing over the last 13 months. Their ownership, front office, managerial, coaching, roster and in-game decisions have proven they're comfortable and OK with losing. If they think they can clinch a postseason berth without Judge, we'll know they're still OK with it.
---
Subscribe to the Keefe To The City Podcast.
---
My book The Next Yankees Era: My Transition from the Core Four to the Baby Bombers
is available as an ebook!