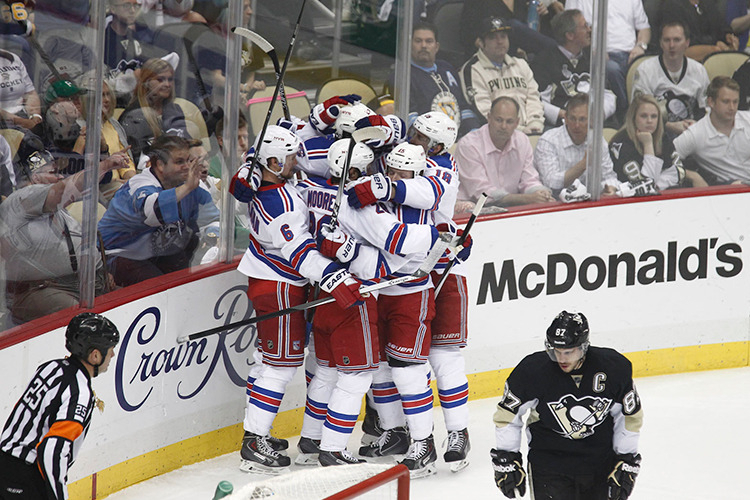 The Rangers weren't supposed to come back against the Metropolitan-winning Penguins down 3-1 in the Eastern Conference semis. They weren't supposed to go to Pittsburgh and dominate Game 5, take care of business at home in Game 6 and then let Henrik Lundqvist further prove why he is the best goaltender in the world in Game 7. The Rangers were supposed to lay down and serve as a red carpet for the Penguins to return to the Eastern Conference finals for the second consecutive year. At least that's what The Hockey News' Ken Campbell said.
Following the Rangers' Game 4 loss to the Penguins, Campbell (the man who called U.S.-born hockey players "pampered, entitled rich kids") wrote an 852-word  "column" (I use this word loosely) titled "Season's over for the Rangers, now it's time to look to the future" and took the easy route out of having to analyze hockey by going with the lazy rhetoric of "a team down 3-1 can't come back" and pouring dirt on a still-breathing Rangers team and season. I had always been under the impression that it takes four wins to win a seven-game series, but Campbell informed me that you actually only need three. I could have used Campbell during the 2004 ALCS.
On Friday, the Penguins fired general manager Ray Shero and head coach Dan Bylsma could be next after failing to get out of the second round and failing to reach the Stanley Cup Final since winning it in 2008-09. On Saturday, the Rangers will play Game 1 of the Eastern Conference finals in Montreal while the Penguins will actively be looking to rebuild their front office in what will be the fourth day of their offseason. So let's look back at Campbell's "column" and his premature thoughts.
Well, the New York Rangers have allowed the star players of the Pittsburgh Penguins to finally find their way in this series. But the reality is that players such as Sidney Crosby and Evgeni Malkin and Marc-Andre Fleury don't even have to be that good. That's because the bottom six forwards for the Penguins are outplaying the top six of the Rangers.
This story was written after Game 4. After Game 4, Fleury had produced back-to-back shutouts in Games 2 and 3, Malkin had two goals and three assists and Crosby had one goal and two assists. But over the final three games of the series, Fleury allowed 10 goals, Malkin had a goal and an assist and Crosby didn't have a point as the Penguins scored three total goals in those games? It looks like the Penguins' bottom six forwards were actually on the same level as the Penguins' top six forwards.
And as long as Crosby can keep absorbing the hits to the head from Marc Staal and his merry band of headhunters, the Penguins have basically punched their ticket to the Eastern Conference final. Any team that is down 3-1 to a group as talented and explosive as the Penguins is always in serious trouble. A team down 3-1 whose best player is Mats Zuccarello is basically finished.
Marc Staal is a headhunter? That's news to me. I would have classified him as someone who could afford to be more aggressive on the ice, but understand why he's not due to his own history of head injuries and his career-threatening eye injury last season. But hey, let's call Marc Staal a headhunter because ONE TIME he made high contact with Crosby. And who's in Staal's "merry band" of fellow headhunters and what makes them so merry? Does this band have a name? What instrument does Staal play? I could see him as a bass player.
I'm the biggest non-Penguins fan Sidney Crosby fan in the world. I defend and support The Kid against critics from every corner and he's not the media and he's not the Pittsburgh and Canadian honks (that's the first time I ever used the word "honk" but Mike Hurley used it the other day and it stuck with me) that get visibly, emotionally and then literally distraught when something or someone hits him high. But if we're going to call Marc Staal (the Marc Staal with 254 penalty minutes in 460 career games) a headhunter then what word do we use to classify someone like Matt Cooke? Well, let's ask Campbell, since just last week he wrote a column titled "Has Matt Cooke really changed? Hell, yeah!"
Nothing against Zuccarello, but if he's the best player for the Rangers, and he is, it means their highly-paid stars are not doing the job, which they're not. Full marks to the Penguins for getting the job done, but this is a mediocre team they're playing at the moment, one that would get ripped to shreds if it had to play in the Western Conference. Perhaps they'll point to the fatigue factor – and if they're still tired they should immediately fire their strength and conditioning coach – but this was a Ranger team that played with no urgency, no ability to handle the puck and no pushback. And that's on the stars of this team, from Henrik Lundqvist out.
Mats Zuccarello was great during the regular season (19-40-59) and has continued that play in the playoffs (3-5-8), but he's not the Rangers' best player, not even close. But if you didn't watch the Rangers during the regular season and just quickly browsed their team statistics page, then that is the conclusion you would come to.
What does "Full marks to the Penguins for getting the job done" mean? What job did they get done? Winning three games? Sending a series to seven games? Reaching the conference semifinals? Blowing a 3-1 series lead? Losing two home games with a chance to eliminate the Rangers?
Is that what I think it is? Is it? No, no, it can't be. That can't be a columnist from The Hockey News blaming Henrik Lundqvist for the Rangers trailing 3-1 in the series at one point. But it is. This is real life.
As I have said many times in many ways in many places, Henrik Lundqvist is the sole reason for any post-lockout success the Rangers have had. He is the reason they have reached the playoffs in eight of the nine seasons of his career and he's the reason the Rangers came back to beat the Penguins in this series. And if the Rangers win the Eastern Conference or the Stanley Cup, it will be because of Henrik Lundqvist. He is the New York Rangers. But that didn't stop Campbell from looking at the final scores of the first four games of the series to make a judgment. The box score doesn't show goals that the Rangers scored against Lundqvist, but it does show that in two of the four games the Rangers were shut out. Where was Lundqvist in those two shutout losses? Why didn't he provide more offense?
All in all, Game 4 was a pathetic effort from a team that fancies itself a contender in the Eastern Conference. But here's the thing. The Rangers simply aren't that good. They have a long way to go before becoming anything approximating a legitimate threat to win the Stanley Cup, or even come close. It's probably safe to assume now that the first-round series between the Rangers and Philadelphia Flyers pitted the two worst teams in this year's playoffs against one another.
If the Rangers "simply aren't that good" then what are the Penguins? And what do we make of a team that reaches the conference finals? The Rangers have won two series this postseason, two Game 7s (and they have won their last five Game 7s) and they just won three straight against a team that boasts the best player in the world and possibly the second-best player in the world as well.
If the Rangers and Flyers were the two worst teams in the 16-team tournament then what do we make of the Penguins? What are the Lightning, who lasted four games in the playoffs? What about the Red Wings who lasted five? What about the Avalanche who went down as a 1-seed or the Blues who choked? What do you make of the 12 playoff teams that aren't playing anymore?
And part of the problem for the Rangers is they remain their own worst enemy. Perhaps it would be different if the Rangers weren't such a desired destination for players. Then it might not be tempted to try to grab every fading star player just because he happens to be available.
Think about it. Brad Richards came to the Rangers in 2011 on a nine-year deal. Other teams made more lucrative pitches to Richards, but he essentially had his heart set on playing for the Rangers. The moment Rick Nash waived his no trade clause with the Columbus Blue Jackets in 2013, it was basically assumed that the Rangers were going to get him. And when Martin St.-Louis sulked his way out of Tampa Bay prior to the trade deadline, it was to go to one team and one team only – the Rangers.
Thank you for writing how long Brad Richards' contract is for and for giving us a behind-the-scenes look at the Nash trade and for telling us where St. Louis wanted to play.
Each of those acquisitions has been nothing short of a disaster so far. Nash, who had a dreadful game and an equally dreadful playoff for the Rangers, is now getting booed every time he touches the puck. In his own building. Nash has actually been contributing in his own end of the ice, but so does Anze Kopitar and it doesn't stop him from creating offense. Since the 2006 Olympics, Nash has played a combined 45 Olympic and NHL playoff games and has four goals. Richards has scored some and had a pretty good first season in New York in both the regular season and the playoffs, but seems to be on the decline and is the point man on a power play that hasn't scored in its past 38 opportunities. And St-Louis? Three goals in 30 regular season and playoff games since coming to the Rangers.
Unless Richards started putting together some Gretzky late-80s stat lines when he came to the Rangers, there's no way he could ever justify his nine-year, $60 million deal. But who could? That's what the going price was for him at the time of his free agency and like Campbell said, the Rangers weren't the only team willing to dramatically overpay for him. Richards wanted to be a Ranger. And I'm not so sure he's been a disaster. He's played in 210 of a possible 212 regular-season games in three years and has 56 goals and 95 assists in those games. He is the Rangers' leading scorer in these playoffs and was their leading scorer when they went to the conference finals two years ago. Aside from John Tortorella inexplicably scratching him during the playoffs last year (I wonder what John Tortorella was doing on Tuesday night?), Richards has been a solid Ranger. He hasn't been the elite No. 1 center and playmaker the Rangers thought they were signing for nine years, but he hasn't been as bad as everyone has made him out to be either.
I can't make any excuses for Nash's lack of postseason scoring, but to say he has been a disaster is irresponsible. Last season he had 21 goals and 21 assists in 44 games (over a full season that's 39 goals and 39 assists), and the Rangers were winless in the four games he missed due to a concussion. He didn't have a great postseason last year (1-4-5 in 12 games), but no one on the Rangers did after the first round. This season, Nash missed 17 games with another concussion suffered in the third game of the season and finished with 26 goals and 13 assists in 65 games. Now that's not a strong ratio, but Nash has never been one for apples and unsurprisingly he has 336 goals and 292 assists in his career, which is a pretty drastic difference. But his 26 goals this season translate into 32.8 goals over a full season. I wanted Nash at the 2011-12 deadline and was willing to include Chris Kreider in a deal to get him and he ended up being the missing link the loss to the Devils. I was ecstatic when he became a Ranger and becaues of that, I have been an adamant supporter of him and have yet to give up on him after a couple bad postseasons. He's still creating offensive chances and playing tremendous defense (yes, I'm aware he's not paid to do those things), so it's not like he isn't helping the team win. But to think the Rangers have reached the conference finals without him scoring a goal is incredible, and if one of his patented streaks begins in the conference finals, the Rangers will be playing for the Cup.
What would Campbell's solution have been for St. Louis? Keep Ryan Callahan, meet his ridiculous contract demands and destroy the Rangers' future? Campbell probably would have liked that so he could churn out some more "columns" about how the Rangers have cap issues. Callahan was getting traded no matter what once he wouldn't compromise with Glen Sather and Sather got the best return for him. If it wasn't a trade for St. Louis, it would have been a trade with the Sharks or Ducks for much lesser packages. And I'm pretty sure it's St. Louis and his personal life that changed the locker room over their last three games and changed the course of this season. But yeah, what a disaster Martin St. Louis has been!
Which brings us to the future of this team. Yes, it's time to start looking to the future. The Rangers have $54.9 million committed to salaries for next season. They have only four regular defensemen – Ryan McDonagh , Staal, Dan Girardi and Kevin Klein – signed for next season. Up front,  Derick Brassard and Chris Kreider are restricted free agents.
By saying that St. Louis has been a disaster, Campbell implied that trading for him was a bad move and that implies that the Rangers should have kept Ryan Callahan and that implies the Rangers should have signed Callahan and that would have ruined the Rangers' chances of re-signing most of these players he just named. But like I said, that's likely what Campbell wanted. You do know 850-word "columns" aren't going to write themselves.
So, the question must be asked. On which of Nash or Richards should the Rangers use their remaining compliance buyout? Knowing them, probably not either, but it would rid the Rangers of one onerous contract. If it were Richards, the Rangers would be forced to pay $18 million in real money since $33 million of his $60 million deal has already been paid out, but would have a cap savings of $6.7 million for the next six seasons. If they were to buy out Nash, it would cost them $21.3 million in real dollars and would save them $7.8 million against the cap for each of the next four seasons.
If anyone gets bought out, it's not Nash. But if the Rangers weren't going to buy Richards out after last season's playoff embarrassment and Richards' letdown in play then why does everyone think it's such a guarantee he is bought out after this year? Yes, the Rangers could use some cap relief and he would provide that, but he has become the captain of this team despite wearing just an "A" and though Ryan McDonagh will be the next captain of the Rangers, it's obvious Richards has an important role with the team.
In our annual Future Watch issue, THN ranked the Rangers dead-last in terms of its group of prospects. Which means the Rangers are far closer to a tear-down than they are a Stanley Cup championship. Perhaps it's time to begin that process now.
Campbell has since written an excuse for his "column" saying he isn't apologizing because he is in the business of making predictions. So what does he do? Make another prediction of course. This time he says the Rangers will lose to the Canadiens.
And the Rangers might lose to the Canadiens, but right now the Rangers are four wins away from playing for a championship. They are eight wins away from winning their first championship in 20 years. It's only been three days since the collapse of both the Penguins and Campbell's prediction and they have already been torn down.