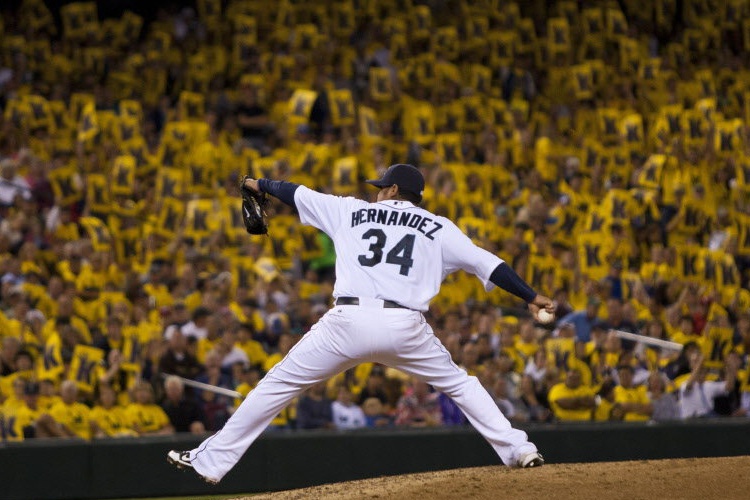 On Tuesday night, the Yankees will face Max Scherzer. So far this season, the Yankees have faced David Price, Jacob deGrom, Matt Harvey, Chris Archer, Sonny Gray and Felix Hernandez. When the Yankees face a team with a real true ace (or in the case of the Mets, two aces), they don't miss him. There aren't many pitchers in the league that you can basically chalk up as a loss before the game is even played, or at least give the Yankees little-to-no chance of beating them, and whenever they play a team with one of these pitchers, they land him.
Now that Jon Lester is not only out of the AL East, but out of the AL, and Scherzer is in the NL as well, the starting pitchers I hope the Yankees miss the most have changed. Here are the five pitchers I pray for rain to throw off the rotation and schedule before the Yankees have to face them.
1. Felix Hernandez
When the Yankees faced King Felix last Monday night, I figured I would be able to go to bed early with the 10:05 p.m. start in Seattle because the Yankees would either be unable to score against him and there would be not point in continuing to watch or because their lack of hitting would result in a two-hour game.
Felix had a 1-2-3 six-pitching first inning. Then he had a 1-2-3 eight-pitch second inning. And then he had a 1-2-3 six-pitch third inning. Nine up, nine down on 20 pitches. It felt like a perfect game might happen until the fourth inning, when the Yankees scored two runs on two hits and three walks in the most un-Felix-like inning ever. That is until the next inning when Felix gave up five runs, including a grand slam to Mark Teixeira. Felix finished the game with the following line: 4.2 IP, 6 H, 7 R, 7 ER, 5 BB, 4 K, 1 HR. Even with the Yankees hitting Felix like they never have, he's still the best pitcher in the American League and at times, in the world (when Clayton Kershaw isn't doing whatever he was doing in April and May).
I remember when Felix was a 19-year-old rookie who took a loss to the Yankees on Aug. 31, 2005 despite allowing only two earned runs over eight innings. And I also remember what he did to the Yankees in three starts in 2010: 3-0, 0.35 ERA, 26 IP, 16 H, 1 R, 1 ER, 8 BB, 31 K, 1 HR.
Felix is my most feared opposing pitcher in the AL and that isn't going to change.
2. Chris Archer
The current AL leader in strikeouts has never lost to the Yankees and not only has he not lost to the Yankees in his seven starts against them (5-0, 2.02 ERA), but he has barely been touched by them: 49 IP, 34 H, 11 R, 11 ER, 6 BB, 33 K, 1 HR.
Because the Yankees face the Rays 19 times a season, I have to map out in advance if Archer will be seeing them, which I will be doing for Fourth of July weekend when the Rays head to the Stadium. Unfortunately, Archer signed a six-year, $25.5 million extension on April 2, 2014 with the Rays, which keeps Archer in Tampa Bay through 2019 with club options for 2020 and 2021. Archer isn't leaving the AL East anytime soon.
3. Chris Sale
The Yankees have never done well against left-handers in my lifetime, especially those either making their Major League debut or those who the Yankees have never seen before. It was once again the case just last week when they were only about to score one run on four hits against the Mariners' Mike Montgomery in his Major League debut in Seattle.
When it comes to elite left-handers, things are even worse. Cliff Lee, Jon Lester and David Price were all the most feared lefty to face the Yankees at one point, but now that title goes to the White Sox' ace. Sale has never lost to the Yankees and in his five career starts against the Yankees he hasn't just won, but he has dominated them. Here are his five career starts against the Yankees:
Aug. 22, 2012: 7.2 IP, 3 H, 1 R, 1 ER, 1 BB, 13 K, 1 HR
Aug. 6, 2013: 7.1 IP, 5 H, 1 R, 0 ER, 4 BB, 6 K, 0 HR
Sept. 3, 2013: 8 IP, 4 H, 1 R, 1 ER, 1 BB, 8 K, 1 HR
May 22, 2014: 6 IP, 1 H, 0 R, 0 ER, 0 BB, 10 K, 0 HR
Aug. 24, 2014: 6 IP, 4 H, 4 R, 0 ER, 3 BB, 7 K, 0 HR
His total line: 35 IP, 17 H, 7 R, 2 ER, 9 BB, 44 K, 2 HR.
4. David Price
If Price's last two starts against the Yankees hadn't happened then he would be higher than No. 4 on this list. But those two disastrous starts did happen and along with that, the Yankees have seen him much more than they have Chris Sale and their experience against Price lessens the fear I have of him.
Those two starts I talked about were on Aug. 27, 2014 (2 IP, 12 H, 8 R, 8 ER, 1 BB, 3 K, including nine straight hits in the third inning) and on April 22, 2015 (2.1 IP, 10 H, 8 R, 8 ER, 3 BB, 2 K). Those two starts have caused Price's career ERA against the Yankees to inflate to 4.41 over 26 starts and one relief appearance. His 10-7 record against the Yankees with that ERA aren't exactly the most dominant numbers, but he's still the second-best left-hander in the AL, who has the ability to shut down the Yankees in a big spot and he has before.
Since he's an impending free agent, I might not have to worry about him facing the Yankees after this season.
5. Sonny Gray
Not even two weeks ago Gray made just his second career start against the Yankees, going eight innings and allowing two earned runs and four hits for the win. The current AL ERA (1.65) and WHIP (0.915) leader is only 25 with only 55 career starts and after an impressive first full season in 2014, he is making his run for the AL Cy Young.
There isn't much to Gray's career against the Yankees yet, but I have a bad feeling there will be. Either they will continue their usual bad luck track of never missing any elite pitcher and face him in the only two series they play against the A's each season, or when Billy Beane inevitably trades him, he will trade him to an AL East team. Hopefully, when he's traded, he's traded out of the AL.