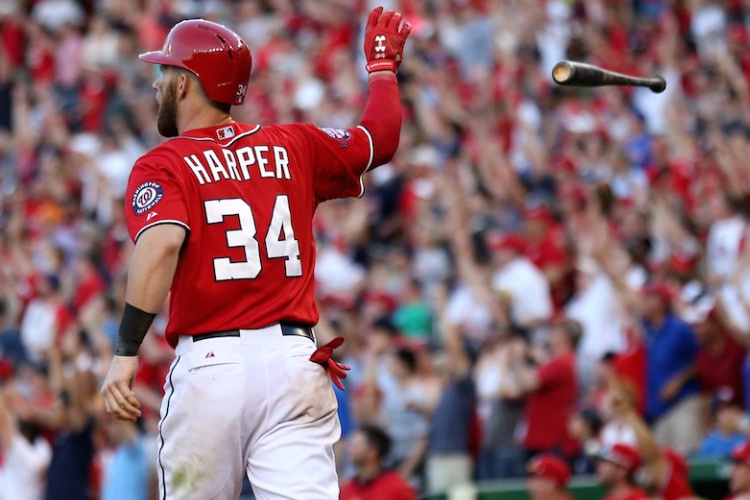 The Yankees haven't lost in June with six straight wins and back-to-back sweeps over the Mariners and Angels. After struggling through the second half of May, the Yankees are still on top of the AL East heading into a two-game series with the NL East's first-place Nationals. That means Bryce Harper is going to play at Yankee Stadium for the first time.
With the Yankees and Nationals meeting in the Bronx for their second of two short two-game series, Patrick Reddington of Federal Baseball joined me to talk about Max Scherzer's incredible start to the season, Bryce Harper becoming the early favorite to win NL MVP and the concern about Stephen Strasburg's future.
Keefe: The Yankees will face Max Scherzer on Tuesday night because the Yankees never seem to be able to dodge their opponent's ace in any series. Whether it's Scherzer or David Price or Matt Harvey or Sonny Gray or Felix Hernandez, the Yankees never seem to get any back end of a rotation.
Scherzer enters the game with a 1.85 ERA, allowing more than two earned runs in a start just twice in 11 starts this seasons, but somehow has lost four of his 11 starts because of a lack of run support.
Has Max Scherzer exceeded your expectations?
Reddington: We all knew Max Scherzer was going to be good, but he seems to have adjusted to the Nationals league fairly well thus far. What I didn't expect, having not watched him as often as I probably should have while he was in the AL, was just how fiery a competitor he is on the mound. Not in a way that shows up opposing teams, but just really an ultra-competitive streak and an ability to maintain his stuff throughout his starts, hitting 95, 96 and 97 even late in his outings after sitting 92, 93 and 94 throughout the game.
But he's in a three-way tie for highest fWAR so far this season (+2.8), the 1.85 ERA is fifth lowest in the majors so far, and that's after he gave up four earned runs last time out. He has a .201 BAA. More importantly, and less noticeably, he's also working with and helping the other pitchers on the staff, with Gio Gonzalez, among others talking about how he's picked things up from Scherzer already this season. So, yeah, I'd say he's exceeded expectations, which is even more impressive considering how high they were when he signed that $210 million deal.
Keefe: Part of that run support problem has been because no one other than Bryce Harper is having a good offensive season except for maybe Yunel Escobar, but even he doesn't provide the usual power and production from their base. Aside from Harper, no one on the Nationals has more than seven home runs and Danny Espinosa is second in slugging percentage at second base.
Are you worried about the Nationals' offense and what it will mean for their postseason chances and winning the NL East?
Reddington: Anthony Rendon just returned to the lineup. Jayson Werth started the season on the DL and was hurt not too long after returning from offseason surgery and struggled to produce while he was available. Ryan Zimmerman has transitioned to first base well, but the bat isn't playing thus far this season. I wouldn't say Harper is the only one who's gotten it done, though no one is coming close to his production thus far.
Escobar is collecting a lot of hits, but doesn't hit for power. Denard Span missed time at the start, but has been solid offensively since returning. Ian Desmond is having a hard time getting into a rhythm at the plate. I dare say not too many people would have predicted Danny Espinosa's success thus far, to the point where there are hints he may see some time in the outfield to keep his bat in the lineup now that the infield is mostly healthy.
Though the production Werth was providing wasn't up to his usual standards, Michael Taylor, Tyler Moore and Clint Robinson have been able to approximate what Werth was giving them as a group, though that's still a little disappointing.
It's another one of those "just wait until the lineup is healthy and see" seasons, where it's hard to judge them with all the injuries and different lineups. I wouldn't say it has me worried about their chances in the division, though there are some signs that the same problems which plagued them in October (aside from the fact that the Giants' pitching just matched up well against the Nationals' hitting) are still there and could be a problem.
Keefe: The last time I talked with Federal Baseball, I joked about Bryce Harper becoming a Yankee someday. Well, I actually wasn't really joking since I do hope and plan on Harper becoming a Yankee when he is finally a free agent.
Harper has continued to rake this season and become the early-season NL MVP favorite hitting .326/.464/.706 with 19 home runs and 46 RBIs. He showed his power against the Yankees in the first inning of their four-run comeback against Nathan Eovaldi back on May 19.
So once again, how fun is it to see Harper becoming the best hitter in the game in what is looking like an MVP season?
Reddington: I wouldn't go fitting Harper for pinstripes just yet. Though he's a Scott Boras client and there's the history of his clients going to free agency, there's just as much anecdotal evidence right now that Harper likes the idea of spending an entire career with one team.
Nationals general manager Mike Rizzo, who scouted, drafted, and oversaw his development from a very young age, has talked often about the "special relationship" the two of them have and I wouldn't be surprised to see a Mike Stanton-esque contract discussed at some point in the future provided Harper can stay healthy and continue to do what he's been doing this season, because right now he looks every bit like the sort of once-in-a-generation-type talent he was hyped up to be when he was growing up.
Keefe: Stephen Strasburg was off to a rocky start the last time the Nationals played the Yankees three weeks ago, and that rocky start continued for his next three starts and now he's on the 15-day disabled list with a neck issue.
Is this a you're-not-pitching-well-so-we're-putting-you-on-the-DL DL stint or is he really hurt? Are you worried about the future of Strasburg?
Reddington: It's hard not to be worried about Stephen Strasburg. He's 26, he's already undergone Tommy John surgery, he's struggled mightily this season and as far as the Nationals are saying, his mechanics are completely out of whack and he's causing himself back issues with mechanics he altered because of an ankle injury he suffered this season. They've been very clear that they don't see any signs of a problem in his shoulder or elbow, which is good news, but they've also been unable, two-plus months in to get him straightened out and back to what everyone, including Strasburg knows he's capable of doing.
He's frustrated, he was hurting the team with short outings before the DL stint and the issues have seeming moved around his back over the last few starts, so they really have to get him sorted out and make sure he's 100 percent before they even consider bringing him back. I don't think it's a create-a-DL stint "injury", but I do think it's a good chance for him to get straightened out without having to try to do it against major league hitters in games that count, but he's a huge part of this rotation and they need "Stephen Strasburg" back, not the pitcher they've had thus far this season.
Keefe: Three weeks ago, the Nationals were red hot, and you seemed to not be worried at all about their chances of winning the NL East. The Nationals are only a 1/2 game back of the Mets with one game in hand on them, but the Braves, despite being under .500 are only 3 1/2 games back in the division.
Every team has their question marks and with the Nationals' offense struggling and their rotation not being what it was projected to be, are you still confident in the Nationals winning the East?
Reddington: I am confident that the Nationals' talent will ultimately win out in the division, and that's taking nothing away from the Mets, who are doing it without their franchise third baseman and the Braves, who completely reassembled to the roster around their young talent and are impressing me thus far this season with what they've been able to accomplish. That being said, which is a rhetorical device for wiping away that praise, I still think the Nationals are a better team than either of those two clubs.
After the Nationals dropped three of four to the Cubs this past weekend, Matt Williams said he wasn't worried, noting that they struggled in April, turned it on in May and are back to struggling again. "Ebbs and flows" etc. But I don't think it's just manager speak. I think they have to get as healthy as possible and get Strasburg and Doug Fister back in the rotation before we can really judge just what the team is this season.