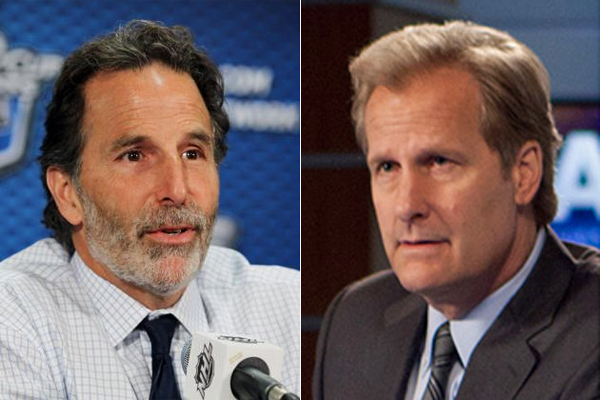 I love Jeff Daniels. I love HBO. I love the media industry. So when HBO aired trailers for a new series starring Jeff Daniels as a TV news anchor at a major media network, I figured it would fill the Sunday night void left by Curb Your Enthusiasm and Game of Thrones. I was wrong.
The first two episodes of The Newsroom were so hard to make it through that I fell asleep during the first episode (I re-watched it later) and actually stopped the second episode before its conclusion.
But after a few days wondering why Aaron Sorkin would write dialogue between characters in a way that no one speaks to each other in real life (if all the 20-somethings at ACN were that smart and that witty they wouldn't be struggling to earn a living like Maggie suggests they are when she spends "her last $7" in one episode), I decided to go back to the second episode and give The Newsroom another chance. And by the end of that episode, the series picked up and after that it gained steam throughout the summer and left me feeling satisfied that I had stuck it out to make it to the season finale on Aug. 26.
This Rangers' season has been stuck in the first half of Episode 2 of The Newsroom. But I think, well more like I'm hoping and praying, the 5-2 win over the Flyers on Tuesday night is the end of Episode 2 and the Rangers are about to go on their run and turn their season around the way Will McAvoy turned his series around.
The Rangers have one-third of their season left and the opportunity for "Midseason Awards" is no longer really possible. So instead let's look at what's happened over the first 32 games and two-thirds of the season that has the Rangers fighting for a playoff berth with some help from The Newsroom.
MacKenzie:  "Where's a power outage when you really need one?"
I thought the Rangers' 3-0 loss to the Penguins on Jan. 31 at the Garden was the worst hockey-watching experience of my life. The Rangers trailed after 1:24 and never had a legitimate scoring opportunity in the game. They were shutout, 3-0, at home to one of the two teams (Boston being the other) they were "supposed" to compete with for the East crown this season. The game was an embarrassment on so many different levels that I didn't think I would ever see such a poor home performance ever again. It only took seven weeks for that loss to be trumped.
Last Thursday was without a doubt the absolute worst hockey-watching experience of my life, and this time I don't think there is a chance it will be topped. However, knowing this Rangers team, I wouldn't be surprised if one of the last six home games of the season one-punches last Thursday's game for the title.
Not only did the Rangers lose to the last-place Panthers 3-1, despite outshooting the Panthers 45-24, but I had a female Rangers fan on my left who started a "BE AGGRESSIVE! B-E AGGRESSIVE!" chant with the Rangers on the power play (to be fair she was drinking the entire game) and a family of four on my right left led by the father who compared the team to the 1962 Mets and the mother who ripped apart Marian Gaborik and was actually upset when he scored with 3:48 left in the game.
If the Rangers blew a 4-0 lead in the final four minutes of Game 7 of the Stanley Cup Final that would be a miserable time, but at least you would see something historic and at least there would be goals and action and excitement and not just boring, painful-to-watch hockey.
Bryan: "Is it important that you treat me like an a–hole?"
This one goes two ways.
First, it goes to Sam Rosen, who has been made into John Tortorella's whipping boy this season for simply asking Tortorella about the games he coaches and the decisions he makes. I'm disappointed in Rosen for handling the situation gracefully and for talking with and forgiving Tortorella on the team plane for Tortorella's frequent lashing out. Rosen should have gone over the top with Tortorella and asked real questions that the fans want answers to. If Rosen is going to take a beating for asking hockey-related questions that lack harmful intent, he might as well go all the way and ask sarcastic questions.
The second part of this goes to Brian Boyle and why it is important that I treat him this way, which it is.
Brian Boyle is 6-foot-7. He is two inches shorter than Zdeno Chara, who is the tallest player in NHL history. Have you ever seen anyone who wants to go after Chara on the ice? No, of course you haven't because he is 6-foot-9 and plays like it. Have you ever seen someone with Brian Boyle? Of course you have because he plays like he's trapped in Nathan Gerbe's 5-foot-5 body and completely wastes the main reason he has made it this far in his hockey career (his size).
On Monday, Larry Brooks wrote in the New York Post that Brian Boyle has been on the ice for three Rangers goals this season. But on Tuesday he was on the ice for a Rangers goal, so now that number is four. FOUR! F-O-U-R! How is it possible that Boyle has played in 28 games this season and only has one goal and one assist and has been on the ice for four goals and is still dressing for games. Actually how is it possible that he has those numbers over that timeframe and is still on the team? If Jeff Halpern could get waived for a 0-1-1 line in 30 games and Stu Bickel could get waived for a 0-0-0 line in 16 games, how far away are we from Boyle being waived?
Charlie: "Have you read the New York Post?"
Will: "No. My eyes are connected to my brain."
Bobby Holik wasn't wearing number 10 for the Rangers on Thursday night.
Wade Redden wasn't wearing number 10 for the Rangers on Thursday night.
Scott Gomez wasn't wearing number 10 for the Rangers on Thursday night.
None of the big-name, free-agent busts of the past were wearing number 10 on Thursday night. Marian Gaborik was wearing number 10.
Marian Gaborik has played 251 games with the Rangers. He has 114 goals and 115 assists in those games. He has two 40-plus goal seasons with the Rangers (2009-10 and 2011-12). So why was everyone at MSG booing him on Thursday night? Why was my friend Jim texting me trade proposals for Gaborik from across the MSG ice? The mainstream media, that's why.
There is this idea that the Rangers no longer need Gaborik, or that his play has been in a free fall since last spring because he has a 9-10-19 line in 32 games. No one mentions that he's recovering from offseason shoulder surgery and that he battled his way through the playoffs with a torn labrum. No one mentions that Tortorella has used every possible line combination in just 32 games and the lack of chemistry between the team's best forwards is clearly evident. No one mentions that Gaborik has played left wing his entire life and that Tortorella moved him to right wing despite Gaborik saying he's uncomfortable on that side of the ice.
Without Gaborik, John Tortorella isn't the Rangers head coach today. That's a fact. Without his scoring and Lundqvist's goaltending last season, the Rangers wouldn't have been the top seed in the East and most likely would have missed the playoffs for the second time in three years. But Tortorella treats him like a fourth-line plug by benching him and asking him to play a blue-collar style of hockey by sacrificing his body for blocked shots and going into the corners with a purpose rather than being the elite goal scorer he is and is getting paid to be.
If you think Marian Gaborik is the Rangers' problem then you're likely someone who screams, "Shoot! Shoot it! Shoot it!" whenever any Ranger on the power play touches the puck. (I think Michael Del Zotto must hear and listen to these unintelligent fans since he does just that whenever he touches the puck on the power play, usually shooting it into someone' shin pads or missing the next and shooting it into the corner.) Or you're someone who treats the MSG T-shirt toss like there are blank checks wrapped up inside the shirts. (It's scary what people will do for free T-shirts or foul balls.)
When Gaborik records a point, the Rangers are 7-3-2. The problem is that's only 12 games and the Rangers have played 32 games. Gaborik does need to step up his game, but the treatment by him from the media and unintelligent fans has been unwarranted.
Maggie: "I never knew what the word 'smug' meant until I met you."
Here's John Tortorella's resume dating back to his first season as head coach of Tampa Bay.
2001-02, Tampa Bay: Missed playoffs
2002-03, Tampa Bay: Lost in second round
2003-04, Tampa Bay: Won Stanley Cup
2005-06, Tampa Bay: Lost in first round
2006-07, Tampa Bay: Lost in first round
2007-08, Tampa Bay: Missed playoffs
2008-09, Rangers: Lost in first round
2009-10, Rangers: Missed playoffs
2010-11, Rangers: Lost in first round
2011-12, Rangers: Lost in Eastern Conference Finals
That's one Stanley Cup, one Eastern Conference Finals loss, one second-round loss, four first-round exits and three missed playoffs. If Martin Gelinas' goal counts in Game 6, I'm not here writing about John Tortorella and you're not reading about John Tortorella because of the resume surrounding his Cup win with the Lightning. But 2003-04 did happen, so here we are.
If the Rangers miss the playoffs (let's hope this doesn't happen), Tortorella has to be fired. He has to be. He has one year remaining on his deal for 2013-14 that the Rangers would have to eat, but this is an organization that has eaten and wasted a lot more money than a one-year salary for a head coach for that one year to scare them away from letting him go.
I said last year that the Rangers had to make the Eastern Conference Finals for Tortorella to keep his job. Given their roster and the idea of winning now while Lundqvist is in his prime and while Nash, Gaborik and Richards are still effective (or should still be effective), I think the same goal holds true even if this season should have been about more than just reaching the conference finals.
It's one thing to be "smug" if you're Scotty Bowman and you have won the Cup nine times as a head coach in the NHL. But when you're hanging your hat on one Cup and a lot of underachieving seasons in 12 years, you might want to lose the attitude because those media members you treat like dip spitters might be your colleagues one day when you're fired and the only job available is one with a microphone in your hand.
My real problem with Tortorella is that he hasn't proven himself in this city, but acts like his achievements in Tampa Bay hold weight here. They don't. No Rangers fan cares what you did nine years ago with a Lightning team that had Vincent Lecavalier, Martin St. Louis and a 24-year-old Brad Richards. Two first-round exits, two missed playoffs and a conference finals loss isn't enough to act like a winner in New York City. And being on the playoff bubble with Nash, Gaborik, Richards and Lundqvist is unacceptable.
MacKenzie: "Be the moral center of this show, be the integrity!"
The keyword here is "center." Brad Richards plays center. He has five goals and 13 assists in 30 games. He has four points on the power play (the power play he is supposed to run) and just one of them is a goal. He is making $12 million this season. He made $12 million last season. If he plays out his entire Rangers contract, he will make $60 million over nine years.
When Richards signed with the Rangers I was worried about his concussion-riddled past and what it would mean if he sustained another one. I wasn't worried about his scoring and playmaking ability. I'm not worried about it now either. I'm petrified.
But Richards did play his best game of the season on Tuesday night in Philadelphia (or maybe it just felt like that since he has played so many bad games). He scored on the power play in the second, added an assist in the third, shot the puck and even mixed it up in some scrums in front of the Flyers' net after whistles. It was almost like the word "urgency" meant something to him or that he realized he is making $12 million and playing well a couple games a year comes with making $12 million.
Will: "What does winning look like to you?"
If we could go back in time to 13 months ago when I was campaigning for the Rangers to trade for Rick Nash, how many people that didn't want to give up Chris Kreider back then wish the Rangers had? I think all of them.
Nash been the Rangers' best player this season with 28 points in 28 games and leads the team in goals (12) and assists (16) despite missing four games. The Rangers are 16-10-2 (34 points) when he plays and 0-3-1 (1 point) when he doesn't. He has been everything the Rangers could have asked for when they traded for him and everything they thought he could be when they almost traded for him 13 months ago.
The 2011-12 Rangers came within two wins of playing in the Stanley Cup Final without Nash. Would they have been able to beat the Kings if they made it there? Most likely not, but who knows? All we know is that the Rangers didn't get a chance to find out because they couldn't score enough goals against the Devils. They couldn't score enough goals because once the lucky bounces and garbage goals they had been accustomed to producing in the regular season stopped happening, their real, true goal-scoring abilities were shown. And with Marian Gaborik playing with a torn labrum, those true goal-scoring abilities were limited to secondary options.
The 2011-12 season was the Rangers' best chance at winning the Cup since 1996-97. It was the first time they had seen the Eastern Conference Finals in 15 years and everything, and I mean eve-ry-thing, broke their way during the regular season and the playoffs, prior to Adam Henrique's overtime goal in Game 6, for the Rangers to even make it that far. The amount of come-from-behind wins and last-minute wins (or sometimes last-second wins) and overtime and shootout wins in the regular season was unbelievable. The Vezina play from Henrik Lundqvist, who took it up to a previously unknown level, was incredible and the bounces that went their way to survive two seven-games series and win both Game 7s were unthinkable.
The stars aligned for the Rangers to get to the Eastern Conference Finals in 2011-12 and when you look at the path that was put out for them with a first-round matchup against Ottawa and with Boston and Pittsburgh both eliminated in the first round and Philadelphia eliminated in the second round, it was a New York Giants-esque road to a championship.
I don't want to look back on the 2011-12 season in a decade when the MSG Network is still creating new documentaries about the 1993-94 season because that was the last time the Rangers made meaningful memories in the spring and summer and think about what could have been if the Rangers traded for Nash five months earlier than they did.
P.S. Chris Kreider has two goals and one assist in 14 games and has been sent down to the AHL twice.
MacKenzie: "When should I start to worry?"
Maggie: "I'd have started already."

The idea of watching the Stanley Cup playoffs without a real interest has crossed my mind, but I haven't given it much thought since I also push it away with the notion of "They'll be fine." But will they be?
If losing to Florida at home or needing to rally to steal a point from the Capitals is the way this season is going to go and end over the next month then maybe the season won't ever get out of Episode 2.
So, yes, MacKenzie, I'd have started already too.