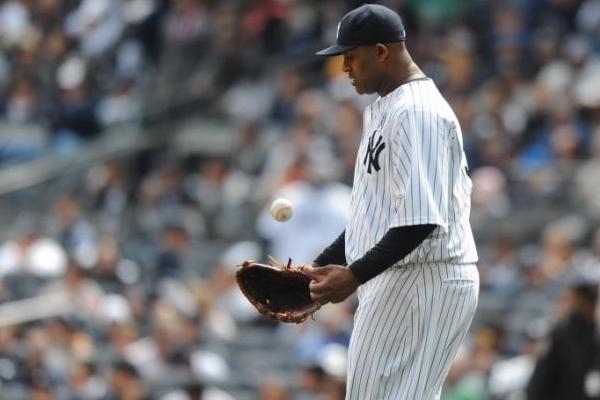 Opening Day never really feels like Opening Day. Monday didn't feel like it would be the first day of baseball nearly every day for the next six months (and hopefully for a seventh month). Even as I rode a packed 4 train to 161st Street, bouncing around between strangers like Cheri Oteri in a Roxbury Brothers skit on Saturday Night Live, it didn't feel like I was going to a real game. And it especially didn't feel like I was going to a real game because this is what I woke up to on Monday morning.
Gardner 8
Nunez 6
Cano 4
Youkilis 3
Wells 7
Francisco 0
Suzuki 9
Nix 5
Cervelli 2
Given the names, that's about the worst Opening Day lineup you could imagine as a Yankee fan, but it was even worse when you realize the way Joe Girardi decided to organize those names.
It's hard to argue with Vernon Wells hitting fifth in the lineup since there weren't many options even if Wells hasn't hit like a No. 5 hitter in three years. And it's hard to argue against Ben Francisco being in the lineup since there were no other right-handed bats available on the bench and Girardi would give up eating before he would he would give in to inserting a left-handed bat against a left-handed pitcher if he didn't have to. But Ichiro hitting seventh on Opening Day against a left-handed pitcher in the worst regular-season Yankees lineup in two decades is the most Joe Girardi thing Joe Girardi could have done. Girardi's need to go lefty-righty down the entire order is appalling, disgusting and disturbing and his overmanaging in Game 1 of 2013 was just as bad as his overmanaging in Game 1 of 2012 when he had Sabathia intentionally walk Sean Rodriguez. (He had Sabathia intentionally walk Jonny Gomes on Monday, so at least he's consistent). The idea that Eduardo Nunez should be hitting second in this lineup or any lineup ever is more unfathomable to me than New York City just now extending subway service on the East Side. And the only thing Girardi's creation was missing was Steve Pearce hitting cleanup.
I will commend Girardi for finally hitting Robinson Cano third after all these years. All it took was A-Rod suffering a possible career-ending injury and needing surgery and Mark Teixeira enduring a "strained" wrist for Girardi to put Cano into the 3-hole in the lineup since he hasn't been the best player on the team for three-plus years now or anything.
The lineup really didn't matter on Opening Day because when your starter puts 12 men on base in five innings, and gives up four runs, it's hard to win, even if the opponent is last year's last-place team. If CC Sabathia is going to lay an A.J. Burnett-like egg while being backed by a lineup that features the Ghost of Vernon Wells and the recycled Ben Francisco in power spots then the Yankees are going to have even more problems than wondering about the health of Derek Jeter, Curtis Granderson, A-Rod and Teixeira.
Here's what CC Sabathia has now done in five Opening Days with the Yankees.
April 6, 2009 @ BAL: 4.1 IP, 8 H, 6 R, 6 ER, 5 BB, 0 K
April 4, 2010 @ BOS: 5.1 IP, 6 H, 5 R, 5 ER, 2 BB, 4 K
March 31, 2011 vs. DET: 6 IP, 6 H, 3 R, 2 ER, 2 BB, 7 K
April 6, 2012 @ TB: 6 IP, 8 H, 5 R, 5 ER, 3 BB, 7 K
April 1, 2013 vs. BOS: 5 IP, 8 H, 4 R, 4 R, 4 BB, 5 K
I want the "CC Sabathia isn't good on Opening Day or in March and April" narrative to stop. (He's 20-15 with a 4.18 ERA in March and April.) Sabathia gets paid the same amount in March and April that he does in May, June, July, August and September. That means that over 34 starts per year, the amount is $676,470.59 and Sabathia's problems shouldn't be written off the same way Mark Teixeira's problems are (when he's playing) in the same months. Yesterday while I was battling the elements of April weather in New York in the right field bleachers, battling the sore sight that is the 2013 New York Yankees lineup and battling the $11 Coors Light prices, CC Sabathia was making almost $700,000 and then having excuses made for him by beat writers because he's a "slow starter" as the Yankees lost for the first time at home on Opening Day since 1982.
Sabathia fell apart in the second inning after he walked the fearsome Jarrod Saltalamacchia, gave up a single to the vaunted Jonny Gomes, walked Hall-of-Fame bound Jackie Bradley Jr., despite getting ahead of him 0-2, and then gave up an RBI single to the heavy-hitting Jose Iglesias. It was the 6-7-8-9 hitters that started the second-inning downfall for Sabathia and it was Shane Victorino and Dustin Pedroia who did the damage as Sabathia was forced to throw 34 pitches to nine hitters in the inning.
Sabathia is the most important Yankee in 2013 just like he has been every year since 2009. It's his job to carry the rotation and for now carry the team every fifth day until the lineup resembles something that's not only worthy of wearing pinstripes, but of being in Major League Baseball. On Monday, he failed to his job and was outpitched by a starter and hit around by a lineup that's failed their team for the last two years. Sabathia lost in his typical Opening Day fashion to a team coming off a 93-loss season and sent Yankee fans into the first off day of the season counting down the minutes until Hiroki Kuroda's first pitch on Wednesday.
Yankee Stadium looked empty on TV in the ninth inning of Opening Day as I watched from Billy's Sports Bar on River Ave. to the point that I thought the game had ended and an entire inning had been played in my two-minute walk from the bleachers to the bar. And on Tuesday, everyone wanted to talk about how Yankee fans should feel embarrassed and ashamed for leaving early and not sticking around in the rain and freezing temperature to watch the Yankees try to erase a five-run deficit in the bottom of the ninth inning with Lyle Overbay, who was released by the Red Sox a week ago leading off. I don't feel embarrassed or ashamed for leaving early. I feel embarrassed and ashamed for staying as long as I did.