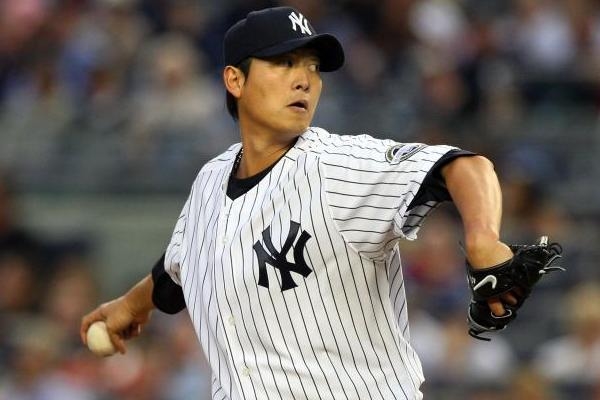 Since I was seven years old, the Yankees have missed the playoffs once: 2008. I refer to that year as the Year Without October the way I refer to the 2004 baseball season as the Season That Never Happened. (There was a strike that season and no games were played. Don't you remember?)
I remember the 2008 Yankees for being miserable and making my summer miserable. And because I relate specific years to how that Yankees season went, when I hear "2008," I think, "That's the year I graduated from college and the year the Yankees ruined my summer" and sometimes I think of those two things in reverse order. (OK, I always think of them in reverse order, but I didn't think it would be a good look to put the Yankees ahead of college graduation.) The truth is that the 2008 Yankees didn't suck and weren't even bad. And given their circumstances they were actually pretty good.
That Yankees team went 89-73, which would have been enough to play in a one-game playoff if they were in the AL Central and would have been enough to win the NL West by five games. Their 89 wins were the fourth most in the AL and more than the 2000 Yankees had (87-75) and that team won the AL East by 2 ½ games and won the World Series. But the 2008 Yankees ended the run of 13 straight playoff appearances and because of that I remember them as a failure even if they really weren't.
That season the rotation featured Darrell Rasner and Sidney Ponson for 35 combined starts. Andy Pettitte posted career worsts in losses (14) and ERA (4.54) pitching through injuries the entire year in the only .500 season of his 17-year career. Jorge Posada didn't play in one game in May and played in his last game of the year on July 19. Jose Molina had 297 plate appearances, Chad Moeller had 103 and Ivan Rodriguez had 101. Pettitte, Posada, Jonathan Albaladejo, Wilson Betemit, Chris Britton, Brian Bruney, Joba Chamberlain, Johnny Damon, Dan Giese, Phil Hughes, Jeff Karstens, Ian Kennedy, Hideki Matsui and Alex Rodriguez all landed on the disabled list at least once. LaTroy Hawkins was in the bullpen and so were Billy Traber, Jose Veras and Edwar Ramirez. Richie Sexson got to put on pinstripes. So like I said, "Given their circumstances, they were actually pretty good."
Even during the Murphy's Law season with all of those things happening during the same year in which the Yankees cared more about Jobamania and his transformation from the best setup man since 1996 Mariano Rivera to starter (which became a circus), the season really ended on June 15 in the sixth inning at Minute Maid Park.
The season ended when Chien-Ming Wang and his .000 career on-base percentage reached base on a fielder's choice after a failed sacrifice bunt attempt and suffered a lisfranc injury running home on his way to scoring his first career run. The Yankees won that game 13-0 and Wang earned his second-to-last win as a Yankee to this day (the other coming on June 28, 2009 against the Mets), improving to 8-2 on the year with a 4.07 ERA.
To that point in the season, Wang had averaged 6 1/3 innings per start in 15 starts and the Yankees were 12-3 in games he started.  He had won 19 games in both 2006 and 2007 and looked to be a lock for that number again in 2008. With the win over the Astros he improved to 54-20 in five seasons with the Yankees and had become the "ace" of their staff even if Chris Russo strongly believed otherwise.
(To me, Wang was an "ace" during the regular season where his heavy sinker worked the majority of the time over 33 starts. But come postseason time when you didn't know if Wang's sinker would sink or not, he was a disaster when it didn't. He didn't have strong enough secondary pitches to get outs and would be stubborn on the mound trying to find the sinker because he had to be stubborn about it. He couldn't really grind his way through starts without his pitch and because of it I consider him a "regular-season ace." His playoff numbers would consider him that too: 4 GS, 1-3, 7.58 ERA, 19 IP, 28 H, 19 R, 16 ER, 5 HR, 5 BB, 7 K, 1.737 WHIP. The same pitcher who allowed nine home runs in 116 1/3 innings in 2005, 12 home runs in 218 innings in 2006 and nine home runs in 199 1/3 innings in 2007 somehow allowed five in just 19 postseason innings. "Regular-season ace.")
The Yankees missed the playoffs by six games in 2008 with Rasner and Ponson starting 22 percent of the season and with Dan Giese, Brian Bruney, Carl Pavano and Kei Igawa also getting starts. Six games ended up separating the Yankees from the Red Sox for the wild card (and eight games separated the Yankees from the Rays for the division). You can't tell me Chien-Ming Wang wouldn't have made up that difference if he hadn't been injured. He would have.
Wang saved the 2005 season (along with Robinson Cano's emergence, Tino Martinez emptying the tank and Jason Giambi turning back the clock or possibly reverting to undetectable performance-enhancing drugs). Wang picked up the only win in the 2006 ALDS against the Tigers (Game 1) and from April 30, 2005 until June 15, 2008 (minus the two months he missed in 2005), he was the closest thing the Yankees had to a guaranteed win every five days before CC Sabathia came to town.
I eventually got used to Wang's painfully slow windup and let the way he curved his hat go because when you win those things become trademarks and cool and mimicked by others. There isn't any young baseball player trying to mirror A.J. Burnett's herky-jerky, inconsistent windup. At least I hope there isn't. (If A.J. Burnett used Wang's windup or curved his hat the way Wang did, I would have had enough material for at least three or four more columns from 2009-2011. That's the difference between winning and losing.)
But if I'm going to mention his 55 wins with the Yankees and his calm and collected demeanor and his victory in Game 1 of the 2006 ALDS then I'm afraid I'm going to have to mention how he single-handedly lost the 2007 ALDS with this majestic pitching line for two games: 5.2 IP, 14 H, 12 R, 12 ER, 4 BB, 2 K, 3 HR, 3.174 WHIP. With that WHIP, Wang essentially loaded the bases every inning he was on the mound in Games 1 and 4 on his way to a 19.06 ERA for the series, which I thought would never be touched, but Phil Hughes made a run at those numbers with his 2010 ALCS performance against the Rangers. (I won't put his numbers here for fear of having a nervous breakdown remembering that series, knowing it could have ended differently if Hughes had just been atrocious and not disastrous.) And also 2009 when Wang was supposed to be the Yankees' No. 2 start, but instead was the worst statistical pitcher in Yankees history.
During the last half of the aughts, when Brian Cashman was trading for a 41-year-old Randy Johnson, giving $39.95 million contract to Carl Pavano and $21 million to Jaret Wright, begging a 45-year-old Roger Clemens to unretire and make 17 starts for the Yankees for $28 million and paying $26 million for the rights to give $20 million to Kei Igawa, Chien-Ming Wang was busy winning 68 percent of his starts for the Yankees while being grossly underpaid.
Wang is back where it all began on a minor-league deal with the Yankees that will have him start the season in Triple-A, a place that five years ago you never thought he would never have to pitch again unless it was a rehab start. When asked about Wang's return to the team, Joe Girardi said, "He was a very good pitcher for the New York Yankees." But he's wrong. For four seasons, he was the best pitcher for the New York Yankees.
So welcome back, Chien-Ming Wang. You were never thanked for what you did. Here's to hoping you get the chance to do some more.