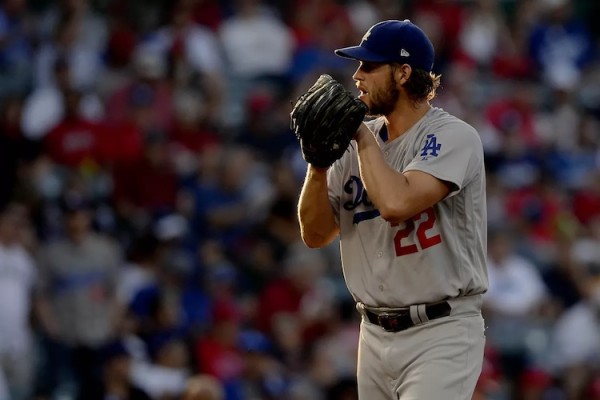 Whenever I need a good laugh, I go to Clayton Kershaw's Baseball Reference page. The career stats of the lefty make me nearly cry with all of the bold and italicized numbers, detailing the seasons he led the league in wins, win percentage, ERA, games started, complete games, shutouts, innings pitched, strikeouts, ERA+, FIP, WHIP, hits per nine innings, strikeouts per nine innings and strikeouts per walk.
In 2016, many of my friends who are Dodgers fans thought Kershaw had a down year after back injuries limited him to just 21 starts. His numbers? 12-4 with a 1.69 ERA and 11 walks in 149 innings. In 2017, it was much of the same as Kershaw's ERA climbed to an embarrassing 2.31 as the left-hander only went 18-4 and unforgivingly walked 30 in 175 innings. This season, I heard from many of them that Kershaw was finished as his ERA ballooned all the way to an unacceptable 2.73. It didn't matter that he once again had back problems or that the he earned a loss or no-decision in 10 starts in which he went at least six innings and allowed two earned runs or less.
Dodgers fans have unnecessarily worried about Kershaw the last few seasons because they have come to expect him to win every five days, and not just win or shut down the opponent, but actually shut them out. He has created ridiculous expectations from the baseball world in which anything less than perfection is unsatisfactory.
I was at the Dodgers-Mets game on July 23, 2015 at Citi Field with my fiancée Brittni (a Dodgers fan from Los Angeles), a game Kershaw started. His line: 9 IP, 3 H, 0 R, 0 ER, 0 BB, 11 K. It was possibly the most dominant pitching performance I had ever seen in person and many expected him to actually throw a perfect game going into the game. And he nearly did. It wasn't until Curtis Granderson singled to right field on an 0-2 pitch in the seventh inning that the Mets got their first baserunner. There were a lot of groans and upset fans, who had expected a Kershaw perfect game before first pitch and who were now let down that they would have to settle for a three-hit, complete-game shutout.
Kershaw has been so dominant for so long that expecting something as improbable as a perfect game when he pitches doesn't seem so improbable. While the rest of baseball operates on the idea that a "quality start" is six innings and three innings, a quality start for Kershaw is eight shutout innings. It's unfair, but when you're dealing with greatness, people want greatness every fifth day. And when you're dealing with the best pitcher in the history of baseball, people want near perfection every fifth day.
A lot of people would disagree with the idea that Kershaw is the best pitcher in history for a variety of reasons, whether it's the time period in which he pitched, the division he has pitched in, the league he has pitched in, the hitters he has faced, that the game isn't what it used to be or some other poorly-formed reason. But no reason will be used against Kershaw more than the idea that he hasn't been good in the postseason or that he hasn't won a World Series, as if a championship in baseball can be the product of one person.
So Kershaw had a few bad postseason starts against the Cardinals in his career. Who cares? Mariano Rivera blew Game 5 in the 1997 ALDS, Game 7 of the 2001 World Series and Game 4 of the 2004 ALCS and he's still the best postseason pitcher in history as well as the best relief pitcher in history. Kershaw might have laid a few eggs against the Cardinals in 2013 and 2014, but the majority of the time in the playoffs, he's been the Kershaw with all of the bold and italicized numbers on his Baseball Reference page.
Unfortunately, the expectations of perfection Kershaw has created in his career have carried over to October, where it's not good enough for him to give his team a chance to win or to actually win, he has to dominate. When he two-hit the Braves over eight scoreless innings in the NLDS, people wanted to know why he had only three strikeouts. When he allowed one run over seven innings in Game of the NLCS to put the Dodgers up 3-2 in the series, people wanted to talk about his lesser start in Game 1.
This has been a theme throughout his postseason career. In 2017, he allowed one earned run over seven innings with 11 strikeouts in Game 1 of the World Series and pitched four scoreless innings out of the bullpen in Game 7 on two days rest. But all that mattered was that he lost Game 5. In the 2016 NLCS, he shut out the Cubs for seven innings to win the first game of the series, but that was quickly forgotten when he pitched poorly in Game 6. No one thought to bring up that the Dodgers were shut out in that Game 5 loss and that you have to score at least one run to win a baseball game. When he got the final two outs of Game 5 of the 2016 NLDS against the Nationals, serving as the closer for the series, even though the Dodgers were advancing to the NLCS for the first time, the talk was about why Kershaw hadn't pitched well in Game 4 and not the bullpen heroics or his Game 1 win. In the 2015 NLDS, three earned runs and 11 strikeouts over 6 2/3 innings wasn't enough as his offense only scored once in Game 1 and four days later when he gave up one earned run over seven innings for the Game 4 win, it didn't make up for his series-opening performance.
In the two postseasons against the Cardinals in 2013 and 2014, he had the two clunkers (Game 6 of the 2013 NLCS and Game 1 of the 2014 NLDS). But he also took a loss in Game 2 of the 2013 NLCS when six innings and no earned runs couldn't get himself or his team a win thanks to an error in a 1-0 loss, and when three runs in six innings (all three runs coming on one swing) was too much for his anemic offense to overcome in a 3-2 loss.
Despite all of this and despite allowing two earned runs or less in 10 of his 22 career postseason starts (in four of those, he took the loss or a no-decision), the perception is that Kershaw can't win in October. The Dodgers' two NLDS losses, two NLCS losses and World Series loss since 2013 weren't the fault of ownership, the front office, the manager, the other starting pitchers, the bullpen, the offense or the defense. They were all the fault of Clayton Kershaw.
No matter how well Kershaw does, it's never enough. Unfortunately, the only way to get his idiotic critics to shut up will be for the Dodgers to win the World Series, and even then, he will still have critics. If the Dodgers win and he isn't near perfect in his starts, the Dodgers will have won in spite of him. If the Dodgers win and he's not the MVP of the series, they won't have won because of him. If the Dodgers win and he pitches the way he's expected to and he's the MVP of the series, well, he will only have won one championship in his career. Even if the Dodgers win, Kershaw can't win, and if the Dodgers lose, it will be his fault. When it comes to the Dodgers, Kershaw isn't only the best player in the team's history or the face of the franchise, he is viewed as the entire franchise. Though he affects only 33 games at most in the regular season and a handful of games in the postseason, the end result of any Dodgers season falls solely on him.
When video emerged of Kershaw alone in an empty Fenway Park on Sunday pretending to throw pitches in the bullpen in preparation for his Game 1 start in the World Series, I became that much bigger of a fan of his and that much more envious of Dodgers fans who get to call him theirs, even if only complete-game shutouts from him satisfy them. As a Yankees fan, I have never rooted as hard for another team than I am for the Dodgers in this World Series. As a Clayton Kershaw fan, I have never rooted so hard for a non-Yankee to win.
***
My book The Next Yankees Era: My Transition from the Core Four to the Baby Bombers is now available as an ebook!
The book details my life as a Yankees fan, growing up watching Derek Jeter, Mariano Rivera, Andy Pettitte, Jorge Posada and Bernie Williams through my childhood and early adulthood and the shift to now watching Gary Sanchez, Luis Severino, Aaron Judge, Greg Bird and others become the latest generation of Yankees baseball. It's a journey through the 2017 postseason with flashbacks to games and moments from the Brian Cashman era.
Click here to purchase the book through Amazon as an ebook. You can read it on any Apple device by downloading the free Kindle app.