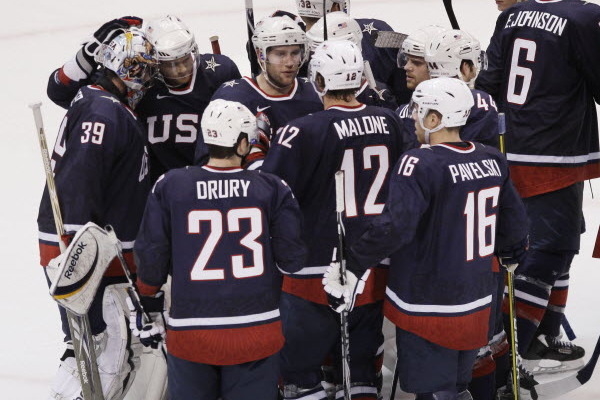 This column was originally published on WFAN.com on Feb. 25, 2010.
If you like hockey, then you liked Wednesday. And even if you don't like hockey, chances are that you probably watched it at some point on Wednesday because it was on for 11 1/2 straight hours. Hockey had its version of March Madness, and in this case, the Elite Eight. Aside from not being able to watch three of the four games in high definition, it was a perfect day for a hockey fan. It was a day I didn't want to see end, and on Sunday it will be a tournament that I wish didn't have to disappear for four years. But if Gary Bettman has his way, the magic of Wednesday won't ever return.
Between trying to decide if Pierre McGuire's tenure as a "sideline" reporter between the benches has been a bigger failure than the FoxTrax puck was, and wondering if the over 2 ½ will hit on how many times Eddie Olczyk says "active sticks" during the USA game (it went under, he only said it once), I tried to imagine watching Olympic hockey without NHL players and I couldn't.
Since allowing NHL players to participate in the Olympics in 1998, the decision has been the only one the game deserves credit for in recent years. Now the league is prepared to tell their fans – the ones they have left – that the Olympics will have to do without NHL players in the future because the league is losing too much money during the two-week layoff.
Gary Bettman isn't exactly crushing it in approval rating and he is certainly isn't winning any popularity contests. The same man who has watched two teams relocate from Canada during his tenure as commissioner is now ready to destroy the best thing the game has going for it.
With Bettman at the helm, fighting has been basically taken out of the game thanks to the instigator rule, a trapezoid has been painted behind the net and two-line passing has been allowed. He contemplated changing the size of the net, first allowed goalies to expand the size of their equipment and then created restrictions for them. He permitted the change of the overtime format to 4-on-4 and OK'ed shootouts deciding games and playoff berths. He let the Sabres change their colors to red and black before they changed them back, and then there was that time where the NHL didn't play for an entire season. If people cared about hockey then Bettman might have to answer for his decisions. But no one cares enough to make a stand because Bettman chased away casual fans, and the only fans remaining are those that would watch the NHL no matter what type of mud Bettman drags it through.
It didn't have to be like this and it doesn't have to continue to be like this. I can't remember the last time people I wouldn't expect to be excited about hockey were this excited. Team USA's resurgence, and the overall talent level of the tournament has casual fans finding out that there are other stars in the sport than Sidney Crosby and Alex Ovechkin. Even if those fans missed entire first periods because they were trying to find out what NBC ancillary channel the Olympics relegated hockey to, they have still become attracted to the game. There is a throng of new hockey fans with a desire to watch a sport that can use as many fans as it can get. And the commissioner who has spent the last six-plus years trying to attract new audiences is ready to deprive his newest fans of the reason they watched hockey in the first place.
On Monday I wrote about how Americans were interested in how Team USA would perform in the tournament, and mainly how they would perform against Team Canada. Well, according to the New York Times, the USA-Canada game matched MSNBC's election-night viewership and was the most-watched sports program in Canadian history. It was a non-elimination game and it had more viewers in both countries than Game 7 of last season's Stanley Cup final, in which the game's biggest star was playing against one of the game's most popular teams.
Did NBC do the NHL – its business partner – an injustice by not airing important preliminary games and even the Canada-Russia quarterfinal on its main station? Yes. If the games were on NBC, more people would have stumbled upon them while looking for The Office or 30 Rock, but the amount of positive exposure the NHL has received during the tournament can't be rivaled by anything the league has done itself to increase popularity.
Maybe the NHL and the television networks of future Olympics can work out a marketing partnership or the networks can promise to put the intriguing matchups on their No. 1 channel in place of the biathlon or ski jumping or curling. If the NHL is so hung up on trying to make money off the Olympics rather than letting the Olympics work its magic for the NHL, then OK, find a business strategy that works. Just don't sacrifice the participation of NHL players as that strategy.
The Olympics deserve the best hockey players from each country and that means NHLers. NHL-filled rosters offer an experience for viewers that isn't duplicated at any other time. Sure, there is the IIHF World Championship each year, but that takes place during the NHL playoffs, so many of the top players aren't available, and those who are usually decline to play. Amateur lineups would create a tournament similar to the World Junior Championships, and teams like the United States and Canada would be at a disadvantage against the European teams that include former NHL players currently playing in the KHL or European elite leagues.
The uniqueness of the event creates a bond among each country's fans that rarely happens. The tournament allows for fans of NHL rivals like the Rangers and Devils to pull for each other's players in the same way Yankees fans are asked to pull for Red Sox, and Mets fans for Phillies with home-field in the World Series on the line at the MLB All-Star Game. There aren't too many times Rangers fans hope Zach Parise scores a goal and hope Henrik Lundqvist gives one up. For a week, Devils fans are allowed to hate Martin Brodeur and love Chris Drury.
Most importantly, NHL players in the Olympics just makes for better hockey.
Yes, the two-week break and lack of an All-Star Game is costing the NHL money today, but maybe Bettman doesn't see what this tournament is doing for tomorrow and the future of the game. The Winter Classic is nice, but it's not doing the trick, and the only thing that could get the game back on the map in the United States would be an American star equivalent in talent to Crosby or Ovechkin. The Olympics are doing a job that Bettman has tried to do since he cancelled the 2004-05 season, and no one cares that there wasn't an All-Star Game or a skills competition this February. Fans want to see competitive hockey games with the world's best players. They don't want – or need – to see Zdeno Chara skate untouched and put all his weight into a slap shot that goes into an open net at 103 mph. Fans want to watch Olympic hockey with NHL players. They can live without the All-Star Game and its festivities once every four years.
Right now, there is a buzz in the hockey world following Canada's rout of Russia and Slovakia's upset of Sweden. United States fans are anxious for Friday's semifinal against Finland and sports media outlets are asking whether or not Team USA can knock off Team Canada twice in the same week if they meet again. Players like Ryan Miller and Patrick Kane are watching their stock rise thanks to national television exposure. It has all contributed to one very pleasant surprise because when was the last time the talk anywhere focused on hockey?
If Team USA takes home the gold, it will be the perfect ending to a perfect tournament, and will do wonders for the final weeks of the NHL season. I suggest you watch because it might never be the same again.