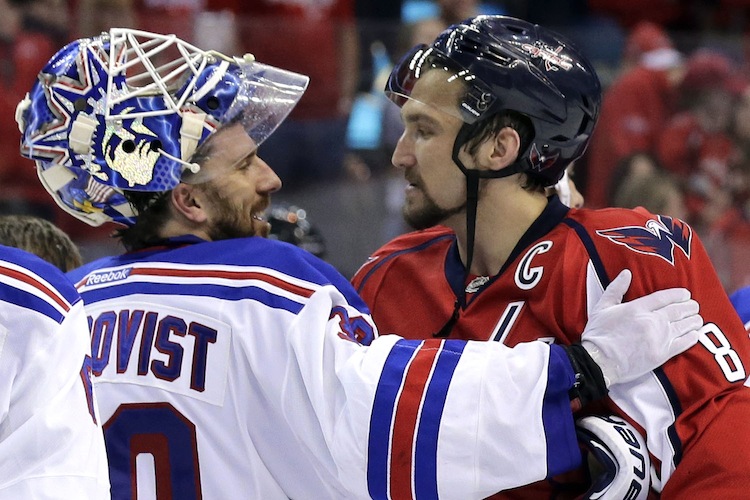 Once upon a time a guarantee meant something. It meant something in the 1993-94 playoffs when Mark Messier told said "We'll win tonight" in anticipation of Game 6 against the Devils, and it should mean something that Alex Ovechkin guaranteed a Capitals win over the Rangers in Game 7. But it doesn't.
"We're going to play our game and we're going to come back and we're going to play Montreal or Tampa."
That's what Ovechkin said after the Rangers' Game 6 win, after the Rangers staved off elimination for the second straight game and after they solved Braden Holtby by scoring four goals, which is something he hadn't allowed in over a month.
"We almost tie the game and the character of this group, it shows a lot," Ovechkin said. "We're going to come back and win the series."
And there's the second part of his guarantee.
Ovechkin is the captain of the Capitals and the face of that franchise, so of course he's going to be optimistic about his team's chances even if they blew a two-game series lead, blew Game 5 with 1:41 left and lost Game 6 at home. I wouldn't expect Ovechkin to think anything other than that his team will rebound after back-to-back losses and win Game 7 on the road in Madison Square Garden where the Rangers have never lost a Game 7 in the history of the team. But I said "think" those things, not say them.
In the first part of his guarantee, he says, "We're going to play our game," as if the Capitals playing at their best means they will win Game 7. He doesn't say, "We're going to play our game and the Rangers are going to play their game and we're going to come back and we're going to play Montreal or Tampa," as he disregards the idea that the Rangers might also play their game, which was eight wins and 12 points better in the 82-game regular season. I guess Ovechkin was trying to say that if the Capitals play their game they won't lose, but if you look at this series, what exactly is their game?
In Game 1, they won thanks to a last-second play made by possible by a non-boarding call. They lost Game 2. They won Game 3 on a lucky and fortunate bounce off Keith Yandle's skate. They won Game 4 in an evenly matched game. They blew Game 5 and lost Game 6. From the first six games of this series, it seems like the Capitals' game is to block shots, lean on Holtby and wait for an Ovechkin goal (that hasn't happened since Game 2) or score on an incredible bounce. If that's the "game" Ovechkin is talking about for Game 7, I'm not sure that will be enough to beat Henrik Lundqvist, the Garden and momentum.
"We almost tie the game" is how Ovechkin begins the second part of his guarantee. Since when is "almost" doing something a reason to be Almost coming back after trailing by three goals, but never completing the comeback is an unusual way to support a guarantee. If anything, I would think coming to close to completing a comeback at home and not completing it would be demoralizing knowing that the next game would be a win-or-go-home game on the road, but not to Ovechkin.
Ovechkin had nothing to lose by making this guarantee. If the Capitals win, Washington will consider him their Messier for the time being and if they lose, well, that's what the Capitals do. They blow leads in the playoffs and lose in the first or second round. The Capitals not making the conference finals would be the same old storyline out of Washington since the last time they reached it in 1997-98.
Ovechkin was already wrong once this series when he told Lundqvist, "All series, baby, all series," after scoring on him in Game 1. He followed it up with another goal in Game 2, but since then he hasn't scored. He hasn't even had an assist. No points in the last four games for the player who promised to continue to provide offense for the Capitals for the entire series. That's one empty guarantee already this series. Expect another one in Game 7.