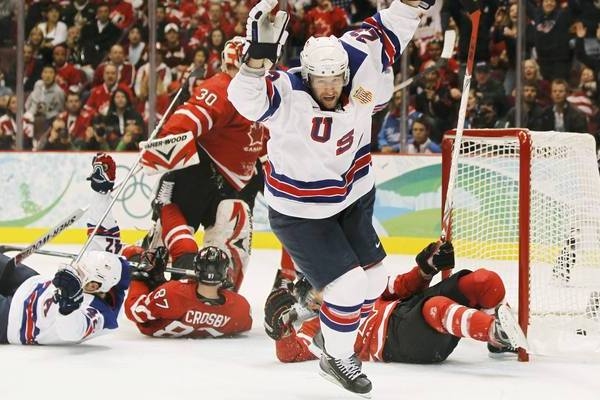 This column was originally published on WFAN.com on Feb. 22, 2010.
Mike Milbury predicted that Team USA would lose to Canada in Sunday night's pregame show. At that point, I knew that an upset was assured because, let's be honest, when has Mike Milbury ever been right?
It's hard to remember Milbury ever having been right as general manager of the Islanders. He wasn't right when he drafted Rick DiPietro ahead of Dany Heatley and Marian Gaborik, and traded Roberto Luongo. Or when he traded Zdeno Chara and the second pick in the 2001 draft (Jason Spezza) for Alexei Yashin. During his time with the Islanders, Milbury compiled a long list of questionable and controversial decisions in his quest to become the worst GM in hockey history. He was wrong again on Sunday night when he picked against his own country.
After letting a 1-4-1 performance in 2006 resonate for four years, Team USA made wholesale changes for 2010. General manager Brian Burke scrapped the entire '06 roster except for Chris Drury and Brian Rafalski, choosing youth and inexperience to replace the face of USA hockey. Burke skirted conventional wisdom by replacing the team's core of Mike Modano, Keith Tkachuk, Bill Guerin and Doug Weight. On Sunday night in Vancouver, Burke's moves paid off in a game Eddie Olczyk referred to as "tremendously tremendous."
Doc Emrick isn't used to seeing Martin Brodeur get lit up, and he probably can't recall a two-goal game from Brian Rafalski's tenure with the Devils. These two factors — Brodeur's shakiness and Rafalski's offensive outburst — contributed to Team USA's first win over Canada since 1960. Team USA entered Sunday's main event at plus 250 on the money line. They left with all of Canada calling for Roberto Luongo to replace Brodeur in Tuesday's quarterfinal qualifier.
Ron Wilson's club won in exactly the manner that Burke envisioned they could when he selected the next wave of American talent. Burke built the current squad with an emphasis on speed and goaltending, and it was enough to drop a Canadian team that outshot the Americans 45-23. Team USA limited their mistakes, stayed disciplined and remained out of the box, and Ryan Miller did his best Jim Craig impersonation with a 42-save performance. Team USA was outplayed and outshot by a roster that perhaps no Americans other than Patrick Kane or Zach Parise would crack, but they stuck to Wilson's system and capitalized on the few opportunities they were afforded.
The win was the most significant for Team USA in Olympic competition since the second Herb Brooks-led team knocked off Russia in the 2002 semifinals. The game created interest in the young club for the American people, and the winning result has turned that interest into an attachment. People now seem to care about the team's outcome in Vancouver, and this wouldn't have been the case had Ryan Miller played more like Martin Brodeur. The dream of achieving gold in the tournament for the first time in 30 years has hockey back in the spotlight, and it's going to be a challenge to sustain the current hype around the team and the sport.
Gary Bettman would love for that enthusiasm to carry past the end of the week and into the stretch run of the NHL season, however, just keeping Americans attached for this week is a step in the right direction. It might be wishful thinking to believe that Team USA can bring the game back to where it was prior to the 2004-05 lockout, but it seems to be a possibility, at least for the moment. Team USA has a chance to change the landscape of hockey in the United States, and give the NHL the boost of interest the league has unsuccessfully tried to achieve through rules changes, marketing and the Winter Classic.
An upset of Canada and the revival of American hockey in the Olympics won't carry as much weight if Team USA falls in quarterfinal action or loses to Canada in a possible rematch. Team USA knocked off the favorites on their home ice. They have proven they can play with — and beat — any team in the tournament, and in doing so, they have made the goal medal game their end game. If Sunday's win was their last of the 2010 Games, this last week of perfect hockey from Team USA will be a letdown.
Many hoped that after the 2006 debacle, Team USA would contend for a medal game in the tournament, though no one truly expected them to beat Canada and earn the No. 1 seed for the playoff round. As long as the Americans didn't bow out the way they did four years ago, it would have been a successful trip to Vancouver. The expectations changed on Sunday, and now it's up to this Team USA to show America and the world that they aren't the same team that won only once — against Kazakhstan, no less — in the '06 Games. It's up to them to prove to Sidney Crosby that Sunday's 5-3 win wasn't "just one game."
A week ago Team USA was hoping to avoid embarrassment and provide a respectable showing in Vancouver. Now they are the top seed in the tournament and three wins away from achieving Olympic glory, and improving the outlook on the game for the entire country.
Let's just hope Mike Milbury doesn't decide to jump on the Team USA bandwagon.