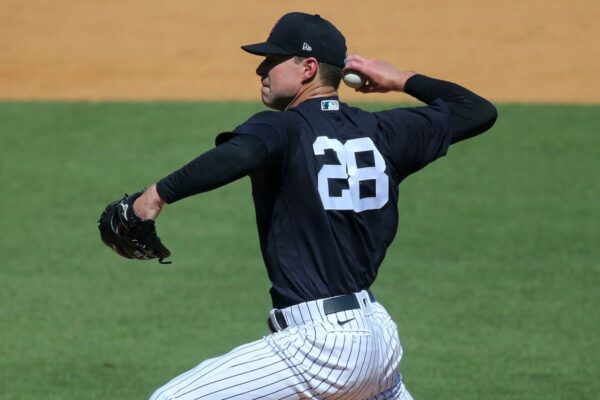 It's been a clean week of health for the Yankees in spring training. That's all I care about this month. No injuries. Performance is meaningless. Not losing anyone to injury is all that matters.
Here are 10 thoughts on the Yankees.
1. Jameson Taillon and Corey Kluber have both pitched and both looked good and both came out injury-free. The results don't matter in March, but the health certainly does, and the Yankees' 2021 championship aspirations rest on the elbow of Taillon and the shoulder of Kluber. It's not exactly what you want for a team built to win now, but it's what the Yankees have built. Each day of March in which you don't hear the words "soreness" or "discomfort" or the phrases "being evaluated" or "shut down" is a good day. There has only been one of those days so far (Clarke Schmidt's injury). Let's keep it that way.
2. Aaron Boone has said he's going to bat Aaron Hicks third this season. I'm not surprised because I was expecting this. He batted him third in the past and in the postseason, so why wouldn't he bat him third in 2021? It's the same reason why I think he will have Kyle Higashioka unnecessarily serve as Gerrit Cole's personal catcher and why he won't hesitate to play Brett Gardner over Clint Frazier. Hicks is not a 3-hitter. He's just not. If DJ LeMahieu leads off and Aaron Judge bats second, there is still the option of batting Giancarlo Stanton, Luke Voit, Gleyber Torres or Frazier third. (I would even bat Sanchez third like it's 2017 over Hicks, but I know that's not realistic right now.) The idea the right-handed hitters have to be separated in the Yankees' lineup makes no sense because if Frazier really is going to be the everyday left fielder over Gardner, then there will be eight right-handed bats in the Yankees' lineup "every" day. That means no matter where Hicks bats, there's going to be eight consecutive right-handed batters. Over the course of the season, Hicks shouldn't be getting more at-bats than Stanton, Voit, Torres or Frazier, or Sanchez (if he's right this season).
3. Sanchez looks right in spring training. Two home runs already and one that nearly left Tampa. I know it's March and these games don't count, but having two home runs is better than having none, and if Sanchez had none right now or was 0-for-spring training, he would be hearing about it. I think he will bat no higher than seventh to begin the season, and I can see him batting eighth ahead of Gio Urshela or even ninth behind Urshela. If 2016-17, the Yankees will have the best 8- or 9-hitter in history. If that Sanchez returns, there will be a lot of Yankees fans who owe Sanchez an apology, and I want handwritten apologies, not social media apologies.
4. Opening Day is four weeks from today. Four weeks! This is what I would do on Opening Day against the Blue Jays' left-handed Hyun Jin Ryu:
DJ LeMahieu, 2B
Aaron Judge, RF
Giancarlo Stanton, DH
Luke Voit, 1B
Gleyber Torres, SS
Clint Frazier, LF
Gary Sanchez, C
Aaron Hicks, CF
Gio Urshela, 3B
(I know that's not what's going to happen.)
5. I think this is what we will see on Opening Day:
DJ LeMahieu, 2B
Aaron Judge, RF
Aaron Hicks, CF
Giancarlo Stanton, DH
Luke Voit, 1B
Gleyber Torres, SS
Clint Frazier, LF
Gary Sanchez, C
Gio Urshela, 3B
6. No one from the fifth starter "competition" has pitched yet, so the "competition" has yet to actually start. However, I don't think there's a competition anyway. It's Domingo German's job. As I wrote on Monday, the Yankees didn't keep scumbag German through his suspension and through all the negative attention, publicity and backlash to not have him pitch. They didn't purposely insert a cancer into their clubhouse and then try to tip toe around his presence by not having him address his teammates until the team's veteran bullpen leader spoke out against him to send him to the minors. German is still a Yankee because the Yankees think he can help them win and think his disgusting act will be forgotten if he helps them do so.
7. Miguel Andujar, Mike Tauchman, Derek Dietrich and Jay Bruce seem to be competing for one roster spot. If the Yankees are going to have four bench spots, one goes to Higashioka, one to Gardner, one to Tyler Wade and one to one of those four. As a left-handed outfielder, Tauchman is redundant with Gardner, so I don't see how he's on the 26-man roster. Andujar can play third base and I guess outfielder and first base? The Yankees will want Andujar to get everyday at-bats, and he's yet another right-handed hitter on a team full of them, so I don't see him being on the Opening Day roster.
8. That leaves one spot for Dietrich and Bruce. Dietrich can play first, second, third and outfield, and Bruce can play first, second and outfield. Right now, I think Dietrich holds an edge on Bruce. He's younger, more versatile and a much better on-base option. I would pick Dietrich for the final bench spot.
9. There's also one spot available in the bullpen, if the Yankees have 13 pitchers. Yes, they can have 14 relievers to begin the season and then send someone down for the fifth starter when they eventually need a fifth starter for the first time, which could be April 6 or 7 depending on if they go in full rotation or go back to Cole after four days of rest. If they go with 13 pitchers and go with five starters, and then you count Aroldis Chapman, Zack Britton, Chad Green, Darren O'Day, Justin Wilson, Jonathan Loaisiga and Luis Cessa, that leaves one spot. If they hold off on the fifth starter, there's two spots.
10. Albert Abreu is out of options, so he might be the front-runner if there's only one spot. If there are two spots, Michael King and Nick Nelson would then seem to be competing for the last spot. No one should care about the last man in the bullpen because they should only be pitching in lopsided games, but when it comes to the Yankees, you can never count out seeing the last man in the bullpen in a high-leverage situation they don't belong in. Every bullpen spot matters on this team.
---

---
Subscribe to the Keefe To The City Podcast. New episodes every Monday and Thursday during the offseason.
---
My book The Next Yankees Era: My Transition from the Core Four to the Baby Bombers is now available as an ebook!