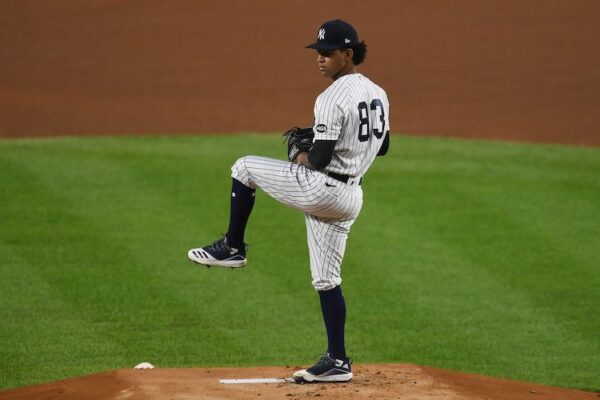 There are very few spring training competitions for the Yankees, as there are every year. There's a bench spot and a bullpen spot. That's it. There's supposedly a battle for the fifth spot in the rotation, but we all know it's a competition that's already been decided. More than likely, all three "competitions" have already been decided.
Deivi Garcia is the right choice to be the Yankees' fifth starter. Even if he performs brilliantly this spring, I don't see how he's anywhere other than in Triple-A to start the season, and if he pitches poorly, the Yankees will have an easy out to get what they want. Whether good or bad, spring training performance is used at the team's convenience. If Aaron Judge bats .150, well, it's spring training and it doesn't matter. If Gary Sanchez bats .350, well, it's spring training and let's see him do it in the regular season. If Gerrit Cole pitches to a 5.20 ERA, well, it's spring training and he was working on stuff. If Garcia pitches to a 1.20 ERA, well, it's spring training and he wasn't facing real lineups. Spring training numbers only mean something to some, and for Garcia, they don't mean anything.
The Yankees didn't keep scumbag Domingo German through his suspension and through all the negative attention, publicity and backlash to not have him pitch. They didn't purposely insert a cancer into their clubhouse and then try to tip toe around his presence by not having him address his teammates until the team's veteran bullpen leader spoke out against him to send him to the minors. German is still a Yankee because the Yankees think he can help them win and think his disgusting act will be forgotten if he helps them do so.
Because of this, Garcia will end up in Triple-A and be the first starter recalled when the Yankees inevitably need another starter. In the event Garcia is phenomenal this spring and German isn't, the Yankees already have a variety of built-in excuses at their disposal for their decision ranging from Garcia needing some more work in the minors after a minors-less 2020 season, the Yankees wanting to bring him along slowly or the Yankees wanting to control his workload. The Yankees will easily use any or all of these reasons as to why the 21-year-old won't open the season in the majors.
There's nothing more the Yankees love than the idea they are going to unearth how to successfully keep pitchers healthy. Whether it's innings limits like they have unsuccessfully placed on so many pitchers over the years, skipped starts like they did most recently with Michael Pineda or absurd innings-to-days off rules like they implemented for Joba Chamberlain, the Yankees will stop at nothing to find the answer. I know the answer to the age-old question they are searching for: don't pitch. That's it. It's that simple. If you don't want a pitcher to get injured, don't let him pitch. That's the only way a pitcher will avoid an injury. No pitch count, or innings limit, or skipped starts or Joba Rules is going to prevent injury. Not pitching is the only thing that can.
The idea the Yankees should stash Garcia in Triple-A as insurance and to protect his workload would be counterproductive. Pitchers get injured. That's what they do. And if the Yankees think Garcia is a big part of their future, he should be a big part of their present. Why waste pitches in Triple-A? They won't be fake pitches. They will be real, all-out, high-intensity pitches because Garcia will be competing and trying to prove a spot needs to be made for him in the Yankees' rotation.
I'm fully prepared for German to begin the season as the Yankees' fifth starter and for Garcia to go to Triple-A and be on-call for a call that will eventually come. The Yankees aren't going to get through an entire season without using Garcia at some point. That point should be the first time they need a fifth starter.
---

---
Subscribe to the Keefe To The City Podcast. New episodes every Monday and Thursday during the offseason.
---
My book The Next Yankees Era: My Transition from the Core Four to the Baby Bombers is now available as an ebook!