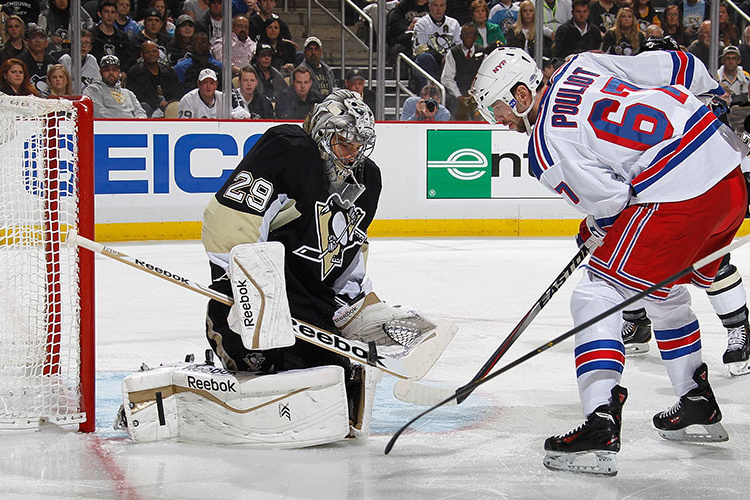 Here's what you need to know about Game 2: Henrik Lundqvist finished as the third star of the game as the goalie of a team that lost a playoff game 3-0.
Lundqvist played his best game of this postseason and the offense couldn't score against Marc-Andre Fleury, who only a year ago was forced to bench in the playoffs by the Islanders in favor of 36-year-old Tomas Vokoun. The only offense the Rangers could provide in Game 3 was for the Penguins as Dan Girardi scored against Lundqvist for what now seems like the 11th or 12th time since the beginning of the 2012-13 playoffs.
Game 2 was such a "Rangers' Game 2 performance" that I don't know why I chose to watch it over watching Game of Thrones and Veep live. The Rangers have now lost eight consecutive Game 2s going back to their Game 2 loss in Washington in the 2008-09 playoffs
– Let's start with Dan Girardi since he started the scoring in the game by deflecting a Kris Letang pass intended for Chris Kunitz right past Lundqvist in the second period. As soon as Lundqvist realized the puck had gone in, he turned to his left and looked behind the net where Girardi was sliding into the boards, and you could tell by Lundqvist's body language he said, "Are you effing kidding me?" And if he didn't say it, which I'm almost 100 percent sure he did, he was at least thinking it. After Girardi gave the Bruins a lead in the conference semis series last year by scoring against Lundqvist a handful of times, here he was again giving the desperate Penguins a 1-0 lead and easing their nerves and the nerves of the crowd who were potentially looking at heading to New York down 2-0 if the Rangers could win Game 2. It would be one thing if Girardi had deflected a puck in by trying to move someone from in front of the net or if some fluky shot or pass had gone off him and into the net, but this goal happened because Girardi thought sliding on the ice with his stick extended was a better defensive decision than picking up Kunitz in front and defending him. If Girardi had just played defense on Kunitz through the slot then he's not sliding on the ice and his stick is never extended to block a pass or shot and the puck never touches his stick and deflects it in and the Penguins don't score and it's still 0-0. And after Girardi's sloppy defense and his brain fart interference penalty, I only wish he had said in the postgame that he was either drunk or hungover during the game because then his performance would have made sense and I could forgive him.
– I'm not mad at Derek Dorsett for taking an untimely and undisciplined penalty with 4:52 left to play in a 1-0 game. That's what Derek Dorsett does and that's what should be expected of him when's he in the lineup or on the ice. I blame Alain Vigneault for Dorsett's penalty because he is the one who had Dorsett on the ice with 4:52 left in a 1-0 game. What is Dorsett going to do for you at the point in the game? Is he out there to give your top forwards a rest? I hope you're not giving your top forwards a rest at that point. Do you think you're going to catch lightning in a bottle and he's going to score for you? I hope you're not thinking that since he had four goals in 51 games this year, has 31 goals in 331 career regular-season games and no goals in 23 playoff games. So why was Dorsett on the ice there? The best-case scenario is that the score remains the same, but time, which is the only thing that mattered then, would have come off the clock while he was out there wasting it. And the worst-case scenario is that he would take a stupid penalty.
– It's too bad James Neal still has four years to go after this season on his six-year deal with the Penguins because he would make a great Flyer. He has the perfect amount of "scum" about him and in his game to fit in Philadelphia.
– If Henrik Lundqvist doesn't stand on his head for the entire game, there's a chance this game could have been 19-0. I don't think that's an exaggeration. It probably could have been worse than 19-0.
– Even though Lundqvist kept the Rangers in the game, the Rangers were never really in the game. They were dominated up and down the ice, the power play had another solid 0-for-4 showing and the Penguins outshot and outhit and won more draws than them. The Penguins played like a team that knew they had to win Game 2 and this game could have gone on for 20 more minutes or 200 more minutes of hockey and the Rangers were never going to score.
Thirteen consecutive losses with a series lead now for the Rangers. I'm not sure if that's better or worse than 29 consecutive power plays without a goal.