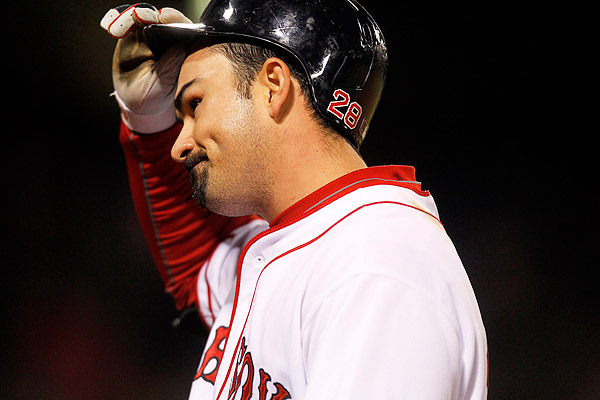 I shouldn't be writing a column about how much I hate the Red Sox and calling the AL East race over given my history with my enemy. But math says I can write it and get away with it. Here's why.
The Yankees are 59-39. The Red Sox are 49-50. The Yankees have played .602 baseball. The Red Sox have played .495 baseball. If the Yankees play .602 baseball the rest of the way they will go 39-25 and finish the season at 98-64. That would mean the Red Sox would have to go 49-14 to tie them. But let's say the Yankees, for some reason, play just .500 baseball the rest of the way, going 32-32 and finishing the season at 91-71. The Red Sox would have to go 42-21 to tie them, and the Orioles would have to go 39-24 and the Rays would have to go 40-23 and the Blue Jays would have to go 42-22 to catch the Yankees. One thing though: the Yankees aren't going to play just .500 baseball the rest of the way.
So it's time to tuck the 2012 Red Sox in and put them to bed when it comes to the division. We could probably turn out the lights on their wild-card aspirations as well. Yes, the Red Sox are only 4 1/2 games out of playing in a one-game playoff, but there are also seven teams ahead of them, and they are the last possible team with a shot because the Mariners, Royals and Twins are all 10 1/2 games out or more. So not only do the Red Sox need to play better than they have since the beginning of September 2011 (and nothing suggests they will), they need six teams from the list of the Angels, A's, Tigers, Orioles, Rays, Indians and Blue Jays to play worse than them.
I never thought things could get any worse for the Red Sox than they were after the last game of last season. Who would have thought things could get worse than having the Boston Herald call you the "Best Team Ever" and NESN saying you are going to challenge the 1927 Yankees as the "Greatest Team in Major League History" before blowing a nine-game lead in September? And who would have thought things could get worse than having the best manager in franchise history "fired" and slandered on his way out and the general manager of the franchise's turnaround leave to go work on another epic championship drought? Who would have thought that things could get worse than the owner of your team barging into the station of the city's No. 1 afternoon drive show only to make a fool out of himself, leaving an endless supply of sound bytes and drops for that station for the rest of their existence? I never thought things could get worse for the Red Sox, but they have, and I can't describe the amount of joy running through my body because of it.
Talking about this team is like reminiscing about my favorite parts of Dumb and Dumber with my friends. "Oh man, my favorite part was Harry's face right before Joe is about to eat the burger!" "No, wait … my favorite part was when Lloyd gives Nicholas the IOUs!" "Actually my favorite part was when Lloyd is trying to read the newspaper!" "No, I take it back. My favorite part was when Lloyd tells Harry that he sold Petey!" When I talk about the 2012 Red Sox I get that excited. I can't figure out if my favorite thing is that John Lackey is making $15.25 million this year to not pitch (and $15.25 million for each of the next two years to likely pitch poorly) or that Carl Crawford still has five years left on his $142 million deal after this season. Or it might be that Josh Beckett is hated by the entire city of Boston or that David Ortiz called Boston a "sh-thole" and openly complains about the contract he agreed to any chance he gets, but he still gets a standing ovation before each at-bat at Fenway.
Since the Red Sox are a train wreck that arrives in the Bronx this weekend for a series that could put the final dagger into the hearts of Boston baseball fans looking for something to fill the time between now and the Patriots' Week 1 game, I decided to put together a list of some of my favorite things from my favorite figures that take the most blame from Red Sox, and therefore are my favorite Red Sox.
– "Bobby Valentine is a baseball genius." That is what the public was told about him over and over during the winter and spring. Maybe he is. Maybe he has just been dealt a bad hand with a bad team. But I'm not sure the "genius" tag belongs to someone in charge of a 49-50 team on July 27.
Don't get me wrong, I couldn't stand looking at Kevin Youkilis on the Red Sox, and I still can't stand looking at him now that he's on the White Sox. But I respected Youkilis and that he became a strong part of the rivalry and what made the rivalry special. And that's why it was disgusting to watch him get removed for a pinch runner at Fenway while Bobby Valentine stood on the top step in the Red Sox dugout clapping for Youkilis, as if he were proud of him, and getting the rest of the team up to clap for him, and then pushing Youkilis out of the dugout for a curtain call. Was Bobby applauding in celebration of what Youkilis meant to the Red Sox in the pre-Bobby V era or was he applauding that he had won the war with Youkilis and he had finally got rid of him?
– Joining Bobby V in the applause for Youkilis was Adrian Gonzalez. Gonzalez stood there clapping as the face of the future of the Red Sox with six more years left on his contract despite being the face of the new-look Red Sox that have failed to meet expectations.
I was petrified of Gonzalez joining the Red Sox last season and taking that swing to Fenway Park and to Yankee Stadium and the short porch for nine games a year. Now? I'm not exactly nervous about Gonzalez stepping into the box. Neither was Chris Davis.
Gonzalez (or "Gonzilla" as NESN once tried to dub him) blamed the Red Sox' 2011 season on God and the national TV schedule. So who is he going to blame the 2012 season on? Bobby Valentine? Ben Cherington? Tim Thomas' Facebook page?
– Carl Crawford plays left field, and when you play in left field you need to be able to throw the ball to the infield. The problem is Crawford's playing with an elbow that will need to be surgically repaired sometime between now and next season, and he is unable to make all the throws. So what does that mean? Well, it means that the Red Sox are trying to find a way for the shortstop to help Crawford make the throws to the cutoff man less strenuous. You know, normal Major League Baseball problems. No big deal.
Crawford was one of my favorite non-Yankees, which I wrote about on Wednesday and there aren't many of those. (Really he was before the Rays became a threat, so I'm talking about the 2002-2007 Carl Crawford). Once he became a Red Sox I despised him though I can't stop thanking him for eating seven years and $142 million from the Red Sox, which will cost them the opportunity to re-sign Jacoby Ellsbury after next season. Maybe this is his way of paying me back for enjoying his play all of those years? Thanks, Carl!
– Josh Beckett has been the starting pitcher on my All-Animosity Team for three straight years, and I have only been making an All-Animosity Team for three years. And there's a good chance that even when he doesn't play baseball anymore he will still hold that spot because that's how much I hate Josh Beckett.
Every start that Beckett goes out and loses means another day I can read negative stories about him, so for me it's easy to root against him. You would think that it wouldn't be as easy for fans of the team he plays for to root against him, but that's not the case. Hey, at least Red Sox Nation and I can agree on one thing!
Beckett was the Pied Piper of the pitching staff with the beer drinking and fried chicken eating. He played golf despite missing a start due to injury and then told the media that he can do whatever he wants on his off day and that his off day is his off day even if it was his off day during a time when he missed a start. Before the season he put it out there that his wife and baby and his family were the most important thing to him, which is sensible, but is that a reason to not be good at your job? I think there might have been one or two other MLB players who were able to balance having a job for seven months a year and a family, but I could be wrong.
Part of me wants Beckett to get traded with the Red Sox forced to eat a large amount of his contract. But the other part of me wants him to stay with the Red Sox and continue to lose games for them. Really, it's a win-win situation.
– Try to guess who these two pitchers are.
Pitcher A through 20 starts: 124.2 IP, 105 H, 64, R, 58 ER, 58 BB, 104 K, 17 HR, 4.19 ERA, 1.311 WHIP
Pitcher B through 20 starts: 120.1 IP, 138 H, 79 R, 73 ER, 38 BB, 100 K, 16 HR, 5.46 ERA, 1.462 WHIP
Pitcher A is A.J. Burnett in 2011 for the Yankees.
Pitcher B is Jon Lester in 2012 for the Red Sox.
Is there anyone in Boston giving Lester the "Ladies and gentlemen" treatment every fifth day?
There was a time when Jon Lester was the last pitcher I wanted to see against the Yankees. There was a time when you could have given me Justin Verlander or David Price or Roy Halladay against the Yankees or Jered Weaver or Cliff Lee … well no, not Cliff Lee … or James Shields or Felix Hernandez … actually don't give me Felix Hernandez either. OK, so when you factor in Lee and Hernandez, there was a time when Lester was the third-to-last pitcher I wanted to see against the Yankees. That's still pretty good. The point is that time is over. Right now I want the Yankees to face Jon Lester. I'm excited for Saturday's game. I want Jon Lester on the mound at Yankee Stadium.
Dennis Eckersley has picked Lester to win the Cy Young seemingly every year for the last four years (though I can't confirm that he did this year, but I'm just going off history). And while Eckersley might be the biggest homer on a network that also boasts Tom Caron and Jim Rice, it made sense to pick Lester in 2009, 2010 and even 2011. But after last season, he shouldn't be a choice anymore. If Eck picks him in 2013 I think he might want to find a new job.
In spring training, Lester apologized for the chicken and beer in 2011. He has gone on the record several times to hold himself accountable for his 5-8 record and 5.46 ERA. It appears as though he genuinely cares about the winning, and that's why it makes it even better that his name is being rumored as a potential trade chip. Please Ben Cherington, trade Jon Lester! Please!