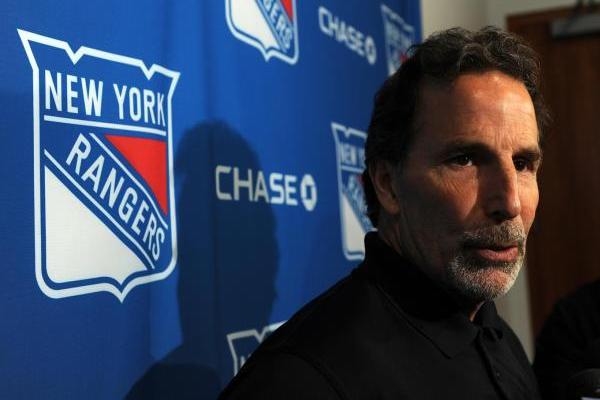 The Rangers lost on Tuesday because they won on Saturday. When you're a team playing .444 hockey, you usually follow a win with a loss and a loss with a win. (If you're a betting man, you might want to take the Rangers on Thursday against the Islanders.) But when you're a team trailing the Canadiens, Maple Leafs,  Islanders and Jets in the standings, you're not a good team. Through nine games the Rangers aren't a good team.
The Rangers fell behind early to the Devils on Tuesday night, couldn't regain momentum and forced me to question the actual meaning of the phrase "power play" with an 0-for-5 night on the man advantage, which included a four-minute power play. Saturday's game against the Lightning made me once again think the team might have the type of seven-game winning streak in them they had last season from Oct. 31 to Nov. 15 and instead they put together as painful of an offensive showing as they did last Thursday against the Penguins. Tuesday night in Newark was another poor effort from the Rangers in which they failed to score more than one goal for the fourth time in nine games. Or was it?
According to John Tortorella, the Rangers didn't play poorly aside from special teams. The only problem with Tortorella's evaluation of the loss is that there isn't a column in the standings following overtime losses for "Head Coach Thought His Own Team Played Well" and they don't give out any points for that either. If you watched Tortorella's postgame answers it was clear that he was correctly upset with the power play, but he was also more than a little delusional about the result of the game since the Devils were the team that scored three goals and the Rangers were the team that scored one goal.
So we're going to start a tradition here on Keefe To The City and analyze John Tortorella's postgame press conferences after Rangers losses (and I guess wins too if he happens to be upset about winning), using the same format from his preseason interview with Mike Francesa.
On whether or not he's upset with the power play.
"Well, Sam you know my answer and I'm not going to go through it here, so you know my answer with that. We were the better team 5-on-5 tonight, it's our special teams that let us down."
Sam Rosen asked the question so Tortorella fired back at Rosen, who whether you like his play-by-play calling or not, couldn't be any nicer of a broadcast personality. So for the Rangers head coach with a New York resume that boasts a 14-18 postseason record, two first-round exits, one Conference Finals loss and one missed postseason to talk down to the TV voice of the Rangers is always a good look.
Tortorella is aware that he is the head coach of the Rangers, right? Because he makes it sound a lot like he isn't associated with the special teams and he is upset with their production as if he doesn't decide who is on the power play. (That's for Michael Del Zotto, who despite being the least talented player on the ice on the power play, feels like he should be the one the power play runs through and the one to shoot. Imagine if you put Louis CK, Jerry Seinfeld, Chris Rock and Ricky Gervais in a room to talk about comedy, which HBO did, but you also put Seth Rogen in that room and he was the one talking over everyone and trying to lead the conversation. That's Michael Del Zotto on the power play.)
If Tortorella isn't going to address the question with the media or if he doesn't feel the need to address it with the media, who is he going to address it with? The power play is now 3-for-35 on the year after an 0-for-5 night on Tuesday, which means they were 3-for-30 before Tuesday's loss, which means that he clearly hasn't gone "through it" anywhere with anyone.
On if the problems on the power play are correctable.
"Yeah. Yeah they are. They are. There's no sense of me running it down here with you guys. It's been a struggle. It hurt us again tonight. I liked a lot of things about our 5-on-5 play with a number of people, but tonight it's special teams."
Ah, again Tortorella doesn't think he needs to "run it down here." He's going to save that discussion for the big boys who have put together power-play units that have produced three power-play goals in 35 attempts. Those numbers would be good for Mark Teixeira and Curtis Granderson combined average in the postseason, but for a team with real talent on the power play, it's unacceptable.
As for the 5-on-5 talk, that's nice that the Rangers played well with even strength and if only the part of the games when even strength play occurred counted then yes, I would have also like the 5-on-5 play a lot too. But special teams are a part of the game. A big part of the game. And right now the Rangers have the worst power play in the league and the 18th-ranked penalty kill.
On if it's frustrating to have a good game and then follow with a slow start.
"Actually I didn't think we had a slow start. I thought we started pretty well."
The Rangers didn't have a slow start. They only trailed after five minutes of play and didn't get on the board until 6:28 of the third period. No big deal.
"Again, we get scored on, which was a gift. Michael turns it over, Gabby turns if over first, Michael turns it over. I thought we gave them two free ones."
Here's a little secret: the free goals count too. Whether Michael Del Zotto stands in line at Macy's to have a goal for the Devils gift wrapped with a bow and a card or whether Ilya Kovalchuk goes end to end and dangles through five Rangers before going top tit on Henrik Lundqvist, they count the same.
On the play of the rookies and the job security of players.
"Absolutely they're probably going to take some people's jobs. Because I tell you with our hockey club right now we have some guys that are really playing hard and we got some guys that look scared to me and tentative."
Any guesses on the "hard" players and the "scared/tentative" players for those whose jobs are in jeopardy? I have some.
Hard
Taylor Pyatt
Scared/Tentative
Carl Hagelin
Brian Boyle
Jeff Halpern
I don't really know where to put Derek Stepan here. If Tortorella is serious about taking guys out of the lineup then I think Stepan has to be on the bubble between these two categories. But Stepan also has this weird Nick Swisher-like aura to him in that if I put him in the Scared/Tentative group it's going to upset a lot of people since there are Rangers fans out there who wouldn't have gone through with the Nash deal if Stepan was included. (I didn't say intelligent fans.) Stepan does have five points though, which is two more than those three have combined.
"We'll see where we go with our lineup, but I'll tell you right now, we're not waiting."
Tortorella has a chance to win me over here. If he's going to threaten the job security of players then go through with it. Don't just throw it out there to the media because it sounds tough if you aren't going to act upon it.
I have seen 14:25 from J.T. Miller and I already know that the Rangers were eight games late on calling him up to the NHL. If you didn't know that Tuesday night was his NHL debut, you wouldn't have known from the way he played and handled himself, especially on the power play. He has to be in the lineup. Brian Boyle and Jeff Halpern don't.