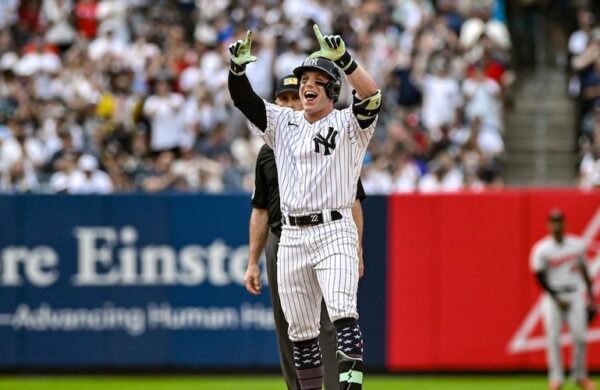 The Yankees have won two straight games against the Orioles after having an atrocious road trip in Oakland St. Louis.
Here are 10 thoughts on the Yankees.
1. Tuesday was the one-month anniversary of the first game the Yankees played without Aaron Judge after he injured his his toe at Dodger Stadium. In the 26 games without Judge (since June 4), the Yankees are 13-13. They have lost series home series to the well-below-.500 White Sox and last-place Red Sox (winning just one of six against the Red Sox overall), split with the Mets, scored eight runs in a three-game series at Fenway Park, scored one run in a loss in Oakland to the last-place A's, lost a series to the last-place Cardinals, got no-hit through through 5 2/3 innings by ex-Yankee Jordan Montgomery and then took the first two games of their current four-game series against the Orioles. In the 24 games against the non-A's, the Yankees scored 81 runs, or 3.38 per game. Even if you add in the A's series in which the Yankees scored 22 runs over the three games, they still only scored 103 runs in 26 games, or 3.96.
Shohei Ohtani is the "best" player in the sport, and likely the best player of all time. He isn't the most valuable. Judge is the most valuable player. Not just in the American League, but the entire majors as the Yankees are 17-19 (.472) when he doesn't play this season and 31-19 (.620) when he does.
2. The last two days the Yankees won extremely important games against the Orioles, who have a plus-13 run differential and have won six more games than their record suggests. (The Yankees have a plus-39 run differential and have won one more game than their record suggests.)
The Orioles are a good team, built on a top-heavy offense (much like the Yankees), limited starting pitching (much like the Yankees with their injuries) and a great bullpen (much like the Yankees). If injuries didn't exist, the Yankees would be a much better team than the Orioles, but unfortunately they do, and the Yankees are still three games behind them in the loss column. The good news is the Rays have lost three straight, so the Yankees now only trail them by seven games in the loss column.
3. After another forgettable series in St. Louis, Giancarlo Stanton has finally looked like a major-league hitter at the plate against the Orioles (3-for-7 with a walk). Josh Donaldson? Not so much.
Since Aaron Boone reiterated that Donaldson would be an everyday player, he hasn't been.
Donaldson sat two of the three games against the Rangers, played all three in Oakland, sat two of three in St. Louis and didn't play again on Tuesday. He's 0-for-7 with a walk in his last two games, and if you take away the Oakland series (since a team that allows this Yankees offense to score 22 runs against them in three games and allows Domingo German to pitch a perfect game against them isn't a real team), Donaldson's last hit was on June 16. Three weeks ago.
Sadly, that Oakland series is what is keeping Donaldson on the roster. The Yankees will use his numbers against the worst team in baseball history as a reason to justify rostering him, acting like his salary isn't the reason. So Donaldson will continue to get booed because he will continue to make outs because he will continue to be washed up.
4. Michael Kay isn't sure why Aaron Hicks is still getting booed in his return to Yankee Stadium. Does he not remember 2016 through a few weeks ago? Paul O'Neill doesn't.
"He spent eight seasons here," O'Neill said on Monday night. "I didn't realize it was that long."
I did, Paul. We all did.
I have no problem with Hicks. He didn't ask for the Yankees to trade for him. He didn't ask them to offer him $70 million to play baseball for them. He didn't ask them to evaluate him as the next Bernie Williams. All he did was what anyone would do: accept a lot of money to be a major leaguer. Hicks being bad or a sunk cost is on the Yankees, not him. Of course Hicks hit a home run on Tuesday as the Law of Ex-Yankees struck again.
5. The Yankees are likely to give Harrison Bader a lot of money this offseason to make up for the Hicks blunder because they on't have an everyday center fielder ready to play the position right now and because Bader is the star of the upcoming free-agent class not named Shohei Ohtani (yes, the class is that bad). When Bader plays, he's really good. "When" is the key word though, and for a guy who will turn 30 next season who has been hurt for nearly all of his 20s … well, I'm writing exactly what I wrote about Hicks four years ago. It would be good if the Yankees could win the World Series this year with Bader then walk away from him in the offseason before they make a commitment that leads to fans booing him until his release four years from now.
6. In order to do that, the roster will have to change realistically between now and the August 1. Unless Gerrit Cole and Carlos Rodon are going to Randy Johnson-Curt Schilling the Yankees to a championship, the team needs to upgrade about two-thirds of the lineup. I don't even know how that would be possible. With the streakiness of Stanton (who hasn't been on a hot streak in a long time) and Torres, the automatic out Donaldson, the loss of power for Rizzo (he last homered seven weeks ago) and DJ LeMahieu looking like he never played baseball before, I don't know how the Yankees expect to score runs consistently, even if/when Judge returns. I don't think relying on a combination of Judge, Bader and Anthony Volpe is the way to go since those three won't be enough to outhit their own manager in October.
7. After the series finale against the Cardinals, Boone talked about how good Montgomery was, but couldn't hold back from talking about how poorly the umpires handled the Cardinals' pitching change stall tactics. He also talked about how his own ejection was handled.
"I had a real problem with that," Boone said. "The sensitivity on that, and the quick throwout was brutal. It was ridiculous. You've gotta have thicker skin than that."
Boone is one to talk about having thick skin. It's embarrassing when Boone argues balls and strikes. It's cringeworthy. Umpires are good and bad both ways, and no umpire is holding the Yankees' offense back. The offense just flat-out sucks. On top of that, Boone says he is against an automated strike zone. So he wants umpires to continue to have the responsibility of calling balls and strikes, he just doesn't like how they call them. Got it.
8. The Yankees not having actual outfielders playing the outfield nearly cost the team both games against the Orioles on Monday and Tuesday. Every day the Yankees have at least one infielder playing the outfield and most days they have two. Once Judge comes back, it will be down to one at home since Stanton isn't allowed to play left field at Yankee Stadium, but the Yankees desperately need a left fielder at the deadline, five-plus months after they failed to sign one all offseason.
9. Torres is an All-Star. That's all you need to know about the state of second base in the American League.
10. Five more games until the All-Star break. Two against the Orioles and three against the Cubs. I think winning one of two against the Orioles is necessary and certainly winning a home series against the crappy Cubs should be a given. Normally, and by normally I mean if Judge were playing, I would expect four wins in the remaining five "first-half" games, but even with Judge out I'm expecting it. You can't go 3-3 against the A's and Cardinals and not make up for it somehow.
---
Subscribe to the Keefe To The City Podcast.
---
My book The Next Yankees Era: My Transition from the Core Four to the Baby Bombers is available as an ebook!