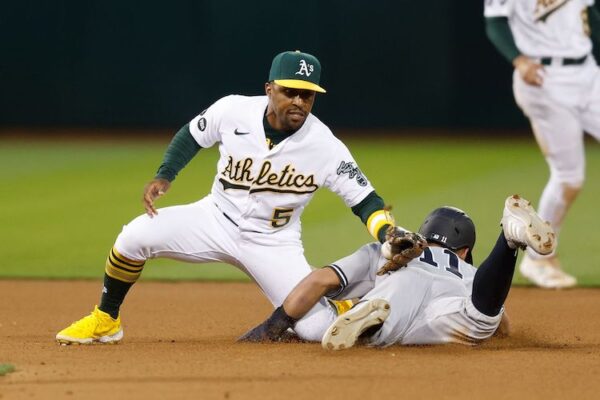 The Yankees started a six-game road trip with a humiliating loss to the A's. The Yankees scored one run against the worst team in baseball this year, and a team threatening to be the worst team in baseball history.
Here are 10 thoughts on the Yankees.
1. I knew I was making a bad decision and I did it anyway. Like staying out until last call when you know you have to be up in a few hours, I decided to stay up to watch the Yankees play the A's with a 9:40 p.m. start time on Tuesday night. To say it was a regrettable decision is as big an understatement as saying Josh Donaldson is washed up.
Donaldson did hit a solo home run in his first game back in the lineup after a three-game benching when it seemed like a DFA was imminent for the oft-injured, underachieving, aging third baseman. That solo home run was all of the Yankees offense in their 2-1 loss. Yes, the Yankees scored one run, one single run against an A's team that entered the game allowing a league-high average of 6.3 runs per game. ONE RUN!
2. This is the same A's team that is playing out the plot of the movie Major League in real life (minus the "Let's win the whole fucking thing" part). The same A's team the Yankees managed to sweep last month at Yankee Stadium. The problem is this isn't that Yankees team. Not close. That Yankees team scored 22 runs against the A's in that three-game series. This Yankees team hasn't even scored 22 runs in their last nine games.
The Yankees managed to go 4-2 on their six-game homestand last week despite being outscored 20-17 and scoring more than four runs in a game only once because of their pitching and only because of their pitching. Averaging 2.8 runs per game of offense is bad. Averaging 3.3 runs per game against is outstanding. The pitching was once again outstanding on Tuesday, allowing two earned runs in the loss. The offense was once again the worst in baseball since the start of June.
Since the start of June, the Braves lead the majors with 156 runs scored. The Yankees rank last with 67 runs scored. They have scored six fewer runs than the next-worst White Sox, eight fewer than the Royals and 15 fewer than the A's. These Yankees are disgrace.
3. Without Aaron Judge (.291/.404/.674), Billy McKinney (.281/.305/.579) has become a solid "C" version of Judge. If the Yankees go as Judge goes, well, the same now goes for McKinney. McKinney went 0-for-4 with two strikeouts on Tuesday night, and the Yankees lost.
I'm not blaming McKinney for the loss. He doesn't even deserve 0.01% of the blame for what transpired on Tuesday night. If he never gets another hit as a Yankee, he has done more than enough and more than anyone could have dreamed as a journeyman outfielder who is with his sixth team in six years. He was added as an outfield depth piece for the organization and was never supposed to get a single plate appearance for the 2023 Yankees. He was behind Oswaldo Cabrera on the depth chart, and Aaron Hicks, and Franchy Cordero, and Willie Calhoun, and Jake Bauers, and Greg Allen, and Isiah Kiner-Faleafa, whose an infielder, and even Estevan Florial, who the Yankees would rather give another $70 million to Hicks before ever giving Florial an extended look. It took Judge suffering some bizarre toe injury, Stanton not being allowed to play the outfield, Harrison Bader landing on the injured list for a second time, Cabrera being one of the worst hitters in the entire majors, Hicks being released, Cordero being the same-old bat he's always been, Calhoun getting hurt, Allen getting hurt, Kiner-Falefa continually proving to not be an everyday major leaguer (and to me, not even a major leaguer) and the Yankees despising Florial for McKinney to get a call. The Yankees don't deserve any credit for what McKinney is doing for them. He entered the season as the 10th outfield option, and became the 11th once the Yankees started using Kiner-Falefa in the outfield. He was supposed to be a depth piece living in Scranton all season. Instead, he and Bauers have become the Yankees offense because the veteran bats are among the worst in sport.
4. The Not So Fab Five of Stanton, Donaldson, Anthony Rizzo, DJ LeMahieu and Gleyber Torres continue to suck, and saying they suck is putting it mildly.
I'm not kidding when I say if the opportunity to give Donaldson's contract to Stanton and Stanton's contract to Donaldson presented itself, I would seriously consider it. That's how bad Stanton has been since he came off the injured list. I don't know how someone who makes $197,530.86 per game can hit .113/.203/.226 for a month, but it's happening. Stanton has struck out in 34 of his 114 at-bats in June. He's hitting .205/.286/.443 in his last 575 plate appearances.
5. The moment Donaldson connected with that ball on Tuesday night that led to the Yankees' only run, I was furious. Yes, I'm actively rooting against a member of the team I root for to win. It's illogical, but so was trading for Donaldson and taking on the $51 million owed to him. Donaldson has seven home runs this season and they have all come in Yankees losses. Unfortunately, that meaningless home run will buy him another month of everyday at-bats on a so-called contender.
6. Do you remember the Yankees game on May 20? It was a Saturday afternoon game in Cincinnati. If you remember that game then you remember the last time Rizzo hit a home run. Nine days before Memorial Day and 39 days ago today, Rizzo hit a ball out. He was the only one of this collection of overpaid clowns to produce on last week's homestand and is the only one who looks like he's truly coming out of his career-worst slump. But it would be nice if the Yankees' 3- or 4-hitter (depending on the day) could hit a home run once in a while.
7. LeMahieu doubled in back-to-back games played over the weekend against the Rangers and I was waiting for the game to be stopped so he could take off his helmet and salute the crowd and have the entire team come out of the dugout to give him hugs as if he achieved a historic milestone. The 2019 AL batting title runner-up and 2020 AL batting champion is hitting .227 with an OPS 101 points below his career OPS.
8. Torres had a nice day at Fenway Park for the doubleheader 10 days ago, making some think he was coming out of a slump. If you thought Torres would suddenly go on some sort of tear, you must be new around here. Since that day (June 18), he's hitting .174/.240/.217 with one extra-base hit.
9. The White Sox have lost 11 of 17 since taking two of three from the Yankees in the Bronx. The Red Sox lost 19 of 30 before playing the Yankees, took five of six from the Yankees and have lost seven of 11 since their first meeting against the Yankees. The Mets have lost seven of 11 since Aaron Boone rested his bullpen and let the Mets split with the Yankees. The A's have 21 wins this season and had lost 10 of 11 before Tuesday night.
10. "I'm a little confused, this year, being the third week of June, why they're so upset," Hal Steinbrenner said of Yankees fans to Michael Kay last week.
I highly doubt Hal Steinbrenner stayed up to watch "his" team lose to an A's team on pace to lose 120 games. I doubt he even knows "his" team was playing last night. I don't doubt that he's still confused as to why Yankees fans are upset with the team's roster and performance half way through the season. (After Thursday's game, the Yankees' season will be half over.)
"I'm a little confused, this year, being the third week of June, why they're so upset," Hal Steinbrenner said of Yankees fans to Michael Kay last week.
Can an A's fan going to the game on Wednesday or Thursday and planning to make a giant sign telling A's ownership to sell the team also make one for Hal Steinbrenner while they're at it? Seeing that would at least make staying up late for Wednesday night's game worth it.
---
Subscribe to the Keefe To The City Podcast.
---
My book The Next Yankees Era: My Transition from the Core Four to the Baby Bombers is available as an ebook!