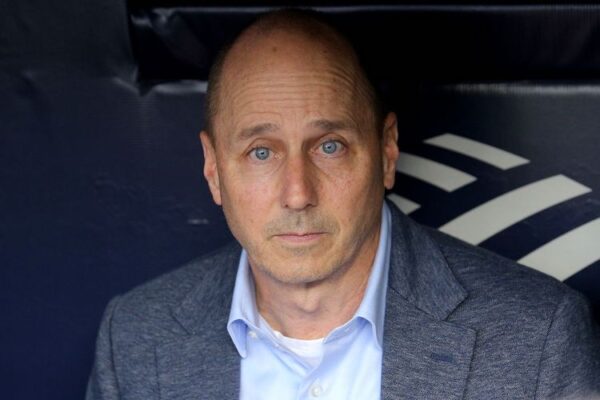 There are definitive times Brian Cashman will speak to the media throughout the season. There's his state of the Yankees press conference in spring training when he explains why he believes this team will end the World Series drought. There's his trade deadline recap when he explains why the Yankees didn't accomplish what they needed to accomplish because the prices were too high and why he will continue to prospect hug his overrated talent only to inevitably and eventually release them, designate them for assignment or trade them for pennies on the dollar. And there's his end-of-the-season press conference, which takes place while the postseason is still going on since the Yankees always exit before the World Series.
If Cashman speaks during the season at any time other than those three instances it's either because an unexpected trade took place, a significant injury to a star player occurred or the Yankees are playing poorly. The Yankees didn't trade for anyone on Tuesday and no new injury popped up, so that meant Cashman was speaking to the media because of number 3: The team sucks. The Yankees entered play on Tuesday having lost eight of 11 to the Red Sox, White Sox and Mets, having scored just 35 runs in those 11 games (3.2 runs per game).
Cashman didn't say anything surprising on Tuesday. He didn't unearth any previously unknown reason as to why the Yankees aren't very good since we all know why they aren't very good: They have an old, oft-injured, right-handed-heavy and underachieving offense that is missing its best player. What he did was try to blow smoke up everyone's ass the same way he did the last two seasons.
If you didn't know any better, on Tuesday, you would have thought you were listening to a recording of Cashman defending his roster design and construction from 2021 and 2022 with the way he described the team's issues in 2023, desperately digging down deep for any positive or bullshit excuse he could find. I compared what Cashman said on Tuesday to similar comments he made the last two years, and it's both depressing and unsurprising, like playing two Nickelback songs at the same time and realizing they're essentially the same song.
"I know there's frustration outside. I can promise you there's frustration inside, but that doesn't change the fact that we've got a lot of belief in who we have here and what they're capable of."
Cashman said that yesterday. Do I believe him? I believe him as much as I believed Hal Steinbrenner when he said he "wasn't done" improving the team after signing Carlos Rodon in the offseason.
"The group has my belief. I believe strongly in them and I think they are still capable of everything we've ever hoped and dreamed, but we have to weather the storm first and foremost."
Cashman didn't say that yesterday. He said that during the 2022 season (though it sounds a lot like the first quote, doesn't it?), but you wouldn't know the difference, considering there's no difference between the 2022 Yankees and the 2023 Yankees because no changes were made to the 2023 team from the 2022 team. The team that nearly blew a 15 1/2-game division lead, barely got past an inferior Cleveland team in the ALDS (the Guardians had the tying run at the plate in the ninth inning of the winner-take-all Game 5) and then got thoroughly embarrassed by the Astros in the ALCS is the same team you see this season. The front office watched how 2021 ended and how 2022 unfolded and decided re-signing Aaron Judge and Anthony Rizzo and signing Rodon would close the four-playoff-win gap between the Yankees and Astros and completely enhance the offense.
"I know they urgently want to get on track, but I also know that we suck right now, as bad as you can be. Until we get online and start playing high again, its gonna look bad. It plays bad and it stinks to high heavens. Right now, we gotta own that."
This wasn't from yesterday. This was from 2021! This quote will turn two years old next week and it might as well have come out of Cashman's mouth 24 hours ago.
"Am I happy with their approach? I'm happy with their commitment. I'm happy with their care. Ultimately, I know I'll be happy with their end results."
Cashman did say that yesterday. How sweet. He's "happy" his veteran bats are "committed" and "care." That's nice. I'm glad the combination of Giancarlo Stanton, Josh Donaldson, Anthony Rizzo, DJ LeMahieu and Gleyber Torres are "committed" and "care." The five of them are making a combined $95.7 million in 2023, which is more than the payrolls of eight teams, so the least they can do is be "committed" and "care."
"These people care, they're working their asses off, they're really good at what they do. We're not getting the results."
That was Cashman talking about how his team "cares" again, except he wasn't talking about this year's team there. That quote came from 2021. Fortunately, for everyone employed by the Yankees, like Cashman said in November: results don't matter, only the process does.
"Obviously, last year, Donaldson had a subpar offensive season. This year he got out of the gates looking good and then he got hurt. I'd like to get him some runway here where he gets consistent at-bats and then can get on a roll and be in a better position to judge."
Cashman said that yesterday. Donaldson didn't just have a "subpar" season in 2022. He had the worst season of his career, batted .222/.308/.682 and posted career lows in every offensive category. He didn't get out of the gate looking good this season. He was 2-for-16 with six strikeouts before he got hurt. He's hitting .150 with a .239 on-base percentage since returning on June 2. His .687 OPS in 2023 is nearly identical to his career-worst .682 OPS from 2022. He's a .213/.299/.384 hitter in 150 games and 609 plate appearances for the Yankees. How much more runway does one need? Oh, that's right. He's owed $21.75 million for 2023 and an $8 million buyout for 2024.
"I think Donaldson has still game left. I think he has a chance to impact the win column."
Cashman said that in January. Since then Donaldson, again, has a .687 OPS. As for the "impacting the win column," the Yankees are 8-10 (.444 winning percentage) when he plays and 32-23 (.582) when he doesn't, and all six of his home runs this season have come in losses. A winning player, indeed.
"Most of the heavy lifting has to come from within. If it doesn't, me adding to it is not going to make a difference. I'm not giving up on it, but we are frustrated. I understand our fans are frustrated as hell watching it."
Yes, Yankees fans are "frustrated as hell" watching this team. Wait, what's that? Cashman didn't say that about the 2023 Yankees? He said that about the 2021 Yankees? Oh.
"We haven't played to our expectations. It makes it, at times, unwatchable. That's frustrating to be a part of because we're used to do so much different."
Cashman said that at the end of June in 2021. Oddly enough, it's the end of June in 2023, and he could have very well said those words yesterday. Expectations in 2021 were high as the Yankees were the odds-on favorite to win the American League and return to the World Series. Instead, they finished third in their own division, fifth in the AL and their postseason lasted four batters into the bottom of the first inning in Boston.
The good news for Cashman is there were no expectations for this season. The team's ceiling entering the season was another ALCS loss, and the bar has been lowered from that with a rocky first three months that has them 9 1/2 games out in the division and holding on by a thread to a wild-card berth. They are unwatchable without Judge, but they were barely watchable with him.
"I believe in this group. I know Aaron Boone believes in this group. I know our ownership believes in this group. It's a good crew that's dedicated, that's hungry and that's really talented, that's just happened to play poorly for a little longer than maybe we would have expected."
Cashman said that last season, but it perfectly depicts this season as well. He believed in that group. Guess where that got him: another end-of-the-season press conference without a World Series appearance. I wonder where believing in the current 2023 group will get him.
---
Subscribe to the Keefe To The City Podcast.
---
My book The Next Yankees Era: My Transition from the Core Four to the Baby Bombers is available as an ebook!