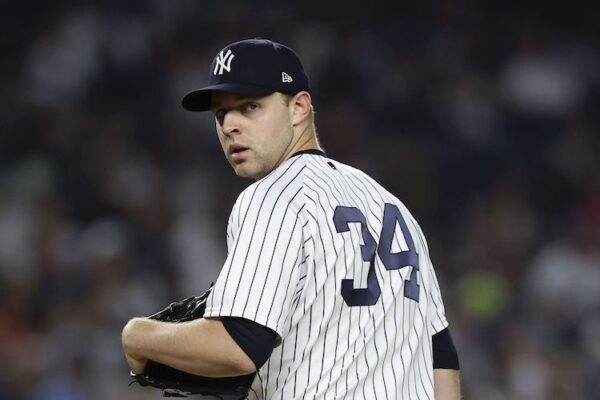 The Yankees had a lead and a chance to clinch the four-game series against the Orioles and pick up another game on the Rays. They didn't.
Here are 10 thoughts on the Yankees.
1. In both of the Yankees' series this season against the Rays, they missed opportunities to win winnable games, leaving them 3-4 in the season series to date. Wednesday night against the Orioles was much of the same, and instead of clinching this four-game series against the Orioles and erasing three games off their deficit to the Orioles, the Yankees blew a two-run lead, and eventually lost 6-3.
If the Yankees had actual outfielders playing the outfield, they would have won on Wednesday night. But instead, as is the case a lot of nights, they had infielders in both left field and center field, and as is the case nearly every night, having an infielder in left field cost them a pair of runs.
On Monday night, Isiah Kiner-Falefa's inability to judge consecutive balls in left field cost the Yankees on the scoreboard, and on Tuesday night, it was Oswaldo Cabrera's misplay of a ball in left that did the same. On Wednesday night, with first baseman Jake Bauers in left, Bauers dove for a ball he could have played into a single, completely mistiming and misjudging his dive attempt, and Kiner-Falefa playing in center was unable to prevent the ball from getting past him as well as it rolled to the wall.
"You can't fault Jake," Aaron Boone said after the game, "Especially if you think he's got a beat on it."
No, you can't fault Bauers since he's a first baseman playing left field. The same way you couldn't fault him at Fenway Park a few weeks ago when he played the Green Monster as if were blindfolded. You can blame the front office that built this roster by design, knowing very well Aaron Hicks was never going to be an everyday option for this team in 2023 and that knew they were never going to give an extended look to Estevan Florial. You can blame the manager, who keeps giving players unnecessary days off as if the team has a 19-game division lead and who keeps sitting guys who were slightly banged up or bruised the day before.
2. Where was Billy McKinney? McKinney had started one of the team's previous six games because Boone said he was limited to only being "an emergency option" the past few days after fouling a ball off his foot. He "could be back in the lineup on Thursday," Boone said. Well, McKinney was back in the lineup on Wednesday, just not to start the game. In typical Boone fashion, McKinney entered the game as a pinch hitter in the eighth (and singled) and then played the field in the ninth. So he was able to play and play the field for one inning, just not the other eight based on Dr. Boone's recommended rehab and treatment.
3. And why was Kiner-Falefa in center field backing up Bauer's misjudged ball? Because Harrison Bader was on the bench. Bader was hit by a pitch in the wrist in Tuesday's win over the Orioles and never exited the game. In the plate appearance following getting hit on the wrist, he drove in two huge insurance runs in the Yankees' win. But where was he on Wednesday? "The wrist is fine," said Boone of Bader. "He's a little sore." "The wrist is fine," yet Bader didn't play with the Yankees' painfully overcautious approach. It's always something with Bader, and so "Everyday Isiah" was in the lineup again. The only player in baseball history classified as a "utility" or "role" player who actually plays every day.
Bader's free agency lines up perfectly with the Yankees not having a center fielder for next season, and I still wouldn't go near him. What's Bader going to be looking for? At least the five years and $75 million Andrew Benintendi received, and that's likely the floor. No, thank you. Bader is good when he plays, but he rarely plays. He's either on the injured list or battling some injury that keeps him out of the lineup like Wednesday. He will be 30 next season, and the last time the Yankees gave a long-term deal to an outfielder on the wrong side of 30, they ended up paying him to play for the Orioles.
The Yankees were alway going to have an infielder playing the outfield once Hicks inevitably didn't work out. They wanted Hicks to be the starting left fielder. On Opening Day, he wasn't, it was Cabrera, who is an infielder by trade, and arguably the worst hitter in Major League Baseball (.555 OPS in 197 plate appearances). After Cabrera, their plan was Kiner-Falefa who never played the outfield before this season. Eventually, the depth chart led them to Bauers who is a first baseman, and after countless more injuries, it led them to McKinney, who is actually an outfielder. The Yankees needed a left fielder all offseason and instead decided "We're good!" opting to play infielders in the outfield, and on Wednesday night it cost them a game against a team they are battling for a postseason berth. It wasn't the first loss to come as a result of players playing out of position at the major-league level, and until they fix it, it won't be the last.
4. Wednesday night's game had everything to hate about the 2023 Yankees. It had supposed everyday players getting unnecessary rest on the bench (Bader), it had players playing out of position (Bauers and Kiner-Falefa), it had those players playing out of position (Bauers) ruining the game, it had a bad offensive performance against a bad starting pitcher (one earned run and four hits in seven innings with 10 strikeouts against Dean Kremer!), it had Josh Donaldson hitting a home run in a loss, and to top it off, it had illogical bullpen decisions from Boone.
5. Boone was willing to go to Michael King in the sixth inning, but apparently not to start the inning. Boone tried to steal outs with Nick Ramirez, and it backfired gloriously in favor of the Orioles. By the time King came in, the inning was a mess, and once Bauers dove for a ball he never should have dove for, the game was had already been unraveling. Eventually, it unraveled to the point the Yankees couldn't overcome when Ian Hamilton turned a one-run deficit into a three-run deficit in the ninth.
Boone's decision to not just go to King to start the inning wasn't some odd, unique choice. It's how he manages his bullpen. Decrease the margin of error for the next reliever by as much as possible before going to them. Boone so badly wanted Ramirez to give him a clean sixth and then he could go to King for the seventh and eighth and Clay Holmes for the ninth. Boone manages as if the plan concocted in his head is going to play out flawlessly, and once it doesn't, he's fucked. As soon as the game deviates even a batter off his in-head strategy he doesn't know how to regroup and adjust. This is a man who is a third generation major leaguer whose entire life has been spent around baseball. It's hard to fathom how he could be so bad at his job on a nightly basis.
6. Donaldson took a night off from being bad at his job, recording two hits, including a single that was his first hit against a team not named the A's in three weeks. It was his second non-home run hit at Yankee Stadium in 2023. A pair of hits against Kremer should keep Donaldson rostered through 2023 (as if he wasn't already going to be a Yankee through the end of the season).
7. It will be late September and we will still be hearing about how "Giancarlo Stanton can get hot at any moment and carry the team for a while!" Stanton went 0-for-4 with two strikeouts on Wednesday, as his OPS dropped to .661. He has two home runs in the last month.
8. That's two more home runs than Anthony Rizzo has. Saturday will mark the seven-week anniversary of Rizzo's last home run (May 20 against the Padres). "He seemed like he had extra life on his fastball today," Rizzo said of Kremer as his slugging percentage over his last 20 games dropped to .277 after Wednesday's performance. Here's to another seven weeks of no power from the first base position!
9. Anthony Volpe had another nice night (1-for-3 with a home run) as he's now hitting .396/.453/.667 in his last 15 games and 54 plate appearances. Two days ago, Boone said he has been thinking about moving Volpe back up in the lineup. Instead, he moved him down to eighth on Wednesday. Makes sense!
10. Instead of cutting the Orioles' lead over the Yankees to two games in the loss column, and moving to within six games of the Rays in the loss column, the Yankees are four back in the loss column to the Orioles and still seven back in the loss column to the Rays. The difference between winning the series and moving to within three games of the Orioles and running in place and wasting these four games lies in the right arm of Luis Severino on Thursday.
Five days ago, Severino allowed 12 baserunners, nine runs and seven earned runs in four innings against the Cardinals. He has allowed 10 home runs in 40 innings this season and his strikeouts per nine innings is at an all-time low (7.7).
Maybe late Thursday night the Orioles can tip their hat to a starting pitcher having a bad season rather than the Yankees tipping theirs to another mediocre starter.
---
Subscribe to the Keefe To The City Podcast.
---
My book The Next Yankees Era: My Transition from the Core Four to the Baby Bombers
is available as an ebook!