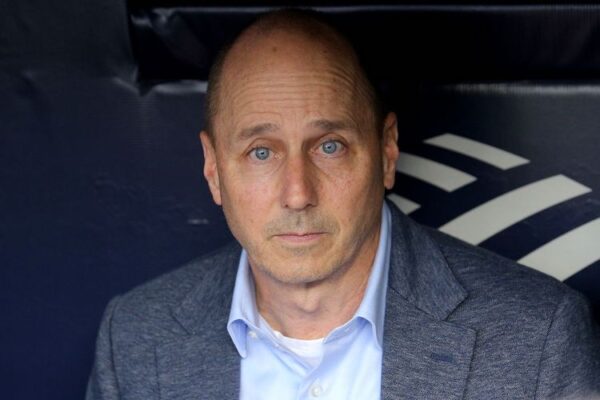 The Yankees ended the "first half" of the season with an embarrassing home series loss to the Cubs. When the "second half" of the season begins, the Yankees won't be holding a postseason spot.
Here are 10 thoughts on the Yankees.
1. During the first weekend of May, the Yankees went to Tropicana Field and lost two of three to the Rays. In that series finale they blew a 6-0 lead with Gerrit Cole on the mound. The loss dropped the Yankees to 18-17 on the season and 10 games out in the AL East.
Here is what I wrote at the time:
If you're a Yankees fan who values your health and well-being, stop watching this 2023 team right now. Just walk away from this miserable roster, moronic management and clueless front office and enjoy life. Write down a list of things you wish to learn or achieve and take action. Always wanted to learn how to play a specific instrument? Well, 7 to 10 p.m. just opened up for the next five months on your calendar.
The 2023 Yankees are truly awful. Their wins are painful to acquire and their losses are excruciating to sit through. There's very little to be excited about when watching the team, and when Aaron Judge isn't playing there's basically nothing to be excited about. (This is exactly why Hal Steinbrenner had to write Judge a blank check in free agency. He's the only marketable everyday player on the team, and likely the only thing from keeping a faction of Yankees fans from learning guitar or piano instead of consuming Yankees baseball for the rest of 2023.)
That was two months and 56 games ago. Think about the hundreds of hours you could have spent learning guitar or piano or a new language, or doing anything other than watching Hal Steinbrenner exponentially grow his inherited net worth despite selling a mediocre-at-best product.
This weekend provided a reminder that this Yankees team sucks. They are on a path to nowhere and all I will have to look back on at the end of the season is the thousands of hours I wasted consuming a bad baseball team that could have been spent doing anything else.
2. Sunday's loss was the perfect way for the Yankees' "first half" to end. It wasn't as magnificent as their loss in the final game of the "first half" of 2021, when they held a 7-2 lead in the bottom of the ninth in Houston, only to allow six runs, including a three-run, walk-off home run to Jose Altuve, but it was still quite spectacular. Aaron Boone managed his team to a painstaking loss, and then after the game, his biggest supporter in Brian Cashman fired the team's hitting coach. It was the first time in Cashman's 26 years as general manager that he fired a coach in-season.
"I wanted to give things a chance to work its way through, but I feel honestly at this point, it's not going to improve, at least as it sits," Cashman said. "It doesn't mean the offense couldn't have gotten better organically, but I feel like we'll be better served with a new messenger."
3. I'm more upset that Lawson got fired than I am that the Yankees lost two of three to the Cubs and fell out of a postseason spot. Not because I like Lawson or think he's a good coach, since I don't think any hitting coach is good or bad or matters. But because of what his firing represents. The same way I didn't hate Rougned Odor the person/player or Aaron Hicks the person/player as Yankees, I just hated what they represented as Yankees. The firing of Lawson represents Cashman scapegoating yet another Yankees employee in what has been nearly 14 years of his own roster mismanagement.
4. This 2023 roster Cashman built is a disgrace. The Yankees have the highest payroll in the American League, and it's comical Mr. Fiscally Responsible Hal Steinbrenner allowed his general manager to spend $300 million in such an irresponsible manner. If as a teenager, your parents had given you $300 to go to the store and buy groceries for the week for your family and you came back with two-dozen two-liter bottles of soda, 14 bags of Sour Patch Kids, six tubs of Ben and Jerry's ice cream, eight boxes of Chips Ahoy cookies, four loaves of bread, seven bags of chips and three overpriced, about-to-expire rotisserie chickens, I don't think you would be allowed to do the grocery shopping for your family again. Somehow, Cashman gets to keep building the Yankees roster.
5. There is nothing the Yankees can do at the trade deadline to go from the team they are now to a team capable of winning the World Series without running into a month-long streak of incredible, unimaginable luck in October. This is who they are and who they are going to be and that is a collection of overpaid, underachieving, aging disappointments. Their third baseman has a .232 on-base percentage. Their designated hitter, whose only job is to hit, has a .276 on-base percentage. Six of their nine everyday player have sub-.300 on-base percentages. They have given 533 combined plate appearances to players with a sub-.600 OPS. In the last week, they have been thoroughly dominated by Jack Flaherty, Jordan Montgomery, Dean Kremer, Kyle Bradish and Jameson Taillon. In late June, they lost games started by Paul Blackburn, and Kaleb Ort.
6. The 2014 Yankees didn't have a single everyday player under 30. They did have 40-year-old Derek Jeter, 40-year-old Ichiro Suzuki, 38-year-old Alfonso Soriano, 37-year old Carlos Beltran, 36-year old Brian Roberts and 34-year-old Mark Teixeira, as Cashman rebuilt the 2005 All-Star team nine years too late. Kevin Long lost his job over that lineup.
The 2015 Yankees relied on 39-year-old Alex Rodriguez, Jacoby Ellsbury, Chase Hadley And Stephen Drew. When that didn't work out, Long's replacement Jeff Pentland lost his job after one season.
Pentland's replacement Alan Cockrell oversaw the 2016 on-the-fly rebuild, Aaron Judge's historic rookie season, the best full season of Gary Sanchez's career and a 25-home run season from Didi Gregorius. The 2017 Yankees came within one win of the World Series, and it didn't matter. Like his manager, Cockrell was fired.
Marcus Thames worked his way up through the organization and replaced Cockrell. After four years, Thames failed to get all the right-handed bats Cashman acquired and signed to learn how to become switch hitters, so he was fired.
Then there was Lawson, who lasted one-and-a-half seasons. After firing Lawson, Cashman moved quickly to hire Sean Casey with his impressive coaching resume of zero years of experience. Much like Cashman's hand-picked manager in Boone who was hired with zero years of experience. And what do you know, Boone and Casey are long-time friends and former teammates.
7. "I've had the great pleasure of knowing Sean for close to 30 years, and his passion for hitting is infectious," Boone said. "For anyone that's ever come in contact with him, his ability to inspire is one of his greatest gifts, and I can't wait for him to tap into our players and help them reach their potential. There's no doubt in my mind that he will have a tremendous impact on our team."
There's no doubt in Boone's mind Casey will have a tremendous impact. Six months ago, there was no doubt in Boone's mind Hicks would be the team's starting left fielder. Throughout this season, there has been no doubt in Boone's mind Josh Donaldson still can be a middle-of-the-order, major-league bat. There was no doubt in Boone's mind Joey Gallo was going to get going soon. There was doubt in Boone's mind Luke Voit was going to play a big role for the team once they acquired Anthony Rizzo. There has never been a doubt in Boone's mind his offense over the last three seasons is going to turn the corner and get rolling. I was worried the Yankees may miss the postseason in a format in which 40 percent of the league reaches the postseason. But then they fired Lawson and hired Casey and now I completely trust and believe in the entire organization and their plan.
8. Casey becomes the Yankees' sixth hitting coach in 10 years. Since the team's last championship, Cashman has gone through two managers, four bench coaches, three pitching coaches, six hitting coaches, four first base coaches and four third base coaches. It's always everyone's fault, and not the fault of the guy who actually builds the rosters. He just keeps getting contract extensions as the team keeps getting worse.
"Since I've been here, we've had pretty consistently high levels of offensive production," Cashman said Sunday. "This year has been a completely different story. Ultimately, the end results are not that Yankees DNA that we're used to seeing."
No one lies like the Yankees. Whether it's Hal Steinbrenner telling the public the team has a "championship-caliber roster" or Boone telling you his starter had "good stuff" on a night when he gave up six earned runs in four innings or Cashman here trying to say the offensive issues are unique to "this year." If this happened to be a one-year thing then why have there been six hitting coaches in 10 years?
9. The Yankees are 93-90 over their last 183 games. You are who you record says you are, and the Yankees are a mediocre team and have been for more than a full season. They are now in fourth place in the AL East and one game from being in last place. They are 1-5 against the Red Sox, lost the season series to the Twins and have lost series to the White Sox, Cardinals and Cubs. Without Judge, they may not make the playoffs. With Judge, they are good enough to make the playoffs, but not good enough to do anything when they get there.
10. Enjoy the next four days and nights without Yankees baseball. From now through Thursday, you don't have to worry about Donaldson being rostered or batting in the middle of the lineup. You don't have to watch Giancarlo Stanton take middle-middle fastballs and swing at sliders in the dirt. You don't have to sit through mental mistakes from Gleyber Torres at the plate, in the field or on the bases. You don't have to wonder if a gust of wind may force Harrison Bader to the injured list. You don't have to try to figure out how Isiah Kiner-Falefa reached the majors. You don't have to wonder if Rizzo and DJ LeMahieu are on their way to washed up. You don't have to observe infielders play the outfield and position players pitching. You don't have to see a starting pitcher get pulled after throwing just 74 pitches and allowing one hit. You don't have to wrap your head around why elite relievers can pitch in a game with the scored tied or the Yankees losing, but couldn't pitch in the same game when the Yankees were leading.
For the next four days and nights the Yankees can't hurt you or your mental, physical or emotional health. Savor it. Because starting Friday, they will have at least 71 more games to do so.
---
Subscribe to the Keefe To The City Podcast.
---
My book The Next Yankees Era: My Transition from the Core Four to the Baby Bombers
is available as an ebook!