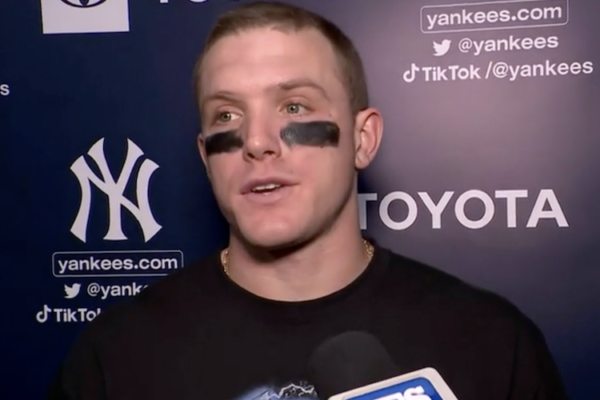 The Yankees had a chance to win a four-game series against the hated Astros, but they didn't. They split the four games with the Astros, and are still searching for their first series win over a team not named the A's or Royals since late June.
Here are 10 thoughts on the Yankees.
1. After play on Sunday, July 23, the Yankees were 53-47. They were 8 1/2 games out in the AL East and two games out of the final wild-card spot. They were about to play a crucial 12-game stretch against the Mets, Orioles, Rays and Astros to hopefully not just get themselves back into holding a wild-card berth, but also to get back in the division race. Coming off a three-game sweep of the Royals (their first series win in a month) and with the trade deadline taking place and the expected return of Aaron Judge during these 12 games, there was a reason to be cautiously optimistic.
That 12-game stretch is over. Their 8 1/2-game deficit in the division is now 12 games. Their two-game deficit for the final wild card is now 4 1/2 games. After going 5-7, they are the farthest they have been out of a postseason spot this season. They didn't win any of the four series. They split the two games with the Mets, lost two of three to the Orioles and Rays and then split four with the Astros. They are now 58-54 this season and 50-53 against teams not named the A's or Royals.
2. The Yankees have become a laughingstock on the field with the highest payroll in the AL and only a higher run differential than the Guardians (four games under .500), Tigers (13 games under .500), White Sox (23 games under .500), Royals (on pace for 110 losses) and A's (on pace for 117 losses). And they have become a laughingstock off the field with their roster management, handling of injuries and public relations nightmares. As I wrote last Monday, every single day the Yankees create at least one bizarre headline that borders on the unbelievable. Watching this team is like watching a cheesy, unrealistic soap opera in which the plot makes little to no sense.
3. To show how their daily, preposterous drama has played out in recent weeks, here's a timeline of the last week.
Monday, July 31
Aaron Boone is asked about Anthony Rizzo's prolonged slump dating back to May 21, and why he believes he will come out of it. "He's Anthony Rizzo. He's healthy," Boone says.
After losing two of three to the Orioles over the weekend, the Yankees spend Trade Deadline Eve losing to the Rays. They score one run on three hits. Prior to the game, Domingo German is scratched from starting with a supposed "armpit" injury and Boons says he will be evaluated by a doctor. A little over hour after not throwing the first pitch of the game as the starter, German enters in relief and throws five scoreless innings.
Tuesday, August 1
The Yankees make a last-second deadline move to acquire Kenyan Middleton, just to say they did something before the deadline. They are the last team in the majors to make a deadline move. They are neither sellers nor buyers, keeping the status quo with a last-place team that doesn't hold a playoff spot.
Willie Calhoun is designated for assignment after coming off the injured list. In Calhoun's most recent game with the Yankees, he batted third, then after coming off the IL, he is designated for assignment with the entire league passing on him on waivers. None of the other 29 teams want a player the Yankees deem worthy of being their 3-hitter.
On the field, star free-agent Carlos Rodon gets lit up for four runs, two home runs and eight baserunners in four innings. Rodon, who was signed for six years and $162 million in the offseason, is outpitched by Zach Eflin, who throws six scoreless innings. Eflin was signed for three years and $40 million by the Rays in the offseason.
Wednesday, August 2
Boone teases a "major announcement" involving the rotation. That announcement ends up being Domingo German going on the restricted list for alcohol abuse. The Wall Street Journal reports he was belligerent in the clubhouse on Tuesday, confronted Boone, argued with teammates, smashed a TV and had to be restrained in the sauna in the clubhouse. Brian Cashman says German won't pitch for the Yankees again this season.
Luis Severino is asked if he's starting on Friday, and says he "thinks he's starting on Friday" and tells the media, "If you guys know something, let me know." How could he not know or be told if he is starting in 48 hours? How could he be asking the media for the team's planned rotation? Then again, how did he not know what time Game 3 of the 2018 ALDS started? Good thing Boone was hired for unrivaled communication skills. The same skills Gerrit Cole cites Boone as having in his in-game interview with FOX the following night.
Thursday, August 3
It turns out Rizzo isn't "healthy" like Boone said not even 72 hours prior. Rizzo is placed on the IL with post-concussion syndrome dating back to a May 28 collision at first base. At best, Rizzo and the Yankees are lying about the injury and symptoms to put him on the IL. At worst, they just let a player play baseball every day at the highest level for more than two months with a brain injury.
Rizzo complained about "fogginess" over the past weekend series against the Orioles and then played in all three games of the series. Boone is asked if there was any consideration in not playing Rizzo after the first baseman complained of "fogginess." Boone responds, "No."
Friday, August 4
After beating the Rays on Wednesday and Astros on Thursday, the Yankees lose to the Astros 7-3. The loss is made possible by Severino keeping his rotation spot and allowing three first-inning runs and five runs in four innings. Boone is asked about Severino remaining in the rotation and answers, "Everything is on the table moving forward," which is the same answer he gave when asked the same question five days earlier after Severino bombed in the first inning in Baltimore.
Saturday, August 5
Giancarlo Stanton elects to not run (or even jog) from second base to home plate on a single to right field and is thrown out at the plate on what would have given the Yankees a lead in a game they are facing Justin Verlander in. Boone defends Stanton not running on the play, calls him "healthy" and says, "It's just him trying to preserve himself." (Preserving himself for what? His ridiculously absurd offseason workout routines he posts on social media?)
Sunday, August 6
Trying to win their first series against a team not named the A's or Royals since June 23-25, Rodon is torched for two home runs and five runs in 2 2/3 innings and then is forced to leave the game with a hamstring injury. It's his fifth loss in six starts as a Yankee, having never completed six innings for the team so far.
4. This is just the last week of Yankees drama. In the two weeks prior to this timeline, the Yankees fired their hitting coach and hired Boone's longtime, experience-less friend in his place; lost two of three to the last-place Rockies; got swept in Anaheim with Rodon blowing a kiss to heckling fans and announced Jose Trevino would undergo season-ending wrist surgery after having played since spring training with a wrist tear. And oh yeah, six days prior to the Trevino announcement, Boone said Trevino was OK physically aside from the usual bang-ups a catcher deals with during the season. Ah, the usual bang-ups like tearing your wrist in spring training and then posting a .570 OPS through mid-July before being shut down.
Every other major-league team plays a game each day and occasionally has an injury, trade or signing announcement. Not the Yankees. Each day of the Yankees season is full of lies, hidden injuries, misdiagnosed health problems, underachieving play, confrontations with fans and really just an overall negative shitstorm surrounding a lost season. And nearly half the days also include a loss on the field.
5. The Rizzo situation is completely unsurprising. This is the same organization and medical staff that after 2019 couldn't diagnose a broken rib and punctured lung in Judge for six months. The same organization Severino told he had forearm pain to in October 2019 and then nothing was done about it until he tore his UCL and needed Tommy John surgery in 2020 spring training. The same organization and medical staff who didn't do an MRI on Severino in June 2019 when he was returning and then suffered a setback, for which Cashman said if the Yankees could do it all over again, they would have had Severino undergo an MRI. Misdiagnosing is what the Yankees are better at than any other team. They used to be better at winning any other team, but that hasn't been the case for a while now, and doesn't look like it will be the case for a while.
6. If you ask ownership and the front office, they will tell you this is a "championship-caliber roster." Last Tuesday after the trade deadline, Cashman said, "Obviously, we're in it to win it. So you know, we stayed the course." They really still believe it, and likely believe it at this moment coming off a 5-7 stretch against the Mets, Orioles, Rays and Astros. They believe it even though they're 8-1 against the A's and Royals and 50-53 against all other teams.
The manager believes it. He keeps saying "It's in front of us" even as the games keep coming off the schedule and they keep losing ground on a postseason berth. The players believe it. Rodon said, "It's all in front of us," last Tuesday as if he were doing a Boone impression. And no one believes it more than Harrison Bader, who if I didn't know any better was auditioning for a future managerial role with the Yankees after Sunday's loss to the Astros. This is the exchange Bader had with the media on Sunday afternoon.
7. Do you think this was a lost opportunity to take the series from the Astros?

"Actually, I feel like the complete opposite. I thought that for the first time in a long time, a really good game and a really good battle. There wasn't a single time during that game regardless of what was happening on the other side where we felt like we were out of it. All you can do after nine innings is ask yourself if there was ever a swing or a situation where you put yourself in a position to win the game and obviously the way it came down there we did a great job of that battling back, so I think this is actually a really big momentum boost for us moving forward."
How much of a concern is it being 4 1/2 games out of a playoff spot, the highest it's been all year?
"No concern at all. One game at a time. We keep playing this brand of baseball it's going to be just fine. Like I said, all you can do is put yourself in a position to win and what's what we did, which feels really good moving forward."
Bader knows the Yankees lost, right? I mean he started and played all nine innings in Sunday's loss. He had to know the final score, and yet, those answers make it seem like he has no idea.
But why wouldn't Bader think everything is going to be "just fine?" Why wouldn't he not be concerned about the team being 4 1/2 games out a playoff spot with a 16.2 percent chance of reaching the playoffs? Every day since he has become a Yankee a year ago, he has listened to his manager tell the media just that. When they couldn't win a game last August or September and nearly blew a 15 1/2-game division lead. When they trailed the Astros 3-0 in the ALCS and he used highlights from the 2004 ALCS as a motivational tactic. Boone has created a clubhouse and culture that is comfortable with losing and Cashman let him create it and Hal Steinbrenner let Cashman let Boone create it.
8. As for the "momentum" Bader speaks of, well, momentum in baseball is only as good as the next day's starting pitcher. Right now, outside of Cole, the Yankees' starters consist of a pitcher who has lost five of six starts this season and is undergoing an MRI on Monday, a starter who has a 7.74 ERA and doesn't know if he's still in the rotation from start to start, a pitcher who is currently in rehab for alcohol abuse, a lefty who has pitched four innings since May 30 and Clarke Schmidt, who was nearly as bad as Severino earlier this season. Momentum doesn't exist with the Yankees because their rotation is a complete unknown every four out of five days and their offense can disappear at any moment even with Judge (who no one knows if he will play from day to day). It's why they haven't won more than three games in a row since May.
The only way the Yankees are going to overcome their now extremely long postseason odds are if they stack wins and win more than three games in a row at a given time. They need a lengthy winning streak, and it's just doesn't seem possible with this rotation, with this roster.
9. Part of me still thinks the Yankees will reach the postseason, only to lose in the wild-card round or ALDS and then have the organization think the team simply reaching the playoffs was a success. That scenario would lead to no change within the roster, coaching staff or front office and it would be detrimental to the future success of the Yankees, just like reaching the one-game playoff in 2021 was or barely getting past blowing a 15 1/2-game division lead in 2022 was.
Then again, I'm not sure finishing in fourth or fifth place in the AL East and missing the postseason in a format in which 40 percent league makes the playoffs will lead to any change either. The Yankees haven't been a true contender since 2019, and the front office continues to believe a two-month stretch from the end of April 2022 to the end of June 2022 is who they really are. They started using the Injury Excuse Tour back on May 4, and that was a month before Judge went down. They will likely turn to it once this season ends. It's convenient and it prevents them from taking any responsibility for the embarrassment that is spending nearly $300 million on this roster.
10. It's off to Chicago now for three games against the White Sox, who are 23 games under .500 and took part in a bench-clearing brawl in Cleveland on Saturday. Their season has been over for months, and it was over long before they took two of three from the Yankees in the Bronx back in May. They traded away important roster pieces at last week's deadline and are counting down the games until this miserable season ends for them.
Anything less than a sweep over the next three nights is unacceptable, and yet, I have no expectation the Yankees will win the series let alone sweep it. If they lose one or more games against the White Sox, the Yankees won't need Boone to tell everyone they will be fine. They have Bader for that.
---
Subscribe to the Keefe To The City Podcast.
---
My book The Next Yankees Era: My Transition from the Core Four to the Baby Bombers
is available as an ebook!