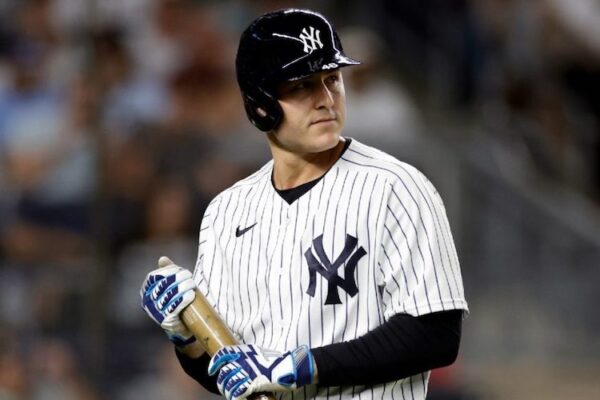 The Yankees opened a season-defining, seven-game homestand with a 5-1 loss to the Rays. The offense was nowhere to be found and the pitching decisions were beyond puzzling as they fell even further behind in the postseason race.
Here are 10 thoughts on the Yankees.
1. Earlier this season, a friend of mine told me he believes the 2023 Yankees are a social experiment: a test to see how far the organization can push its fans while still maintaining a fan base. At first I laughed because of the comedic way it described this Yankees season, but as the season has progressed, it has become hard to ignore as a possibility. Maybe the Yankees are just fucking with all of us? It sure would explain a lot of decisions they have made this year, and none more than Monday night's pitching decision.
2. Leading up to first pitch against the Rays, Domingo German was scratched with "discomfort in his armpit area." An odd and untimely injury that prevented German from playing catch on Sunday forced the Yankees to call up Jhony Brito to start in his place. Aaron Boone said German felt good, but was expected to see a doctor, and if he turned out to be OK, he would slotted back into the rotation within the next few days.
Brito started and got rocked. He gave up five runs and four home runs in four innings, and after giving up back-to-back bombs in the fourth inning, German started warming up in the Yankees bullpen. Yes, German. The German that was scratched a few hours earlier and was said to need to visit a doctor for an evaluation. Just about an hour after the first pitch of the game that German was supposed to throw but didn't throw due to injury, he was warming up to enter the game in relief of Brito.
3. How could this be? How could German go from being unable to play catch on Sunday to being scratched on Monday to suddenly being healthy enough to enter the game he was supposed to start? What happened to seeing a doctor? Did he have a telehealth appointment during the second inning?
"He got cleared with Dr. Ahmad after he saw him in the 5:00 hour," Boone said after the Yankees' 5-1 loss.
Every single day the Yankees create at least one bizarre headline that borders on the unbelievable. Watching this team is like watching a cheesy, unrealistic soap opera in which the plot makes little to no sense.
When I saw German warming up, I thought maybe the decision to flip Brito and German was Boone trying to pull a fast one on the Rays like he tried in Game 2 of the 2020 ALDS with Deivi Garcia and JA Happ.
I wasn't the only one to think that as he was asked by the media if he was using the same strategy from 2020 on Monday.
"No," Boone said emphatically, shaking his head in disgust that the question was asked.
The fact multiple people had the thought Boone was trying to be strategic with the starting pitching change and that the question was reasonable to ask him sums up his era of managing the Yankees well.
4. German ended up pitching more innings in relief (5) than Brito pitched as the starter (4). German held the Rays scoreless for his five innings and allowed just two hits. Good thing he didn't start.
Had he started, he would have had to be as dominant as he was in relief because once again the Yankees offense failed to show up. One run on three hits and three walks is all the Yankees were able to "mount" (to use a Boone buzz word).
5. The Yankees had their chances to get back in the game. In the third inning, trailing 3-1, with Aaron Judge at the plate representing the tying run, Tyler Glasnow gladly threw four pitches out of the zone to walk Judge. The Rays put the tying run on base to pitch to Anthony Rizzo and Glasnow struck him out on four pitches.
Why does Boone think Rizzo will come out of this slump that is more than two months old?
"He's Anthony Rizzo. He's healthy."
Well, OK then! Who am I to question Boone with that kind of analysis?
Has Boone thought about moving him down in the lineup?
"It's something I have considered," Boone said. And yet, he hasn't done it.
6. Boone's carefree attitude has rubbed off on Rizzo to the point that Rizzo now sounds like Boone. Here are some quotes from Rizzo from Sunday night in Baltimore.
"The beauty of this game is you get to come in tomorrow and keep working," Rizzo said of his slump. "Just keep working, it has to turn. Just keep on working."
The reference of "tomorrow." The idea that "it has to turn." It's like Boone wrote out Rizzo's answers on notecards for him.
"We have the guys in here," Rizzo said of needing to add at the deadline. "The production can come from within here."
Hmm, that sounds an awful lot like Boone claiming the guys in the room are more than capable.
"We have 50 plus games left," Rizzo said of urgency. "With this division we can get hot and teams can get cold."
You have to love the urgency of the Yankees. It's as if the season doesn't have a finite amount of games and will just continue until they have claimed a playoff because they're the Yankees. I was waiting for Rizzo to throw out "It's all in front of us," as a tip of the cap to his manager.
7. Joe Girardi was fired for being too tense, as Brian Cashman was worried Girardi's intensity was rubbing off on the roster. So he went out and hired a guy who experiences as much comfort in losing as he does blowing bubbles and fidgeting with his oversized watch in the dugout. Why do you think the Yankees continue to make foolish mistakes on the basepaths? Why do you think mental errors are swept under the rug? It's because there's no accountability on the team. There are no repercussions for poor play. Boone will concoct a lie how he likes a player's aggressiveness when he is thrown out by a mile trying to take an extra base, and he'll defend the team's big free-agent starting pitcher signing after he blows a kiss to heckling fans because blowing a kiss is better than getting into an altercation.
8. Hal Steinbrenner doesn't hold Brian Cashman accountable. Cashman doesn't hold Boone accountable. Boone doesn't hold his players accountable. When Cashman spends $300 million on a roster that is 47-50 against teams not named the A's or Royals, he keeps his job. When Boone uses the Yankees' 2004 ALCS loss as motivation for the 2022 Yankees' ALCS deficit or says his offense had "good at-bats" after striking out 18 times in game, nothing happens to him. When Rizzo has one home run in 10 weeks, he stays hitting in the top four spots in the lineup, and when Josh Donaldson weigts more than his batting average, he still hits fifth.
The Yankees replaced a manager from the tough Midwest who knew how to win as a player and manager and did both with the Yankees with a laid-back Southern California Pollyanna who's more concerned with getting the lowest rarity score in a clubhouse Immaculate Grid competition than beating the Orioles or Rays and who has never won anything as a player or a manager.
9. After Rizzo failed to get the Yankees back in the game in the third, they had one more chance in the sixth. Trailing 5-1, Giancarlo Stanton came to the plate with Judge on third and Rizzo on first. Stanton could keep the rally going or possibly even get the Yankees to within one run with one swing. Except his one swing came on the first pitch he saw and that swing resulted in a weak 72.8 mph ground ball into a 5-4-3 double play to end the threat and the inning.
It was another banner night for the Yankees' 3- and 4-hitters of Rizzo and Stanton, as they combined to go 1-for-8 with three strikeouts. Judge was given three free passes, and the embarrassing protection behind him couldn't do anything. Rizzo now sits at 0-for-30 with two outs and runners in scoring position for the season and the 0-for dropped Stanton's batting average to a humiliating .198.
10. The Yankees lost for the third time in four games in a crucial 10-game stretch against three teams that are direct competition for a playoff berth. Do they care? Not really. There's always tomorrow as Annie Boone preaches to his players. Except there isn't. The Yankees are running out of tomorrows to count on, and if the rest of the week at Yankee Stadium against the Rays and Astros goes as badly as Monday night, the rest of the season will be a meaningless formality.
---
Subscribe to the Keefe To The City Podcast.
---
My book The Next Yankees Era: My Transition from the Core Four to the Baby Bombers
is available as an ebook!