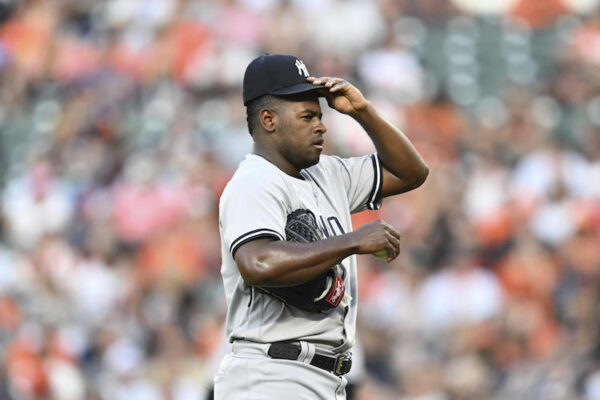 The Yankees went to Baltimore needing to win series and stack wins. Instead, they leave Baltimore having dropped another series and remain in last place in the AL East and out of a playoff spot.
Here are 10 thoughts on the Yankees.
1. I didn't know what to expect from Luis Severino on Sunday night. I had a fear he wouldn't be good because he has been mostly not good this season. But I hoped for the best and braced myself for the worst.
Well, maybe I didn't exactly brace myself for the worst because for as bad as Severino has mostly been this season, what unfolded in the first inning isn't one of the scenarios I visualized taking place: single, single, double, double, walk, home run to open the game. The first six Orioles Severino faced all scored. The Yankees trailed 6-0 before they could record an out, and just like that, the game was over.
2. I knew what to expect from Dean Kremer: a few runs at best and a lot of strikeouts. It was just over three weeks ago that Kremer went to Yankee Stadium and struck out 10 in seven innings of one-run ball. The Yankees had won the first two games of that four-game series, and Orioles legend and broadcaster Jim Palmer told Michael Kay on the day of that July 5 game that it was the biggest game of the season for the Orioles to prevent a second-half tailspin. Kremer stepped up, shut down the Aaron Judge-less Yankees and the Orioles went on an eight-game winning streak that eventually led to them taking over first place in the AL East.
With Kremer once again facing a Judge-less Yankees lineup, Sunday's offensive performance wasn't just expected, it was inevitable.
3. Kremer struck out seven Yankees and the Orioles bullpen struck out another 11. In an immensely important game, Aaron Boone sat Judge and gave the finally-heating-up DJ LeMahieu the night off and the rest of the Yankees struck out 18 times.
"Outside of the strikeouts, I thought at-bats were building off of last night," Boone said. "I thought we grinded out really well."
Outside of the team striking out for 18 of their 27 outs, Boone thought the offense did a good job grinding out at-bats. There's no end for how far this idiot will will go to spin something into a positive.
"We made it really tough on Kremer," Boone said.
Two weeks ago, the Yankees were shut down by Griffin Canning in Anaheim as Canning recorded a career-high 12 strikeouts. What did Boone say about his offense that night? "At least we made Canning work hard to do it."
There was Boone again on Sunday night, citing the Yankees making Kremer work hard as a reason to be pleased with his team losing a game to the Orioles, losing the season series to the Orioles and losing on a day in which the Blue Jays, Rangers, Astros and Red Sox also lost.
4. "I thought we carried some of that momentum in from last night," Boone said.
"Last night" refers to Saturday night. On Saturday night, the Yankees scored eight runs against a starting pitcher who was sent down to Double-A immediately after the game and a starter-turned-reliever due to performance with a 5.93 ERA. There was no momentum carried over because there is no momentum with this team. Unless they're playing the A's or Royals they can't win back-to-back games. And now they are 47-49 when they play teams other than the A's or Royals.
Since winning two of three against the A's in the last week of June, the Yankees have lost two of three to the Cardinals, split a four-game series against the Orioles after winning the first two, lost two of three at home to the Cubs, lost two of three to the Rockies, got swept by the Angels, swept the Royals, split two with the Mets and lost a series to the Orioles. The Yankees finish July having won one series in the month and have lost four straight rubber games.
5. I have always liked Severino. Even when he couldn't get out of the first inning in the 2017 wild-card game. Even when he sucked in the second half of 2018. Even when he didn't know the start time for Game 3 of the 2018 ALDS and couldn't get a 10th out in that game. Even when the injuries started piling up in 2019, forced him to miss all of 2020 and nearly all of 2021. Even when more injuries forced him to miss most of 2022. Even when he cited exit velocity and the Crawford Boxes in Houston as the reason for him losing Game 2 of the 2022 ALCS. Even as he has pitched as bad as any Yankees starter in the team's history has pitched this season, allowing 108 baserunners in 57 2/3 innings.
When news broke in 2015 of a 21-year-old Severino getting called up to the Yankees, I anticipated him one day being the ace of a championship Yankees team. Instead, I will have to settle for him being one of the faces of the Baby Bombers era that once has so much hope and promise and instead turned into an unmitigated disaster. On Sunday, Severino allowed at least nine runs in a game for the second time in July becoming the first Yankee since 1934 to have two of those starts in a calendar month. It's hard to believe Severino will get the ball in five days against the Astros.
6. It's hard to believe Anthony Rizzo is under contract next season with the Yankees at $17 million and then has a $17 million option or $6 million buyout for 2025. Rizzo isn't just bad, like most of the Yankees lineup he's unplayable, and yet he has to play. When you miss on all of your free-agent signings, bring in a litany of oft-injured players and fail to develop your own talent, you get stuck with a lineup full of underachieving, unplayable players that then have to play. In a season in which the Yankees began paying Aaron Hicks to play for the first-place Orioles and continued to roster, play and bat Josh Donaldson fifth in the lineup, Rizzo has become the face of this historically bad Yankees offense.
Rizzo has one home run since May 20, a wall-scraping, short-porch job at Yankee Stadium that wouldn't have been out of any of the other 29 stadiums in the majors. That home run came off of Jordan Lyles, whose season is making Severino's look 1999 Pedro Martinez's. Since that home run, Rizzo has a 53 wRC+, which is the lowest among qualified hitters in that time, making him the worst hitter in the majors for more than 10 weeks now. On Sunday night, Rizzo went 0-for-5 and his OPS fell to a career-worst .710.
7. Not far behind that abysmal OPS is Giancarlo Stanton with a .722. ESPN showed a graphic on Sunday night letting viewers know Stanton has homered in seven of his last 15 games. Here is the list of pitchers he hit those seven home runs off of.
Drew Smyly
Michael Rucker
Austin Gomber
Connor Seabold
Chase Silseth
Dylan Coleman
Tyler Wells
Smyly is the closest thing to a household name of those seven and you would have to be from a household that really follows baseball to know who he is. Smyly is on his fifth team in five years and seventh in 10 major-league seasons.
Rucker has a 5.03 ERA.
Gomber has a 5.83 ERA.
Seabold has a 6.95 ERA.
Silseth was making his ninth career start.
Coleman has a 9.95 ERA.
Wells was sent to Double-A after his performance on Saturday.
So if you're a journeyman hanging on to a major-league career, the 26th man on a roster, a rookie trying to learn how to pitch at this level or an arm so out of whack you get demoted two levels down, and you throw a middle-middle fastball or hang a breaking ball, Stanton may take you deep. Other than that, Stanton isn't going to do anything.
With or without Judge, these two have to hit. It's been the same rhetoric all season and the season is dwindling down. It could be the last week of September and the Yankees could be eliminated from postseason contention and Boone will still be saying the Yankees just "need to get a few guys going" and that "they are going to get on a roll."
8. No one is asking Rizzo to be and no one thinks he can be the .901 OPS player he was for the Cubs from 2014-19. No one is asking Stanton to be and no one thinks he can be the .908 OPS player he was for a decade from 2012-21. All anyone is asking is that they don't be automatic outs, which is what they have been for the majority of this season, and what Stanton has been since the start of last season.
As for the rest of the lineup? There's no hope outside a possibly-returning-to-form LeMahieu or the occasional few-game streak from Gleyber Torres. Jake Bauers plays infrequently, Harrison Bader is at best a fourth outfielder on a good team, Anthony Volpe is a disappointment and Kyle Higashioka and Isiah Kiner-Falefa will again be disappointments once their playing time increases and they are exposed like their career numbers suggest.
9. Boone continues to preach that the rest of the season and the Yankees' path to the postseason is "right in front of them" to take advantage of. The only thing that appears to be in front of the Yankees is more losing. They have three against the Rays and four against the Astros. Next week's "break" in the schedule comes against the White Sox, who took two of three from the Yankees in the Bronx earlier this season. Then it's nine straight against the Marlins, Braves and Red Sox.
10. On Monday night, the Yankees will face Tyler Glasnow, a real, legitimate starting pitcher with ace-like stuff.
"We need to be ready to go," Boone said of the upcoming series against the Rays. "Obviously, with the urgency of where we're at in the season."
"Where we're at in the season" wouldn't happen to be with 57 games remaining and the Yankees in last place in the AL East and 3 1/2 games out of a playoff spot, would it? The "urgency" Boone speaks couldn't be sitting Judge and LeMahieu on Sunday, could it?
With the way the offense has performed against back-of-the-rotation arms and now-out-of-the-league starters, it's difficult to envision a scenario in which Glasnow doesn't dominate the Yankees lineup. If he does, Boone will be there after the game to tell us at least they made Glasnow work hard.
---
Subscribe to the Keefe To The City Podcast.
---
My book The Next Yankees Era: My Transition from the Core Four to the Baby Bombers
is available as an ebook!