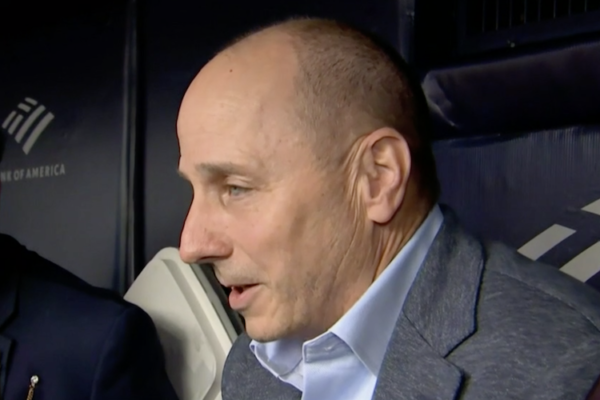 The Yankees finally won a series. They beat the Guardians on Tuesday and Wednesday to take two of three for their first series win in more than two weeks.
Here are 10 thoughts on the Yankees.
1. The Yankees' 2023 Injury Excuse Tour has started and it's full steam ahead.
Beginning in the first inning of Tuesday's game, YES had graphics ready to air to display the Yankees' injuries. Michael Kay was quick to mention "Thirteen members of the expected 26-man roster are on the injured list." He and Paul O'Neill didn't let up. For multiple innings the two opined on all of the team's injuries. "I can't explain it," O'Neill said. Well, I can, Paul.
Aside from Oswald Peraza's awkward slide on a steal attempt and Harrison Bader colliding with Isiah-Kiner Falefa — both of which didn't occur until Wednesday night — the Yankees aren't suffering from freak, unavoidable injuries. (If the Yankees don't play an infielder in left field, Bader doesn't get hurt.) The roster is a collection of oft-injured players and pitchers who are unsurprisingly hurt. There's nothing rare about Giancarlo Stanton being on the IL. There's nothing unusual about Carlos Rodon, Luis Severino and Jonathan Loaisiga not being able to pitch for a significant portion of the season. There's nothing odd about Bader missing the first month of the season or Josh Donaldson being out for (at least) a month of his own. Up until last year, Aaron Judge was a frequent visitor to the IL, and now he's there again. All of these names have pasts that are riddled with injuries and lengthy IL stays. That they are experiencing or have experienced injuries in 2023 isn't uncommon, it's the norm and it should be expected. Wait until Anthony Rizzo's annual back flare-up comes or when DJ LeMahieu tweaks something (he has already missed a few games but avoided an IL stint this year) or Nestor Cortes has a soft tissue problem.
The idea the Yankees were good enough before half of their expected roster went on the IL is offensive to Yankees fans. The team's ceiling if everyone stayed healthy was going to be an ALCS loss to the Astros, and their floor was going to be a chaotic mess. This is the floor in which Kiner-Falefa is somehow an everyday outfielder, Aaron Hicks is still moping around on the active roster and Jake Bauers and Franchy Cordero are middle-of-the-order bats. No one from the organization seems to be talking about how the roster was constructed, just that the roster is injured.
2. The next performance on the Injury Excuse Tour belonged to Brian Cashman.
There are a handful of times Cashman makes himself available to the media throughout the season. There's his spring training "State of the Franchise" session. There's his post-deadline "evaluation of all the guys he traded for who will be busts as Yankees" conference. Then there's his early postseason exit press conference a week after the Yankees are eliminated when he praises the job his manager did and kisses ownership's ass about the financial commitment they have made to the team as if it's a charitable, nonprofit organization.
It takes a lot for Cashman to come down from his office where he's tirelessly working on his next deal for a controllable starter who will fail miserably in pinstripes. The first five weeks of the season certainly qualify as "a lot" and enough for Cashman to show his face publicly. In textbook damage control fashion, with the Yankees sitting in last place, the Yankees needing Willie Calhoun to be Giancarlo Stanton and Kay and O'Neill having kicked the tour off on Tuesday, there was Cashman holding court in the dugout for 28 minutes prior to Wednesday's game. There he was lying, cracking popsicle stick jokes the media ate up, and most importantly: making excuses.
3. "We've got a good group of people — player-wise, staff-wise, support staff-wise," Cashman said. "It's a championship-caliber operation from that perspective."
Somewhere along the way from being handed the best team in the history in his first year on the job in 1998 to present day, Cashman lost what qualities are needed to be "championship-caliber." This certainly isn't it. Again, even without the injuries, this roster wasn't "championship-caliber." How can I be certain of that? Because it's the same roster as last year that wasn't "championship-caliber."
4. In spring training, Hal Steinbrenner was asked by Meredith Marakovits about the team's injury issues over the last four seasons, saying, "We're doing everything right. We're doing everything right. We believe that."
Still believe that, Hal?
Of course he does. We're talking about the guy who told the world in October that Aaron Boone had done a good job after the Yankees were swept in the ALCS and after the manager who had done such a good job had used the organization's 2004 ALCS collapse as a motivation tactic. Who do you think is behind the Injury Excuse Tour? It can't possibly be the owner who also said to Markaovits in spring training, "Do I think we're good enough to win a championship now? Yes, but we've got to stay healthy." Hal built in the injury excuse with two weeks left in spring training before Severino and Bader got hurt, Rodon's injury snowballed, and Judge, Stanton and Donaldson all went on the IL.
It takes a special kind of person to see the injuries the Yankees have endured going on now five seasons and still think the organization is handling, diagnosing and rehabbing injuries the right way. In a results-driven business, the Yankees' results in terms of injuries have been disastrous, and yet, the owner of the team isn't worried by it. Maybe this is part of the "process is more important than results" bullshit Cashman was spewing at his end-of-the-season press conference in October. It's an organization-wide belief and it doesn't seem like it's going to change.
5. "If you asked me that question in the wintertime or even March, what's your biggest fear in the early portion of the season?," Cashman said, "All general managers would say you don't want to get wrecked with injuries early."
If you asked me, I would say it's using the highest payroll in the American League to build the roster Cashman built, injuries or no injuries. It's comical Mr. Fiscally Responsible Hal Steinbrenner allowed his general manager to spend $300 million in such an irresponsible manner. If as a teenager, your parents had given you $300 to go to the store and buy groceries for the week for your family and you came back with two-dozen two-liter bottles of soda, 14 bags of Sour Patch Kids, six tubs of Ben and Jerry's ice cream, eight boxes of Chips Ahoy cookies, four loaves of bread, seven bags of chips and three overpriced, about-to-expire rotisserie chickens, I don't think you would be allowed to do the grocery shopping for your family again.
6. "The team we're currently running out there, that's not the team we actually anticipated," Cashman said. "That happens on a continuous basis; typically, you lose one or two guys along the way. But we've lost a lot more than one or two guys along the way. We're patching holes as best we can at this time of year."
I feel like Maury Povich opening a manilla envelope.
Brian, on May 3, 2023, you said, 'The team we're currently running out there, that's not the team we actually anticipated', and the lie detector test determined that was a lie!
Cashman chose to not upgrade the lineup in the offseason. Re-signing Judge and extending Rizzo didn't change anything. The lineup was losing Matt Carpenter and Andrew Benintendi and Cashman was replacing them with … Aaron Hicks! The season is 20 percent over and Hicks has one more RBI than I do. Then after not doing a thing to his right-handed-heavy, underachieving lineup, Cashman decided to completely disregard the bench, filling it with players who aren't major-league-caliber. This is the team the Yankees anticipated.
7. Why didn't Cashman address roster changes in the offseason?
"We were certainly exploring a lot of efforts; if you look at our roster, we were deep on the infield side," Cashman said. "We were pursuing opportunities to trade from an area of strength if we got the right value. We didn't get the right value."
The right value for who? Gleyber Torres? OK, that's believable. Kiner-Falefa? A baseball player at any level of organized baseball with a pulse would be the right value. Donaldson? A team willing to eat a single dollar would be the right value.
8. "Injuries happen, and ultimately we're getting a lot of injuries right now," Cashman said. "That's certainly killing us. But I have nothing I can convict. If you want to convict somebody, convict me. This is my responsibility."
Wait! What's that? Is that accountability? No, it couldn't be, could it? Is that Cashman taking blame for intentionally building a roster that has scored less runs than an A's team that is purposely tanking is on pace for 131 losses?
Cashman played this all perfectly. He showed his face publicly and answered questions from the media to keep them happy to fill their word and story counts. He blamed excuses for the Yankees' shortcomings exactly how his boss wanted him to get unintelligent fans to believe this disaster was unavoidable. Then, knowing he has a lifetime contract, took the blame for the roster since there are no consequences for losing under current ownership.
9. "Don't give up on us," Cashman said. "That's all I can tell you; don't count us out."
Cashman has nothing to lose with this statement. If the Yankees' season unravels to the point of no return, well, he and the organization will have the injury excuse they have gone on tour promoting to fall back on. And if the Yankees somehow miraculously turn it around, everyone will praise him for warning the world to not count out the richest team in the sport.
10. The Yankees have won two games in a row. As Lou Brown famously said, "If we win again tomorrow, it's called a 'winning streak.' It has happened before." For it to happen they're going to need to beat the 25-6 Rays who have an 8 1/2-game lead over the Yankees.
If the Yankees have a bad weekend in Tampa, you can disregard Cashman's warning and officially "count them out" in the division. Then the next five months will be about playing for a wild-card berth and making more stops on the Injury Excuse Tour of 2023. The next performance will be by Hal Steinbrenner.
---
Subscribe to the Keefe To The City Podcast.
---
My book The Next Yankees Era: My Transition from the Core Four to the Baby Bombers is available as an ebook!