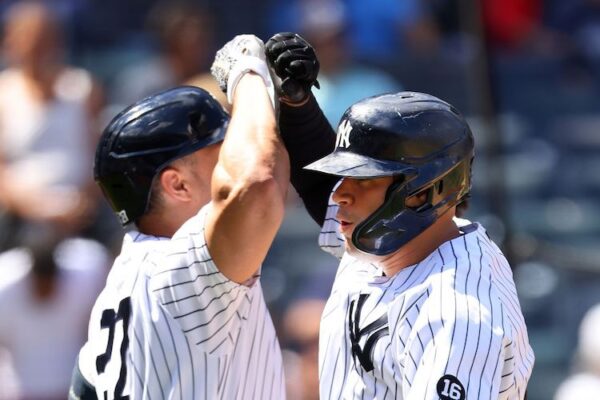 The Yankees have won seven of nine and three straight series. They have cut their deficit in the AL East to three games in the loss column and have a chance to possibly erase that deficit completely with a back weekend in Boston.
Here are 10 thoughts on the Yankees.
1. I was told many times the 2016-17 version of Gary Sanchez no longer existed. That a lot of players come up and take the league by storm only to fade away and become nothing more than an average or replacement level player. That Sanchez would never return to being the player who was the face of the Yankees for the last half of 2016 and 3-hitter in 2017 and who represented their greatest lineup advantage.
I have taken a lot of criticism over the last couple years, (even from within my home) about my unwavering support for Sanchez. I defended him against the Austin Romine Fan Club and the Kyle Higashioka Fan Club. I stood by him when he .186 in 2018 and .147 in the shortened 2020 season. When he was wrongly benched by the idiot and loser that is Aaron Boone in the postseason, I was told it was the right move. When the Yankees tendered Sanchez a contract (as if there was ever any other choice), I was told it was foolish and they would regret it. Now all I can do is laugh at everyone who told me Sanchez would never be the player he once was, not even for a week.
2. Two weeks ago I wrote this:
In a perfect world, if every Yankees hitter was hitting to the best of their abilities of their career and healthy and able to play the field, this would be the optimal Yankees lineup:
1. DJ LeMahieu, 2B
2. Aaron Judge, RF
3. Giancarlo Stanton, LF
4. Gary Sanchez, C
5. Luke Voit, 1B
6. Gleyber Torres, SS
7. Miguel Andujar, DH
8. Gio Urshela, 3B
9. Aaron Hicks, CF
Over the last nearly month (since May 27), Sanchez is hitting .338/.410/.743 with six doubles, eight home runs and 18 RBIs in 83 plate appearances. Since returning to his former home in the 3-hole, he's 6-for-15 with two doubles, three home runs and seven RBIs. In the four games he has batted third, the Yankees are 4-0, and Sanchez is single-handedly responsible for two of the wins (June 20 against Oakland and June 23 against Kansas City), and he was arguably the most important player in the other two games as well (June 19 against Oakland and June 24 against Kansas City). He's once again the Yankees' biggest lineup advantage since no catcher can do or is doing what he does at the plate.
I have long been mocked for being the self-proclaimed President of the Gary Sanchez Fan Club, telling the mockers that I believe the Sanchez of 2016-17 is still in there and still exists. That version of Sanchez not only exists, but is here.
3. Either Boone is so adamant about not wanting to play Sanchez with Gerrit Cole that he was willing to let Sanchez catch a day game after a night game this week, or Cole is so adamant about not wanting to throw to Sanchez. I'm beginning to think it's the latter, and that's a horrible look for Cole, who is clearly not who I thought he was if he needs a personal catcher as a security blanket, and it's a bad look for the the Yankees, who will continue to play an inferior lineup when Cole starts.
It's also because Giancarlo Stanton can't play the field. I'm not sure who is to blame here. Is Stanton saying he doesn't feel comfortable in the outfield or is it the Yankees not wanting him to risk injury? In case you haven't noticed, Stanton does a fine job getting injured when only serving as the designated hitter, so it's not like that role has kept him healthy and in the lineup DH and not have Sanchez's bat in the lineup when Cole pitches because Cole can't handle throwing to someone he didn't grow up with in California. Stanton needs to play the outfield. If he gets hurt doing so, so be it.
4. After Boone managed his bullpen and his team to a blown lead and loss in the first game of the series against the Royals, he did his best to do it again in the second game of the series. With runners on first and third and two outs in the ninth and Carlos Santana up, Boone went out to the mound to hold a conference on how to pitch to Santana. Aroldis Chapman, Sanchez, Boone and the infield were in agreement on how to handle Santana and Boone returned to the dugout. Right before Chapman could throw the first pitch to Santana, Sanchez called time and stood up. I figured they were going to go through the signs again. Instead, Boone had signaled to Sanchez to intentionally walk Santana and bring up Sebastian Rivero, who was still looking for his first major league hit.
The move would force the bases loaded, and with Chapman being extra wild lately (coinciding with the crackdown on foreign substances for pitchers), there would be no margin for error. And Chapman needed that margin for error, as he walked Rivero on four pitches with the fourth pitch nearly headed for the backstop. Chapman blew the Yankees' one-run lead and when he left the mound the Royals had the lead. Boone had betrayed his closer and catcher and his team and had gone against what they had agreed to.
5. "He wanted to pitch to Santana," Boone said after the game. "In hindsight, and not just because it didn't work out, I think the right move was probably to go ahead and let [Chapman] pitch to him. I just didn't want to let [Santana] beat us in that spot or get too careful pitching around, leading to a wild pitch or something."
How is this guy still managing the Yankees? I will say it again: Boone is the Yankees' biggest obstacle to a championship. Not the Rays or Red Sox or Blue Jays or Astros or A's or White Sox or the National League winner. The Yankees' own manager is what stands in the way of their success. The Yankees' offense is the only thing that can combat Boone because they have the ability to outscore his idiotic decisions. And they had to on Wednesday night, as Sanchez and Luke Voit won the game for the Yankees and erased all of the bad Boone had done. There's no doubt Boone thinks his moved was the right because the Yankees came back and won, like a fool at a Blackjack table who stays with a 16 against a 7 and miraculously wins the hand.
6. "When I got back to the bench and just kind of looked out there, that's why there was a little bit of a pause," Boone said of his mound visit with Santan due up. "I just felt like I wanted to take our shot the other way. It was my call in the moment, and I think that led to some of the frustration. But Chappy and I absolutely talked about it, and we're good."
I doubt "they're good" the way Boone says they are. Back in February, he said the clubhouse would be fine with the return of Scumbag Domingo German and within a day Zack Britton had openly said it wasn't fine. Last October, he said he talked with Sanchez about the decision to go with Higashioka in the postseason, and then in the offseason, Sanchez said he was never told. No one should believe anything Boone ever says. So when he says he and a player have a good line of communication or have worked through whatever issue there is, don't believe him. The simple fact he has to address means they're not good.
7. "We're playing for a lot. These guys care," Boone said of his decision to go against his closer. "Sometimes you're going to get upset. That's part of playing the high-stakes game of Major League Baseball."
No one is saying the Yankees don't care. Michael Kay thinks every night he needs to ask the question, "You think these guys don't care?" Who is saying they don't care? Being bad and underachieving and losing like they have done for the majority of the season doesn't mean they don't care. But the Yankees players certainly don't need their lead play-by-play man and manager to petition for them that they care.
8. I'm sure Michael King cares. He just isn't any good. The Yankees are now 2-3 in games he has pitched since he became a starter or opener or whatever you want to call him. In only one of those five games did he not allow first-inning runs. This is after he was incapable of being a starter/opener last season and the Yankees' decision to stick with him throughout the shortended season nearly cost them a postseason berth. King needs to be removed from the rotation. He can't possibly be the team's "best" option. I know he isn't the best option as long as Deivi Garcia is in the organization, regardless of what he's doing in Triple-A.
9. Having King and Jameson Taillon back-to-back in the rotation opens the door for losing streaks to start or be extended. King isn't good and doesn't give the team length, and the same goes for Taillon. And I say this coming off King's best start of the season and Taillon's as well. I'm not foolish enough to think one OK King start and one good Taillon start is enough to think one or both of them are now going to be trustworthy starting options. Thankfully, neither of them will pitch this weekend in Boston (since the Yankees will have enough problems with a lefty starting at Fenway in Jordan Montgomery and Scumbag German who gives up home runs at an unbelievable rate), but they will both pitch next week against the Angels and Mets. For now, it seems like the Yankees are fine with continuing to use both of them as starters and fine with leaving them pitching on consecutive days in the rotation, considering they have had the chance to pull them from the rotation and break them up within it and they haven't done either.
10. This a very, very, very important weekend. At the end of play on Sunday night, the Yankees will either be tied in the loss column with the Red Sox, trailing by two games, trailing by four games or trailing by six games. Each game is incredibly important and could be the eventual difference between an ALDS spot and a wild-card spot or a wild-card spot and no postseason. Three weekends ago when the two teams met, the Yankees blew late leads in two of the three games (King lost them the other game within the first five batters). That can't happen again.
This is the most important series of the season to date. We'll have a good idea of who the 2021 Yankees are after it.
---
Subscribe to the Keefe To The City Podcast. New episode after every game during the season.
---
My book The Next Yankees Era: My Transition from the Core Four to the Baby Bombers is now available as an ebook!