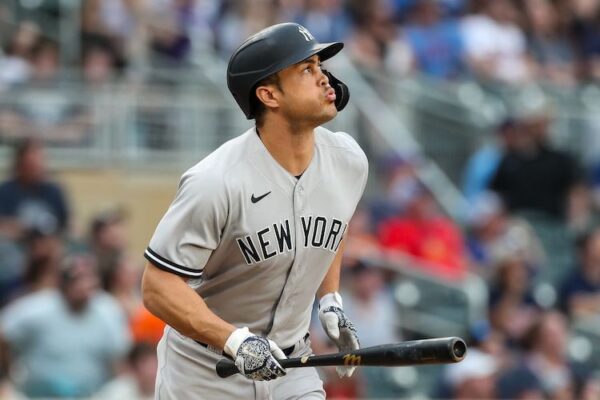 After winning the first two games of the series against the Twins, the Yankees gave away the series finale, something they do far too often. The Yankees have now lost 11 of their last 16 games, are six games back in the division and 2 1/2 games back in the wild card.
Here are 10 thoughts on the Yankees.
1. If you were feeling good about the Yankees after Tuesday's win and Wednesday's win, well, Thursday was a reminder of just how far this team has go to truly be considered a postseason team, let alone a championship team.
Sure, a nine-run outburst followed by an eight-run burst from the second-worst offense in the American League was nice to see, but it did come against the Twins, a team that has nothing to play for with 100 games left in their season. The blown three-run lead on Thursday erased any sense the Yankees might be turning their season around, as they let a chance to sweep a last-place team slip away and are now just 2-7 in series finales with a chance to sweep.
2. Thursday was a game the Yankees couldn't afford to give away. They had a three-run lead four batters into the game and eventually lost. It had the same feel to it as the fourth game of the Indians series (April 25), the third game of the Astros series (May 6) and the third game of the most recent Orioles series (May 16).
When you can't beat the Rays (5-8), Blue Jays (3-6) or Red Sox (0-3), and when you get swept by the Tigers, and somewhat struggle against the Orioles, you can't only win series against a team as bad as the Twins. Winning two of three this week isn't a positive, only sweeping the series would have been a positive.
3. The Yankees were off on Monday. They are off on Friday. They are off on Monday again. They only have two games this weekend against the Phillies, which will obviously include NL rules. That means there won't be any Giancarlo Stanton this weekend unless it's as a pinch hitter. The Yankees have a DH-only player on their roster, and he's under contract for six more seasons after this one.
4. Stanton is finally hitting and is extremely hot right now. (Yes, hot and cold exist, regardless of what Aaron Boone and the Yankees believe.) He just hit three home runs and a double in 10 at-bats between Wednesday and Thursday for his first home run since May 6 and his first double since May 11.
Stanton is possibly the streakiest hitter I have ever seen (sorry, Brett Gardner), and when's on a hot streak, you just hope it doesn't end. Now the Yankees are going to end it themselves.
5. Here is an update on how Giancarlo Stanton's days have gone since coming off the injured list on May 28:
May 28: 0-for-5, 4 K
May 29: Personal day off
May 30: 0-for-3, 2 BB, 2 K
May 31: 0-for-4, 2 K
June 1: Personal day off (0-for-1 as pinch hitter)
June 2: 1-for-3, BB, K
June 3: Personal day off
June 4: 1-for-3, BB
June 5: 0-for-4, 2 K
June 6: Personal day off (0-for-1 with a strikeout as a pinch hitter
June 7: Day off
June 8: 2-for-5
June 9: 3-for-5, 2B, 2 HR, 5 RBIs
June 10: 1-for-5, HR, RBI
June 11: Day off
Now it's probably going to include:
June 12: Personal day off
June 13: Personal day off
June 14: Day off
6. Can we stop with Michael King starting or opening games? Please. He isn't good in that role.
Last season, King pitched mostly as an opener for the Yankees and had a 7.76 ERA and 5.14 FIP. The last three times through the rotation (since May 30), he has been given a chance to start or open or whatever you want to call it. I call it pitching poorly: 11. 1 IP, 13 H, 10 R, 8 ER, 5 BB, 10 K, 1 HR, 6.35 ERA, 1.589 WHIP. The Yankees have lost all three games he has started.
Enough is enough. The Yankees can't afford to keep losing games. Not when they have already lost 30 of 63. Not when the Rays seemingly never lose and not when the Yankees can't beat the Blue Jays (3-6) or Red Sox (0-3). King's spot in the rotation should go to Deivi Garcia. I don't know why that's so hard to understand and implement.
7. There's never a good time for a closer to blow a game, but Aroldis Chapman couldn't have picked a worse time to have the worst outing of his career. Single, home run, single, home run. Four runs without recording an out to first give up a two-run lead and then to give up the game ruined the Yankees' chances at sweeping the awful Twins.
A rare bad night for Chapman is why the Yankees are in a bad spot in terms of the standings. There are going to be bad nights for Chapman. Even Gerrit Cole has had a few clunkers. The Yankees' margin for error entering the season was slim with two other truly competitive teams in the division in Tampa Bay and Toronto, and now that Boston is still playing well, the margin error is that much slimmer. The Yankees can't keep pissing away games to bad teams.
8. Miguel Andujar is hitting .313./.326/.506 over his last 86 plate appearances. The high average, the low on-base percentage and the power (five home runs in June) are all there. It's the same Andujar who would have won the 2018 AL Rookie of the Year if not for someone being able to be both a starting pitching and middle-of-the-order bat in his same rookie class.
Andujar has hit his way into an everyday role. With the Yankees' offense as being as anemic as it has been through 63 games, Andujar and his .832 OPS since May 14 have to be in the lineup. No, he doesn't walk (two walks in 99 plate appearances this season). No, he isn't very good at defense at any position. But what he can do is make contact, put the ball in play and rack up extra-base hits. That's more than nearly every other Yankees hitter can do.
9. The optimal Yankees lineup right now is this:
In a perfect world, if every Yankees hitter was hitting to the best of their abilities of their career and healthy and able to play the field, this would be the optimal Yankees lineup:
1. DJ LeMahieu, 2B
2. Aaron Judge, RF
3. Giancarlo Stanton, LF
4. Gary Sanchez, C
5. Luke Voit, 1B
6. Gleyber Torres, SS
7. Miguel Andujar, DH
8. Gio Urshela, 3B
9. Aaron Hicks, CF
Instead, this is currently the optimal Yankees lineup:
1. DJ LeMahieu, 2B
2. Aaron Judge, CF
3. Gleyber Torres, SS
4. Giancarlo Stanton, DH
5. Gio Urshela, 3B
6. Miguel Andujar, LF
7. Gary Sanchez, C
8. Clint Frazier, RF
9. Chris Gittens, 1B
10. At the end of Joe Girardi's tenure as Yankees manager, I thought it was time for a new manager. I just didn't think it would be someone as incapable and inexperienced as Boone. If I knew the Yankees were going to hire Boone and knew how inept he would be at the position I never would have wanted Girardi to be replaced. It's going to somewhat sad seeing Girardi in a Phillies uniform managing against the Yankees this weekend, while we watch Boone stumble his way through the intricacies of the NL rules and then stumble his way through his postgame press conferences. Maybe when the Yankees replace Boone they will hire someone worthy of the position.
---
Subscribe to the Keefe To The City Podcast. New episode after every game during the season.
---
My book The Next Yankees Era: My Transition from the Core Four to the Baby Bombers is now available as an ebook!