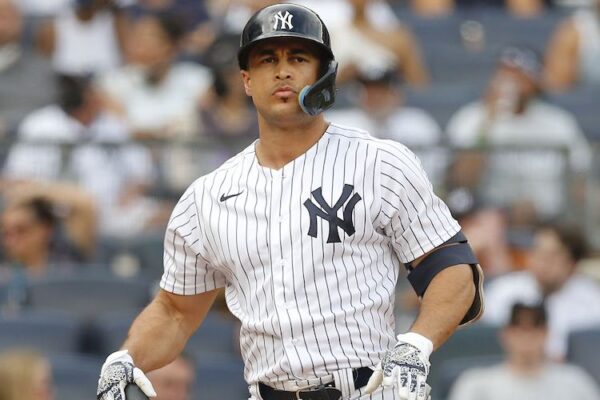 The Yankees four-game winning streak came to an end on Thursday with a disappointing one-run loss to the Twins. After an abysmal August, the Yankees needed to see the Twins on the schedule.
Here are 10 thoughts on the Yankees.
1. Following Sunday's series finale against the Rays, if the Yankees had any other team on the schedule other than the Twins for a four-game series, it's likely the Yankees' 15 1/2-game collapse complete. Because while the Yankees were winning three of four against the Twins, the Rays were sweeping the last-place Red Sox. The Yankees needed a big week to pause their free fall, and a big week is what they got against the team they have owned for the last 20 years.
It should have been bigger and needed to be bigger. No, you can't expect to sweep a four-game series, let alone one against a good team like the Twins. But when you spend an entire month playing .357 baseball, you need to sweep a four-game home series against the Twins, even if they are good. The Yankees put themselves in the situation of now needing to do unexpected.
2. Aaron Boone did his best to put together early-March spring training lineups over the four games, and also did his best to manage his team to losses. But thankfully, not even Boone's inept in-game managing could lead the Twins to overcoming their issues with beating the Yankees.
3. I truly enjoy Isiah Kiner-Falefa supporters saying "See!" after Kiner-Falefa hit two home runs in the series, including a grand slam. Please. He now has three home runs in 123 games, a .653 OPS and kicks around the ball at short. One or two games isn't going to erase the disastrous decision to trade for him, take on Josh Donaldson's salary to acquire him, not sign either Carlos Correa or Corey Seager because of him and then play him every day over Oswald Peraza and Anthony Volpe. Kiner-Falefa's Baseball Savant page is still full of blue as 99 percent of the league has a better barrel rate than him, 94 percent of the league hits the ball harder than him and 90 percentage of the league has a better average exit velocity than him. Kiner-Falefa does one thing well: he makes contact. However, when he makes contact, it's weak contact, so it cancels out the fact that he makes contact. Play any borderline major leaguer every single day for a full season like the Yankees have with him and he will run into a few long balls along the way. (Just ask Aaron Hicks.)
4. Kiner-Falefa's big series against the team that fleeced the Yankees to move him came while he was playing third base. I would welcome Kiner-Falefa at third if meant Donaldson not playing, but we all know that's not going to happen. Once Donaldson is back, Kiner-Falefa will go back to short and Peraza will go to the bench. You know, the player Hal Steinbrenner and Brian Cashman cited as the reason for not signing a big-name free-agent shortstop. The player Kiner-Falefa was supposed to be a stopgap for until ready. Well, he's ready, he's playing an awesome shortstop and hitting major-league pitching, and yet, no one can expect him to play once Donaldson returns from paternity leave. Yankees baseball!
5. It took one good day for Kiner-Falefa to find himself batting cleanup the next day, and it took one double for Aaron Hicks to go from being benched to batting leadoff the next day. When you're a Boone favorite and front office favorite (like those two are), it doesn't take much to be rewarded. Don't be surprised if you see equally crazy shit like Hicks leading off and Kiner-Falefa batting cleanup this weekend against the Rays in what is the biggest series of the season … again.
6. The Yankees' cleanup hitter should be Giancarlo Stanton, but apparently, he's unable to play with any regularity … again. Stanton was unavailable to pinch hit for Ronald Guzman (who I hope to never see play a game for the Yankees again), but was able to pinch hit in the ninth inning one day later. I guess one day magically healed him.
Of course Stanton could have pinch hit on Wednesday. It was absurd he didn't. Not as absurd as the Yankees waiting an extended amount of unnecessary time to play shorthanded before putting Anthony Rizzo and DJ LeMahieu on the injured list, but absurd nonetheless.
The Yankees got a good-but-not-great age 28 season out of Stanton in 2018, in which he played a solid portion of the season with a hamstring issue. They got 18 games from his age 29 season, and 23 of 60 games in the shortened 2020 season when he was 30. Last year, they were able to get 137 games out of him at age 31, but this year, at age 32, he has missed 34 percent of the season. As a Yankee, he has missed 37 percent of the team's regular-season games, covering his age 28 through 32 seasons. His contract runs through his age 37 season and then he will be bought out for $10 million for his age 38 season. He's a problem now at age 32. I wonder how the next five years will go.
Stanton returned from his Achilles injury on August 25 and drove in three runs in 13-4 win over the A's. Since then, he's 3-for-35 (I don't even remember the three hits), hitting .086/.180/.086. Just three singles in 39 plate appearances.
Since Monday when I wrote a Yankees Thoughts blog titled Yankees Thoughts: Giancarlo Stanton and Josh Donaldson Can't Be Automatic Outs, Stanton has been a combination of hitless and injured.
7. The Yankees are without LeMahieu, Rizzo, Matt Carpenter, Andrew Benintendi (and to a much lesser extent, Harrison Bader). It seems like LeMahieu will have to play through his toe injury for the rest of the season. I don't have great confidence in Rizzo coming back and being a middle-of-the-order threat even though Boone will bat him in the middle of the order. Carpenter is still being held back from baseball activities for two more weeks, and Benintendi's chances of coming back seem to be closer to a prayer than likely. The Yankees can't have Stanton being an automatic out. They can't have him being even 80 percent of his abilities. They need him to be the guy who won the All-Star Game MVP and who's the highest-paid position player on the team. And they need it now. Not next week or the week after when the collapse could be complete. Now.
8. Anyone who thinks Shohei Ohtani should be the AL MVP over Aaron Judge shouldn't be allowed to vote in elections, obtain a driver's license, own property or have children. Judge isn't just the only choice for MVP, he's possibly the most deserving of the MVP award in the history of baseball. Without him, the Yankees aren't a postseason team. He's the most valuable, most important, best player in the majors this season. It's not debatable.
9. With 24 games left, the Rays' elimination number is way too high at 22. (Any combination of Yankees wins and Rays losses equaling 22 will eliminate the Rays from the division.) The Yankees can lower that number to 16 by Sunday afternoon, and if they do so, the Rays' recent attempt to overtake the Yankees will be over.
I don't think that will happen. I would like it to happen, but if you think this version of the Yankees in which Hicks could bat leadoff and Kiner-Falefa cleanup this weekend is going to sweep the Rays, you likely think Cashman has done a good job in recent years as general manager and that the Steinbrenner family cares about winning like their father did.
I can't say Just don't get swept because I think losing two of three this weekend will put the Yankees in a horrendous spot, even if the Rays have 16 games left against the Blue Jays and Astros. I don't think the Blue Jays are that good, and the Astros will have the AL West clinched soon and the AL 1-seed shortly after that. Who knows what their lineup or level of care will be when they face the Rays from September 19-21 and again from September 30-October 2.
10. A series win this weekend would get the elimination number down to 18 with 21 to play. (Still too high for my liking, but that's what you get when you piss away two-and-a-half months of the season.) The Yankees can't lose the series. (I mean, sure, they can, and odds are they will, but they can't.) And they certainly can't get swept. (Again, sure, they can, but they can't.)
Right now, I'm moderately worried about the Yankees' completing the single biggest game-lead collapse in baseball history. I'm a 6.7 out of 10 worried. Five days ago, I was a 9.1. If the loss column lead is zero on Sunday afternoon, I will be a 10, and a 10 is stock-up-on-bottled-water-and-batteries-to-go-into-hiding-level bad. So if the Yankees get swept, and you don't hear from me with Thoughts about the series by Monday morning, just know I'm safe.
---
Subscribe to the Keefe To The City Podcast.
---
My book The Next Yankees Era: My Transition from the Core Four to the Baby Bombers is now available as an ebook!