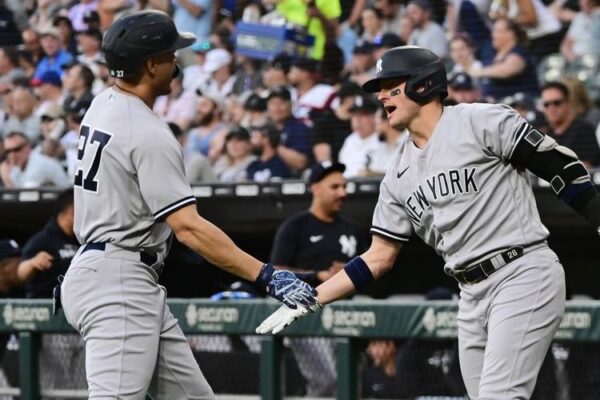 Losers of three straight and six of seven, the Yankees managed to win the series finale against the Rays on Sunday and salvage a game from the most important series of the season.
Here are 10 thoughts on the Yankees.
1. I don't care how the Yankees won on Sunday, barely eeking out a 2-1 victory over the Rays, all that matters is they won. They won for the first time in four games and the second time in eight games. They momentarily stopped their free fall that led to them entering the series finale against the Rays with a four-game lead in the division, and just three games in the loss column. For at least one night, Yankees fans can sleep well knowing the magic number finally moved off 27 for the first time since Tuesday. Unfortunately, the momentary relief of Sunday's win is just that: momentary. The Yankees play at 1:05 on Monday, and if they don't build on Sunday's win, it won't have mattered.
2. Sunday's win was as painful as any win can be. Right up until the final pitch, a called third strike to end the game that wasn't a strike. It involved Aaron Judge producing the game's first run on the second pitch of the game (this is why I have been advocating for him to leadoff) and the Yankees only managing to score once more for the rest game on an Oswaldo Cabrera sacrifice fly in the seventh inning. The Yankees left the leadoff man on in the second, left two on in the fourth, left the bases loaded in the fifth, left two on in the sixth, left a runner on in the seventh and couldn't score with first and third and no outs in the eighth. It was yet another game in which the Yankees scored three runs or less.
3. Since August 3, the Yankees have played 29 games. They have scored three runs or less in 21 of those 29 games. In 72 percent of their last 29 games, the Yankees have scored three runs or less. But Aaron Boone was quick to twice say, "We have the Number 1 offense in the league," on Saturday. What Boone failed to mention about that "achievement" is that of the Yankees' 655 runs scored this season, 36 percent of them have come in just 15 percent of the season. The Yankees scored 237 runs in 20 games against the Guardians, Orioles, Royals, White Sox, Tigers, Twins, Cubs, A's, Pirates and Red Sox. Guess how many of those teams currently hold a playoff berth? One. The Guardians. They lead the atrocious AL Central by a half-game, and if they don't win their division, they will miss the postseason, since they lead their division, but would currently be 4 1/2 games out of the final wild-card spot.
4. The Yankees' offense isn't good. It never has been. In those 20 games, they averaged 11.9 runs per game. In the other 114 games, they have averaged 3.7 runs per game. That's the true Yankees offense, and we saw it again this weekend.
In what was the biggest series of the season to date, the Yankees scored three runs total in the three games. I would sign up for the Yankees scoring three runs per game for the rest of the season because one run feels like a burden and scoring two runs feels like a miracle. Scoring three runs?! Well, that might as well be 23 right now. And if Judge doesn't hit a home run, it's hard to envision the Yankees manufacturing a run any other way.
5. The Yankees rely on the home run for more than half of their runs, which is the most in the majors. Starting with the first game of the second half of the Subway Series back on August 22, here are the Yankees' home runs by game:
vs. Mets: Judge
vs. Mets: Judge
at A's: None
at A's: Judge
at A's: None
at A's: None
at Angels: Anthony Rizzo, Judge
at Angels: Andrew Benintendi, Rizzo, Judge
at Angels: None
at Rays: None
at Rays: Judge
at Rays: Judge
6. In the Yankees' last 12 games, they have hit 10 home runs, and Judge has hit seven of them. No other Yankees has homered in the last four games, and just two other Yankees have homered in the last 12. One of them is missing games for the third time in a month due to back issues and the other needs surgery on his wrist and may not play for the Yankees again.
7. If you're expecting other players to step up and start banging some out, don't waste your time.
DJ LeMahieu (who is playing through a foot injury that the Yankees have admitted won't heal until the offseason) hasn't homered since August 7.
Gleyber Torres (who will likely be traded this offseason after the Yankees chose not to trade him last offseason and had a deal with the Marlins at the deadline to trade him fall through) has two home runs since July 27.
Aaron Hicks (who was outright benched, but has somehow found his way back into the lineup every day again) last homered on July 9.
Isiah Kiner-Falefa (who is somehow still playing baseball in the majors) has one home run in 439 plate appearances.
Cabrera has 60 career plate appearances and Oswald Peraza has seven.
With Anthony Rizzo in and out of the lineup for back issues and Matt Carpenter not expected back for a few weeks at best, there only two other sources of potential power.
8. The first is Josh Donaldson. He's being paid like the MVP he was and not the player he is, which is as washed up as it gets, and he continues to be treated as though he's the Blue Jay version of himself, batting in the middle of the Yankees' lineup every game.
I don't believe in Donaldson and recognize if he weren't owed $24 million next season, he would no longer be a Yankee. But I can't lump him in with Hicks and Kiner-Falefa and Torres and the rookies since he does have a long history of being a power bat, with or without the juiced baseball (which is the only time Hicks or Torres had power).
Donaldson is an asshole. That's been evident since he was an opponent of the Yankees and continues to be more evident with each game he's a Yankee. He's done a lot of idiotic things this season, but none bigger than chirping Jeffrey Springs on Saturday to throw him fastballs, which Springs did and struck Donaldson out on (including one at 91 mph down the middle with two on in the first inning).
Donaldson's batting average is 46 points below his career average. His on-base percentage is 57 points below his career average, his slugging percentage is 120 points below his career average, and his OPS is 177 points below his career average. He has 12 home runs and is on pace for 15 if he plays in all of the Yankees remaining 28 games. It would be the lowest single-season home run total of his career and 12 less than his current season-low of 24 from 2013. Anyone who cites his great defense this season as a reason to justify his miserable offensive production is as big of an asshole as he is.
I don't expect Donaldson to contribute or become his former self. But when Boone mentions the "need to get a couple guys going," like he did most recently after Saturday's loss, and has for months now, he's reffering to Donaldson. He's also referring to Giancarlo Stanton.
9. Stanton last homered on July 15. Since then he was on the injured list for more than a month, having missed 35 percent of the season (once again), and has a sub-.400 OPS in his last 14 games and 55 plate appearances with 17 strikeouts. Since coming off the IL on August 25, he's 4-for-35 with five walks and nine strikeouts. Stanton's horrific season between injuries and underperformance (his season OPS is 136 points below his career average) is as big a problem as any the Yankees have offensively. Stanton's inability to stay healthy (again), and his inability to perform to his career averages might be the biggest problem.
It's hard to remember that six weeks ago Stanton was an All-Star, winning the MVP of the game at Dodger Stadium. Because now all he's doing is flailing at sliders in the other batter's box and popping up middle-middle straight fastballs.
I understand this is who Stanton is. When he's going right, he's as feared as any hitter in the league, but when he's off, he looks like he's picking up a bat for the first time. Just because I know this is who he is doesn't make his own personal free fall since the start of July (.149/.231/.319 and a month-long IL stint) any easier to stomach.
If Stanton is going to continue to be as automatic of an out as Donaldson is, then the Yankees aren't going anywhere. Opponents are already pitching around Judge every chance they get, and that will only be heightened in the postseason.
10. The Yankees need a lot to go right over the next month to avoid the biggest game-lead collapse in history. And then after that, they will need even more to go right over the following month to accomplish the organization's supposed goal of winning the World Series.
They don't just need a couple of guys to get going like Boone suggests, they need an entire lineup aside from Judge to start contributing, and on top of that, they need nearly half of their expected everyday lineup to get healthy. It's a lot to ask for and a lot to expect. Likely too much to ask for and too much to expect. But for at least one night, the collapse has been paused. Momentarily.
---
Subscribe to the Keefe To The City Podcast.
---
My book The Next Yankees Era: My Transition from the Core Four to the Baby Bombers is now available as an ebook!