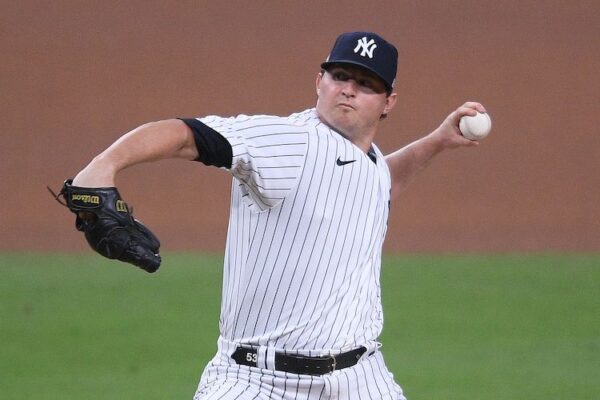 This past season, I wrote Yankees Thoughts following each Yankees series. I wanted to do something similar this offseason since it's once again an important offseason for the Yankees in their current championship window as the urgency to win a championship with this Yankees team continues to grow.
Here are 10 thoughts on the Yankees.
1. Despite Hal Steinbrenner claiming the Yankees lost more revenue than any other team in baseball in 2020 (and conveniently leaving out that the Yankees make more than any othe team in normal seasons), the Yankees did what they had to do in bringing Zack Britton back for 2021 and 2022. And yes, they had to do it.
After trying to navigate the posteason with only three trustworthy bullpen arms (and at times not even that), Britton was the best and most trustworthy of them all. The other two were Chad Green, who faltered at times, like he has in each of his four postseasons with the Yankees, and Aroldis Chapman, who once again allowed a season-ending home run. After Britton, Green and Chapman, it was Adam Ottavino, who the Yankees clearly no longer have faith in, Jonathan Loaisiga, who the Yankees inexplicably promoted to high-leverage situations, Luis Cessa, who is still Luis Cessa, and then a wide array of fringe major league arms like Jonathan Holder and Nick Nelson, who you don't want to see in a regular-season game let alone in a postseason game. The decision to let the homegrown star in Dellin Betances leave via free agency coupled with Tommy Kahnle's season-ending Tommy John surgery really screwed up the Yankees' Rays-like strategy to go to their bullpen whenever they wanted.
2. Bringing back the team's best reliever when all it would cost is money (something the Yankees still make more of than any other team even as they have planted the seeds they won't want to spend this offseason) was a no-brainer. Britton has gotten better and better the farther removed he has gotten from his Achillies injury, and after an up-and-down 2018 season with the Yankees following a trade deadline deal, Britton has been his old self (minus those 32 walks in 61 1/3 innings in 2019). As a left-handed reliever who can get both righties and lefties out, at $14 million, he's a (pre-pandemic) bargain and with his ability to keep the ball in the park (his -6.8 launch angle was the lowest in the league this season), two more years of Britton even at age 33 and 34 is well worth it.
3. According to MLB.com, the Yankees declined Brett Gardner's $10 million option for 2021. Gardner gets $2.5 million for being "bought out" of his option, which is a nice little gift for a player who had a horrendous regular season and who has now made roughly $85 million in his career. Gardner will be back though. The buyout was just a way for the Yankees to save some money, as they will "ultimately" (I had to get Aaron Boone's favorite word in here) bring their longest-tenured player back for a 14th season.
After 2018, I didn't want Gardner back. He had hit 236/.322/.368, posting the worst batting average and on-base percentage and second-worst slugging percentage of his career to go along with the worst OPS (.690) of his career. It didn't make sense to re-sign a 35-year-old after putting up the worst statistical season of his career, is the streakiest hitter of all time and whose game is based around his legs. Gardner had played himself out of an everyday job when the Yankees traded for Andrew McCutchen, and yet, the team still thought they should re-sign him with a better option in Michael Brantley (who I begged for) available. Gardner only ended up playing in the 2018 ALDS because of an injury to Aaron Hicks (shocker) and he went 0-for-8 with three walks, looking incapable of putting the ball in play against elite pitching.
When Major League Baseball decided to completely change the construction of the baseball, it saved Gardner's career. He mashed a career-high 28 home runs in 2019 and went from fourth outfielder to starting outfielder after Aaron Judge, Giancarlo Stanton and Hicks all missed signifcant time. His trademark high on-base percentage was still awful (.325), but his flyball outs from the year before were never leaving the park at a record rate for him. His power emergence at age 35 led to Boone idiotically batting him third in the postseason.
4. This season, Gardner was putrid until the final two weeks of the regular season. The player I have referred to as "The Streak" for many years now couldn't get on one of his patented hot streaks until right before the postseason. And though Boone and the Yankees have admitted they don't believe in hot streaks or a player being "hot," they must have changed their theory on the old baseball adage as Gardner's final two weeks of the regular season were enough for him to start in the postseason over Clint Frazier, who had experienced a breakout and consistent regular season both offensively and defensively and who single-handedly carried the offense at times over the two-month season. When Judge and Stanton went down (like they always do) and Hicks was unproductive and Mike Tauchman turned back into the player the Rockies gave up on, it was Frazier who saved the outfield production and possibly the season. But a handful of Gardner at-bats against Blue Jays pitching was enough for Frazier's season to be disregarded.
Two years ago I didn't want Gardner back, but now I do. Tauchman can't be trusted to be the the team's fourth outfielder going on 30 with one great six-week run on his major league resume, and it's inevitable Judge and Hicks will miss time and Brian Cashman admitted Stanton is no longer an outfield option. So I want Gardner back. As long as he's not in the starting lineup over Frazier 11 months from now.
5. Masahiro Tanaka, James Paxton and J.A. Happ are now all free agents, which means right now, the Yankees' 2021 Opening Day rotation is Gerrit Cole, Jordan Montgomery and Deivi Garcia. Montgomery, the Yankees didn't trust to use in the postseason until it became a necessity, and Garcia, the Yankees only allowed to pitch for one inning in the postseason with Cashman citing "this stage of his career" as a reason to not let him truly start a postsason game (ask the Braves' Ian Anderson who had the same six career regular-season starts before this postseason how important "this stage of his career" was in October). After those three, it's Clarke Schmidt, who the Yankees didn't give a major league start to until the last game of the regular season as they continued to choose to go with Michael King as an opener over their top-rated pitching prospect. If the season starts on time (enormous "if"), the Yankees won't have Luis Severino back until June at the absolute earliest. The Yankees desperately need starting pitching.
6. I would re-sign Tanaka. Two bad postseason starts aside, he's still a good pitcher, who I still trust, and who the Yankees need. I would let Paxton and his injury-plagued career walk, seeing as though I was against trading for him when it happened. (If only the Yankees had an inexpensive, left-handed rotation option. Oh that's right, they traded that pitcher in Justus Sheffield for 34 Paxton starts around two injured-list stints, back surgery, lost velocity and one mediocre postseason.) I would obviously let Happ walk and block his and his agent's phone number as well.
Luckily for the Yankees, one of the game's best pitchers is a free agent in Trevor Bauer. All it will take to make him a Yankee is money (once again, something the Yankees make more of than any other team). Bauer makes too much sense for the Yankees. A rotation featuing Bauer, Cole and Severino would give the Yankees the best rotation (when healthy) in the league. (Though I guess signing Bauer is also dependent upon the current status of his relationship with Cole which was supposedly rocky when the two were at UCLA together).
In reality, the Yankees will re-sign Tanaka, because they don't really have a choice, and then count on Severino coming back and being his dominant self right away, even though there's a history of most pitchers not pitching like their usual selves until their second sesason removed from Tommy John surgery.
I fully expect the Yankees to once again have an incomplete rotation come October 2021 with the annual debate on who should start Games 2 and 3 in a postseason series.
7. At some point in each of the last 25 days, I have thought about Game 2 of the ALDS. This past week, I watched the video of Michael Kay ripping the Yankees on the YES postgame show following Game 2 and I also listened to CC Sabathia's similar rant on his podcast. All this did was make me more angry than ever about a baseball game that is now nearly four weeks old. I still cant believe the Yankees did what they did in that game. I can't belive Cashman allowed Boone to make such an important and wrong decision, which was first-guessed at the time by everyone and not second-guessed after the poor result. Happ's legacy as a Yankee will be that he was great in the regular season post-deadline in 2018, lost Game 1 of the 2018 ALDS in the first inning, was horrible in the 2019 regular season, gave up a walk-off home run out of the bullpen to lose Game 2 of the 2019 ALCS, spent an inconsistent 2020 regular season openly complaining about his usage and his contract option and then pooped his pants on the Petco Park mound in the postseason against a nearly all-left-handed lineup.
8. Charlie Morton shut down the Yankees in the ALDS after shutting them down as an Astro in Game 7 of the 2017 ALCS and he has now emerged as the best Game 7 pitcher in baseball history. The Yankees could have had Morton. I know there's the idea Morton was only going to pitch for the Rays to be close to his Florida home, but I don't buy it. The Yankees gave Happ more money than they gave Morton and had they given Morton the money they gave Happ or better (he was worth more), he would have been a Yankee. There's no way he takes less money to pitch for the Rays. Not when the Yankees train in Tampa near his home. Not when the Yankees play three series per year in Tampa. Not when a flight from New York to Tampa is three hours at most. The Yankees could have had Morton and they chose Happ. Well, first, they could have had Patrick Corbin, and they chose to not give him the extra year he wanted, then they picked Happ over Morton. Both Corbin and Morton have pitched in the last two World Series.
9. Dusty Baker is 71. Tony La Russa is 72. Baker manages a team that came within a win of their third World Series in four years and La Russa now manages a team that was nearly the 1-seed in the American League, reached the postseason for the first time in 12 years and is set up to be the dominant team in the AL Central for the forseeable future. While the Yankees (Boone), Red Sox (Alex Cora), Mets (Carlos Beltran then Luis Rojas), Dodgers (Dave Roberts) and many other teams have turned to managers with no experience seen to be able to be easily molded by the front office as "puppets" (though Cashman said at his end-of-the-season press conference that Boone "isn't a puppet"), two of the best rosters in baseball have gone against the grain of the new-age young and inexperienced manager.
No, I don't want the Yankees to hire someone like Baker or La Russa. I just think it's interesting teams are reverting back to old-school managers now. The Yankees need to make a managerial change. They aren't going to, but they need to. But I wouldn't have wanted them to hire either as their next manager.
10. For all the praise I have given Kevin Cash this season, he ruined his team's season in Game 6 of the World Series. I understand the "third time through the order" and giving teams different looks, but there's no justifable reason for taking Blake Snell out of that game after he had shut down the Dodgers for five innings and the top of the order, which was due up, was 0-for-6 with six strikeouts against him.
Both Cash and Dave Roberts made Boone-type moves in the World Series and the Dodgers are very lucky Roberts didn't manage them to third their World Series loss in four years after his decisions in 2017 and 2018.
It's good to know other teams deal with the same nonsensical decision making the Yankees are hampered with. It's not good to know so many managers can't make the simple, logical and right move in a big spot.
---
Subscribe to the Keefe To The City Podcast. New episodes after every Monday and Thursday during the offseason beginning on Nov. 2.
---
My book The Next Yankees Era: My Transition from the Core Four to the Baby Bombers is now available as an ebook!