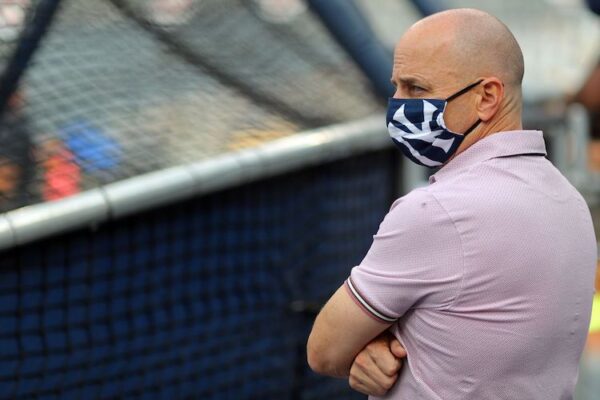 It's been two months since the Yankees last played. Two months today, actually, and it's been a long two months. After the Yankees bowed out in Game 5 of the ALDS to the Rays, I had to watch the Astros fail to match the Red Sox' historic 2004 ALCS comeback leaving the Yankees as the only team in baseball to ever blow a 3-0 series and then I had to watch the Dodgers overcome a 3-1 deficit in the NLCS and go on to win the World Series with my wife taunting me along the way. Yes, I'm (begrudgingly) happy my wife got to experience her favorite team winning a championship, but I have had to hear about it multiple times a day since. It's not going to end anytime soon, and her daily wearing of 2020 world champion apparel isn't helping. Two months down, more than two months to go until spring training. That is if spring training happens as scheduled which is about as sure of a thing as Clint Frazier playing over Brett Gardner (who isn't even currently a Yankee) in 2021.
We're long past the point of the offseason where click bait headlines are even remotely intriguing. The endless stories and "reports" about nearly every team being tied to a free agent are tiresome and in just a few weeks, we have had to hear about whether or not the Yankees will tender Gary Sanchez (no-brainer), if they will re-sign DJ LeMahieu (they better), that they might be interested in Yadier Molina (please, no), or maybe James McCann (pass), and that Michael Brantley is their Plan B if LeMahieu goes elsewhere (is it the 2018-19 offseason?) It's not going to end anytime soon. Not until every last viable free agent is off the board.
Here are 10 thoughts on the Yankees.
1. It's going to be a dark day in the Keefe household if DJ LeMahieu doesn't sign with the Yankees. If I didn't have the responsiblity of taking care of another human now, I would have already bought blackout shades and curtains for my windows in the event LeMahieu signs elsewhere, so I could just stay in bed and watch his endless videos of his beautiful inside-out swing until Opening Day.
There's no reason for the Yankees to not sign LeMahieu. None at all. The Yankees' current championship window has already started to close, and it will close that much faster without LeMahieu on the team. All it will cost to bring him back is money, and reminder: the Yankees make more money than any other team in baseball.
I stay up at night thinking about the Yankees' lineup without LeMahieu and how many strikeouts it would become capable of. I fear Aaron Hicks becoming the everyday leadoff hitter and what will happen to the infield defense with the removal of the team's best (sorry, Aaron Judge) and most versatile player.
2. The idea Michael Brantley could be the Yankees' Plan B if they don't bring back LeMahieu is appalling. Brantley was a good idea … before the 2019 season, when the Yankees could have signed him to replace Brett Gardner and provide his All-Star-caliber offense for them instead of the eventual American League-champion Astros. I wrote and spoke endlessly about wanting Brantley on the Yankees instead of Gardner to no avail. Now Brantley is two years older and is better suited to be the designated hitter, which doesn't really work on a team full of players best suited to be the designated hitter. If this were two years ago, I would be willing to go pick Brantley up myself. But to sign him because you cheapen out on signing your best player, no thanks.
3. There was never a question if the Yankees would tender Gary Sanchez a contract. Did that stop any media outlet from creating the headline "Yankees give Sanchez a contract" after he was officially given a new contract? Of course not! For as bad as Sanchez was in 2020, the Yankees were never going to let him walk for nothing. They aren't the suddenly poor Cubs.
I will never stop believing the 2016 and 2017 versions of Sanchez still exist. I won't stop because we see it at times. We saw it as recently as Game 2 against the Indians when he single-handedly saved the game, the series and the Yankees' season (before he was unnecessarily benched for Kyle Higashioka).
I get that there are a lot of Yankees fans who have given up on Sanchez and who want to see Higashioka hit routine ground balls to short for an entire season in 2021. I have done my part in trying to rid the world of the fan clubs of Austin Romine (who posted a .582 OPS in 2020) and Higashioka (who walks less than every position player in the majors and some pitchers). It's up to Sanchez to make them all look like the idiots they are.
4. The Yankees need starting pitching. This isn't "the Yankees need starting pitching because you can never have enough starting pitching." This is "the Yankees need starting pitching because right now their rotation is Gerrit Cole, Jordan Montgomery, Deivi Garcia, Clarke Schmidt and … Michael King?"
Montgomery, the Yankees didn't trust to start a postseason game until he absolutely had to. Garcia, the Yankees allowed to pitch one postseason inning. Schmidt, the Yankees didn't give a major league start to until the last game of the regular season, choosing to continue to start or "open" with King over him, who was anywhere from bad to abysmal in all of his appearances. Luis Severino isn't expected back until midseason, and Masahiro Tanaka, James Paxton and J.A. Happ are all free agents. There's a 100 percent chance the Yankees will enter the 2021 postseason with their rotation completely up for debate. It wouldn't be October without the Yankees not having clear-cut options for Games 2 and 3 of a series.
5. Now just because they need starting pitching doesn't mean they should sign Trevor Bauer. I don't want the Yankees to sign Bauer. Let the Mets sign him and J.T. Realmuto and George Springer. As long as they don't sign LeMahieu.
I understand Bauer won the 2020 NL Cy Young in an 11-start season, but I also understand he had a combined 4.48 ERA (4.34 FIP) in 2019 and has put together one great "full" season (2.21 ERA in 28 starts in 2018). It's going to cost an undeserved amount of money to sign Bauer and put him on a team and in a clubhouse with Cole, who he has a known past and rift with. It doesn't matter that the rift is from their college days at UCLA, what does matter is that Bauer is the only one to talk about it since. And he has talked about it because he wants as many options as possible as landing spots, and it would be wise to make sure the team that makes the most money in the sport isn't excluded as a potential landing spot. I have never heard Cole comment on his relationship with Bauer and have never heard him say it's water under the bridge or that they were young or that it was a long time ago. That's probably because not such a long time ago, Bauer accused Cole of cheating or doctoring his pitches on Twitter after his success in Houston. There seems to still be something there, and Bauer isn't good enough to not care about whatever is there.
Bauer is a good pitcher, who can be great at times. But he hasn't been great enough to get the kind of contract he's going to get this winter. And he's not nearly great enough to force his personality into the New York market, and into's Cole's rotation and clubhouse.
6. There was a recent report the Blue Jays are interested with reuniting with Happ. This needs to happen. The Blue Jays already committed to Robbie Ray and have Hyun-Jin Ryu on a multi-year deal. Add Happ to the rotation and that's three left-handed starters the Yankees will have a chance to see in the six series between the teams (if there's a 162-game season). The Yankees crush left-handed pitching (because they still don't have any left-handed-only hitters not named Gardner), and adding Happ's quickly-declining fastball and inability to go five innings, and the path to the AL East title gets that much easier. Happ also owes the Yankees many, many wins from the last two seasons, and what better to make up his awful 2019 and 2020 than by pitching against the Yankees in 2021.
7. Charlie Morton signed with the Braves. The same Charlie Morton I wanted the Yankees to sign instead of Happ before 2019. The same Charlie Morton many Yankees fans told me was never an option because he would only pitch for the Rays to be close to his Tampa home. Last time I checked, Atlanta isn't another name for Tampa. Atlanta is in Georgia. Tampa is in Florida. Atlanta to Tampa is an hour-plus flight or six-and-a-half-hour drive.
I have long said if the Yankees gave Morton more money than the Rays did he would have been a Yankee, and his decision to sign with the Braves proves it. The Yankees train in Tampa. They play three series a year in Tampa. New York to Tampa is a two-and-a-half-hour flight. Morton could have been a Yankee. And if he had been, maybe the Yankees' World Series drought isn't going on 12 years.
All Morton did with the Rays was go 18-8 with a 3.33 ERA and 282 strikeouts in 232 2/3 innngs in the regular season. In two postseasons with the Rays, here's what he did in six starts: 30 IP, 26 H, 9 R, 7 ER, 10 BB, 36 K, 2 HR, 2.10 ERA, 1.200 WHIP. Yeah, the Yankees were better off letting Chad Green "open" Game 6 of the 2019 ALCS and let J.A. Happ do whatever you want to call what he did in Game 2 of the 2020 ALDS than they would have been with Morton. Morton went on to solidify himself as the best Game 7 pitcher in baseball history and the Yankees went on to two more early postseason exits.
In the last three-plus calendar years, the Yankees have passed on taking on Justin Verlander's contract, including Clint Frazier or Miguel Andujar in a trade for Cole, signing Patrick Corbin and signing Morton. Verlander, Cole and Morton all went on to beat the Yankees in October and Corbin went on to win the World Series in his first season with the Nationals.
8. In Brian Cashman's end-of-the-season press conference, he mentioned Gio Urshela having a bone chip in his right elbow that wouldn't need surgery. In a tale as old as time, Urshela underwent surgery this past week to remove the bone chip and will be sidelined for three months. That means if everything goes right, Urshela will be able to play baseball in early March, giving him nearly a month to get ready for the 2021 (if it begins on April 1). But the last time everything went right for the Yankees was 11 years ago.
I don't know what to say about the Yankees and their handling of injuries anymore. In 2019, they set the all-time single-season record for players placed on the injured list. They followed that up by not properly diagnosing Paxton's back injury from September 2019 until February 2020, Severino's elbow issue from October 2019 until February 2020 and Judge's collapsed lung/broken rib suffered in September 2019 until the spring of 2020. These all came after Hicks rehabbed a torn elbow ligament on his own in the second half of 2019, and talked his way onto the 2019 postseason roster, before eventually needing Tommy John surgery.
Now if Urshela's rehab has a single setback, the Yankees will have a third straight season affected by their inability to properly diagnose and treat injuries.
9. The Yankees spent the last three seasons letting Jonathan Holder ruin important games. It started in the third game of Aaron Boone's tenure as manager in Game 3 of the 2018 regular season and it never ended.
Holder was allowed to pitch in the most important game of the 2018 regular season, the first game of a four-game August series in Boston with the division on the line. Holder faced seven batters and didn't retire any of them. His line: 0.0 IP, 5 H, 7 R, 7 ER, 1 BB, 0 K, 1 HR. In June of 2019, Holder set the kind of record no one wants to hold, allowing another five earned runs without recording an out against the Blue Jays: 0.0 IP, 5 H, 5 R, 5 ER, 0 BB, 0 K, 2 HR.
Like every other mediore-to-bad Yankee, Holder inexplicably had his fans, and they never enjoyed my criticism of the right-hander who the Yankees never fully realized was incapable of getting big outs or preventing the elite arms from having to warm up or come into games they had no business being a part of. I like to think the fans infatuated with Holder and Hicks and Higashioka are the same who loved Romine and Swisher.
Rather than offer Holder a contract that is equivalent to couch change for the Yankees, the Yankees didn't tender him a contract. In a season in which the Yankees would let Luis Avilan try to close out the Rays one day and then designate him for assignment the next, let Miguel Andujar pinch hit for Mike Tauchman in the ninth inning one day and then send him down the next, deem Mike Ford not good enough to be a Yankee in September but able to pinch hit in two postseason games with Sanchez and Frazier on the bench, the Yankees let Holder ruin games for one more season before deciding to not re-sign him.
10. Last week, Cashman said, "I've had three managers: 10 [years] with Joe Torre, 10 with Girardi and hopefully 10 more with Boone."
I don't think I can handle 10 more years of Boone. Unless there's multiple championships over that 10 years. Another 10 years of Boone would take us through the 2030 season. 2030! The moment the Yankees signed Jacoby Ellsbury I began to count the days until he would no longer be a Yankee, and that was only a seven-year contract, which became a six-year contract, and because of his inevitable injuries, he only played in four of the years. That was nothing compared to what 10 years is.
Cashman doesn't speak publicly about a manager or player unless he feels he has to, and he's brutally honest when he does. So if he's willing to go out of his way to publicly say he wants Boone as manager for 10 years, Boone will be manager as long as Cashman is general manager. It's not good that mismanagement, especially in October, is acceptable, and that despite it in two of his three postseasons as Yankees manager Cashman is still publicly saying he wants Boone as manager for another 10 years.
A lot would have to change for me to be OK with Boone being Yankees manager for another decade. A lot.
---
My book The Next Yankees Era: My Transition from the Core Four to the Baby Bombers is now available as an ebook!