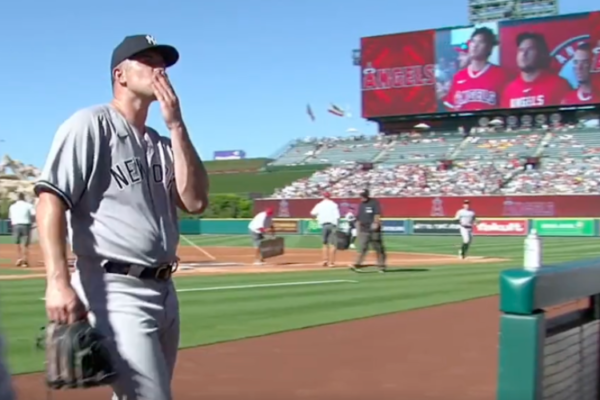 The Yankees were swept by the Angels in Anaheim and finished their six-game road trip with one win. They have lost four straight and nine of 11, are in last place in the AL East and four games out in the loss column of the last playoff spot.
Here are 10 thoughts on the Yankees.
1. The front office of the Yankees watched the second half of the 2022 season and postseason and determined Carlos Rodon was the missing piece to overcoming the Astros in the playoffs. They watched Aaron Judge single-handedly carry an offense that nearly blew a 15 1/2-game division lead and that scored nine runs total in the ALCS and decided, yes, one starting pitcher would close a four-win postseason gap, as if Rodon were going to be a left-handed, middle-of-the-order bat. So they gave Rodon six years and $160 million and ran it back with the same exact offense.
After giving Rodon generational wealth, Hal Steinbrenner proudly said the Yankees "weren't done" in revamping their roster for 2023. He lied. They were done. They brought back Judge and signed Rodon and called it an offseason.
2. On March 9, it was announced Rodon would begin the season on the injured list. It was the least surprising news of all time as being injured is what Rodon has done best in his career. Since his rookie season in 2015, his starts by season had been 23, 28, 12, 20, 7, 2, 24, 31. Fortunately, for him, the most starts he ever made in a season came the year he was entering free agency, and even more fortunately for him, the team that makes the most money in the league foolishly wanted him.
That day, Rodon said, "I'm not here to pitch until the All-Star break. I'm here to pitch well into October. If this was down the stretch, yeah, I would be going for sure. If it's October 5 or the ALDS, I'm taking the ball." Rodon sounded like the perfect new addition to this cocky Yankees group that has never won anything, speaking with the assumption the Yankees would reach the postseason just because they are the Yankees. After Wednesday's sweep at the hands of the Angels, the Yankees are now four games back in the loss column for the final playoff spot. Every postseason projection and oddsmaker says Rodon doesn't have to worry about pitching in the postseason this year.
3. After missing half the season with various injuries, Rodon has now made three starts, and the Yankees have lost all three. He's 0-3 with a 7.36 ERA. He has allowed 21 baserunners and four home runs in 14 2/3 innings. In the middle of his latest shitty outing in Anaheim, the Yankees fans in attendance got to him with their boos and Rodon responded by blowing them a kiss as he walked off the field into the dugout.
"A fan was angry as they should be," Rodon said. "I was just angry at myself and blew a kiss, unfortunately."
"I would like him not to do that," Aaron Boone said about the kiss. "Not the reaction you want."
I'm sure he will do just fine with the Yankee Stadium crowd when he has that kind of performance there.
Rodon is my least favorite current Yankee, based on salary and production, and he's going to be here for a long time, as he's owed $27,833,334 in 2024 and 2025 and 2026 and 2027 and 2028. For a pitcher who was injured for most of his 20s and one half of his first season in his 30s, I'm sure he will be healthy and available and productive through his age 35 season. I'm sure that contract won't be a regrettable disaster.
4. With Rodon being my least favorite current Yankee, Anthony Rizzo owns the second spot. Thursday marks the two-month anniversary of his last home run, which came on May 20 against the Padres. It's been a long time since John Sterling was able to shout "Nobody beats the Rizz!" because every pitcher beats the Rizz. Righties, lefties, rookies, veterans, All-Stars, long men, middle relievers, you name it and Rizzo can't hit it.
His last home run came nine days before Memorial Day. The Fourth of July was more than two weeks ago. Maybe by Labor Day he will have finally hit one out. If not, I'm sure he will still find plenty to joke about in the dugout, as he was shown on YES smiling and laughing it up.
5. Maybe Rizzo was laughing at Franchy Cordero running the bases. Cordero got his first start since July 7 and second since the end of April, and he doubled in his first at-bat. A batter later, he erased his extra-base hit by trying to advance to third on a ground ball hit in front of him to the shortstop. The Yankees run into an out in that same situation at least once a week and seem to run into an out on the bases once a game. Their lack of fundamentals, discipline and preparedness combined with the amount of mental errors they produce is a direct result of their manager and coaching staff. There are no repercussions for having a low Baseball IQ on the Yankees because Boone would rather be liked by his players than do his job, which is to put his players in the baseball possible position to succeed and win games. Boone will tell you he liked the aggressiveness of Cordero on that play rather than admit it was a foolish mistake that can't happen. The Yankees are a sloppy team and when you have one of the worst offenses in the league, you can't afford to give away outs on the bases or give extra outs on defense, but the Yankees do it every game.
6. It had to feel extra good for Phil Nevin to sweep a series from the Yankees. Nevin had been part of Boone's coaching staff, and even though the two had been friends since childhood, it didn't stop Boone from letting Nevin get thrown under the bus a couple of seasons ago, fired and removed from his so-called friend's staff.
7. If the Yankees fired Boone after Wednesday's game and left him in his Southern California with his dad and brother, it would have been best the thing the organization has done since drafting Aaron Judge. I would have bought season tickets the moment the news broke and all Yankees fans would have rejoiced and been excited for the weekend series against the Royals. A move like that would completely change the perception of the team, which sucks, and the culture, which is a toxic mix of being comfortable with losing and having zero accountability. It would have sent a message that this is unacceptable, and with 40 percent of the season and the trade deadline still to come, that the front office was going to do everything possible to right the ship.
Instead, nothing happened. Because nothing will ever happen to Boone (or Cashman, who has a lifetime contract). The ship can't be righted with Cashman at the helm and Boone as his first mate. The two are leading a boat that has been taking on water for years and each time they think they have plugged a hole, another pops up. At some point you need a new boat.
In terms of roster, as Boone says, "This is the group we have." No rental bat or arm is going to save this team. The Yankees need to change out about two-thirds of the roster, and that's not something that can be done in-season. That's not something that can be done period for them because their roster is littered with mid-30s players on high-priced contracts. The championship window that was wide open when Boone was given the keys to a team that came within one win of the World Series is barely cracked open, if it's not already shut.
8. The Yankees are now 94-95 in their last 189 games. An enormous sample size of games for one roster. This isn't a slump or a "tough stretch" as Boone likes to call it. This is who they are. They are awful by Yankees standards and average by major-league standards. An average team with the highest payroll in the AL.
9. I ended the most recent Yankees Thoughts with this:
"We got a lot of pride in there," Boone said. "You want to win and that's why you show up every day."
The Yankees have lost three straight. They have lost four of five to open the "second half." They have lost eight of their last 10 and seven of their last 18. If they are showing up every day with the goal of "wanting to win" they may want to lower expectations. How about they show up on Wednesday with the goal of scoring more than one run against a pitcher with a 6.08 career ERA making his 17th career appearance. That would be a start.
Well, Chase Silseth in his 17th career game took his 6.08 career ERA and allowed one run over 5 2/3 innings against and struck out 10. Two nights after Griffin Canning struck out 12 Yankees, Silseth also punched out double-digit Yankees. Add Silseth and his 6.08 ERA to the long list of mediocre starters that have shut down the Yankees in the last two weeks: In the last two week alone, they have been shut down by Jack Flaherty (4.95 ERA entering his start against the Yankees), Dean Kremer (5.04), Jameson Taillon (6.93), Austin Gomber (6.40), Chase Anderson (6.89), Griffin Canning (4.62) and Patrick Sandoval (4.41).
10. "We're not very good right now," Boone said after the Angels completed their first sweep of the Yankees in 14 years. "This is a low point for us."
I would say going 1-5 against the NL-worst Rockies and Mike Trout-less Angels is the lowest point the 2023 Yankees can achieve, but I don't think there's necessarily a floor for what the lowest point may be for this team until they miss out on the postseason in a format in which 40 percent of the league reaches the postseason.
After Thursday's day off, they return home to host the 28-68 Royals, who are on pace to lose 115 games. The Yankees will debut their new, disgusting Starr Insurance jersey sleeve patch on Friday against the Royals, and if you think things can't get worse than they are after the Rockies and Angels series, you must be new around here.
---
Subscribe to the Keefe To The City Podcast.
---
My book The Next Yankees Era: My Transition from the Core Four to the Baby Bombers
is available as an ebook!