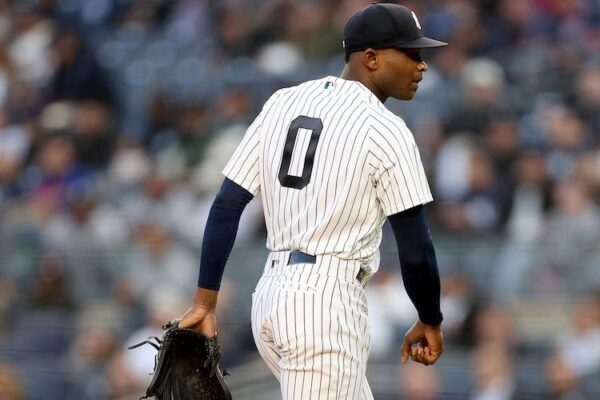 The Yankees played just a bad team and not a historically-bad team, so they lost. After sweeping the 29-73 Royals, the Yankees were blown out by the 46-53 Mets.
Here are 10 thoughts on the Yankees.
1. The weekend was enjoyable and easygoing because the Yankees played the Royals, a team on pace for 116 losses. The Royals can't hit, they can't pitch, they can't field and they can't run the bases, and all of their physical and mental mistakes led to a three-game series sweep for the Yankees. It was the Yankees' first sweep since May 19-21 in Cincinnati, and it was their first series win since June 27-29 in Oakland.
2. It was also a mirage. The Royals aren't just bad, they are historically bad and could very well challenge the worst 162-game record in modern baseball, just like the A's. And just like the A's, the Yankees are 8-1 against the Royals and A's this season and 45-47 against all other teams. As satisfying as it was to see the Yankees not only win a series (something they hadn't done in all of July), but sweep a series, it was nothing to get excited about given the opponent. And if you were foolishly excited about it, the Yankees, the real Yankees, returned on Tuesday in the first game of the Yankee Stadium portion of the Subway Series. The Yankees put together a disappointing effort in a 7-3 loss, losing to a Mets team that everyone beats.
3. The game got off to a poor start when Pete Alonso was able to bloop a two-out catchable ball into left-center to give the Mets a 1-0 lead. It was a ball that Harrison Bader rightfully took the blame for on the field. In the ninth inning, Bader booted a ball on a hop that led to another Mets run.
Like most of the roster, I'm sick of Bader and looking forward to when he's no longer a Yankee, and that better be once this season ends. Extending or re-signing Bader would be a regrettable decision, just like the decision to extend Aaron Hicks was. And just like Hicks, Bader spent a large portion of his 20s on the injured list, so believing in him to stay healthy in his 30s is like believing in Albert Abreu to put up a zero in a high-leverage situation.
4. Bader spent his first two months of being a Yankee recovering from an injury before hitting .217/.245/.283 in 49 regular-season plate appearances in 2022. He went on to hit a bunch of postseason home runs, but also had the Yankees' biggest blunder of the postseason when he dropped a fly ball in Game 3 of the ALCS that was immediately followed by a two-run home run. This season, he started the year on the injured list and didn't debut until the 31st game of the season. He got hurt again on Memorial Day and didn't return until June 20. During that time, he had a chance to come back for a crucial series at Fenway Park, but opted not to, citing his defense not being ready, so he stayed on his rehab assignment for two more games while the Yankees were swept in Boston.
If the wind blows the wrong way, Bader ends up out of the lineup or on the injured list. When he does play, he's a good glove with a below-league-average bat. He's hitting .249/.280/.420 in 2023, and is a .242/.273/.395 hitter as a Yankee. I was extremely worried about the Yankees adding another weak, right-handed bat when they traded for him and his 98 OPS+ with the Cardinals, but he's been even worse as a Yankee than he was as a Cardinal with an 84 OPS+. Yes, give that guy a long-term deal!
5. In the third inning, the Yankees were still being shut out because Justin Verlander was pitching, and even if the rest of the league has hit around the reigning AL Cy Young winner this season, the Yankees haven't, just like they never have. The Mets led 1-0, but after Domingo German quickly retired the first two batters of the third, another catchable bloop and a walk put two on with two outs for Pete Alonso, and he made it a 4-0 game. The Mets had built a four-run lead on two bloop hits that had expected batting averages of less than .050.
6. At that point the game was over. The Yankees couldn't hit Chase Silseth, Austin Gomber and Chase Anderson recently. They weren't about to hit Verlander. And if the Yankees were going to come back and win the game, they would need five runs to win it. If you're a Yankees fan who turned the game off after Alonso's three-run home run in the third inning, good for you as you saved your night and time. Me? I hung around and watched the Yankees get shut out for six innings by Verlander and then score three meaningless runs against a pitching staff that allowed 35 runs over its previous six games against the Red Sox and White Sox. I hung around, so I could write this and so you wouldn't have to. You're welcome.
7. The game never got better. It only got worse. In the sixth inning, Alonso hit his second home run of the game to Monument Park to give the Mets a 5-0 lead with all five runs driven in by Alonso. Alonso's monopoly on driving in the Mets' runs only lasted two pitches as Daniel Vogelbach, who has been the ire of every Mets fan this season, crushed a home run to right field to give the Mets a 6-0 lead and back-to-back home runs off German.
In German's last start before the All-Star break, he dominated the Cubs for six innings, allowing just one hit — a solo home run — on 74 pitches. Aaron Boone removed him from that game after the sixth, and the Yankees' bullpen blew a three-run lead. After the game, Boone said he "wanted to get Domingo out of there on a real high note heading into the second half."
Like most concoctions in Boone's brain, that one made no sense and has blown up magnificently. After German's disastrous performance on Tuesday against the Mets, he has now allowed 11 runs in 12 innings since the All-Star break. A "high note," indeed.
8. German sucked, but even if he was just bad and not unbelievably awful, the Yankees still would have lost. Through the first six innings, the Yankees had one at-bat with a runner in scoring position. They were able to plate their first run because of a hit by pitch, plated their second because a four-pitch walk set up a sacrifice fly and their third came after a bloop of their own. They didn't have good at-bats or battle or grind or do anything that Boone would lead you to believe they did. They got a few baserunners and scored a few meaningless runs late when the game was over against a horrific bullpen. That's it. There were no "good things" that Boone likes to talk about the from the game because the Yankees didn't do anything well in the game. Because there are no "good things" when you lose, especially when you lose when you're the team doing the chasing in the playoff race.
9. The entire night was cringeworthy, and even more cringeworthy than watching the Yankees celebrate Anthony Rizzo's short porch home run over the weekend as if it clinched a postseason series. In 17 games in July against teams not from Kansas City, the Yankees have been held to four runs or less in 11 of them. Losing at this point of the season when you don't hold a playoff spot is bad enough, losing to the Mets in the fashion the Yankees did on Tuesday made it that much worse. 
10. I have zero confidence in Carlos Rodon pitching well on Wednesday night against the Mets because why would I? Rodon was outpitched by Jameson Taillon in his Yankees debut and then got lit up by the Rockies and Angels in his only three starts this season. He also showed he is as soft mentally as Bader is physically with his kiss blowing in Anaheim and that doesn't bode well for him in an extremely important Subway Series game at Yankee Stadium. Even if the Rodon who the Yankees thought they were getting when they gave him a six-year, $162 million deal shows up on Wednesday, does any sensible Yankees fan think the offense is going to show up? If you think the Yankees offense is going to show up on Wednesday, you were likely one of the Yankees fans excited about the rest of the Yankees season after this weekend's sweep of the Royals, and if you were excited about the rest of the Yankees season after they swept the Royals, I feel sorry for you.
---
Subscribe to the Keefe To The City Podcast.
---
My book The Next Yankees Era: My Transition from the Core Four to the Baby Bombers
is available as an ebook!