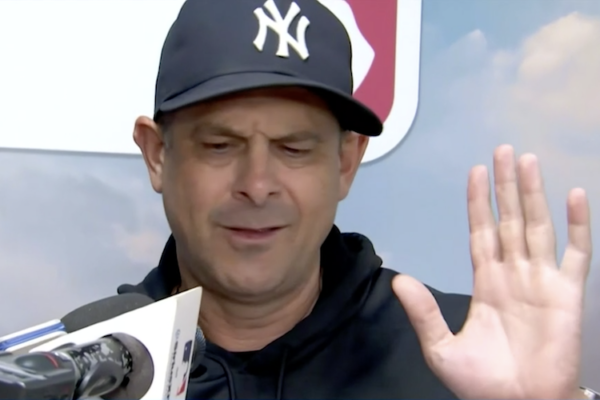 The Yankees lost again on Tuesday night in Anaheim. Their 5-1 loss to the Angels was their third straight loss and eighth in their last 10 games. They remain 2 1/2 games out of a playoff spot.
Here are 10 thoughts on the Yankees.
1. Last summer when the Yankees nearly blew a 15 1/2-game division lead to the Rays, Aaron Boone got snippier by the day with the media, culminating in him slamming his fists on the table at a postgame press conference in one of the worst second-hand embarrassment moments I have had to endure with him as Yankees manager. Well, this summer is going a lot like last summer did, and Boone's level of annoyance with the media he used to be a part of (and will once again be a part of if this season doesn't turn around) is at an all-time high.
2. The Yankees played and lost again on Tuesday night in Anaheim, scoring just one run and producing only two hits. It was the latest offensive humiliation for a team that can make any starting pitcher look like a first-ballot Hall of Famer. In the last two week alone, they have been shut down by Jack Flaherty (4.95 ERA entering his start against the Yankees), Dean Kremer (5.04), Jameson Taillon (6.93), Austin Gomber (6.40), Chase Anderson (6.89), Griffin Canning (4.62) and Patrick Sandoval (4.41). When the Yankees aren't playing the A's they can't score, and they are now 5-9 since the end of June against, the A's, Cardinals, Cubs, Rockies and Angels. That's three last-place teams, the worst team in the history of Major League Baseball, a team that's six games under .500 and another team that wasn't even .500 until the Yankees came to town. But like the Yankees' recent weak opponents, they are a weak opponent for their opponents, sitting in last place in the AL East with the seventh-best record in the AL.
After Tuesday's loss, Boone wasn't in the mood to answer questions about why he isn't good at his job and why his players aren't good at theirs.
3. "We got really good players in there, Boone said. "A lot of guys are going through a tough, tough stretch."
Who are the "really good players" the Yankees have? I can think of one position player: Aaron Judge (who hasn't played in six weeks). Giancarlo Stanton used to be a "really good player," but he's a .207/.290/.454 hitter in his last 638 plate appearances. Anthony Rizzo used to be a "really good player," but Thursday is the two-month anniversary of his last home run, and he has a .504 Ops in his last 178 plate appearances. DJ LeMahieu used to be a "really good player," but he's a .258/.340/.368 hitter in his last 1,544 plate appearances. Gleyber Torres has never been a "really good player" without the 2018-19 juiced baseball. Harrison Bader is a below-league-average hitter for his career. The Yankees catchers are a joke offensively, as is Isiah Kiner-Falefa. Oswaldo Cabrera is among the worst everyday players in Major League Baseball, Anthony Volpe has been a disappointment and Oswald Peraza has been in the league for a combined five minutes.
This isn't a "tough stretch." The Yankees have been a .500 team at 94-94 over their last 188 games. That's the equivalent of a full season of being .500 plus another 16 percent of another season of being .500. That's not a small sample size, and it's certainly not a "stretch." This is who these Yankees are: an average, .500 team.
4. "We're going to keep competing," Boone said, "Until we break through."
That quote might as well have come from the 2021 season or the second half of 2022 because it was used so often by Boone then as well. Spoiler alert: Those teams never broke through and this team won't either.
"They'll find it," Boone said of his offense. "They will find it."
No, they won't. His 2021 Yankees never found it, and neither did his 2022 Yankees. Both of those teams were massive disappointments and the 2023 Yankees are set up to be the biggest disappointment yet, and the team that will cost Boone his job.
5. I think deep down Boone recognizes he will be fired if the Yankees don't make the playoffs. He has to. There's no surviving missing the playoffs when you manage a team with the highest payroll in the AL and not reaching the postseason when 40 percent of the league does. It doesn't matter that Boone isn't the one who poorly built a $300 million team. Brian Cashman will remove anyone under and around him to save himself, and that started when Dillon Lawson was fired, as if he were the issue with the offense.
"Obviously, we have a new voice in there with Sean Casey," Boone said. "I think he already has had an impact and is starting to get to know those guys."
If a hitting coach is graded on the success of the offense they "coach" then Casey is the worst hitting coach of all time. The Yankees couldn't touch Gomber or Anderson in the best-hitting ballpark in the league at Coors Field, and now they have scored four runs in 19 innings against a pitching staff that the Astros just hung 28 runs on in three games this past weekend. Lawson wasn't the problem, and Casey wasn't the answer. The offense just sucks. It sucked last year and zero new pieces were added to it.
6. The Yankees were a wild-card team with Judge (30-19) and without him (20-27) they are basically the White Sox.
"That's what the story is, so we can correct it," Boone said of being able to win without Judge. "We got the players to do it. We have the players with track record to do it."
No, no you don't.
"I understand that's the story and it's fair for this year," Boone continued about the Yankees' performance without Judge. "We have been through stretches in '19 where we were down Judge and 'G' and kept on banging."
Boone is citing what the Yankees did four years ago when Judge injured his oblique in April and when Stanton missed all but 18 regular-season games.
What Boone is forgetting to mention is that LeMahieu was an MVP candidate that season, Torres was a budding superstar, Luke Voit had an .842 OPS, Mike Tauchman played like Mike Trout for a month, Gary Sanchez hit 34 home runs and Brett Gardner hit 28.
What Boone also forgot to mention is that the AL East was top heavy that season with the Yankees (103 wins) and Rays (96 wins) being the only good teams. The Red Sox suffered a World Series hangover, the Blue Jays had yet to arrive (95 losses) and the Orioles were one of the worst teams of all time (108 losses). Not only did the Yankees get career years from their roster, they also rarely had to play a competitive team. 2023 isn't 2019.
7. "Last night against Canning he kind of shut us down," Boone said, "But we at least made him work hard to do it."
Well, at least the Yankees made Canning work hard to strike out a career-high 12 batters! That should make all Yankees fans feel better about the team losing that game, being in last place and no longer holding a playoff spot.
8. "The care factor is so much," Boone said. "The game is so damn hard and hitting is so hard you have to strike that balance between focus, work, preparation."
After Monday's loss, Boone told us how happy he is with the Yankees' "compete" and now after Tuesday it's about their "care factor." Two unmeasurable, fake traits. Here I was thinking that wins and losses were what mattered in baseball and in the standings, when all along it's been "compete" and "care factor." The Aaron Boone Yankees: Six-Time Compete and Care Factor World Champions. Maybe they can have a ring ceremony for that because it's the only ring ceremony any team managed by him will be getting.
9. "It's on all of us. On me, on coaches, on staff, on players."
Wait, what's that? No, it couldn't be, could it? Is that … ACCOUNTABILITY? Is that Boone placing some of the blame for this season not just on the players, but also on himself?
I have heard nearly every word Boone has ever said as Yankees manager, and he has never once took even an ounce of blame for any issue or loss with the team. Not once. This is a major breakthrough and an exciting and very important first step in Boone becoming somewhat respectable as Yankees manager. However, I highly doubt he will build off this moment and ever mention himself as part of the problem again.
10. "We got a lot of pride in there," Boone said. "You want to win and that's why you show up every day."
The Yankees have lost three straight. They have lost four of five to open the "second half." They have lost eight of their last 10 and seven of their last 18. If they are showing up every day with the goal of "wanting to win" they may want to lower expectations.
How about they show up on Wednesday with the goal of scoring more than one run against a pitcher with a 6.08 career ERA making his 17th career appearance. That would be a start.
---
Subscribe to the Keefe To The City Podcast.
---
My book The Next Yankees Era: My Transition from the Core Four to the Baby Bombers
is available as an ebook!