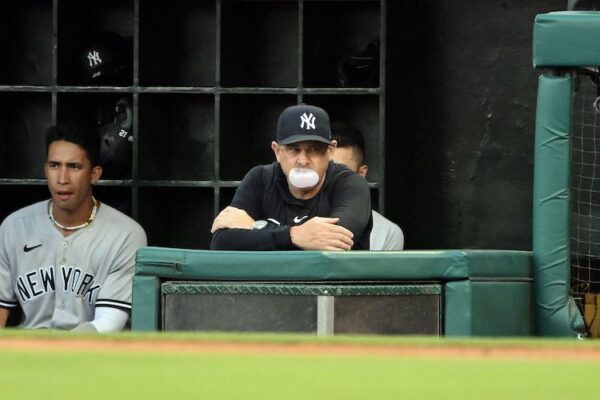 The Yankees had another late lead, and they blew it in what was another loss. The Yankees let Shohei Ohtani beat them in a 4-3, 10-inning loss in Anaheim.
Here are 10 thoughts on the Yankees.
1. For the majority of the season the Yankees have done everything they possibly can on the field to tell the front office and ownership that this roster isn't worth investing in prior to the trade deadline. Over the last two weeks they have gone on a full-blown campaign to make the message clear: THIS TEAM ISN'T GOOD. Monday night served as the latest reminder of this and the most spectacular of all.
The Yankees lost to the Angels 4-3 in 10 innings on Monday night. It was their seventh loss in their last nine games, and their major-league-leading 18th extra-inning road loss since 2020. They once again ran the bases like they needed to be pegged Wiffle ball-style to be called out, struck out a ridiculous 17 times, blew a late lead and managed as if they wagered against their own team.
2. After failing to beat up on Austin Gomber and Chase Anderson and their near-7.00 ERAs, I joked a few hours before Monday night's series opener in Anaheim that Griffin Canning and his 4.62 ERA may as well be late-'90s Pedro Martinez. And late-'90s Martinez he was, striking out a career-high 12 Yankees and throwing 120 pitches as if it were a postseason game for the Angels. Griffin couldn't get threw the third inning in his previous start against the Dodgers, and in his start before that, he allowed five earned runs in six innings to the Diamondbacks.
"The one good thing was they were kind of up against with the bullpen, same as us," Boone said of his offense against Canning. "We were able to drive his count up and make him work at least."
In terms of Aaron Boone Moral Victories, the Yankees lead the league. If the actual standings cared about Aaron Boone Moral Victories, the Yankees would have clinched the AL East already this season and would be looking at their sixth straight World Series championship.
But all driving Canning's pitch count up did was turn the ball over to the Angels' bullpen, which the Yankees also couldn't hit.
The Astros put up 28 runs this past weekend in their three-game series against the Angels, and scored 18 runs against the Angels' bullpen. The Yankees managed to scratch across one run in 4 1/3 innings against the same bullpen.
3. The one bright spot in the offense came from Oswald Peraza. Peraza hasn't been good enough to be a Yankee in the organization's eyes nearly all season, but he was good enough to bat leadoff on Monday night in his first start since his recent call-up. I will never understand the Yankees, but I don't think it's possible to understand them since they have no idea what they are doing.
Peraza was passed over in spring training in favor of Anthony Volpe. Volpe has maintained his everyday spot all season despite his massive struggles, and yet, Volpe was hitting five spots lower in the order on Monday night in Anaheim than Peraza, who needed a Josh Donaldson calf injury to get back majors. Make it make sense.
Peraza reached base all five times in the game with a single and four walks.
4. It kind of was a postseason game for the Angels. At 46-48 entering the game, the Angels are in an even worse position than the Yankees. Phil Nevin is managing for his job, and the team needs to win and reach the postseason to have a prayer in re-signing Shohei Ohtani in the offseason. Despite lacking any major-league-quality hitters outside of Ohtani and the injured Mike Trout, no starting pitching outside of Ohtani and a horrendous bullpen, the Angels were able to battle their way to a win over the Yankees. It was a postseason game for the Yankees too, but you wouldn't know it from the way they played and managed.
In the fifth inning with the game knotted at 0 and runners on the corners with two outs, Boone chose to intentionally walk Shohei Ohtani. It was the right decision. After years of letting the opposition's best hitter beat his Yankees (cough, Rafael Devers, cough), Boone decided he wasn't going to let the Angels' only hitter with Mike Trout injured beat him. He put Ohtani on first, Luis Severino got Mickey Moniak to line out, and the game remained tied at 0.
Eventually the Yankees broke through and in the seventh inning, they had a 3-1 lead and were nine outs away from an important win (especially with the Orioles and Rays having lost earlier in the night). Boone turned to Michael King in relief of Severino, who finally provided the Yankees with a solid start (6 IP, 1 ER with a season-high 13 swings-and-misses), and King immediately struck out Trey Cabbage.
5. King got ahead of Eduardo Escobar 0-2, but then threw four pitches out of the zone to walk the Angels' 9-hitter. The lineup turned over to Zach Neto, and King made quick work of him, getting him to strike out on five pitches. Then with two outs, Ohtani walked to the plate, representing the tying run with Escobar on first.
Boone had already set a smart precedent earlier in the game that Ohtani wasn't going to be the reason the Yankees lost the game. If Moniak were to beat the Yankees, so be it. But it wasn't going to be the best baseball of all time.
Or was it.
Boone chose to have King pitch to Ohtani.
6. King fell behind Ohtani with a first-pitch ball and Ohtani fouled away second-pitch 94-mph sinker at the bottom of the zone. Ohtani foul tipped a 96-mph, middle-middle fastball for a second strike, and King was in the driver seat. Rather than expand the zone with a 1-2 count, though, King came back in the zone with a 97-mph fastball and Ohtani crushed it 403 feet over the left-center wall. Tie game.
Why didn't Boone put Ohtani on? Well, the Yankees manager said he never even considered it as an option.
"No, no, no," Boone said. "Maybe if he Escobar had gotten to second base and fallen behind in the count or something. Not there."
A triple "no" from Boone to emphatically describe how serious he was about not doing anything other than pitching Ohtani there.
"No, not in that spot," Boone reiterated. "The guy hitting behind him is hitting .330 too."
7. The guy hitting behind him was Moniak. The same Moniak Boone chose to face instead of Ohtani earlier in the game. As is always the case with Boone, he's like a Blackjack player that stays with a 16 and the dealer showing a 7 sometimes, and then other times hits in the same situation.
Moniak entered the game hitting .326 in 151 plate appearances. He is a career .239/.285/.444 hitter in 318 plate appearances. Boone chose to pitch to the best power hitter in the game this season for fear of Moniak representing the tying run. It would be like an opposing manager choosing to pitch to Aaron Judge and citing Billy McKinney being on deck as the reason why.
"We did a lot of good things tonight," Boone said with a straight face.
It was yet another meltdown from King on the mound. After unraveling at Coors Field on Friday night, he did the same at Angel Stadium.
8. Meredith Marakovits asked Boone after the game about King "struggling his last seven or eight times" pitching, and Boone was quick to interrupt Marakovits.
"Yeah, I wouldn't say the last seven or eight times," Boone said. "I would say he struggled there for about three or four then had a couple of really good ones."
Who to believe? Marakovits, the well-established clubhouse reporter who always does her research, or Boone, the compulsive liar who you can't trust to tell you what day of the week it is?
Here are King's last 12 appearances:
2 IP, 2 ER
1.1 IP, 1 ER
1 IP, 0 ER
1.1 IP, 3 ER
0.2, 1 ER
1 IP, 1 ER
1 IP, 0 ER
3.1 IP, 0 ER
2.2 IP, 1 ER
1.2 IP, 0 ER
2 IP, 2 ER
0.2 IP, 2 ER
"Tonight I thought stuff-wise he was good," Boone said of King's game-ruining performance. Maybe ask Ohtani how good his stuff was.
9. Once the game went to extra innings, the Yankees were doomed. Not only because they are the worst road team in the majors since the automatic runner rule was implemented three years ago, but because they let the Bullpen Budget rule their decisions. No matter the month, the score or the importance of the game, Boone isn't about to use his top relievers when he desperately needs them.
"Wandy, Tommy, Hamilton were down," Boone said, "And Clay I was going to use in a save situation."
Ah, the old save your best reliever to pitch to a fake statistic in an extremely important game. Always a wise decision that never comes back to haunt any manager.
Because every elite reliever was "down," Boone turned to Nick Ramirez. Ramirez was the one who allowed the game-tying home run in extra innings in Colorado on Sunday, and on Monday, he took the loss as the Angels walked off on the Yankees.
10. "There were a lot of good things that happened tonight," Boone said, "Especially from a compete standpoint."
I'm glad the Yankees had a lot of "compete" in them in Anaheim. Let me know where I can find the amount of "compete" games up they are on the Rays, Orioles, Blue Jays and Astros in the standings.
Only one thing that mattered happened on Monday and it wasn't a good thing: the Yankees lost. In last place in the AL East and now 2 1/2 games out of a playoff spot, that's all that matters.
---
Subscribe to the Keefe To The City Podcast.
---
My book The Next Yankees Era: My Transition from the Core Four to the Baby Bombers
is available as an ebook!