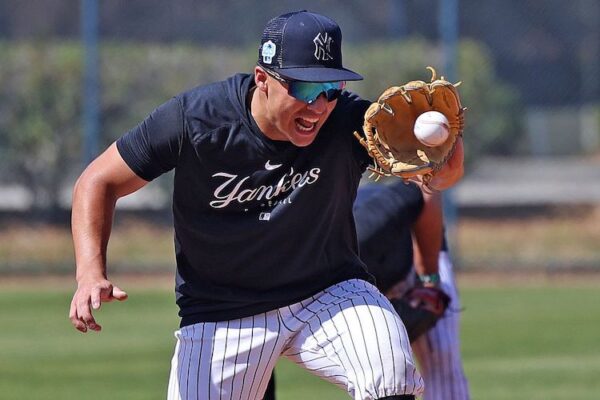 This week there will be Yankees baseball. Real, meaningful baseball. We made it.
Here are 10 thoughts on the Yankees.
1. I was very close to ending my relationship with the Yankees as a fan.
If Anthony Volpe had been sent down on Sunday instead of being named to the Opening Day roster, that would have been it. After calling the shortstop situation an "open competition" entering spring training and having Volpe win that competition outright, it would have been a disgusting and unacceptable act by the Yankees to have him start the season in Triple-A. It would have meant not fielding the best possible team based on merit and production simply because of a lack of Triple-A time and a need to manipulate service time. For an organization that has performed egregious act after egregious act in recent years, not making Volpe a major leaguer after the spring he just had would have topped them all.
2. Thankfully, Volpe is a Yankee. I'm sure there are many in the front office who are disappointed Oswald Peraza didn't outperform Volpe this spring, so that the service time clock would have been delayed on Volpe to save the Yankees some money in 2029, as if 2029 or saving the richest franchise in the sport (recently valued at $7.1 billion) matters. The Yankees went into spring training wanting Peraza to be the Opening Day shortstop and wanting Volpe to begin the season in Triple-A. But after the disparity in offensive production this spring, there was no possibly way the Yankees could have spun having Volpe go to the minors without their fan base revolting. Not having enough games at Triple-A was no longer a valid excuse. Because what constitutes enough games at Triple-A anyway?
3. Unfortunately, because of Volpe's promotion to the majors to be the everyday shortstop, Peraza ends up back in Triple-A due to poor roster construction and poor roster management — a staple of the Brian Cashman Yankees in recent seasons. Peraza is no longer a Triple-A player, after having demolished the competition in his final months at the level. He has nothing more to prove or gain playing against minor-league players, but that's where he finds himself because of the Yankees' self-created infield logjam.
4. My Yankees' infield would look like this:
Anthony Rizzo, 1B
Oswald Peraza, SS
Anthony Volpe, 2B
DJ LeMahieu, 3B
That infield doesn't include Josh Donaldson or Gleyber Torres.
Cashman and Aaron Boone can say whatever they want about believing in Donaldson as a bounceback candidate for 2023, but the simple fact is that if he weren't owed $21.75 million for 2023 and an $8 million buyout after 2023 (totaling $29.75 million), he would no longer be a Yankee.
"The things he did this winter to get himself ready to go, I think you're crazy to think that a bounce back is not in there offensively," Boone said of Donaldson as he hit this spring exactly like he did in all of 2022. "This guy still has bat speed, and is super talented. He's in a much better place than he was a year ago right now."
If his contract had expired after last season, he wouldn't be a Yankee. The Yankees wouldn't have re-signed him as a free agent. The only reason he is a Yankee is because of the $29.75 million owed.
5. As for Torres, I'm fine with him being a Yankee, but feel like he should no longer be a Yankee. If he remains a Yankee, so be it. If he's traded, so be it. The 2018-19 version of Torres was a product of the juiced baseball and that version of him is never coming back. Torres might have been an above-average hitter last season, but that's because the average hitter in baseball last season was essentially the Mets' Luis Guillorme, who had a .691 OPS. There's nothing I hate more than a low on-base percentage player and Torres posted a .310 OBP in 2022. Yes, he hit 24 home runs and had some big hits, but for a six-week period he had the lowest OPS in all of baseball. I think the Yankees would have been better off adding to their rotation by moving Torres, a rotation that is now in shambles.
6. Earlier this offseason, Boone said the 2023 rotation was the best he has had as Yankees manager. It wasn't exactly going out on a limb, as some of the other rotations he has managed have had Sonny Gray, J.A. Happ and an opener. In theory and on paper, Gerrit Cole, Carlos Rodon, Nestor Cortes, Luis Severino and Frankie Montas was the best rotation in the majors. But in theory and on paper is something that never pans out, at least not for the Yankees.
Cole and Cortes are now the only healthy names from that planned rotation and Cortes is coming off a groin injury that delayed his start to spring training. The rest of the rotation is now Clarke Schmidt, Domingo German and Jhony Brito. Darrell Rasner and Jeff Karstens aren't far behind on the depth chart.
7. It turns out Rodon was dealing with the same elbow problem in the middle and at the end of last season and that didn't stop the Yankees from signing him. We knew Montas was hurt a few weeks before the Yankees traded for him, but we didn't know he became a Yankee still hurt and tried to pitch through a shoulder problem, and that didn't stop the Yankees from trading for him.
It's unfortunate, but not surprising that Severino is hurt. It's now been five years since Severino has pitched a full, injury-free season and hearing that he has a "minor lat strain" isn't exactly reassuring. He had a "minor lat strain" last season and missed two months. In 2019, a lat strain was part of the litany of injuries that caused him to not make his first start of the season until September. The Yankees are talking like Severino is going to miss one start. Knowing him and his injury history, specifically with lat injuries, I would sign up for him only missing April right now.
8. When Hal Steinbrenner was negotiating a new contract with Aaron Judge, he told Judge he could sign him and do more. After the Yankees signed Rodon, Steinbrenner said they weren't done. They were done. The Yankees brought back the same offense minus Matt Carpenter and Andrew Benintendi and added Rodon. The Yankees chose not to upgrade the offense, not to add an everyday left fielder and to give two of 26 roster spots to Hicks and Donaldson. The supposed best rotation in baseball was going to make up for a yet-again-right-handed-heavy lineup. But now that rotation looks like a mid-2000s Yankees rotation held together by scotch tape, string and hope.
9. The Yankees will begin the season without 60 percent of their expected rotation, their starting center fielder and two important pieces of their bullpen in Tommy Kahnle and Lou Trivino. The Yankees ended last season without LeMahieu, Benintendi, Aaron Hicks, Michael King and Chad Green, and had Carpenter playing on a barely-healed broken foot. Had the ALCS gone past Game 4, Cortes wouldn't have been able to start another game in the postseason. This after all the injuries of 2019, 2020 and 2021. Last week, Meredith Marakovits asked Hal Steinbrenner about all of the Yankees' injuries over the last few years.
"We're doing everything right," Steinbrenner said. "We're doing everything right. We believe that."
It takes a special kind of person to see the injuries the Yankees have endured going on now five seasons and still think the organization is handling, diagnosing and rehabbing injuries the right way. In a results-driven business, the Yankees' results in terms of injuries have been disastrous, and yet, the owner of the team isn't worried by it. Maybe this is part of the "process is more important than results" bullshit Cashman was spewing at his end-of-the-season press conference. It's an organization-wide belief and it doesn't seem like it's going to change.
10. I'm happy baseball is back even if the Yankees' same issues from last season and the season before that and the season before that and the season before that still exist: the team is too right-handed heavy, too much of the core is still here and there are too many injuries.
Between now and Thursday at 1:05 p.m. I will talk myself into believing in this team and this roster like I do every year entering Opening Day because I have no other choice. For me, as a Yankees fan, I have to find a way to persuade myself into thinking this team can what the previous 13 iterations of the Yankees couldn't. For the Yankees, as an organization, all they can do now is play the hand they dealt themselves.
---
Subscribe to the Keefe To The City Podcast.
---
My book The Next Yankees Era: My Transition from the Core Four to the Baby Bombers is now available as an ebook!