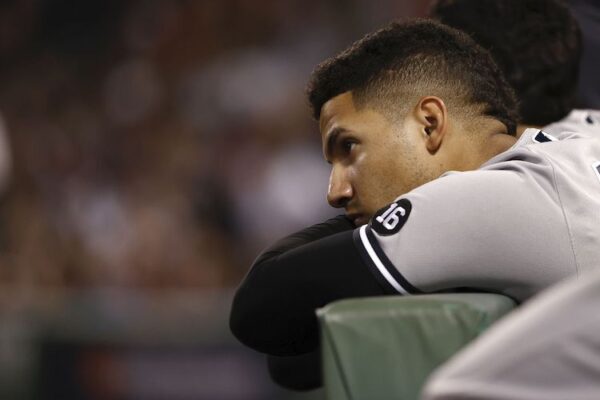 Three years ago, Brian Cashman would have hung up on any trade request involving Gleyber Torres as if the general manager on the other end were a telemarketer calling during dinner. Cashman would have been right in doing so. Torres was coming off a .271/.340/.480, 24-home run, 21-year-old rookie season. He was beginning a sophomore season in which he would hit .278/.337/.535 with 38 home runs. He was 22 years old and looked to be growing into the most important Yankee for at least the next decade.
But that was three years ago. That was one or two juiced baseballs ago. 2018 and 2019 might as well have never happened because they were so long ago in Torres' career that they feel like they never happened. When looking at Torres' career stats, it's hard to believe he was ever that player from 2018 and 2019. A player I wouldn't have traded anything for at the conclusion of the 2019 ALCS is now a player who I would volunteer to drive to his new city if the Yankees would do what they should have done this offseason and trade him.
Back on Sept. 13, 2021, I wrote Gleyber Torres Will Never Again Be Team's Everyday Shortstop and wrote:
The Yankees made it clear Torres is no longer the shortstop of the future for them when they reportedly tried to trade for Trevor Story in July. Now, needing to win every game down the stretch, the Yankees have decided to move Torres off of shortstop and to a position he hasn't played since the 2019 ALCS. His time as the Yankees' everyday shortstop is over. With the Yankees' top prospect (Anthony Volpe) being a shortstop, as well as their No. 3 prospect (Oswald Peraza), I don't see them going out and signing Story or Corey Seager or Carlos Correa to a long-term contract. But they are going to have to do something. They can't go into 2022 planning on Torres being their everyday shortstop, and I don't think they're even considering it.
On Oct. 19, 2021, Cashman gave his annual end-of-the-season press conference, which is held every year the Yankees don't win the World Series (so 20 times in the last 21 years). At that press conference he openly spoke at length about the failed plan of Torres being the Yankees' shortstop and their shortstop of the future.
"Bottom line is shortstop is an area of need, and it's going to be," Cashman said. "We have to address it."
Cashman chalked up Torres' miserable 2020 to being a product of the unusual pandemic-shortened season. The Yankees went into 2021 with Torres back at shortstop, and eventually the questions came asking if Gio Urshela could move over to short because of how bad Torres was. The Yankees scoffed at the idea for the majority of the season until the 143rd game on Sunday Night Baseball against the Mets when Torres' defense single-handedly lost them the game. The next game Urshela was at short.
One game out of the playoffs after the Torres Sunday Night Baseball game, the Yankees did what they said they wouldn't do and moved Urshela to short. This moved Torres back to second, and in turn, moved the two-time Gold Glove-winning second baseman in DJ LeMahieu from second to third. Anytime you can move a multiple Gold Glove winner off their best and preferred position to accommodate someone as bad as Torres, you have to do it.
"Without question," Cashman said, "As I enter 2022, I need to upgrade that position from the defensive standpoint."
There couldn't have been a better time for the Yankees to need a shortstop. They would have their pick of Corey Seager, Carlos Correa, Trevor Story and Marcus Semien and all it would cost is money: the thing they make more of than any other team. They could move on from Torres in the offseason, sign a real major-league shortstop and keep LeMahieu (who they just gave a five-year, $90 million deal to) back to second full time. 2021 had been a disaster, but the stars were aligning for them to resolve their roster issues for 2022.
"We did try at the trade deadline to match up with certain circumstances to also solve that," Cashman said. "I failed at that endeavor."
The Yankees didn't move Torres off short until that Sunday Night Baseball Mets game on September 12. The trade deadline had been on July 31. The Yankees knew prior to the July 31 deadline they needed a new shortstop, failed to get one and still kept Torres at the position for another 44 days and 41 games.
During the Yankees-Red Sox Sunday Night Baseball game on September 26, Alex Rodriguez said on the broadcast that Marcus Thames told him when Torres was called into Boone's office to be told he was being moved back to second base, his face lit up and it "was like a 2,000-pound gorilla was lifted off his back." The Yankees didn't move the player who was that ecstatic to be moved off short and back to second off of short until Game 144 of the season.
"Obviously, I have another crack at it this winter," Cashman said, "And see where it takes us."
It took "us" to Isiah Kiner-Falefa. The Yankees passed up on the greatest free-agent shortstop class in history to trade for a player the Rangers wanted to move on from so badly that they spent nearly $500 million in free agency on both Seager and Semien, and traded Kinfer-Falefa to the Twins. The Twins didn't want him either, so they traded him, Josh Donaldson, the $48 million owed to Donaldson and Ben Rortvedt to the Yankees to essentially free up $48 million to give to Carlos Correa. The two best available shortstops on the market in Seager and Correa, and three of the Top 4 available shortstops with Semien all went to teams that had Kiner-Falefa on their roster at some point this offseason. The Yankees helped both the Rangers and Twins clear paths and clear money to signing the two players every Yankees fan thought the Yankees would sign one of.
"I think Gleyber is best served as a second baseman in reality," Cashman said. "We'll see where that takes us."
The Yankees tried to trade for a shortstop prior to July 31. They moved Urshela to shortstop on September 13. Cashman admitted Torres is a second baseman on October 19. Yet, there he was in the fifth game of the 2022 season playing shortstop for the final two innings against the Blue Jays, and there he was again in the 10th game of the season playing shortstop for the final three innings against the Orioles, booting a ball in the process.
Where it took "us" is to the Yankees using nine players for eight non-catcher lineup spots daily, so they can force Torres into the lineup and try to save a career that looks as ruined as Greg Bird's. This has led to Torres starting eight of the Yankees' 10 games at second base, which means LeMahieu, the better hitter, defender and overall better player has not started eight games at his best position.
In the other two games in which Torres didn't start at second, he served as a pinch hitter and the designated hitter. In six of the 10 games, Torres went hitless. He's hitting .161/.228/.323 and his .551 OPS falls in line with the steep decline he has experienced since 2019 going from .871 to .724 to .697 to now .551. If Torres' career were a stock (which it is to the Yankees), every shareholder would be selling, trying to salvage whatever they could before it falls to zero. But not the Yankees. They continue to buy more Torres at the expense of the overall good of the team.
Torres has no place on the Yankees. His bat isn't good enough to justify his glove being in the lineup and his glove isn't good enough to justify his bat being in the lineup. He's a position-less player with 13 home runs, a .696 OPS and 93 OPS+ over his last 179 games.
The Yankees should have traded Torres in the offseason. His value would have been at an all-time low, but after 10 more games this season, that value has a new all-time low. With each recorded out, each error in the field and each mind-blowing baseball decision, like sacrifice bunting over the weekend with Kiner-Falefa and Kyle Higashioka due up, that value falls more each game.
At this point, the return doesn't matter. The Yankees ended up releasing Eduardo Nunez for nothing. They released Clint Frazier for nothing. They might as well take what they can get now for Torres before they end up releasing him for nothing as well. Removing him from the roster is more important than getting a raw Single-A arm.
Torres' career collapse is a combination of him losing his abilities and the Yankees improperly evaluating him at short and inaccurately projecting his future over the last two years. Maybe if Torres had stayed at second or if he didn't come to Spring Training 2.0 in July 2020 out of shape, he would more closely resemble the budding superstar who was a two-time All-Star in two seasons before turning 23. But no one messes up former or potential future stars like the Yankees, whether it's their own homegrown talent like Joba Chamberlain and Gary Sanchez, or whether it's talent they traded for and ruined like Nathan Eovaldi and Sonny Gray.
The Yankees are a better team without Torres in the lineup, but in order to be that better team, Torres can't be on the team. Because as long as he's on the roster, he's going to play. And as long as he plays, one of LeMahieu, Aaron Judge, Giancarlo Stanton, Joey Gallo, Anthony Rizzo, and Josh Donaldson won't.
---
Subscribe to the Keefe To The City Podcast.
---
My book The Next Yankees Era: My Transition from the Core Four to the Baby Bombers is now available as an ebook!