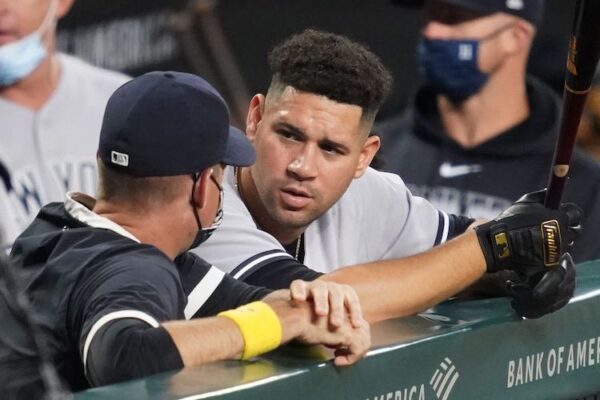 The Yankees' season unraveled even more this weekend as they lost three of four to the Orioles to fall to the eighth seed in the American League. The Yankees now have a one-game loss-column lead on being in the postseason. But everything is fine!
Last season, I wrote the Off Day Dreaming blogs on every off day, but this season there aren't many off days. There aren't many games. So instead, I have decided to use the Off Day Dreaming format following each series. Yankees Thoughts will be posted after each series this season.
Here are 10 thoughts on the Yankees.
1. Aaron Boone had another memorable weekend managing the team into the ground. On Friday, he started Michael King, or at least he had input with the analytics department on starting King. The thing about King is that he isn't good. Here were his appearances this season before Friday's start:
3.1 IP, 4 ER (relief)
3.2 IP, 2 ER (relief)
3.2 IP, 3 ER (start)
3.0 IP, 1 ER (relief)
3.2 IP, 2 ER (start)
King put the Yankees behind 1-0 in the first, but was then given a 4-1 lead to work with. Despite not having completed four innings of work in any of his outings this season, Boone let him stay in for the fourth on Friday. Three batters into the fourth, the Orioles had cut the Yankees' lead to 4-3, and Boone stayed with King for the entire inning.
This game was the first of a doubleheader and therefore a seven-inning game. So after King's four innings and three earned runs, the Yankees had a one-run lead to protect with nine outs to get, which meant Chad Green followed by Zack Britton followed by Aroldis Chapman, right? Nope. Boone went to Ben Heller for the fifth inning. Sure enough, Renato Nunez hit a game-tying home run off Heller.
2. At the time of Heller allowing the game-tying home run, here were the recent workloads of the elite relievers:
Adam Ottavino: 29 pitches over the last six days
Chad Green: 19 pitches over the last five days
Zack Britton 29 pitches over the last 16 days
Aroldis Chapman: 32 pitches over the last six days
With the game tied in the sixth, Boone then went to Britton, proving he would rather have Britton pitch against the bottom of the order in a tie game than the middle of the order with a one-run lead (which is when he had Heller pitch) because of the inning number. In fact, he pitched both Britton and Chapman with the score tied. Boone clearly went to Heller in an attempt to steal outs and an inning and save one or more of the elite relievers for the second game of the doubleheader, a move that frequently burns him.
After the game Heller was optioned to the alternate site. A little over an hour prior, he was good enough to protect a one-run lead with nine outs to go, and then suddenly he was no longer good enough to be a Yankee. This has been on an ongoing trend all season of players and pitchers being used in high-leverage situations only to then be optioned or designated for assignment or released.
3. In the second game of the doubleheader, Deivi Garcia started strong, but finally gave up his first runs as a major leaguer (4.2 IP, 5 H, 4 R, 4 ER, 2 BB, 6 K, 1 HR). It was what you would expect from a 21-year-old in his second career start. In relief of Garcia, Boone decided to have Clarke Schmidt make his major league debut.
Clarke has made 27 minor league appearances, starting 25 of them. He's ranked as the Yankees' top pitching prospect, one spot ahead of Garcia and has been trained and prepared as a starter. So how did Boone use him? Not as the starter in Game 1 of the doubleheader. That went to King, who sucked per usual. Instead, he brought Schmidt in with runners on first and second and one out in the fifth. The Yankees would rather waste starts with King or J.A. Happ than let Schmidt start, and they are completely fine bringing Schmidt into his first game in a situation he has little to no experience with: entering mid-game, with runners on and having to pitch out of the stretch. Talk about putting your players in the best possible position to succeed.
4. On Saturday, things got worse. With the Yankees reeling and struggling to score runs, Boone elected to give the team's best hitter in DJ LeMahieu the day off. But as always with Boone's days off, LeMahieu didn't even get the full game off as he was needed as a pinch hitter with the team losing.
Gerrit Cole wasn't good again. Five days after writing What Is Wrong with Gerrit Cole?, nothing changed. Yes, he dominated the Orioles for five innings, but he fell apart in the sixth, allowing yet another home run to add his to league lead and then another four runs after a Thairo Estrada error. Cole only got charged with one earned run out of five, but he took his third straight loss. What a letdown he has been. I was worried the Yankees might get Pittsburgh Cole instead of Houston Cole, but it looks like they have neither.
After the Yankees recently lost two out of three to the Rays, Boone talked about all the "good things" he has seen out of his team that has gone from World Series favorite to postseason bubble. And after losing a Cole start to the Orioles, he did the same.
"We gotta continue to take a lot of really good positive things that happened," Boone said, "and finish some of these off now."
What "good things?" Cole pitched well for five innings. That was the only good thing that happened in the game. He lost the game in the sixth inning, the offense scored one run, left 10 on base and struck out 12 times. Boone acts like Alec Baldwin's character Parker on Friends who is over-the-top positive about everything to the point that he annoys everyone he encounters.
5. If you thought things were bad after Saturday and back-to-back losses to the Orioles, Sunday was the worst of all. The day started with Boone benching Gary Sanchez, who went 0-for-4 with four strikeouts the night before. During the Sunday game on YES, the broadcast team talked about how decisions within the organization are made unilaterally, but it didn't seem that way with what Boone said about the decision to bench Sanchez.
"I deliberated on it a lot last night," Boone said. "I just feel like this is the way I need to go right now. Hopefully a day off or two, or however I decide to do it here, can help get him going. It's on all of us to get around him and try to help him get to what we know he can be."
Boone used "I" four times, never using "we," and made it clear it was his decision to bench Sanchez and that it's his decision on when he will play again. Boone doesn't appear to be the front office puppet everyone makes him out to be. There's no way the Yankees' analytics team would recommend or approve Sanchez sitting in favor or Erik Kratz or Kyle Higashioka. And there's no way the analytics team would approve any of Boone's bullpen decisions.
Aaron Judge and Giancarlo Stanton are on the injured list like they always are; Gleyber Torres just came back from the IL; Aaron Hicks can't hit, Brett Gardner is finished; Cole has been awful; Masahiro Tanaka and Jordan Montgomery have been inconsistent; Happ and James Paxton have sucked; the bullpen has been a disaster and Boone has been idiotic. Yet it's Sanchez who becomes the scapegoat for the 2020 Yankees. Mike Tauchman and Tyler Wade play every day no matter how many outs they make at the plate or on the bases and Mike Ford plays every day even though he's a one-dimensional player who's lacking his only dimension. None of them have the track record of Sanchez, but it's Sanchez who gets benched.
6. Sanchez wasn't the only one with the day off on Sunday. A day after coming off the IL, Torres was given the day off in an unproven attempt to prevent further injury. Hicks was also once again on the bench too for load management reasons. Do you think Torres and Hicks were given the full game off though? Of course not. Sure enough, the Yankees were in need of offense and needed to use Torres and Hicks in pinch-hit roles. Sanchez wasn't used as a pinch hitter as Boone chose to let Kratz bat in the seventh, representing the tying run at the plate.
7. Boone didn't mention that he saw "good things" from the Yankees after Sunday's loss. Maybe someone finally got to him and told him how embarrassing he sounds talking about the positives for a team whose season is spinning out of control. A day after scoring one run against the Orioles, Boone said he thought Sunday would be different.
"I felt like the energy coming in today was really good," Boone said. "I felt like the mindset was, 'This is the day were going to go out and start turning it around.'"
It's time Boone stops reading minds as the Yankees scored one run on a day when Boone thought his team was going to turn it around. Not only did they only score one run, they got shut down by Dean Kramer, who one-hit the Yankees in his major league debut (6 IP, 1 H, 1 R, 1 ER, 3 BB, 7 K). This came the day after Keegan Akin shut out the Yankees for 5 1/3 innings in his second career start. And not even two weeks ago, the Braves' Ian Anderson one-hit the Yankees over six innings in his major league debut.
8. On the first 12 pitches he threw on Sunday, Tanaka allowed three hits, a walk and two runs without recording an out. He settled down to hold the Orioles to the two runs through five. In the sixth, a Miguel Andujar error began the inning, but Tanaka bounced back to strike out Ryan Mountcastle. After Rio Ruiz singled on a ground ball, Boone decided to go to the bullpen. With two on and one out and the Yankees trailing by one and desperately needing a win and with a completely rested bullpen available, Boone brought in … Luis Cessa! Two singles and a walk later and the Orioles' one-run lead had become a three-run lead.
Meredith Marakovits bluntly asked Boone about this after the game, asking, "Why Cessa there in relief?"
Boone didn't know how to answer. He paused, then picked up his hat off his head with his right hand and placed it back on his head. He let out his patented "Ummmmm" and then struggled trying to come up with an excuse which would justify his managerial blunder.
"As opposed … you mean … ," Boone said fumbling his words. "Why did I take Masa out?"
"No, why did you choose to go with Luis Cessa," Marakovits repeated. "Did you consider going to any of the other guys?"
Then Boone gave the most run-around, non-answer of all time.
"Obviously not Britt or Chappy at that point," Boone said, making it clear the inning dictates who pitches and not the situation. "So the only one I was considering was Otto in the sixth there to start if I was gonna take Masa out. But I felt like Masa … as the day went on, especially his slider started to play more and Cessa has been obviously throwing the ball really well for us … and I felt like, down a run, Cessa was a guy that for that bottom part of the order and then at the top to hand the ball off to Otto or something. It felt like that was a good matchup. He just gave up the base hit."
No, that wasn't a coherent answer from Boone. It sounded like Billy Madison's answer using The Puppy Who Lost His Way in the academic decathlon. It didn't answer Marakovits' question and it didn't come close to making sense. That's the answer from the man the Yankees decided to hand their team over in the middle of a championship window.
9. On Sunday's Yankees Podcast, I talked about what will happen with Clint Frazier when Judge and Stanton come back (if they ever do), and Ken Singleton brought it up on YES as well. If Frazier, who has been one of the Yankees' only three hitters (along with LeMahieu and Luke Voit) to consistently produce, doesn't play because two guys who never play finally return, I will actively root against the Yankees. That's not a joke. I will root as hard as I normally do for them to win, for them to lose. I will go as far as to buy apparel for whichever team they face in the playoffs if I have to. That is if they get to the playoffs.
10. Remember when the Yankees were a lock for the postseason because of the eight-team format? Well, now they're the 8-seed in the AL, trailing the Blue Jays by one game, and their lead for the eighth and final postseason berth is one game in the loss column on the Tigers and two games in the loss column on the Orioles.
The Yankees were 16-6 and now they're 21-19. They just lost three in a row to the Orioles and have lost five of seven. I wonder who will get the day off on Monday.
***
Subscribe to the Keefe To The City Podcast. New episodes after every game throughout the season.
***
My book The Next Yankees Era: My Transition from the Core Four to the Baby Bombers is now available as an ebook!