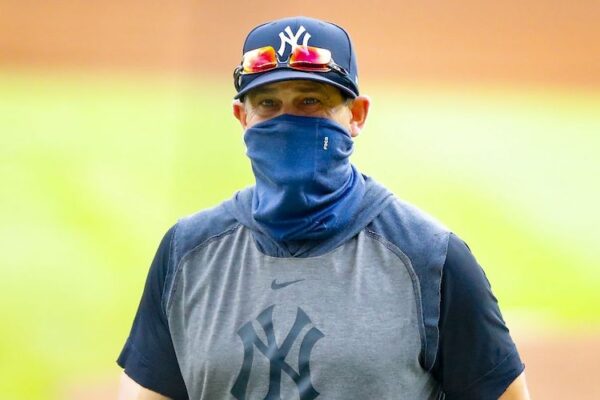 It's embarrassing to be a Yankees fan right now. After winning four of five to sort of get back on track, the Yankees have now lost three of four to continue their downward trend.
The Yankees were once 16-6 and now they're 20-16. They have gone from having the best record in baseball to now being tied with the Blue Jays. The only thing keeping them ahead of the Blue Jays is percentage points, and it's only .014 percentage points. Once that goes, the Yankees will be the 8-seed in the American League playoffs and lined up to play the Rays in the best-of-3 first round with all three games at the Trop. From World Series favorite to potentially the 8-seed if they lose either of the two doubleheader games on Friday to the Orioles. The next stop is out of the playoff picture completely, and they only have a one-game lead in the loss column on the Tigers from that happening.
I haven't heard a word lately from all of the people who told me "Everything will be fine" when the team was purposely giving away games to the Phillies and blowing leads to the Rays. I haven't received any tweets recently telling me "The Yankees are a lock for the playoffs in the expanded postseason field" the way I was when they kept giving starts to J.A. Happ and high-leverage situations to Luis Avilan. The Yankees kept up their load management strategy even as the injuries once again got out of control and they gave unnecessary rest to players and pitched the last relievers on the roster in winnable games because they thought they could waltz into the playoffs. From the first game, the Yankees treated this season like a formality to the postseason and now they are barely holding a postseason spot.
Thursday's loss to the Mets was the latest embarrassment in a season full of them. The Yankees blew a 4-0 lead and a 7-4 lead. They blew the 4-0 lead because apparently Happ has an endless leash when he clearly doesn't have it. They blew the 7-4 lead because Zack Britton and Aroldis Chapman couldn't get six outs before giving up three runs. The second Chapman allowed the game to be tied, I knew the Yankees were going to lose. They had already used Adam Ottavino, Chad Green, Britton and Chapman and whatever came out of the bullpen from then on was going to be a fringe major leaguer. It only took one batter in extra innings for the Mets to end the game.
If you were fooled by Happ's last start against the Mets into thinking he might have turned a corner, you're a fool. There is no corner to turn for him. Given enough chances, Happ was eventually going to have a good start, the way Brett Gardner will eventually get a hit if given everyday at-bats. But that one start was an anomaly. Thursday's start was who Happ is, and that's a pitcher who shouldn't be pitching for a team with championship aspirations. Happ allowed nine baserunners in five innings, and as he unraveled in the fourth inning, Boone sat in the dugout twiddling his thumb and leaning with one arm on the dugout railing like the clueless idiot he is. Boone let it happen, and it wasn't the first time this has happened either.
On July 30, Happ was given a 5-0 lead before he even took the mound. By the end of the second inning, he had given four runs back. He had to be pulled after four innings.
On Aug. 5, Happ was given a 3-0 after two innings. In the third inning, he gave it all back and then some, putting his team behind 4-3. In that inning he allowed a walk, two-run home run, another walk, a single, another walk and another walk to walk in a run, and Boone allowed him to finish the inning.
On Aug. 16, Happ beat the Red Sox, who are the worst team in the AL. What an accomplishment! That day, he also told the media about his unhappiness with having his starts skipped.
On Aug. 25, Happ made it clear to the media the Yankees were skipping his starts because of his $17 million vesting option for 2020, which kicks in if he gets 10 starts. At the time of this, Happ had a 6.39 ERA.
On Aug. 29, Happ beats the Mets and has his longest start as a Yankee. It was the first time he pitched exceptionally well since the end of the 2018 regular season.
Then there's Thursday, where Happ was given a 4-0 lead and blew it completely, and was allowed to blow it completely and keep pitching after it was blown. "In that fourth inning, I was one strike away from getting out of there," Happ said after the game. "They put some good at-bats together and hit it where we weren't."
As I wrote in J.A. Happ Can't Start Another Game for the Yankees back on Aug. 6, it's not Happ's fault he's losing games for the Yankees. He didn't miss out on Patrick Corbin in free agency over a measly extra year only to then turn around and give himself a multi-year contract at the age of 36 as a fastball pitcher with a declining fastball. He doesn't keep himself in the rotation and he doesn't let himself remain in games as he keeps putting runners on base and letting those runners score. He sucks, but he's going to pitch as long as the Yankees let him, and they keep letting him.
Britton was horrible (1 IP, 2 H, 2 R, 2 ER, 1 BB, 2K, 1 HR), but Chapman was even worse. I have no confidence in Chapman. I tweeted the other night that my confidence level with him is a 2.4 out of 10. Well, that 2.4 is now a 1.3. He's allowed four runs in four innings this season and two home runs. In his last 13 2/3 innings going back to Sept. 7 of last season, and including the playoffs, he's allowed four home runs. One on Sept. 7, the walk-off bomb to Jose Altuve in the ALCS and the two this season. "As far as our team, I think we should be able to be fine," Chapman said after the game. I'm glad the closer who can't close a game and can't pitch a 1-2-3 inning thinks the team will be fine.
Chapman didn't say he sucked or made bad pitches, everything he said sounded like excuses. "It's a matter of working on my fastball command," Chapman said. "Little by little, every day that goes by, it keeps getting better." Keeps getting better? What? Chapman can't throw strikes. He's behind every hitter and then when he has to come in the zone, he throws a fastball major leaguers can sit on or a get-me-over slider that gets crushed for an extra-base hit. Yes, Chapman needs to work on his fastball command. No, it's not getting better. If anything, it's gotten worse. He was bound to become mortal eventually as his velocity declined, but now he can't get outs at 99-101 mph? He needs to be at 103 mph? He was on the mound when the Yankees' season ended last October, and I have a bad, bad feeling about what he will do this October.
As for Boone, he's a joke. He really is. After the game, he said, "It's a tough one to lose, because we did a lot of good things today." What were the good things? Blowing a 4-0 lead? Personally letting your starting pitcher blow the 4-0 lead? Blowing a 7-4 lead? Watching your setup man and closer melt down? Having your baserunning specialist get doubled off second in extras? Should I keep listing all the good things the Yankees did?
It didn't stop there. "We've got to build on the good things we did," Boone said. "We were set up there to close it out. It just didn't happen today, and we've got to turn the page real quick." I'm sick and tired of hearing the Yankees talk about "turning the page" like they're Bob Seger or how they have to have "short memories" or how they have to "come back tomorrow and play better." Time is running out. It's a 60-game season and the season is now exactly 60 percent over. When does the page turning stop? When do the Yankees get to the end of the chapter about having absolutely no urgency?
The Yankees moved on from Joe Girardi, claiming he was too tense and it made the clubhouse and players tense. Well, Boone's buddy-buddy, everything-is-sunshine-and-rainbows, Southern California approach seems to be working as it has the entire team thinking losing isn't a big deal. When they get laughed at like they were by the Rays on Wednesday or humiliated like they were by the Mets on Thursday, they don't seem to care. Why should they? Their manager seems to think they are doing "good things" as the losses pile up and they slide down the AL standings.
If the Yankees were to ever miss the playoffs, I'm sure Boone would say the Yankees played well and did "good things" and it just didn't work out for them. The front office would blame the collapse on the shortened season and injuries as if they were the only team to deal with those two things, and Boone would get a new three-year contract to continue to tell the highest-paid roster in the league that everything is great as their championship window of opportunity continues to close.
If Happ thinks he "was one strike away" and if Chapman thinks the team "will be fine" and his fastball "keeps getting better and better" and if Boone thinks the team "did a lot of good things" on Thursday, who am I to argue?
The Yankees don't seem to care that their season is falling apart and another year of their championship window will be wasted, so why should Yankees fans?
***
Subscribe to the Keefe To The City Podcast. New episodes after every game throughout the season.
***
My book The Next Yankees Era: My Transition from the Core Four to the Baby Bombers is now available as an ebook!