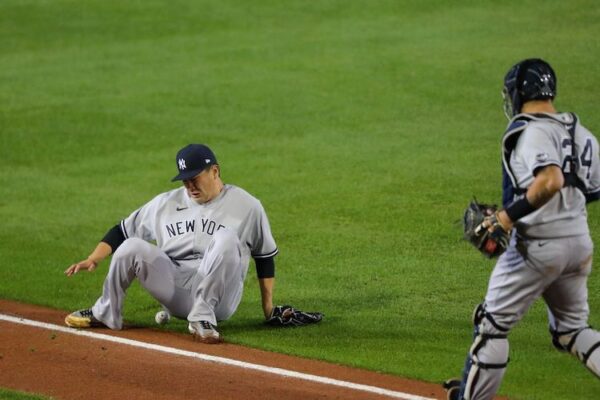 The Yankees didn't do much right in the four games against the Blue Jays this week, and because of it, they went 1-3 and allowed the Blue Jays to clinch a postseason berth.
Last season, I wrote the Off Day Dreaming blogs on every off day, but this season there aren't many off days. There aren't many games. So instead, I have decided to use the Off Day Dreaming format following each series. Yankees Thoughts will be posted after each series this season.
Here are 10 thoughts on the Yankees.
1. The Yankees never tried or cared to have home-field advantage this postseason, the way they haven't for any season for a long time now, and they won't have it. The Yankees will have to go on the road for the best-of-3 wild-card series, and they will have to win two games on the road in order to reach the division series and get into the bubble.
"I do know that if we're playing at our best, I don't give a crap where it is," Aaron Boone said. "We'll get it rolling."
It's nice Boone doesn't give a crap where the Yankees will have to play next week. Unfortunately, the Yankees play like crap when they're not at home. The Yankees are 21-7 (.750) at home this season and finished 11-18 (.379) on the road. Last season, the Yankees went 57-24 (.701) at home and 46-35 (.568) on the road. Since 2017, the Yankees are 10-4 (.714) at home in the postseason and 4-9 (.308) on the road. It would have been nice if the Yankees gave a crap about where they would be playing the best-of-3.
2. If the Yankees don't survive the best-of-3, you better believe they should be heavily criticized for not doing everything they could to win home-field advantage for it. No team will have an advantage in the bubble with the games being played at neutral sites, but the advantage in the best-of-3 is enormous. The Yankees should always put themselves in the best possible position to maximize their chances of winning in the postseason. If you're the Blue Jays and you have a team full of first- and second-year players who just clinched a playoff berth for only the third time since 1993, then you could care less about what seed you are and where you're playing. You're just happy you got in. But when you have the highest payroll in baseball, have spent billions of dollars to not win anything in going on 11 years and are in a championship window, you should care where you're playing in October. You should care about doing every single you can to win in October.
3. It's been hard to care about the outcome of these last few games since it's evident the Yankees don't care. Starting Michael King was the obvious sign they didn't care if they won or lost to the Blue Jays. If you thought the Yankees cared, their sloppy play in the field and lack of offense over the last two nights should have changed your mind. The Yankees don't believe in being hot. They will never admit it, however, they firmly believe they can flip their level of play on and off like a switch. People like to cite the 2000 Yankees for slogging their way through September only to then win their third straight World Series and fourth in five years. The difference is that team was going for their third straight championship. They already knew how to win. They knew what it took to be the last team standing in October. Aside from Brett Gardner, this team and this manager have never won anything.
4. I believe you have to lose before you can win. Most championship teams endured some sort of crushing postseason defeat before overcoming it to win a championship. The Yankees have endured that losing. They lost Games 6 and 7 of the 2017 ALCS after having a 3-2 series lead. They were run out of their own building by their rival in the 2018 ALDS. They came back to tie Game 6 the 2019 ALCS in improbable fashion in the top of the ninth inning, only to have their heart ripped out in the bottom of the ninth inning. They have experienced the type of heartbreaking losses usually followed by success. Now it's time to take the next step forward and actually experience that success. Without it, they will be nothing more than what the Dodgers have been since 2013.
5. I have written about it in blogs and have talked about it on the podcast: Deivi Garcia needs to start Game 3. It's the right call. It's the only call. Garcia is much more likely to go out and shut a team down than J.A. Happ is. If Happ's location is off by even an inch, he will get rocked. He doesn't have the stuff or arsenal of Garcia to miss bats and keep hitters off balance if he isn't perfect. Happ won't be able to figure it out on the mind and grind through a postseason start because his stuff has eroded to the point that if he isn't living on the corners with every pitch, batters either walk or hit home runs off him. He can't be starting a potential must-win game next Thursday.
6. If Gerrit Cole needs a personal catcher, he isn't who I thought he was. No pitcher should ever need a personal catcher, let alone one of Cole's status. But Cole now has that personal catcher in Kyle Higashioka and the duo will appear together in Game 1 on Tuesday. I don't know how the Yankees' analytics team could have possibly signed off on this decision, in what is yet another decision I can't believe they have signed off on. Maybe the analytics department isn't as influential in the team's decisions as they are thought to be? With no days off in each postseason series, it was highly unlikely Gary Sanchez was going to be able to catch and play in every postseason game. But to not have him paired with Cole because Cole couldn't beat the Rays and get Ji-Man Choi out is an embarrassment for Cole. The Yankees are setting an unnecessary precedent by using Higashioka over Sanchez and by Boone also saying this week that Higashioka could play more than just when Cole is pitching. One day the Yankees will make decisions that make the most sense. That day won't be in 2020. Let's hope it doesn't come them another year of their championship window.
7. I wanted Michael Brantley over Gardner after 2018. Once Gardner hit 28 home runs with the super baseball in 2019, he was going to come back in 2020. Now I actually want Gardner back in 2021. I want him back if it's between either Gardner or Mike Tauchman for a roster spot. I'm all set with Tauchman. The outfield for 2021 should be Clint Frazier, Aaron Hicks and Aaron Judge. It's obvious the Yankees are never going to let Giancarlo Stanton play the outfield again. They weren't going to let him play it this season and that was before he had another lengthy stay on the injured list. Next year, he will be a year older and even more likely to get injured (if he can even be more likely to get injured than he already is), and there's no way he will anything other than a designated hitter in 2021. Give me Frazier, Hicks, Judge and Gardner as the four outfielders next season.
8. It's looking like the Yankees are going to play the White Sox next week, and I'm more than fine with it. The White Sox' lineup boasts arguably the most power in the league, but it also boasts a group of free-swinging, right-handed bats who don't walk. The Yankees can use three right-handed starters in Cole, Masahiro Tanaka and Garcia against them, and overpower them with Chad Green and Adam Ottavino in the later innings. Yes, the Yankees can lose to the White Sox, as they can lose to any team (even possibly the Red Sox) in a best-of-3, though when healthy, the Yankees are the better team with the better lineup, rotation and bullpen.
9. I can't believe there are only three games left in this 60-game season. It seems like only minutes ago I was settling in to watch Cole against the Nationals on Opening Night and now the regular season will be over on Sunday night. If things go badly in the best-of-3, the entire season could be over by Tuesday night or Wednesday night. I'm not ready to not have baseball. We didn't have it for more than nine months and now we are very close to not having it again for at least another six. Who's to say the 2021 season will start on time? As of now, there's no indication fans will be back at games by Opening Day 2021, and if that's the case, the owners have proven they won't allow a full season without fans in the stands. I need another month of Yankees baseball. Not only because it will mean they will have advanced to the World Series for the first time in 11 years, but because I'm not ready for it to go away again.
10. Monday will be the last regular-season Yankees Thoughts of the season. There will be a Thoughts blog after every postseason game, the way there is each year, and the podcast will continue each day for as long as the Yankees remain in the postseason. I will miss writing the Yankees Thoughts blogs after each series when the offseason comes. Thank you for reading the Yankees Thoughts blogs this season.
***
Subscribe to the Keefe To The City Podcast. New episodes after every game throughout the season.
***
My book The Next Yankees Era: My Transition from the Core Four to the Baby Bombers is now available as an ebook!